The Best Travel Story:
Write About Your Interests and Passions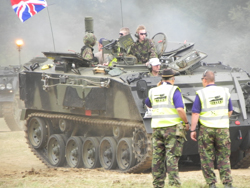 The title of this page says it all – the best travel story is a result of writing about your personal interests or passions.
Anything that interests you will result in an article that has more meaning, more emotion and a deeper level of knowledge to share with your readers.  For me, this happens to be anything about military history, especially WWII.  Your interests will be different but the important part is that it is something you truly enjoy.

Your travel story can be an interview with an expert or a celebrity, a "how to" article about a complicated travel subject, or a first-person account of your experience.   A well-written first person account of a unique journey can be very effective (see an example of this link about my visit to the U.S. military cemetery at Normandy.)

Here's a short list of some kinds of stories you can write – it's just a beginning to get you started thinking about the potential for a travel story in areas that interest you:

Food. Everyone needs to eat when they travel and we're all looking for memorable meals. Whether you write about a specific restaurant, a particular type of food, or simply a place with lots of good food, food articles are very popular and editor's are always looking for fresh content.

Wine and Beer. I've had a plethora of winery and brewery articles published in a number of magazines around the world and online. To me, this has been one of the easiest markets to break into, and one of the most enjoyable. These articles describe a winery or brewery, or an area with several of them in reasonably close proximity.

Adventure Travel. Adrenalin junkies and the young at heart write about their over-the-top experiences in adventure travel stories. These stories can be about any activity from bungee jumping to skydiving to water activities like whitewater rafting, kayaking, canoeing, parasailing, kiteboarding, windsurfing, sailing, and dry land activities like marathon running, hiking, climbing, mountaineering—you get the idea. The more exotic and dangerous the setting, the better your chances of having your adventure story published. Tsunami surfing, anyone?

Family Travel. Anyone who travels with kids knows the challenges that come with finding activities, food and lodging suitable for everyone. Family travel stories show the reader what places and attractions are suitable for families to visit, and usually pay some attention to stretching your dollar further. A classic example would be a story about Disneyland, but anyplace that caters to families with kids has potential.

Gay and Lesbian. There's also a market for Gay & Lesbian travel articles tell about places that are GLBT friendly and where gay people can meet and socialize.

Wedding Travel. Bride and Wedding magazines are always looking for articles about exotic places around and the world to a beautiful spot in your neck of the woods for a wedding or a honeymoon.

For Women. Women's travel stories show a place from the female perspective, or from the perspective of women traveling alone to a destination. Although some may revolve around places to de-stress and pamper yourself like spas and resorts, others tell of hard-core adventure activities and everything in between.

Nightlife. Maybe you enjoy the nightlife in a new place. Nightlife articles describe the night scene in cities, from restaurants and shows to nightclubs. The focus is on the tourist attractions that are available at night for people who enjoy getting out at all hours.

Technology. Or maybe you're a bit of a geek. Technology articles focus on new travel technology and how to use it. It can be an article about how to book the lowest cost air tickets online, or about how to get through immigration fast using the Global Entry Program, or how to play geocaching, or the beset devices to travel with for easy and accurate GPS navigation, or about any gadget or technology that will make a trip easier, faster or more enjoyable.

Don't be afraid to combine more than one of these types of travel articles into one story if it's appropriate.

If you use your interests to kick off ideas for a travel story, you're sure to have a more enjoyable trip and offer your readers the best insight and recommendations. Readers will learn a little bit about you and you'll learn more about one of your passions or interests in the process.


---
Return from The Best Travel Story to Travel Stories
Return from The Best Travel Story to Home