Simultaneous Submissions Part 2:
Strategies for Simultaneous Acceptances

In Part 1 of this article I discussed why simultaneous submissions were an important strategy for freelance writers.

I also told you how to go about using this strategy and the rules around playing fairly with editors.

If you haven't already read Part 1, you'll want to do that first.

This follow-on article answers the question "what do I do if more than one editor wants to buy my story?"

If you don't have some strategies for dealing with simultaneous acceptances, you'll panic.  So this article is about a few strategies you might want to consider when sending out simultaneous submissions.

And a brief reminder, the scenario of multiple acceptances rarely happens, but when it does, you want to be ready for it.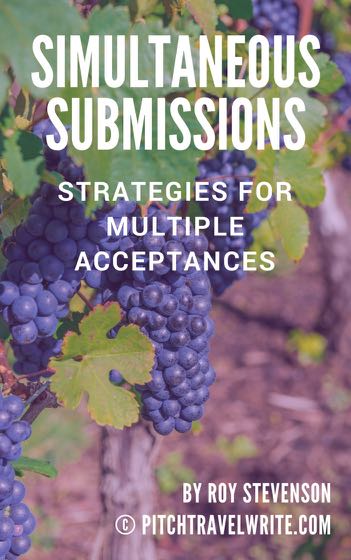 Simultaneous Submissions Strategies:
When Simultaneous Acceptances Happen

In my seven years of experience with full time freelance writing I can count the number of times I've had multiple acceptances on one hand. 
And I can also tell you that there has never been a problem when this has happened. 

You can handle this situation quite easily without treading on toes and upsetting editors, if you have a strategy or two.

Here are some strategies that have worked very nicely for me and for the editors involved.

Strategy #1.  Have a back-up story idea in your hip pocket.

In some cases you can turn around and sell the second editor another story – as long as you have that story in mind just in case this happens.

Here's an example:

I pitched a story about the Royal Signals Museum in England to several ham radio communications magazines.  The first magazine to respond got the piece.

What did I do with the second magazine that wanted the story?  I pitched that editor a different story about the World War II code-breaking museum at Bletchley Park, which she accepted happily (and, incidentally, it became a cover feature).  Today, I still write for both magazines.

Strategy #2.  Sell internationally. 

Another example:

Two editors wanted the same story, but the magazines were in different countries so I sold the story to them both.  It was all legal and ethical because their circulations did not overlap. 

The only exception to this is if a magazine purchased "All Rights", meaning worldwide rights.  Usually they purchase "First North American Rights" or "First U.K. Rights" so it's not a problem.  (Read your contracts carefully.)

That situation apart, one of the big advantages of pitching your stories to different countries is that it can be published simultaneously, so you are rewarded twice for your efforts within the same time period.

Strategy #3.  Develop agreements with editors.

In another case when two editors were interested in the same story, I explained to the second editor that another editor had beaten her to the story, and that my work tends to sell rather quickly. 

Feeling bad about this, I offered to pitch her my future story ideas before I pitched any other editors, with the understanding that she get back to me with a "yes" or "no" within one week.

This strategy worked beautifully for me and for the editor.  So far, she has purchased fourteen articles from me and is tickled pink that she has first option on my stories. 

If she rejects any of my pitches, which is rare, I simply turn around and pitch them to the rest of my distribution list and they always sell.

Strategy #4.  Write two different stories about the same idea.

Jennifer Stevens of International Living believes that a good writer can get more than one story out of a single idea without annoying a host of editors.  "The key is to 'personalize' the story for a specific publication.  Come at the idea in another way, using different examples", she says.
---
As you can see, simultaneous submissions do not have to be a problem – if you follow the rules (laid out in part 1 of this article) and have some strategies. 

Editors today are not naïve enough to believe that you are only pitching to them.

As Jennifer Stevens says, "Like most editors, I suppose, I like to think that an article we'd run isn't something generic.  In other words, it would only work in our magazine, not anyplace else.  In practice—in the real world—I suppose that isn't always the case".

I believe simultaneous submissions are a good thing.  They level the playing field a tiny bit for the freelance writer because they encourage editors to jump on a good story right away when it arrives in their inbox. 

In fact, this article was originally published in a writer's print magazine.  The editor accepted my query within one day of receiving it, probably because I mentioned that it was a simultaneous query.
And you will also be interested in reading my article about the 2 most asked questions about simultaneous queries in this post.

---
Related articles that will interest you:
Simultaneous Submissions:  Sell More, Do It Faster
Generate Story Ideas that Sell

Earn More:  Sell Your Stories Around the World
Turn Your Travel Writing Worries into Wins
A Fun Travel Writing Quiz:  Marketing Dilemmas - What Would You Do?

---
Sign-up for our free weekly e-zine and download your free copy of Get Published Now!:

---