Greetings Fellow Travel Writers!
. . . and WELCOME all new subscribers. Thanks for joining us.


---
Writer's Digest Nominations for 2024
CALL FOR NOMINATIONS: Writers' Digest Magazine's 101 Best Websites for Writers

Fellow Travel Writers,

Have you used any of our resources to help achieve travel writing success? This includes our PitchTravelWrite.com website, our reference books, Roy's coaching, our Travel Writing & Photography Retreat, our Master Class, our online Master Class, our twice-monthly newsletter, or any of our other resources.

If so, we'd love it if you nominate us for the 2024 Writers' Digest Magazine's 101 Best Websites for Writers.

Nominations close November 27, 2023.

Our PitchTravelWrite.com website has been listed in Writer's Digest Magazine's 2016, 2020, 2021, 2022, & 2023 "101 Best Websites For Writers." It's also listed on Writer's Digest Magazine's 2020, 2021, 2022 & 2023 "Best Genre/Niche Websites." Writer's Digest doesn't bestow these awards lightly. It's the U.S.A.'s top writing magazine!

Here's the link to the nomination form. It will take you less than 5 minutes to fill it out. We at PitchTravelWrite.com appreciate your support!
Writers Digest 2024 nomination form

---
Editorial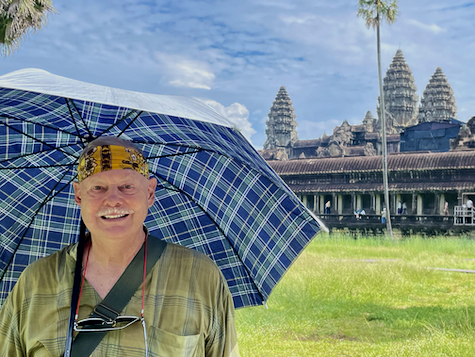 This is our 450th PitchTravelWrite.com newsletter! We've come a long way since we rolled out our first Newsletter in 2014. Since then we've published 10 eBooks about breaking into travel writing–and they've sold far beyond our expectations!

We've offered twelve Travel Writing & Marketing Master Classes around the globe, in Seattle, Washington; Charleston, South Carolina; Chiang Mai, Thailand; and Hoi An, Vietnam. More than 150 writers have attended these intensive in-person workshops.

I've coached more than 100 aspiring travel writers through my one-on-one coaching and mentoring program and dozens more travel writers in our online courses and group coaching programs.

We're right in the middle of our three-month long-stay in Da Nang, Vietnam, and enjoying every moment of it. We've been humbled by how excited our Vietnamese friends are to see us again since we left in 2021. We're also doing some medical tourism with dental check-ups and new prescription eyeglasses. We're back working out at our favorite fitness club, Elite Fitness. And, we're planning short overnight trips to Hoi An, a neighboring UNESCO World Heritage Site, and Hue, another entrancing Vietnamese city of great historic importance.

Our seven-night cruise up the Mekong River through Vietnam and Cambodia was every bit as memorable as our cruise up France's Burgundy Canal, back in 2013. With the luxury teak and brass RV Indochina Pandaw ship as our base, we ventured forth twice daily on excursions to the banks of the Mighty Mekong River. Pandaw cruises puts on a class act! Our side trips included visiting mangrove and bamboo forests, small riverside villages, farms, Mekong canals, schools, temples, the Royal Palace at Phnom Penh, a silk-making village, and ecotourism orchards. Not to mention the on-board cultural events in the evening. (https://www.pandaw.com)

One of my favorite cruise pastimes was simply sitting and relaxing on the beautiful teak deck, drink in hand, watching the marvelous Mekong River unfold. We glided past small, quiet villages—sometimes only 20 meters from the shore. We could call out to the fishermen and children on the shore! We cruised past tin shacks, floating homes, luxury houses (often side-by-side), houseboats, small fishing boats, giving us an up-close-and-personal look at life in S.E. Asia. This was life in its rawest form. It gave us an appreciation for how hard the people here work to survive — and how fortunate we are to live in a more developed country.
---
500 Print Magazines
If you purchased 500 Print Magazines That Want To Publish Your Travel Stories, the November issue (#3) became available on the 15th of this month. You should have received an email with a login link, but in case you didn't, you can access the login page and input your login credentials at this link

In the November list (Issue #3) you'll receive another 50 magazines plus 7 bonus magazines — along with a wealth of information about each magazine. (In total this month you'll have received 171 magazine listings so far!) We've also included some introductory materials about pitching your story ideas to magazines. Be sure to download both files.

If you have any problems downloading any issues, please get in touch with us at pitchtravelwrite@gmail.com and we'll be happy to help you.

We're looking forward to hearing from you about which magazines you've pitched successfully and what stories have been picked up by these magazines.
---
Featured Post
Types of Travel Stories to Help You Find Your Niche
The beauty of travel writing is that you can write an article about almost every aspect of your travels and find a home for it somewhere.

This article will give you some idea of the types of travel stories you can write and sell. It will also give you an idea of some of the terminology used in the travel writing industry.



There are some common themes for travel articles. Some travel articles focus on "the best" that a place has to offer, and other travel stories are based on specific areas of interest. This might include things like luxury travel, adventure travel, beer and wine, just to name a few.

Additionally, you should develop a list of writing genres unique to your own areas of interest. Expanding your writing genres has a lot of benefits.

Here are some of the most common travel story themes . . .

READ THE ARTICLE


---
Introducing Diane McLeish, Our Latest Success Story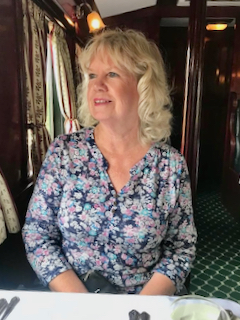 We love hearing how our website, workshops, coaching, and eBooks have helped aspiring travel writers get their stories published.

Diane McLeish, originally from South Africa, tells her freelance writing story here. After reading my article on writing about museums, she put my advice into practice and has been well-rewarded for her efforts.

There are two things that especially impress me about Diane's entry into the freelance writing field:

First, she took advantage of a difficult situation -- the pandemic -- to learn a new hobby and explore places in her own backyard (Kenya). Second, she learned about how to resell her articles from reading my articles and put that learning into practice several times already. This is an advanced skill!

Here's Diane's story in her own words . . .


Be sure to read about some of our other success stories at these links:
Success Story: Candi-Licence
Success Story: Jessica-Pickett
Success Story: Barb Harmon

---
Upcoming Posts
Dec 4: Enhance Your Travel Writing Image Using Facebook
Dec 18: Why "Practice Makes Perfect" is Terrible Advice For Travel Writing 
Jan 15: Guided Tours for Travel Writers: What's Good About Them

---
Inspirational Travel Quote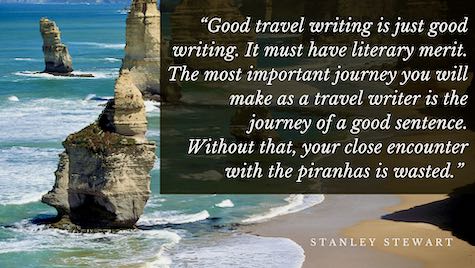 ---
Pitch Travel Write: Most Requested Links - Should You Specialize or Should You Write in Diverse Travel Genres?
You'll obviously pitch and sell more stories about your interests and passions, but you should always strive to get your stories published in as many different genres and magazines as you can. When you increase the specialty areas and genres you write in, your potential market increases exponentially.

I'll always recommend that you write in as many genres as you can. If I had written solely in one genre, I wouldn't have had anywhere near as much success.

By writing in multiple genres, I've sold more than 1,000 stories to 200+ regional, national, and international magazines, newspapers, trade journals, custom publications, specialty magazines, in-flights, on-boards, and online travel magazines.

Writing in multiple genres expands your writing bandwidth and prevents you getting bored with one subject. And, financially, you'll be better off because it's easier to sell more stories when you write about varied topics.

Here's some more reading on this subject from our PitchTravelWrite website:

Writing Genres and Your Travel Writing Niche

How to Expand Your Writing Genres and Why You Should Do It

How to Write Your Best Travel Story
---
MORE RESOURCES FOR TRAVEL WRITERS
Featured Book: Find Your Niche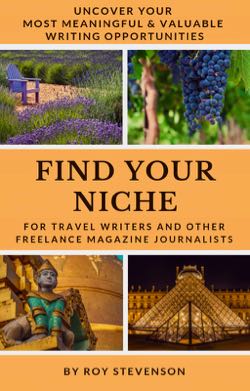 There's so much more to being a successful freelance travel journalist than good writing skills. If you want to earn enough money in this field, one important aspect is diversifying your writing focus into more than one niche.  
 But how do you go about doing that?  



Figuring out where your interests and skills fit into the myriad themes of freelance writing can be confusing. As a beginner, you don't have a foundation to make an educated guess. Our book, Find Your Niche, explores the different kinds of travel stories and writing genres to help you identify the travel niches that are interesting to you.  

This 85-page resource helps you find tips, techniques and actionable information including:


7 reasons to pursue a specialty travel niche and how to get started
Why tapping into your interests, passions and experience will lead to greater success
How you'll earn more by writing in multiple genres
5 ways to write with authority on a topic when you're not an expert
Eight specialty niches with details about how to break into these niches and where to pitch your story ideas
For the month of November save $5 off the regular price of this book if you use discount code FYNN5 at checkout.

BUY THE BOOK

Testimonial:

"So much has been written about the importance of niches, but I haven't come across a book that focuses this directly on helping travel writers and bloggers to find a niche. So if you're struggling to get into the writing groove and find your audience or tribe. this book could help you become more intentional about your travel writing."
-Jay Artale, BirdsofaFeatherPress.com

Don't forget: For the month of November save $5 off the regular price of this book if you use discount code: FYNN5

---
Latest News eBooks
We're publishing a New eBook:
You need a combination of skills to succeed in the freelance travel writing game. Since 2007 I've been bombarded with hundreds of email questions about all aspects of travel writing. The blogs you're about to read are my succinct answers to these urgent questions.
These blogs are gathered from my email replies, Facebook posts, LinkedIn posts, blogs, and newsletter editorials. They provide quality solutions—in summary form—to the myriad challenges travel writers face.
Even better, at the end of each blog I give you the link to a more detailed and comprehensive coverage of each topic. If you'd like to learn more about each blog, you can continue on to a more in-depth post on my PitchTravelWrite.com website. You're getting a two-for-one on every single post!
These blogs are grouped in 13 categories ranging from finding magazines to pitch to writing killer query letters, and from selling and marketing your travel articles to the business basics every serious travel writer needs to know.
Follow the advice dispensed here and you'll earn more from your travel writing by selling more stories and improving your travel writing.
---
At Your Service
Coaching and Consulting
Online Courses
If you know someone who will enjoy this newsletter,
please forward or sign up
---
PitchTravelWrite.com, is our information-packed website for travel writers. This e-zine, a series of travel writing books and reference guides, coaching programs, and our workshops all work together to give you guidance in this field.

Our aim is to provide you with practical, nitty gritty information to help you gain entry into the travel writing realm and all the enjoyment that comes with it. 


---
Awards and Accolades
We're thrilled to announce that our website, PitchTravelWrite.com has made The Write Life.com's list of 100 BEST WEBSITES FOR WRITERS for 2020 and 2021! 



You can see the entire list by visiting their website - click on the graphic to view the list now.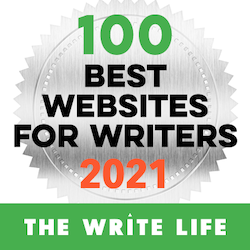 ---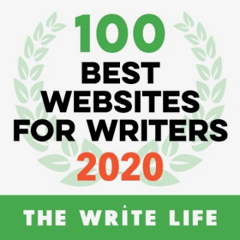 ---
We're proud to announce that our travel writing website, PitchTravelWrite.com has made Writer's Digest Magazine's 2016, 2020, 2021, 2022, and 2023 101 BEST WEBSITES FOR WRITERS.

Writer's Digest doesn't bestow these awards lightly. And we're the only travel writing website on their lists!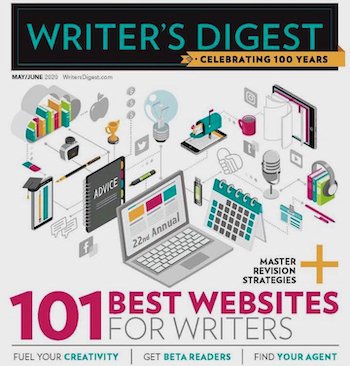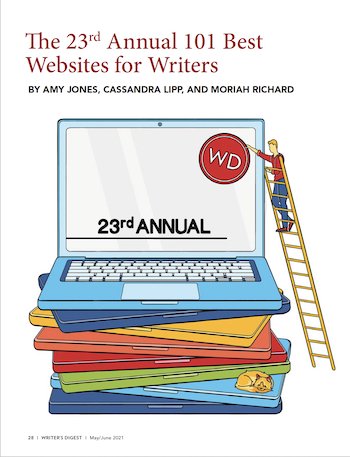 And the accolades for PitchTravelWrite.com just keep pouring in! Our website helps travel writers successfully sell their travel stories.

Thank you, Writer's Digest Magazine for listing us on your "Best Genre/Niche Websites for 2020, 2021, 2022 and 2023."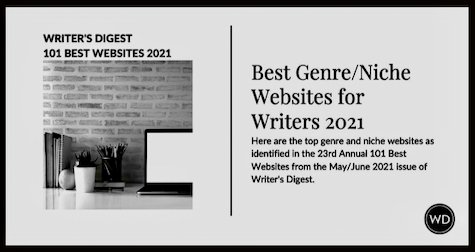 And the accolades for our PitchTravelWrite.com travel writing website just keep pouring in!

Our Complete Travel Writing & Marketing Master Class is ranked #1 on TravelWritersExchange.com's Top Ten Travel Writing Workshops. https://bit.ly/2UV7wjW

Our Online Travel Writing & Marketing Master Class has made Reedsy.com's Best Travel Creative Writing Classes for 2023 list. There are only 21 travel writing courses on this worldwide list! Here's the link to the list: https://blog.reedsy.com/creative-writing-classes/travel/
---
Friend me on Facebook
My Facebook page is about freelance travel writing. I frequently post about:
• links to other well produced travel websites and blogs
• links to my travel articles
• magazine cover stories and back stories
• links to resource pages
• links to coaching and mentoring resources
. . .and plenty of other useful information to get you up to speed



Link to Roy's Personal Facebook page
---


That's all for now. Until next week - just keep pitching! Roy

Roy Stevenson
Pitch Travel Write
www.pitchtravelwrite.com



---