Greetings Fellow Travel Writers!
. . . and WELCOME all new subscribers. Thanks for joining us.



Vietnam Update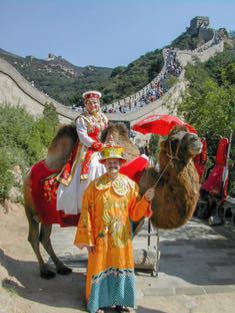 Happy Labor Day to those of you in the U.S. and Happy Labour Day to our Canadian friends. We hope you're finding ways to celebrate the holiday safely.

We're still in lockdown in Danang - probably for another week or so. For the past week there haven't been any community transmissions, and they've allowed local restaurants to open for takeaway. So that's good news.

This photo was taken at the Great Wall on Linda's birthday in 2003. Yes, that's really the Great Wall of China behind us, not a fake backdrop. Linda talked me into getting dressed up and posing for this photo as her birthday wish. She doesn't ask for much.

It seemed really lame at the time, but it has brought heaps of laughter every time I look at it and show it. Hope you enjoy it, too. Happy birthday this week to Linda, my lovely wife, who is a great travel companion and has made so many trips possible.
Editorial: Take this Quiz - Do You Have What It Takes to be a Travel Writer?
There's plenty of advice floating around on the Internet about what prerequisites you need to be a travel writer. I've certainly contributed several articles to this information pool.

Instead, for this editorial, here's a simple quiz of thirteen YES or NO questions about important qualities that travel writers need to be successful.

After each question, I've included why each item is important to help you analyze your strengths and weaknesses.

Give yourself one point for every YES answer. When you've completed the quiz, check the table below to see how you rate as a travel writer.

Here goes!

1. Are you prepared to read about and research your destination in advance?
This is important because so many travel writers don't bother doing this crucial step. They don't have any juicy facts and figures to include in their query letters so editors reject their ideas.

2. Are you prepared to actually write about your travels?
I've met so many wannabee travel writers who are in love with the romantic idea of sitting on a white sandy beach, in a hammock, under a palm tree, Mai Tai in hand, with their laptop. But when it comes to grinding out the words, they're just not into it. (And have you ever tried working on a beach? It's miserable!)

3. Are you interested in exploring new places?
Seriously, I know travel writers who do not enjoy visiting new places because it puts them out of their comfort zone. Successful travel writers have an insatiable curiosity about other places and don't freak out when things are "different".

4. Can you dream up story angles about your destinations?
Editors expect your travel stories to have interesting themes and trending topics. They don't want to see the same of stuff reheated and served up again. You need an active imagination to "see" new story angles.

5. Are you comfortable marketing yourself and selling your story ideas?
If you can't sell your stories, you don't get to write them. When you're starting out, learning to sell your work is more important than writing.

6. Are you prepared to create query letters and send them out to multiple publications? Daily?
If you don't send out queries, you won't get published. The more queries you send out, the more stories you'll sell.

7. Are you comfortable with wandering off course during your travels to open up new and exciting story ideas and opportunities?
Spontaneous wanderings are often the source of many great story ideas!

8. Do you enjoy meeting new people?
If you don't enjoy meeting people, you're definitely in the wrong business. It's the people that make a place irresistible.

9. Can you stick to a consistent writing routine?
Consistency pays off with freelance writing. Ask any successful writer.

10. Can you see each writing project through from start to finish?
"Stickability" is crucial for success. All sorts of minor hurdles crop up in freelance writing and you need to persist. True journalists see every project through to the end.

11. Are your writing skills solid? Maybe not great, but do you at least have basic mastery of spelling, grammar, syntax, and creative writing?
Contrary to what many beginners believe, it is not the magazine editor's job to fix your sub-standard writing. If you submit a poorly written article, it will be rejected or you'll be asked to rewrite it. You probably won't get the chance to work with that editor again. Poor writing skills show through in your query letters, too. This explains why many novice travel writers never seem to break through into paying print media.

12. Do you have a camera that can take high-resolution images?
Offering a gallery of high-res images can often clinch the deal with an editor. Some editors won't accept an article without photos.

13. Do you have the ability and means to travel several times each year?
Experts tell you to start out by writing about local attractions and destinations. This is a good plan, but after a while you're going to tap out the available attractions and publications your locale has to offer. An exception is if you're fortunate enough to live in a major tourist destination like Paris, London, or New York, or some other place with unlimited potential for travel stories.

How did you do?
1-3 YES answers. Don't give up your day job just yet. You need a plan to focus on travel writing if that's really what you want to do.
4-7 YES answers. You're showing promise. What can you work on to improve?
8-13 YES answers. You've got the right stuff! Keep on pitching!


---
REGISTRATION IS OPEN for Roy Stevenson's
Group Coaching Mastermind Community
Our 12-month Group Coaching Mastermind Community is now open for registration.

Who's it for?

It's for you if . . .

- You want to launch your travel writing career
- You want to earn money for your travel stories
- You want to improve your writing and marketing skills using proven methods and techniques
- You want to learn sales & marketing techniques that get results
- You want to learn photo tips and learn the best way to submit photo galleries to editors
- You want to build your freelance writing business successfully
- You like learning in a low-pressure and supportive environment
- You like the idea of thoroughly absorbing the information over a period of time, in this case - 12 months
- You enjoy learning online, on your own and with a group
- You want to join in discussions with a supportive community of like-minded writers where you can share your goals, frustrations, questions, solutions and successes


Autumn is a great time to get started on a new project. In most parts of the western world it's getting cold and you'll be spending more time indoors. Why not ratchet up your travel writing skills and knowledge?

The online group coaching sessions allow you the flexibility to watch and listen according to your own schedule.

And the writers who have already registered say they're really looking forward to joining the Mastermind Community - for support, inspiration and accountability.

What about you? Are you ready to join us?

Click the link below to learn more and register . . .
---
This Week's Featured Post
Do Travel Writing Awards Help You Sell More Stories?
If you've been in the travel writing game for a while, you've noticed some travel writer's bylines like this: "Kate Somebody is an award-winning travel writer with articles published in x magazine, y magazine and z magazine."

These writers promote their travel writing awards on their websites and mention them in their query letters. They hope to impress editors enough to commission their stories. 

But, just how effective are these awards at securing assignments from travel editors? 

Should you spend time and entry money chasing them? 
I decided to go to the source. I sent out surveys to several travel magazine editors and asked these two questions . . .
1. Are you likely to be impressed enough with award winning travel writers to commission their stories? 
2. What do you look for in a travel writer's query that will help you decide whether to buy a story?


The editor's comments were eye-openers! 

And their replies provided many important insights into how they assign articles. Here are their enlightening responses:

READ THE ARTICLE


---
Upcoming Posts
Sep 14: Simultaneous Submissions: Sell More, Do It Faster
Sep 21: Finding Travel Magazine Leads On Vendor Websites
Sep 28: Selling and Reselling Your Articles: Three Tricky Situations and How to Handle Them


---
PitchTravelWrite.com Success Stories
Tim Cotroneo: My Story as a Golf and Travel Writer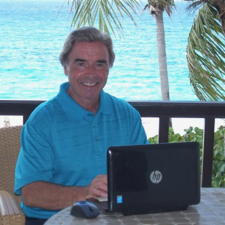 In 2011, I attended a travel writer's workshop and listened to a presentation by a speaker named Roy Stevenson who shared several travel writing tips. I thought to myself, "if I can accomplish half of what this guy has achieved in his short travel writing career, I'll be as happy as a clam."



After the workshop my wife and I planned a trip to the Turks and Caicos Island of Providenciales. I emailed the golf professional at the island's only 18-hole course in advance of the trip and presented myself as a golf and travel writer. I thought to myself, "I have nothing to lose and everything to gain." On the trip I met with the pro and played the course. 

My First Yes!

During our stay in Providenciales, I noticed a glossy magazine on the coffee table in our hotel room and read it. Upon returning home to Minneapolis, I pitched this magazine a story idea about what I experienced at the golf course when I played there.

The editor said yes!

I wrote the story and got paid $300. I was officially a travel writer and have been writing about golf and travel ever since.

Tim Cotroneo has had an exotic travel writing journey so far. Here's his story, in his own words . . .

READ TIM'S STORY


---
Pitch Travel Write: Most Requested Links about Reselling Your Articles

Here are four articles about how I earn more money for my stories - by reselling, repurposing and repackaging my work in the U.S. and around the world. I do this all the time.

Read the articles to learn about my process and find out how you can do it, too . . .

Five Ways to Sell Articles More Successfully

Earn More: Sell Your Articles Around the World

The Art of Reselling Your Articles

Repurposing Your Articles


---
Inspirational Travel Quote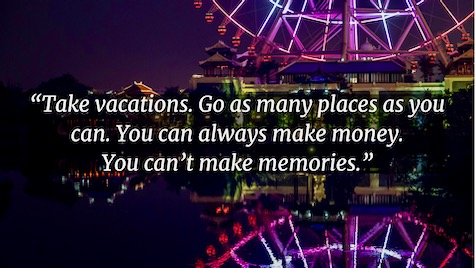 ---
RESOURCES FOR TRAVEL WRITERS
Featured Book: THE COMPLETE GUIDE TO MARKETING AND SELLING YOUR TRAVEL ARTICLES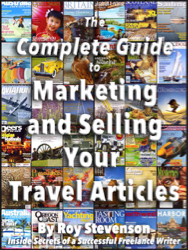 "If you can't sell your travel stories, you don't get to write them."

My guide shows you EVERYTHING you need to know about selling your travel articles to paying print media.

The Complete Guide to Marketing and Selling Your Travel Articles tells you how to select saleable story ideas, how to write first class query letters and pitch your ideas the right way.

This comprehensive manual shows you how to find magazines that will be interested in buying your story, and how you can start selling your travel articles to magazines immediately and reap the fantastic travel benefits, while being paid for your work.

BUY THE BOOK

Here's what Michelle Newman says about this book:

"Roy, although I've been contributing to magazines, newspapers, TV and radio for nearly 20 years, your book, The Complete Guide To Marketing & Selling Your Travel Articles is an invaluable tool regardless of one's level of experience dealing with & contributing to various outlets. Your book is written in a clear, understandable manner that gives concrete examples. Most importantly, it's enormously informative & helpful.

As I shared with you, in one month I took a brutal hit and my 3 biggest outlets no longer exist or have ceased generating content. So it was back to square one for me - having to reach out and pitch editors and find new outlets.

The query letter section in The Complete Guide To Marketing & Selling Your Travel Articles is an enormous help; it is packed with useful, practical information and not a bunch of fluff.

Thanks one again for generously sharing all of your tips and info that you've acquired over the years."

Best Regards,
Michelle Newman, www.enlightenedtravel.net

BUY THE BOOK

---
Live Workshops
People have been asking when our 2021 workshops in the U.S. are scheduled. They're scheduled in June, 2021, in New Orleans, Louisiana.

Here are the 2021 dates:
June 3-6, 2021, Travel Writing & Photography Retreat
June 8-10, 2021, Marketing Master Class for Travel Writers


We have had a lot of interest for these workshops already. You can sign up for our no-obligation interest list for these workshops and receive our substantial early bird discounts when we open registration:

GET ON THE 2021 LIVE WORKSHOP NO-OBLIGATION INTEREST LIST HERE
---
Did You Know . . .
Our Complete Marketing Master Class for Travel Writers is ranked #1 on TravelWritersExchange.com's Top Ten Travel Writing Workshops.

You can access the list of the top ten travel writing workshops at the link below . . .

Travel Writers Exchange workshop list: #1 Marketing Master Class
---
At Your Service
Coaching and Consulting
Online Courses
Vietnam 1-1 Retreat & Consulting
Expat Consulting
email: pitchtravelwrite@gmail.com
If you know someone who will enjoy this newsletter,
please forward or sign up
---
PitchTravelWrite.com, is our information-packed website for travel writers. This e-zine, a series of travel writing books and reference guides, coaching programs, and our workshops all work together to give you guidance in this field.

Our aim is to provide you with practical, nitty gritty information to help you gain entry the travel writing realm and all the enjoyment that comes with it, too. 




We're thrilled to announce that www.PitchTravelWrite.com is on The Write Life's 2020 list of 100 BEST WEBSITES FOR WRITERS! 



You can see the entire list by visiting their website - click on the graphic to view the list now.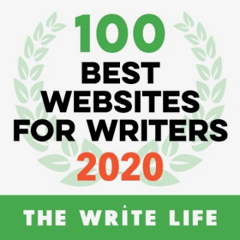 ---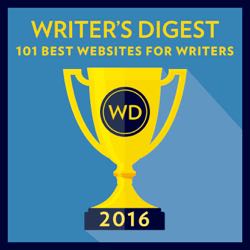 ---
Friend me on Facebook
My Facebook page is about freelance travel writing. I frequently post about:
• links to other well produced travel websites and blogs
• links to my travel articles
• magazine cover stories and back stories
• links to resource pages
• links to coaching and mentoring resources
. . .and plenty of other useful information to get you up to speed



Link to Roy's Personal Facebook page
---


That's all for now. Until next week - just keep pitching! Roy

Roy Stevenson
Pitch Travel Write
www.pitchtravelwrite.com






---