Greetings Fellow Travel Writers!
. . . and WELCOME all new subscribers. Thanks for joining us.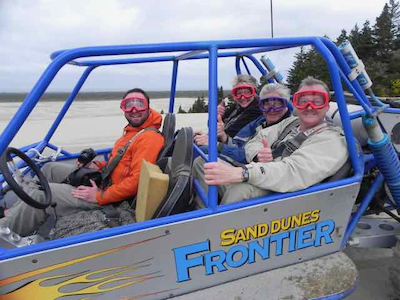 Editorial: What's It Really Like to Be A Travel Writer?
Nearly everyone has a skewed idea about the travel writer's life.

The most popular perception is that we gadabout Europe's most romantic destinations, or perhaps in SE Asia's exotic islands. And we stay for free in luxury resorts and villas, pampered with spa treatments, and being force fed the finest culinary delights.

Some might think we're regularly escorted on private guided tours of the raciest tourist attractions by attentive PR reps who cover our every expense.

Yet others believe we hop between Thailand, Estonia, Columbia or Portugal, hanging out in trendy cafés, surrounded by other hip digital nomads.

Many might think we spend our days sipping third wave coffee while our fingers dance around our keyboards, churning out posts and prose that will delight our avid tribe of magazine editors, fans, and followers.

Then, at the end of each idyllic day, we flop out in a hammock under the palms, looking out over a pristine beach as we take in the sunset. We'll write our travel stories with a fruity cocktail or frosted beer in hand, while somehow balancing our laptops - all at the same time.

While I've never written a story perched in a hammock on the beach, I regularly endure many of these other perks as part of my job. These scenarios are really the icing on the cake for a travel writer. When all my hard work comes together, for a few days or weeks, I get to live far above my station in life.

Ninety percent of the travel writing iceberg remains below the water. That's where the real work happens. It's far less exciting and much more mundane!

To live "the good life" for a few months each year, many would regard my daily tasks as pure drudgery.

Travel writing is a job, like any other. It's not all beer and skittles, as my Kiwi and Aussie compatriots would say. We work for those travel perks!

Here are a few of the behind-the scenes tasks:

Spending mind-numbing hours online, and thumbing through Writer's Market, tracking down magazines for my distribution list


Writing and sending out hundreds of query letters to editors, pitching my latest story ideas


Working long and hard cranking out publishable copy with multiple deadlines hanging over my head


Sending completed manuscripts to destination marketing PR reps for fact checking


Scanning through previously published articles to see what I can re-sell to earn the most income for every article


Suffering through interminable flights and the subsequent jet lag at each destination. Then, trying to appear intelligent when I'm interviewing someone while I'm still jet lagged.


Sending out polite "Request for Travel Assistance" emails to Destination Marketing Organizations (DMOs), asking for complimentary accommodations, meals, entry to tourist attractions, guides, transport, because my paid assignments don't cover my travel expenses


Showing genuine interest and appreciation on Fam Tours even when I'm unexcited about a particular attraction


These are just a few of the many routine tasks needed to eke out a crust as a freelance travel writer. It's the price we pay for those few months of carefree, glamorous travel!

If you're launching a travel writing career, you'll want to read this article is about a year on the road as a travel writer . . .


---
Do You Have a Travel Website?
We're currently upgrading our reference book, 50 Websites That Want to Publish Your Travel Stories.

If you have a travel website that accepts guest posts (paid or unpaid) and would like to have it listed in our book, please send us details at: pitchtravelwrite@gmail.com

This is a free listing. Please be sure to include your website URL and where to find your writers guidelines.
---
This Week's Featured Post
Finding Travel Magazine Leads on Vendor Websites
During my years as a travel writer, I've created my own 'universal' travel magazine distribution list. It's enormous, with 500 magazines of all stripes that accept travel articles for publication. 

I'm always looking out for new magazines to add to this list. 



One valuable source is magazine vendor lists.  For a long time I didn't bother telling anyone about this because I thought everyone was doing it. But, it turns out that hardly any other travel writers utilize this resource, and many have been surprised when I mention it to them. 



What's it all about?



Online magazine vendors unwittingly provide us with nice lists of hundreds of magazines — for free! The magazines you glean from these vendor listings are excellent additions to your master distribution list.



With magazine vendor lists there is some homework involved. The lists, as they appear on the vendor listings, do not give you direct access to the information travel writers need (editor's name and contact details & writer's guidelines). But they do provide you with an entry point. 



So, all you have to do is follow the link to the magazine's website.  Once you're there, you look up the editor's name and contact details and scan through the writer's guidelines.  Voila!  



Magazine vendor lists are portals to a treasure trove of magazine leads. Learn more about them in this article . . .

READ THE ARTICLE


---
Upcoming Posts
Sep 28: Selling and Reselling Your Articles: Three Tricky Situations and How to Handle Them
Oct 5: The Art Of Reselling Your Travel Articles
Oct 12: Five Ways to Sell Your Travel Articles More Successfully




---
PitchTravelWrite.com Success Stories
Tim Cotroneo: My Story as a Golf and Travel Writer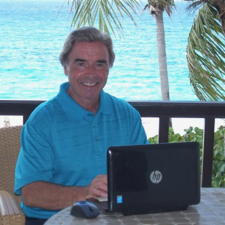 In 2011, I attended a travel writer's workshop and listened to a presentation by a speaker named Roy Stevenson who shared several travel writing tips. I thought to myself, "if I can accomplish half of what this guy has achieved in his short travel writing career, I'll be as happy as a clam."



After the workshop my wife and I planned a trip to the Turks and Caicos Island of Providenciales. I emailed the golf professional at the island's only 18-hole course in advance of the trip and presented myself as a golf and travel writer. I thought to myself, "I have nothing to lose and everything to gain." On the trip I met with the pro and played the course. 

My First Yes!

During our stay in Providenciales, I noticed a glossy magazine on the coffee table in our hotel room and read it. Upon returning home to Minneapolis, I pitched this magazine a story idea about what I experienced at the golf course when I played there.

The editor said yes!

I wrote the story and got paid $300. I was officially a travel writer and have been writing about golf and travel ever since.

Tim Cotroneo has had an exotic travel writing journey so far. Here's his story, in his own words . . .

READ TIM'S STORY


---
Pitch Travel Write: Most Requested Links about Reselling Your Articles

Here are four articles about how I earn more money for my stories - by reselling, repurposing and repackaging my work in the U.S. and around the world. I do this all the time.

Read the articles to learn about my process and find out how you can do it, too . . .

Five Ways to Sell Articles More Successfully

Earn More: Sell Your Articles Around the World

The Art of Reselling Your Articles

Repurposing Your Articles


---
Inspirational Travel Quote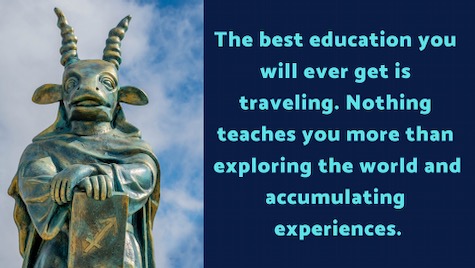 ---
RESOURCES FOR TRAVEL WRITERS
Featured Book: THE COMPLETE GUIDE TO MARKETING AND SELLING YOUR TRAVEL ARTICLES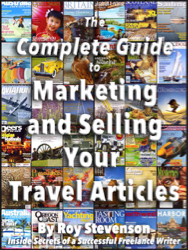 "If you can't sell your travel stories, you don't get to write them."

My guide shows you EVERYTHING you need to know about selling your travel articles to paying print media.

The Complete Guide to Marketing and Selling Your Travel Articles tells you how to select saleable story ideas, how to write first class query letters and pitch your ideas the right way.

This comprehensive manual shows you how to find magazines that will be interested in buying your story, and how you can start selling your travel articles to magazines immediately and reap the fantastic travel benefits, while being paid for your work.

BUY THE BOOK

Here's what Michelle Newman says about this book:

"Roy, although I've been contributing to magazines, newspapers, TV and radio for nearly 20 years, your book, The Complete Guide To Marketing & Selling Your Travel Articles is an invaluable tool regardless of one's level of experience dealing with & contributing to various outlets. Your book is written in a clear, understandable manner that gives concrete examples. Most importantly, it's enormously informative & helpful.

As I shared with you, in one month I took a brutal hit and my 3 biggest outlets no longer exist or have ceased generating content. So it was back to square one for me - having to reach out and pitch editors and find new outlets.

The query letter section in The Complete Guide To Marketing & Selling Your Travel Articles is an enormous help; it is packed with useful, practical information and not a bunch of fluff.

Thanks one again for generously sharing all of your tips and info that you've acquired over the years."

Best Regards,
Michelle Newman, www.enlightenedtravel.net

BUY THE BOOK

---
Live Workshops
People have been asking when our 2021 workshops in New Orleans, Louisiana are scheduled.

Here are the 2021 dates:
June 3-6, 2021, Travel Writing & Photography Retreat
June 8-10, 2021, Marketing Master Class for Travel Writers


We've had lots of interest already. You can sign up for our no-obligation interest list for these workshops and receive our substantial early bird discounts when we open registration:

GET ON THE 2021 LIVE WORKSHOP NO-OBLIGATION INTEREST LIST HERE
---
Did You Know . . .
Our Complete Marketing Master Class for Travel Writers is ranked #1 on TravelWritersExchange.com's Top Ten Travel Writing Workshops.

You can access the list of the top ten travel writing workshops at the link below . . .

Travel Writers Exchange workshop list: #1 Marketing Master Class
---
At Your Service
Coaching and Consulting
Online Courses
Vietnam 1-1 Retreat & Consulting
Expat Consulting
email: pitchtravelwrite@gmail.com
If you know someone who will enjoy this newsletter,
please forward or sign up
---
PitchTravelWrite.com, is our information-packed website for travel writers. This e-zine, a series of travel writing books and reference guides, coaching programs, and our workshops all work together to give you guidance in this field.

Our aim is to provide you with practical, nitty gritty information to help you gain entry into the travel writing realm and all the enjoyment that comes with it. 




We're thrilled to announce that www.PitchTravelWrite.com is on The Write Life's 2020 list of 100 BEST WEBSITES FOR WRITERS! 



You can see the entire list by visiting their website - click on the graphic to view the list now.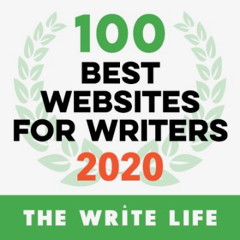 ---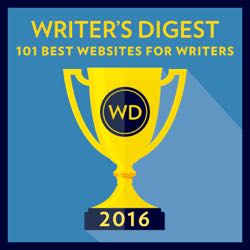 ---
Friend me on Facebook
My Facebook page is about freelance travel writing. I frequently post about:
• links to other well produced travel websites and blogs
• links to my travel articles
• magazine cover stories and back stories
• links to resource pages
• links to coaching and mentoring resources
. . .and plenty of other useful information to get you up to speed



Link to Roy's Personal Facebook page
---


That's all for now. Until next week - just keep pitching! Roy

Roy Stevenson
Pitch Travel Write
www.pitchtravelwrite.com






---