Greetings Fellow Travel Writers!
. . . and WELCOME all new subscribers. Thanks for joining us.


---
Writer's Digest Nominations for 2024
CALL FOR NOMINATIONS: Writers' Digest Magazine's 101 Best Websites for Writers

Fellow Travel Writers,

Have you used any of our resources to help achieve travel writing success? This includes our PitchTravelWrite.com website, our reference books, Roy's coaching, our Travel Writing & Photography Retreat, our Master Class, our online Master Class, our twice-monthly newsletter, or any of our other resources.

If so, we'd love it if you nominate us for the 2024 Writers' Digest Magazine's 101 Best Websites for Writers.

Nominations close November 20, 2023.

Our PitchTravelWrite.com website has been listed in Writer's Digest Magazine's 2016, 2020, 2021, 2022, & 2023 "101 Best Websites For Writers." It's also listed on Writer's Digest Magazine's 2020, 2021, 2022 & 2023 "Best Genre/Niche Websites." Writer's Digest doesn't bestow these awards lightly. It's the U.S.A.'s top writing magazine!

Here's the link to the nomination form. It will take you less than 5 minutes to fill it out. We at PitchTravelWrite.com appreciate your support!
Writers Digest 2024 nomination form

---
Editorial
Our 7-night cruise up the Mekong River was even more exciting and interesting than we anticipated.

For seven days and nights we lived aboard the beautiful RV Indochina Pandaw. With 28 deluxe staterooms, panoramic French windows in the dining room, and a saloon bar on the sundeck, we had plenty of space to explore and enjoy.

We were picked up at our hotel meeting point in Saigon and taken by air conditioned bus to the small Vietnamese delta town of My Tho, where our cruising adventure began.

Our first-class cabin, finished with brass and teak, had a generously-sized hot shower, air conditioning and lots of storage space. Our first excursion began after lunch the same day we arrived, so we settled in quickly and transferred to a sampan to visit the mangroves and fruit farms of Ben Tre. Excursions were usually offered twice a day, so there was no time to get bored.

Our spare time aboard our ship let us watch the panorama that is the Mighty Mekong River unfold from the promenade outside our cabin or lounging up on the sundeck. Over the course of the week we noted the contrast between the bustling Vietnamese Mekong with fisherman and fisheries, and the more rural and tranquil Cambodian Mekong with temples and farms. Aboard the ship we enjoyed cultural shows and presentations on history and culture for both countries.

The high level service on board was impeccable. The crew was friendly, always smiling and helpful, serving up whatever we requested. The meals were superb, with local dishes from the regions we were exploring and some western offerings so we had a lot of choices. We had tea and coffee on the sundeck every morning and there was a cocktail hour every evening.

Ashore we enjoyed walks through the countryside, local villages, schools, temples, and visits to heritage sites. Here are a few highlights from our trip:
On Con Phuoc Island we visited the local community where a family of women showed us their basket weaving process from start to finish. The women ranged in age from 8 to 78 and it was fun seeing them working together.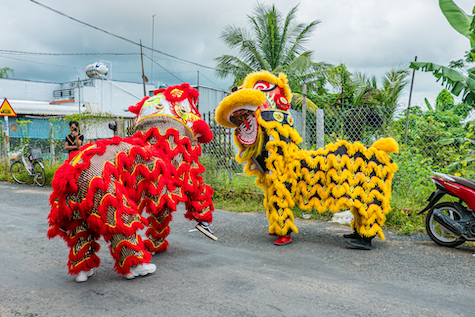 Before leaving Vietnam we were treated to a traditional Lion Dance on Long Thuan island. The lions escorted us through the town and back to our sampan with drums and lots of fanfare and good wishes for a safe trip, happiness, good health and prosperity.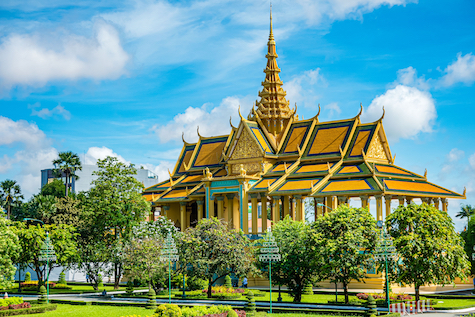 In Phnom Penh we visited the Royal Palace. This is the elephant garage on the palace grounds from the days when elephants were the primary mode of transportation. We were toured around the city by cyclo before returning to the boat.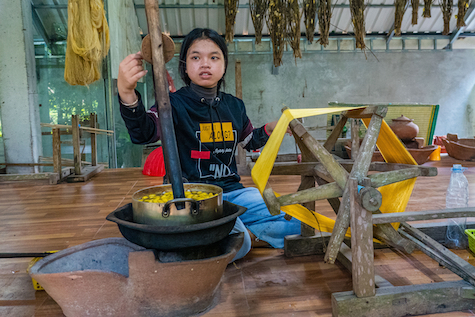 We sailed to Koh Nghe Tei - Silk Island - to see the entire silk-making process from worms to weavers. In this photo the young woman is boiling the cocoons and extracting the silk strands from the cocoons onto a large spool.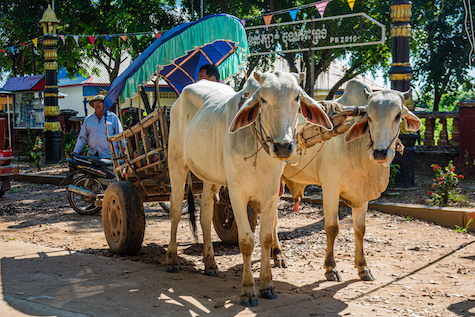 There were many forms of transportation arranged for us on our land excursions: sampans to our island excursions, rowboats in the bamboo forest, cyclos in Phnom Penh, tuk-tuks of all sorts around the islands, and finally ox carts on Koh Trong Island.

Eight days after we boarded we docked at Kampong Cham, Cambodia, and were transported by air-conditioned bus to Siem Reap, home of the world famous Angkor Wat and many other Angkor temples. Because we lived in SE Asia for several years we've been to the Angkor temples many times, so we only spent a day this time revisiting our favorites. The other days we toured around the town, getting to know the market and surrounding area. We capped off our tour of Siem Reap with a visit to the National Museum and then lunch at Raffles hotel.

We're now back in our temporary "home" in Danang, Vietnam, where we'll stay until late December.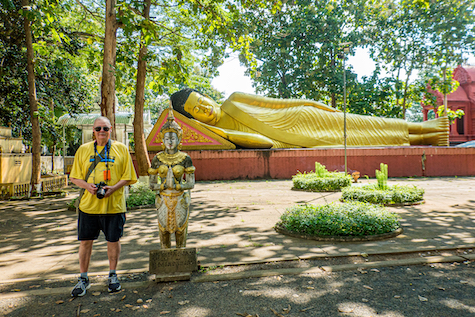 ---
500 Print Magazines
If you purchased 500 Print Magazines That Want To Publish Your Travel Stories, the November issue (#3) will be available on the 15th of this month. You will receive an email with a login link, but in case you don't, you can access the login page and input your login credentials at this link

In issue #3 you'll receive another 50 magazines plus 7 bonus magazines — along with a wealth of information about each magazines. (In total this month you'll have received 171 magazine listings so far!) We've also included some introductory materials about pitching your story ideas to magazines. Be sure to download both files.

If you have any problems downloading any issues, please get in touch with us at pitchtravelwrite@gmail.com and we'll be happy to help you.

We're looking forward to hearing from you about which magazines you've pitched successfully and what stories have been picked up by these magazines.
---
Featured Post
The Benefits of Hiring a Travel Writing Marketing Coach
The highly competitive travel writing field attracts thousands of dewy-eyed hopefuls every week. But every week thousands of disillusioned people drop out. After suffering a constant stream of rejection letters from editors, or worse, never hearing back from them–they drift away.

The reality is, breaking into travel writing and getting your stories published in print is difficult. Acquiring effective marketing skills to sell your stories is like learning a new language.  It's awkward, uncomfortable and in many cases unachievable for most beginners. Here's how a seasoned professional and experienced marketing mentor or coach can help you sell your stories . . .

READ THE ARTICLE


---
Introducing Bianca Dumas, a Talented and Prolific Freelance Travel Writer
We're proud to introduce Bianca as another PitchTravelWrite.com Coaching Success Story.

I started working with Bianca Dumas through my one-on-one, personalized coaching and mentoring program in February 2023 and she's taken to the freelance writing game like a fish to water. She's already been published — or is about to be published — in a large number of respectable and highly-regarded magazines.

She has patience and initiative and she's a super-fast learner with a distinctive writing voice. Beyond Bianca's writing talents, she's not afraid to pitch her stories to top shelf glossies. And she doesn't balk at creating sizable magazine distribution lists for querying editors. She's already making great strides in this competitive field!

Here's Bianca's freelance travel writing story in her own words; it's a great story and will motivate you if you're wanting to break through into freelance travel writing . . . READ BIANCA'S STORY


Be sure to read about some of our other success stories at these links:
Success-Story-Pam and Gary Baker
Success Story: Candi-Licence
Success Story: Jessica-Pickett

---
Upcoming Posts
Nov 20: Types of Travel Stories to Help You Find Your Niche
Dec 4: Enhance Your Travel Writing Image Using Facebook
Dec 18: Why "Practice Makes Perfect" is Terrible Advice For Travel Writing 

---
Inspirational Travel Quote
---
Pitch Travel Write: Most Requested Links - Should You Specialize or Should You Write in Diverse Travel Genres?
You'll obviously pitch and sell more stories about your interests and passions, but you should always strive to get your stories published in as many different genres and magazines as you can. When you increase the specialty areas and genres you write in, your potential market increases exponentially.

I'll always recommend that you write in as many genres as you can. If I had written solely in one genre, I wouldn't have had anywhere near as much success.

By writing in multiple genres, I've sold more than 1,000 stories to 200+ regional, national, and international magazines, newspapers, trade journals, custom publications, specialty magazines, in-flights, on-boards, and online travel magazines.

Writing in multiple genres expands your writing bandwidth and prevents you getting bored with one subject. And, financially, you'll be better off because it's easier to sell more stories when you write about varied topics.

Here's some more reading on this subject from our PitchTravelWrite website:

Writing Genres and Your Travel Writing Niche

How to Expand Your Writing Genres and Why You Should Do It

How to Write Your Best Travel Story
---
MORE RESOURCES FOR TRAVEL WRITERS
Featured Book: Find Your Niche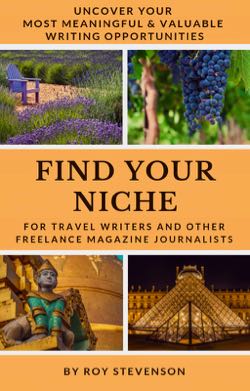 There's so much more to being a successful freelance travel journalist than good writing skills. If you want to earn enough money in this field, one important aspect is diversifying your writing focus into more than one niche.  
 But how do you go about doing that?  



Figuring out where your interests and skills fit into the myriad themes of freelance writing can be confusing. As a beginner, you don't have a foundation to make an educated guess. Our book, Find Your Niche, explores the different kinds of travel stories and writing genres to help you identify the travel niches that are interesting to you.  

This 85-page resource helps you find tips, techniques and actionable information including:


7 reasons to pursue a specialty travel niche and how to get started
Why tapping into your interests, passions and experience will lead to greater success
How you'll earn more by writing in multiple genres
5 ways to write with authority on a topic when you're not an expert
Eight specialty niches with details about how to break into these niches and where to pitch your story ideas
For the month of November save $5 off the regular price of this book if you use discount code FYNN5 at checkout.

BUY THE BOOK

Testimonial:

"So much has been written about the importance of niches, but I haven't come across a book that focuses this directly on helping travel writers and bloggers to find a niche. So if you're struggling to get into the writing groove and find your audience or tribe. this book could help you become more intentional about your travel writing."
-Jay Artale, BirdsofaFeatherPress.com

Don't forget: For the month of November save $5 off the regular price of this book if you use discount code: FYNN5

---
Latest News eBooks
We're publishing a New eBook:
You need a combination of skills to succeed in the freelance travel writing game. Since 2007 I've been bombarded with hundreds of email questions about all aspects of travel writing. The blogs you're about to read are my succinct answers to these urgent questions.
These blogs are gathered from my email replies, Facebook posts, LinkedIn posts, blogs, and newsletter editorials. They provide quality solutions—in summary form—to the myriad challenges travel writers face.
Even better, at the end of each blog I give you the link to a more detailed and comprehensive coverage of each topic. If you'd like to learn more about each blog, you can continue on to a more in-depth post on my PitchTravelWrite.com website. You're getting a two-for-one on every single post!
These blogs are grouped in 13 categories ranging from finding magazines to pitch to writing killer query letters, and from selling and marketing your travel articles to the business basics every serious travel writer needs to know.
Follow the advice dispensed here and you'll earn more from your travel writing by selling more stories and improving your travel writing.
---
At Your Service
Coaching and Consulting
Online Courses
If you know someone who will enjoy this newsletter,
please forward or sign up
---
PitchTravelWrite.com, is our information-packed website for travel writers. This e-zine, a series of travel writing books and reference guides, coaching programs, and our workshops all work together to give you guidance in this field.

Our aim is to provide you with practical, nitty gritty information to help you gain entry into the travel writing realm and all the enjoyment that comes with it. 


---
Awards and Accolades
We're thrilled to announce that our website, PitchTravelWrite.com has made The Write Life.com's list of 100 BEST WEBSITES FOR WRITERS for 2020 and 2021! 



You can see the entire list by visiting their website - click on the graphic to view the list now.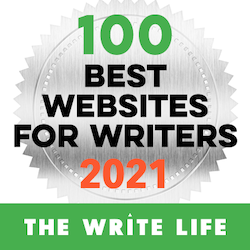 ---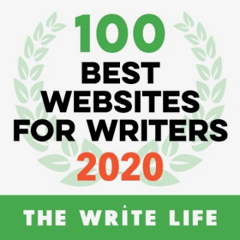 ---
We're proud to announce that our travel writing website, PitchTravelWrite.com has made Writer's Digest Magazine's 2016, 2020, 2021, 2022, and 2023 101 BEST WEBSITES FOR WRITERS.

Writer's Digest doesn't bestow these awards lightly. And we're the only travel writing website on their lists!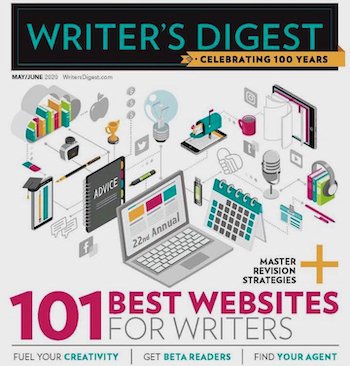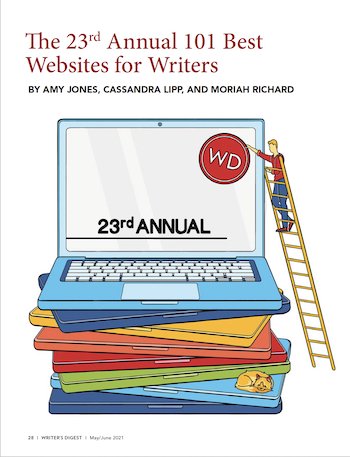 And the accolades for PitchTravelWrite.com just keep pouring in! Our website helps travel writers successfully sell their travel stories.

Thank you, Writer's Digest Magazine for listing us on your "Best Genre/Niche Websites for 2020, 2021, 2022 and 2023."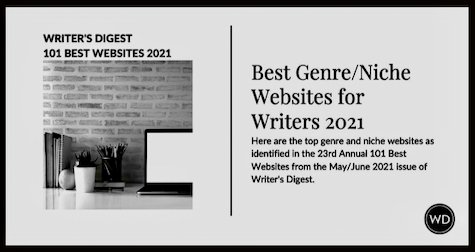 And the accolades for our PitchTravelWrite.com travel writing website just keep pouring in!

Our Complete Travel Writing & Marketing Master Class is ranked #1 on TravelWritersExchange.com's Top Ten Travel Writing Workshops. https://bit.ly/2UV7wjW

Our Online Travel Writing & Marketing Master Class has made Reedsy.com's Best Travel Creative Writing Classes for 2023 list. There are only 21 travel writing courses on this worldwide list! Here's the link to the list: https://blog.reedsy.com/creative-writing-classes/travel/
---
Friend me on Facebook
My Facebook page is about freelance travel writing. I frequently post about:
• links to other well produced travel websites and blogs
• links to my travel articles
• magazine cover stories and back stories
• links to resource pages
• links to coaching and mentoring resources
. . .and plenty of other useful information to get you up to speed



Link to Roy's Personal Facebook page
---


That's all for now. Until next week - just keep pitching! Roy

Roy Stevenson
Pitch Travel Write
www.pitchtravelwrite.com



---