Greetings Fellow Travel Writers!
. . . and WELCOME all new subscribers. Thanks for joining us.



---
Editorial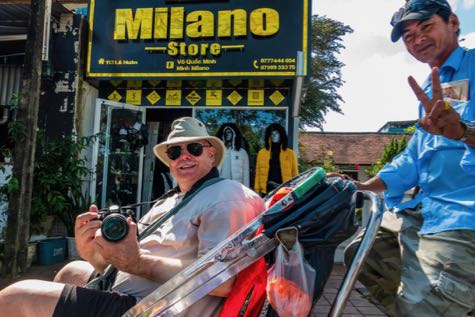 We're resting up and recovering from our highly successful Travel Writing & Photography Retreat and our Marketing Master Class for Travel Writers in Charleston, SC — plus all our previous travel.

As Robert Louis Stevenson writes in his timeless Requiem . . .
"Home is the sailor, home from the sea
And the hunter home from the hills"

Well, we haven't been sailing or hunting, but we're back relaxing in our Seattle home after traveling for 6 years in Thailand, Vietnam, Spain, Portugal and Croatia, with several visits to other SE Asian countries. Whew!

We're busy repairing and furnishing our peaceful, secluded home and re-adjusting to life and culture in the U.S. Re-acquainting with our neighbors. Rediscovering our favorite restaurants plus a few new ones. Buying a new car. And the biggest one: learning to drive again after 6 years of being driven everywhere.

Travel Writing & Marketing Workshops

We're already planning next year's Travel Writing and Marketing workshops. We haven't decided whether to hold them in spring or fall. We've identified several potential host cities including Sedona or Tucson, Arizona; Santa Fe or Taos, New Mexico; Charlottesville, Virginia; and Breckenridge, Colorado.

These 6 small cities are beautiful and have enough good restaurants, art galleries, boutique shops, museums, and other attractions to keep travel journalists entertained for a week.

We want your feedback on these workshop sites so expect a short email survey to hit your inbox in the next couple of weeks. Thanks in advance for your response. We value your input!

New eBooks Coming Soon

We're excited to announce that we've finished the draft of our ebook "500 Print Magazines That Want To Publish Your Travel Articles." Rather than revise our current eBook, "100 Print Magazines That Want To Publish Your Travel Articles" we decided it needed a complete overhaul.

We've tossed out the magazines that have folded since the 2016 edition and added in a whopping 450 NEW magazines to this eBook. Yes, you read that right!

We'll have more details in an upcoming newsletter once we've done the finishing touches.

We're about to publish another eBook to help you get your travel stories published. It's called The Best of Roy's Blogs: Roy's Solutions for Selling More Travel Stories, Writing Better, and Earning More Money.

You need to have a lot of skills to be successful in the freelance travel writing game. In the past fifteen years I've been bombarded with hundreds of email questions about many aspects of travel writing. The blogs you're about to read are my succinct answers to these urgent questions.

These blogs are gathered from my email replies, Facebook posts, LinkedIn posts, blogs, and newsletter editorials. They provide quality solutions in summary form to the myriad challenges travel writers face.

Even better, at the end of each blog I give you the link to a more detailed and comprehensive coverage of each topic so you can continue on to a more in-depth post on our website PitchTravelWrite.com.

Follow the advice dispensed in this eBook and you'll earn more from your travel writing by selling more stories and improving your travel writing.

More information on both eBooks coming soon.
---
Featured Post
Should You Write Free Travel Content for Websites and Blogs?
Should travel writers write for free? This has been a contentious issue for decades and is a much-debated part of the travel journalism culture.

And, writing for travel blogs and websites has expanded that discussion. Are there any ways travel writers can benefit from writing free content?

In this post, I weigh the advantages and disadvantages:

READ THE POST

---
Here's Who Joined Us in Charleston SC for Our Travel Writing & Photography Retreat and Our Marketing Master Class For Travel Writers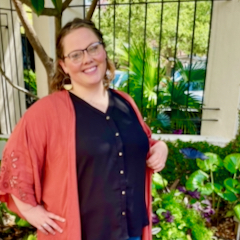 Emily Corak . . .
has lived, traveled, and eaten her share of good food around the world. She now calls Portland, Oregon, home where she lives with her husband, two young children, and a hyperactive lab.
An educator for over a decade, Emily received her MFA degree in creative writing in 2022 and writes for various creative nonfiction and travel sites.
As both a travel writer and photographer, she enjoys exploring the world and seeking out used bookstores, tea shops, and the best street tacos.
While visiting Charleston she told us she quizzes her Uber drivers about their favorite local eating spots. It's a great way to avoid tourist prices, find out where the locals eat and taste the best food in town.
---
Upcoming Posts
Aug 22: Planning and Organizing a Customized International Press Trip
Aug 29: Can You Earn Enough Money as a Travel Writer?
Sep 5: The Three Best Travel Writer's Associations


---
PitchTravelWrite.com Success Stories
Tim Cotroneo: My Story as a Golf and Travel Writer
In 2011, I attended a travel writer's workshop and listened to a presentation by a speaker named Roy Stevenson who shared several travel writing tips. I thought to myself, "if I can accomplish half of what this guy has achieved in his short travel writing career, I'll be as happy as a clam."



After the workshop my wife and I planned a trip to the Turks and Caicos Island of Providenciales. I emailed the golf professional at the island's only 18-hole course in advance of the trip and presented myself as a golf and travel writer. I thought to myself, "I have nothing to lose and everything to gain." On the trip I met with the pro and played the course. 

My First Yes

During our stay in Providenciales, I noticed a glossy magazine on the coffee table in our hotel room and read it. Upon returning home to Minneapolis, I pitched this magazine a story idea about what I experienced at the golf course when I played there.

The editor said yes!

I wrote the story and got paid $300. I was officially a travel writer and have been writing about golf and travel ever since.

Here's Tim Cotroneo's exotic travel writing journey


---
Pitch Travel Write: Most Requested Links About How to Land Press Trips and FAM Tours
Once you've established your reputation as a prolific writer in your region — or around the world — and you have a good relationship with several travel magazine editors, you'll find a whole new world opening up to you, that of Familiarization Tours and Press Trips.

These press trips and FAM Tours will provide you with free or low cost travel if you have assignments.

Our Press Trips Resource Page gives you 16 free, full length articles on how to land these free travel assignments and cushy press trips. They show you, step-by-step, how I've scored more than 100 press trips to 25 countries around the world.

Press Trips and FAM Tours Resource Page


---
Inspirational Travel Quote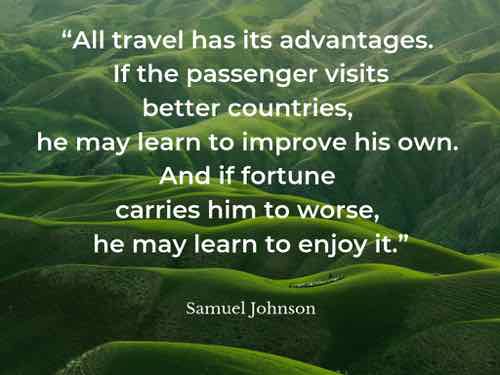 ---
RESOURCES FOR TRAVEL WRITERS
Featured Book : The Complete Guide to Marketing & Selling Your Travel Articles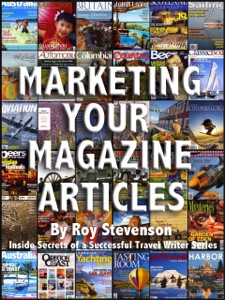 If you can't sell your travel stories, you don't get to write them.
My guide shows you EVERYTHING you need to know about selling your travel articles to paying print media.
My manual, The Complete Guide to Marketing and Selling Your Travel Articles tells you how to select saleable story ideas, how to write first class query letters and pitch your ideas the right way.
This comprehensive manual shows you how to find magazines that will be interested in buying your story, and how you can start selling your travel articles to magazines immediately and reap the fantastic travel benefits, while being paid for your work.
You can get $10 off during the month of August when you use promo code AMMTEN

BUY THE BOOK

"Roy, although I've been contributing to magazines, newspapers, TV and radio for nearly 20 years, your book, The Complete Guide To Marketing & Selling Your Travel Articles is an invaluable tool regardless of one's level of experience dealing with & contributing to various outlets. Your book is written in a clear, understandable manner that gives concrete examples. Most importantly, it's enormously informative & helpful.
As I shared with you, in one month I took a brutal hit and my 3 biggest outlets no longer exist or have ceased generating content. So it was back to square one for me - having to reach out and pitch editors and find new outlets. 
The query letter section in The Complete Guide To Marketing & Selling Your Travel Articles is an enormous help; it is packed with useful, practical information and not a bunch of fluff. Thanks one again for generously sharing all of your tips and info that you've acquired over the years."
Best Regards,  Michelle Newman

BUY THE BOOK
Don't forget to use discount code AMMTEN for $10 off during the month of August.
---
Group Coaching Mastermind Community
Our first Group Coaching Mastermind Community kicked off in October, 2020, and we've got a global group with members living in Australia, Belgium, Canada, Indonesia and the U.S. We're very excited about this group of writers and our new community! We added new members to our community in 2021 and they're getting to know the group and participate in writing activities.

If you missed out on the opportunity to join earlier sessions, you can get on the waiting list for the next session starting later this year:

Learn more and get on the waiting list

---
Did You Know . . .
Our Complete Marketing Master Class for Travel Writers is ranked #1 on TravelWritersExchange.com's Top Ten Travel Writing Workshops.

Your next opportunity to attend these classes be in 2023. Our travel writing & marketing workshops are highly informative and a blast, socially.

Our travel writing & marketing workshops are highly informative and a blast, socially.

Get on our interest list for updates:

Travel Writing Workshops 2023 Interest List

You can access the list of the top ten travel writing workshops from Travel Writers Exchange at the link below: Travel Writers Exchange workshop list: #1 Marketing Master Class

---
At Your Service
Coaching and Consulting
Online Courses
If you know someone who will enjoy this newsletter,
please forward or sign up
---
PitchTravelWrite.com, is our information-packed website for travel writers. This e-zine, a series of travel writing books and reference guides, coaching programs, and our workshops all work together to give you guidance in this field.

Our aim is to provide you with practical, nitty gritty information to help you gain entry into the travel writing realm and all the enjoyment that comes with it. 


---
Awards and Accolades
We're thrilled to announce that www.PitchTravelWrite.com is once again on The Write Life's list of 100 BEST WEBSITES FOR WRITERS! 



You can see the entire list by visiting their website - click on the graphic to view the list now.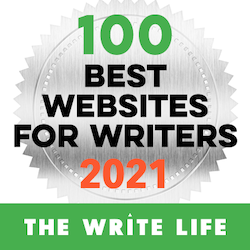 ---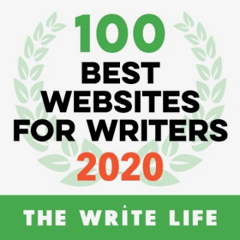 ---
We're proud to announce that our travel writing website has made Writer's Digest Magazine's 2016, 2020, 2021 and 2022 101 BEST WEBSITES FOR WRITERS. Writer's Digest Magazine also lists us on their Best Genre/Niche Websites for 2021.

Writer's Digest doesn't bestow these awards lightly. And we're the only travel writing website on their lists!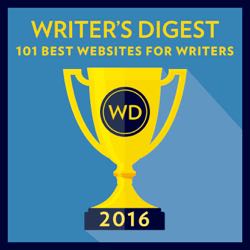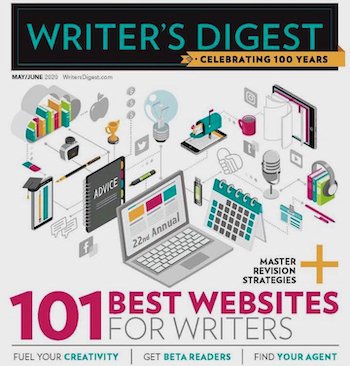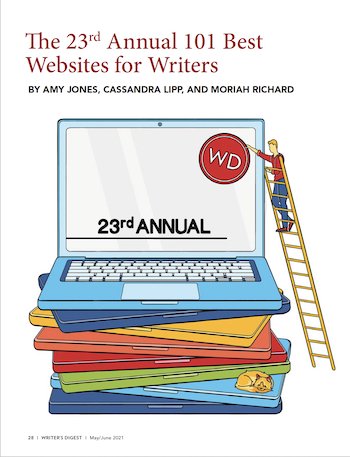 And the accolades for PitchTravelWrite.com just keep pouring in! Our website helps travel writers successfully sell their travel stories. Thank you, Writer's Digest Magazine, for listing us on your "Best Genre/Niche Websites for 2020" & "Best Genre/Niche Websites for 2021."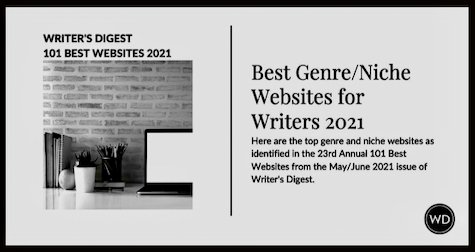 ---
Friend me on Facebook
My Facebook page is about freelance travel writing. I frequently post about:
• links to other well produced travel websites and blogs
• links to my travel articles
• magazine cover stories and back stories
• links to resource pages
• links to coaching and mentoring resources
. . .and plenty of other useful information to get you up to speed



Link to Roy's Personal Facebook page
---


That's all for now. Until next week - just keep pitching! Roy

Roy Stevenson
Pitch Travel Write
www.pitchtravelwrite.com






---