Greetings Fellow Travel Writers!
. . . and WELCOME all new subscribers. Thanks for joining us.


---
WHERE WE ARE NOW
We continue to explore Zagreb at our leisure. This city's historic district has plenty of interesting sights and relaxing cafes.

Cafe Dubrovnik has, since 1942, hosted Zagreb's significant business travelers, its cultural milieu, and true coffee aficionados. In addition to some of the best coffee and cakes in Zagreb, we were won over by its wonderful hardwood and leather art deco ambiance.

Situated in the Hotel Dubrovnik, the café boasts a special elegance and quiet atmosphere that reflects the charms of old Zagreb. We enjoy looking out through the café's tall glass windows over the heart of the city—busy Ban Jelačić Square—people watching and feeling the city's true rhythm.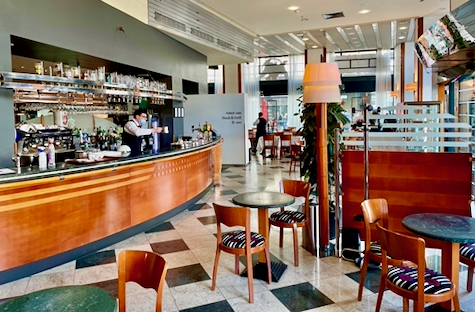 As we look across Zagreb's central Dolac Market, we see dozens of red umbrellas towering over brightly colored piles of oranges, apples, vegetables, bread, honey, and fish and meat. The scene is active but sedate compared to the markets we saw in SE Asia.

The best time to see Dolac market is around 9 am, when the vendors have their stalls set up & are hawking their wares.
Linda discovered the famous Underground Tunnels hidden beneath Zagreb's Gornji Grad or "Upper Town." These quiet tunnels are shrouded in mystery and urban legend.

Grič Tunnel is the only part of the network open to the public. It was built in 1943 to shelter civilians from air raids.

Grič Tunnel is a quick shortcut to some of the important city streets. Walking through the 350-meter-long tunnel, you can still see old warning signs posted.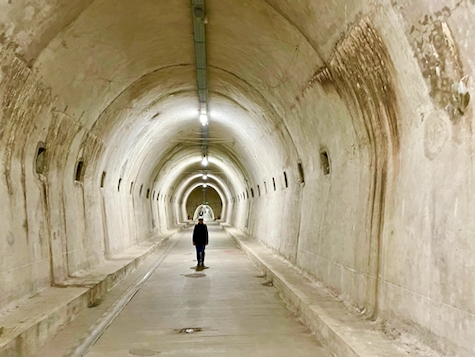 ---
WORKSHOP REGISTRATION IS OPEN!
You can still register for our workshops - we still have a handful of seats remaining.

If you sign up for BOTH workshops -- The Complete Package-- you save $800.

Or, you can save $100 off the regular price of each individual workshops:
June 18-21 - The Travel Writing & Photography Retreat and
June 23-25 - The Marketing Master Class for Travel Writers.


Our Travel Writing Workshops Are The Best ANYWHERE!
Here are eight reasons why you won't find better workshops anywhere else:

1. Roy Walks the Talk

The workshops are taught by prolific international travel writer Roy Stevenson, who has more than 1,000 published articles in 200+ regional, national, and international magazines, newspapers, trade journals, custom publications, specialty magazines, in-flights, on-boards, and online travel magazines.

Few travel writers ever crack the 1,000 article barrier, and even fewer have cracked the 200 publications mark — Roy has done both and will show you how he does it.

2. Proven Coaching Success

Roy has coached more than 100 travel writers to great successes. While working with these writers, he noticed they continually make recurring writing errors.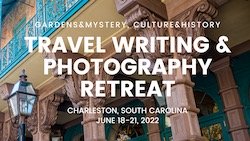 The Travel Writing & Photography Retreat addresses these common mistakes and shows you how to avoid them, while taking your travel writing to publishable levels. Learn more and Register at this link (or click the graphic)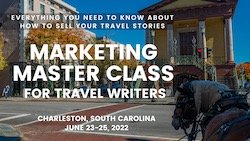 Roy's unique Marketing Master Class curriculum addresses everything related to selling your articles and marketing your work, in detail, with plenty of real-life examples from his experiences. Register at this link (or click graphic)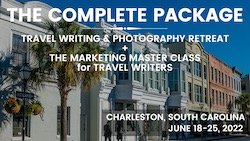 You also have the opportunity to attend both workshops and save a whopping $800 off the regular prices. The Complete Package includes both workshops.
Register here (or click the graphic) for The Complete Package


3. A Proven Track Record With Workshops
We've hosted more than one dozen highly successful travel writing workshops since 2016 in the U.S., Thailand, & Vietnam.

4. In-Depth & Actionable Coursework
Other travel writing workshops gloss over the details, but that's not how we do things. Until now, there's never been a workshop specifically designed to show you how to market and sell your travel stories. Most travel writers struggle with querying and pitching their travel stories. And they have very little idea where to sell them. Our workshops teach you what you need to know to get published.

5. A Well-Published Author
Roy is the author of 11 books on freelance travel writing and has sold thousands of copies of these reference books and guides.

6. Press Trips
Roy has been on more than 100 press trips & Fam tours and dispatched stories from 25 countries in his fifteen-year travel writing career. He's lived in 7 countries: New Zealand, U.S.A, Singapore, Thailand, Belgium, Vietnam, & Fiji.
He'll show you how to parlay your travel writing assignments into free or discounted travel, meals, tours, accommodations, spa treatments, and entry into tourist attractions and museums. You'll save thousands of dollars in travel expenses once you know how to parlay your assignments.

7. Peer Recognition from Respected Organizations
Our website — PitchTravelWrite.com — is listed in Writer's Digest magazine's 2016, 2020, & 2021 "101 Best Websites for Writers" list.
PitchTravelWrite.com is also listed in TheWriteLife.com's 2020 & 2021 "100 Best Websites for Writers"

8. Our free weekly newsletter is THE BEST travel writing newsletter in the biz.


JOIN US in Charleston for the BEST travel writing workshops ANYWHERE


---
Editorial: Creativity Is at the Heart of Travel Writing!
We've all seen travel posts with names like "The Top Ten Sights in … ", or "Five Things To Do In . ." It seems like every second travel blog or website is overflowing with these easy-to write listicles.

These "Top Ten" lists miss the boat. They don't paint a colorful picture of the destination, its people, or their culture. They don't tell a story. They don't "show" us the place. Instead, they read like they've been cut-and-pasted from a tourist agency website or from Wikipedia. Personally, I'd rather read about two or three destinations in more depth, than read a scantily written bucket list of five or ten attractions at a place.

You'll notice that quality print travel magazines don't publish listicles. Their editors expect something more interesting and appealing to entertain their readers. If you want to sell your stories to print media—and get paid for them—you're expected to show imagination with your story ideas. 

Equally important, you need to be creative with where you place your travel stories.   Here's the deal. You don't have to restrict pitching your travel stories solely to travel magazines. There's a whole universe of genre magazines out there just waiting for you to send them travel story queries.

It's easy to track down non-travel magazines to sell your unique travel story ideas. And many of them pay well! 

I've literally sold hundreds of travel stories using this simple formula. For example, I've sold a piece about a UFO street festival and parade in McMinnville, Oregon, to a UFO magazine. And I sold a story about the famous aircraft "boneyard" near Tucson, Arizona, to an aviation history magazine. Both magazines paid tidy sums for my work.

I've sold a story about touring the London BBC studios to two ham radio magazines, and a piece about a Balinese healing retreat that serves raw vegan food to a vegan health & fitness magazine. 

I've sold dozens of stories about ghost towns and gold mining towns to a gold prospecting and metal detecting magazine. I've sold stories about renaissance living history festivals to a magazine about all things medieval.

I've sold twenty-two classic car museum stories to an automobile magazine for $1200 apiece. (Do the math!)

You can look at my writer's website (www.roy-stevenson.com) for more examples where I've merged unconventional travel story ideas with off-beat magazines.

Many non-travel magazine editors are screaming out for copy. Every month I receive emails from magazine editors—or see requests from editors on LinkedIn—begging for their writers to pitch and send more stories.

If you're having problems getting your stories published, I urge you to be more imaginative. Reassess your approach to dreaming up story ideas. And hunt down alternate print outlets to sell them. 

It's time to get creative with your travel writing!

Here are seven techniques to help you generate story ideas so that you can sell your travel stories to specialty magazines
---
This Week's Featured Post
Turning Bad Advice Into Best Practices
I'm always looking for new ideas on how to market my travel articles and how to make my writing more productive. Over the years, I've made a point of reading every new book about how to succeed in this field. 

What strikes me—when reviewing these books—is how shockingly bad or outdated some of the advice is. Much of their advice is just plain counterproductive in today's fluid freelance travel writing market, while other advice simply doesn't work any longer—if it ever worked.

I don't profess to know everything about marketing travel stories and I know that different techniques work for different people. However, with more than 1,000 articles published in over 200 different publications in my first nine years of writing, I've developed a strong sense of which marketing techniques work consistently and which ones don't work. 

To help you recognize the poor information that's circulating out there and to save you time and trouble, I've compiled a list of howlingly bad advice — along with my advice and best practice recommendations for what to do instead:

READ THE ARTICLE

---
Upcoming Posts
April 4: Travel Writing Blunders
April 11: The Secret to Freelance Travel Writing Success
April 18: 7 Reasons Why Travel Bloggers Should Write for Print Media


---
PitchTravelWrite.com Success Stories
Pam and Gary Baker's Remarkable Travel Writing Journey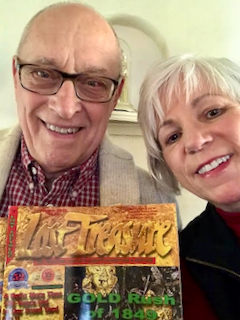 We've got two overachieving travel writers in Pam & Gary Baker!

In their four years as travel writers, Pam and Gary Baker have become an inspiring testament to how hard work can lead to spectacular success in our highly competitive field. I worked with Pam & Gary as their coach & mentor after they took our 2017 Travel Writing & Marketing Master Class. They've gone from strength to strength and demonstrated that it's possible for beginners to move into the top shelf travel glossies if you stick with it and follow the system.

Here's this overachieving couple's story, in their own words.

Read Pam & Gary Baker's Story
---
Pitch Travel Write: Most Requested Links About Earning More Money
How do you make more money for every word you write?

Here's what I do: I resell, repurpose, and repackage many of my travel articles. I get a bigger bang for every story I write by reselling my work in the U.S.A. & around the world.

I do this all the time -- and these posts tell you all about it.

Five Ways to Sell Your Articles More Successfully

Earn More by Selling Your Articles Around the World

The Art of Reselling Your Articles

Repurposing Your Articles


---
Inspirational Travel Quote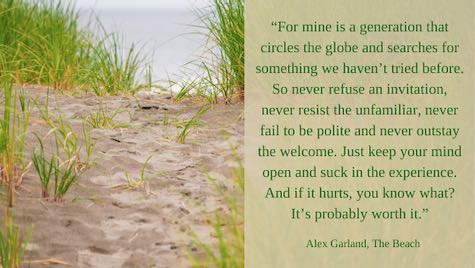 ---
RESOURCES FOR TRAVEL WRITERS
Featured Bundle : Advanced Travel Writing Bundle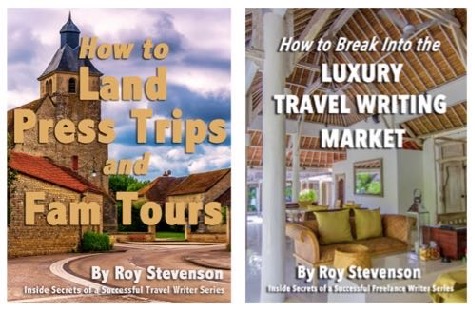 Take your travel writing career up a few notches with our advanced reference guides. The advanced pack saves you 10% off the price of the individual books.

For the month of March you can get an addition $5 off the advanced pack when you use Promo code m5ap at checkout

In How to Land Press Trips and Fam Tours you'll learn about how to use your assignments to request free and low-cost travel.  You'll also get all the resources successful travel writers have at their fingertips to network with the right people and have DMOs clamoring to invite you to visit their region.

If luxury is your preferred style of travel our manual, How to Break into the Luxury Travel Writing Market will help you move quickly into this market. And it gives you a huge ready-made list of magazines and websites interested in publishing luxury articles.

When you purchase both these books together, you automatically save 10% on each book. For the month of March you can get an addition $5 off the advanced pack when you use Promo code m5ap at checkout



Note: Don't forget to use promo code m5ap at checkout to get your $5 discount during the month of March.
---
Group Coaching Mastermind Community
Our first Group Coaching Mastermind Community kicked off in October, 2020, and we've got a global group with members living in Australia, Belgium, Canada, Indonesia and the U.S. We're very excited about this group of writers and our new community! We added new members to our community in 2021 and they're getting to know the group and participate in writing activities.

If you missed out on the opportunity to join this session, you can get on the waiting list for the next session starting soon in 2022:

Learn more and get on the waiting list

---
Did You Know . . .
Our Complete Marketing Master Class for Travel Writers is ranked #1 on TravelWritersExchange.com's Top Ten Travel Writing Workshops.

Your next opportunity to attend these classes will be in Charleston, South Carolina in June, 2022. There are still a few open seats in these workshops, so sign up while we have space.

Our travel writing & marketing workshops are highly informative and a blast, socially.

Travel Writing and Photography Retreat

Marketing Master Class for Travel Writers

The Complete Package (both workshops and a BIG discount)

You can access the list of the top ten travel writing workshops from Travel Writers Exchange at the link below: Travel Writers Exchange workshop list: #1 Marketing Master Class

---
At Your Service
Coaching and Consulting
Online Courses
If you know someone who will enjoy this newsletter,
please forward or sign up
---
PitchTravelWrite.com, is our information-packed website for travel writers. This e-zine, a series of travel writing books and reference guides, coaching programs, and our workshops all work together to give you guidance in this field.

Our aim is to provide you with practical, nitty gritty information to help you gain entry into the travel writing realm and all the enjoyment that comes with it. 


---
Awards and Accolades
We're thrilled to announce that www.PitchTravelWrite.com is once again on The Write Life's list of 100 BEST WEBSITES FOR WRITERS! 



You can see the entire list by visiting their website - click on the graphic to view the list now.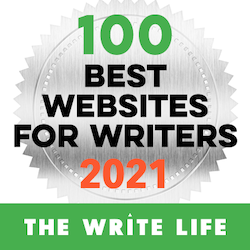 ---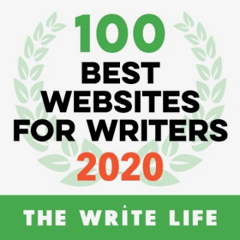 ---
We're proud to announce that our travel writing website has made Writer's Digest Magazine's 2016, 2020, and 2021 101 BEST WEBSITES FOR WRITERS. Writer's Digest doesn't bestow these awards lightly. And we're the only travel writing website on their lists!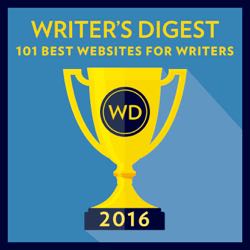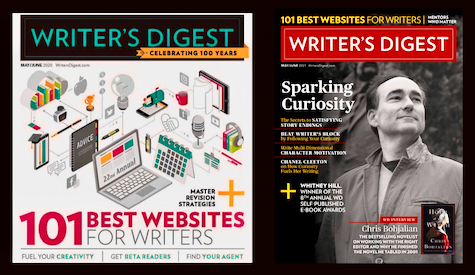 ---
Friend me on Facebook
My Facebook page is about freelance travel writing. I frequently post about:
• links to other well produced travel websites and blogs
• links to my travel articles
• magazine cover stories and back stories
• links to resource pages
• links to coaching and mentoring resources
. . .and plenty of other useful information to get you up to speed



Link to Roy's Personal Facebook page
---


That's all for now. Until next week - just keep pitching! Roy

Roy Stevenson
Pitch Travel Write
www.pitchtravelwrite.com






---