Greetings Fellow Travel Writers!
. . . and WELCOME all new subscribers. Thanks for joining us.


---
WHERE WE ARE NOW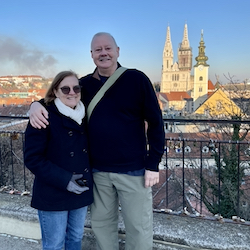 We're in Croatia and staying at the base of Zagreb's perfectly preserved Upper Town (Gradek). It offers plenty of historic buildings, churches, parks, and museums & cafes to keep us engaged. Since it's winter, it's quite deserted and we practically have the place to ourselves.

Our Croatian Food walking tour was a great experience. Luka, our guide, managed to integrate plenty of Croatian customs, history & places into the tour.

Croatian food has distinct regional differences and they can all be found in Zagreb. Our 3-hour tour took in 3 restaurants with food and wine pairings. We started with fresh sheep cheese samplers, moved on to a hearty traditional three-course meal with cabbage rolls (minced beef wrapped in cabbage), a hunter's stroganoff with beef, pork, deer, lamb and vegetables, and a simple bean and onion salad. We finished with a Croatian dessert called strukli. All good!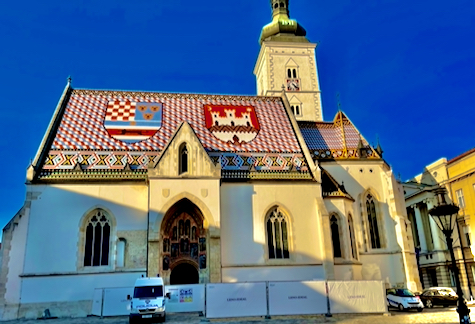 Zagreb has some unusual museums. The Museum of Broken Relationships was the first museum we visited in Zagreb & it didn't disappoint! Ninety small reader-boards tell the stories of lost love through deceit, death, and misadventure. The stories ranged from the hilarious to the downright sad & everything in between. Predominantly stories outlining the fickleness of love and lust, it also included any kind of broken relationships such as separation from parents or separation from pizza due to gluten allergy. The collection is constantly growing as people donate their art, objects and stories of their own broken relationship.

Zagreb's quirky Museum of Hangovers is a series of small rooms with short stories about drinking sessions that went awry. Although it wasn't deep like the Broken Relationships Museum, we had a lot of laughs as we read the stories in the museum.

Spring is springing here and at the slightest hint of sun, the locals flock to the outdoor cafes on Flower Square. Yesterday was a perfect sunny day and despite the cool temps (52 degrees F) the outdoor cafes were packed.

And, speaking of cafes, we love the Johann Franck Café, a coffee house, lounge bar, restaurant, bistro, and night club on Zagreb's main square (Ban Jelacic Square) in the city center. This place tells the story of the city's rich history and is a successor to the elegant old town Gradska Kavana, first opened in 1931. This survivor of grander times keeps Zagreb's tradition of coffee houses alive.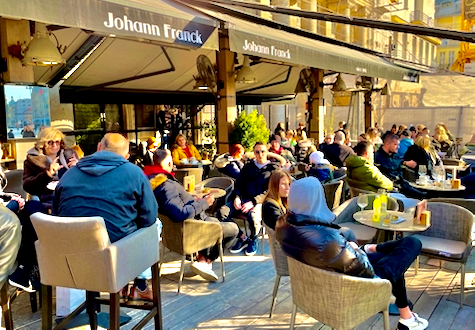 ---
WORKSHOP REGISTRATION IS OPEN!
You can still register for our workshops - we still have a handful of seats remaining.

If you sign up for BOTH workshops -- The Complete Package-- you save $800.

Or, you can save $100 off the regular price of each individual workshops:
June 18-21 - The Travel Writing & Photography Retreat and
June 23-25 - The Marketing Master Class for Travel Writers.


Our Travel Writing Workshops Are The Best ANYWHERE!
Here are eight reasons why you won't find better workshops anywhere else:

1. Roy Walks the Talk

The workshops are taught by prolific international travel writer Roy Stevenson, who has more than 1,000 published articles in 200+ regional, national, and international magazines, newspapers, trade journals, custom publications, specialty magazines, in-flights, on-boards, and online travel magazines.

Few travel writers ever crack the 1,000 article barrier, and even fewer have cracked the 200 publications mark — Roy has done both and will show you how he does it.

2. Proven Coaching Success

Roy has coached more than 100 travel writers to great successes. While working with these writers, he noticed they continually make recurring writing errors.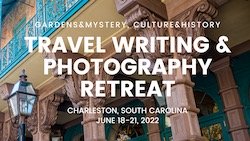 The Travel Writing & Photography Retreat addresses these common mistakes and shows you how to avoid them, while taking your travel writing to publishable levels. Learn more and Register at this link (or click the graphic)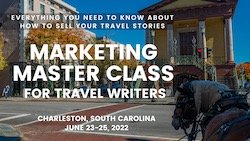 Roy's unique Marketing Master Class curriculum addresses everything related to selling your articles and marketing your work, in detail, with plenty of real-life examples from his experiences. Register at this link (or click graphic)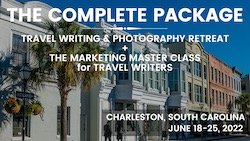 You also have the opportunity to attend both workshops and save a whopping $800 off the regular prices. The Complete Package includes both workshops.
Register here (or click the graphic) for The Complete Package


3. A Proven Track Record With Workshops
We've hosted more than one dozen highly successful travel writing workshops since 2016 in the U.S., Thailand, & Vietnam.

4. In-Depth & Actionable Coursework
Other travel writing workshops gloss over the details, but that's not how we do things. Until now, there's never been a workshop specifically designed to show you how to market and sell your travel stories. Most travel writers struggle with querying and pitching their travel stories. And they have very little idea where to sell them. Our workshops teach you what you need to know to get published.

5. A Well-Published Author
Roy is the author of 11 books on freelance travel writing and has sold thousands of copies of these reference books and guides.

6. Press Trips
Roy has been on more than 100 press trips & Fam tours and dispatched stories from 25 countries in his fifteen-year travel writing career. He's lived in 7 countries: New Zealand, U.S.A, Singapore, Thailand, Belgium, Vietnam, & Fiji.
He'll show you how to parlay your travel writing assignments into free or discounted travel, meals, tours, accommodations, spa treatments, and entry into tourist attractions and museums. You'll save thousands of dollars in travel expenses once you know how to parlay your assignments.

7. Peer Recognition from Respected Organizations
Our website — PitchTravelWrite.com — is listed in Writer's Digest magazine's 2016, 2020, & 2021 "101 Best Websites for Writers" list.
PitchTravelWrite.com is also listed in TheWriteLife.com's 2020 & 2021 "100 Best Websites for Writers"

8. Our free weekly newsletter is THE BEST travel writing newsletter in the biz.


JOIN US in Charleston for the BEST travel writing workshops ANYWHERE


---
Editorial: One Exciting Benefit Of Travel Writing
We visit exotic destinations and experience VIP guided tours of the best tourist attractions. We meet fascinating people and we tour deeply moving places that leave an indelible impression on our psyche.

A couple of years ago, at a mountaintop Buddhist monastery overlooking the green Cambodian countryside, I chatted with a shy young Buddhist monk. I'm old enough to be this guy's grandfather but that didn't phase him in the least. He politely asked if we could be Facebook friends. His simple request and heart-warming respect touched me. But it was his parting words that moved me the most, "I hope you have a long life."

Then, there are personal stories that sadden and inspire at the same time. A few years ago, I wrote a story about sculptor Angela Haseltine Pozzi for Oregon Coast Magazine. After her husband's untimely death, a grieving Angela went to the ocean to heal. What she found was an ocean that needed healing. "I researched the effects of plastic in the ocean and the tragedy of the animals suffering. I decided to take artistic action to show the massive problem of plastic ocean pollution."

In 2010, she launched Washed Ashore: Plastics, Sea Life and Art. It's had a positive environmental and social impact on the Oregon Coast, and her enormous sea sculptures - made from recycled plastic beach flotsam - are exhibited across the U.S. 

Anyone visiting the American Military Cemetery at Colleville-Sur-Mer, Normandy, France can't help but be moved to tears by this evocative place. And my visit to the Dachau and Sachsenhausen Concentration Camps in Germany showed the darkest side of mankind. I emerged from these camps shaken, but not ready to give up on mankind.

I've had plenty of emotionally charged and otherwise memorable gigs in my fifteen years as a travel writer. These events make great stories, and changed me as a result of my experience. I hope that you are also experiencing memorable encounters through your travel writing. 

With more than 1,000 published stories under my belt, you can imagine the variety of intriguing people I've encountered. Here are a few of the interesting people I've met on my writing assignments, in no particular order.
---
This Week's Featured Post
Travel Writers' Success Traits
Every week I receive "The Question" from aspiring travel writers: "What does it take to get my travel stories published in print magazines, and get paid for them?"


Travel writers' success traits include a combination of talents and skills. 

It's not rocket science, but it's also not easy to sell your stories to paying print magazines. There's no one single answer. There's no magic bullet. 



As you might expect, skills and talents vary tremendously from one writer to the next. And, for each individual the depth of these skills and talents also varies greatly. 

Writers need to figure out their strengths and weaknesses. Leverage your strengths and figure out how to deal with your weaknesses.



For example, there's no point in working on improving your basic writing and grammar skills if your marketing and sales skills are poor. After all, if you can't sell your stories, you don't get to write them. 



Similarly, if your sales skills are good, but your writing is poor, editors will reject your stories and won't even bother reading your query letters.



If travel writing success is defined as getting published, getting paid, and scoring cool, all expenses paid press trips to exotic places – here are the success traits you need:

READ THE POST

---
Upcoming Posts
March 28: Travel Writing Advice: Turning Bad Tips Into Best Practices
April 4: Travel Writing Blunders
April 11: The Secret to Freelance Travel Writing Success


---
PitchTravelWrite.com Success Stories
Pam and Gary Baker's Remarkable Travel Writing Journey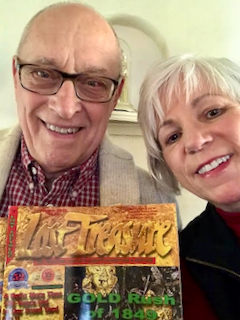 We've got two overachieving travel writers in Pam & Gary Baker!

In their four years as travel writers, Pam and Gary Baker have become an inspiring testament to how hard work can lead to spectacular success in our highly competitive field. I worked with Pam & Gary as their coach & mentor after they took our 2017 Travel Writing & Marketing Master Class. They've gone from strength to strength and demonstrated that it's possible for beginners to move into the top shelf travel glossies if you stick with it and follow the system.

Here's this overachieving couple's story, in their own words.

Read Pam & Gary Baker's Story
---
Pitch Travel Write: Most Requested Links About Earning More Money
How do you make more money for every word you write?

Here's what I do: I resell, repurpose, and repackage many of my travel articles. I get a bigger bang for every story I write by reselling my work in the U.S.A. & around the world.

I do this all the time -- and these posts tell you all about it.

Five Ways to Sell Your Articles More Successfully

Earn More by Selling Your Articles Around the World

The Art of Reselling Your Articles

Repurposing Your Articles


---
Inspirational Travel Quote
---
RESOURCES FOR TRAVEL WRITERS
Featured Bundle : Advanced Travel Writing Bundle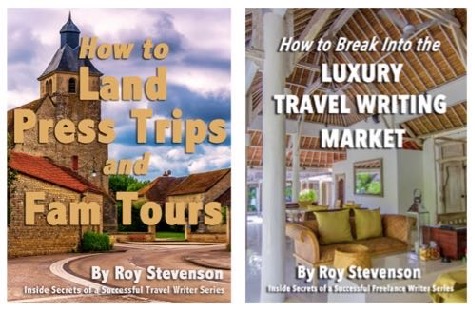 Take your travel writing career up a few notches with our advanced reference guides. The advanced pack saves you 10% off the price of the individual books.

For the month of March you can get an addition $5 off the advanced pack when you use Promo code m5ap at checkout

In How to Land Press Trips and Fam Tours you'll learn about how to use your assignments to request free and low-cost travel.  You'll also get all the resources successful travel writers have at their fingertips to network with the right people and have DMOs clamoring to invite you to visit their region.

If luxury is your preferred style of travel our manual, How to Break into the Luxury Travel Writing Market will help you move quickly into this market. And it gives you a huge ready-made list of magazines and websites interested in publishing luxury articles.

When you purchase both these books together, you automatically save 10% on each book. For the month of March you can get an addition $5 off the advanced pack when you use Promo code m5ap at checkout



Note: Don't forget to use promo code m5ap at checkout to get your $5 discount during the month of March.
---
Group Coaching Mastermind Community
Our first Group Coaching Mastermind Community kicked off in October, 2020, and we've got a global group with members living in Australia, Belgium, Canada, Indonesia and the U.S. We're very excited about this group of writers and our new community! We added new members to our community in 2021 and they're getting to know the group and participate in writing activities.

If you missed out on the opportunity to join this session, you can get on the waiting list for the next session starting soon in 2022:

Learn more and get on the waiting list

---
Did You Know . . .
Our Complete Marketing Master Class for Travel Writers is ranked #1 on TravelWritersExchange.com's Top Ten Travel Writing Workshops.

Your next opportunity to attend these classes will be in Charleston, South Carolina in June, 2022. There are still a few open seats in these workshops, so sign up while we have space.

Our travel writing & marketing workshops are highly informative and a blast, socially.

Travel Writing and Photography Retreat

Marketing Master Class for Travel Writers

The Complete Package (both workshops and a BIG discount)

You can access the list of the top ten travel writing workshops from Travel Writers Exchange at the link below: Travel Writers Exchange workshop list: #1 Marketing Master Class

---
At Your Service
Coaching and Consulting
Online Courses
If you know someone who will enjoy this newsletter,
please forward or sign up
---
PitchTravelWrite.com, is our information-packed website for travel writers. This e-zine, a series of travel writing books and reference guides, coaching programs, and our workshops all work together to give you guidance in this field.

Our aim is to provide you with practical, nitty gritty information to help you gain entry into the travel writing realm and all the enjoyment that comes with it. 


---
Awards and Accolades
We're thrilled to announce that www.PitchTravelWrite.com is once again on The Write Life's list of 100 BEST WEBSITES FOR WRITERS! 



You can see the entire list by visiting their website - click on the graphic to view the list now.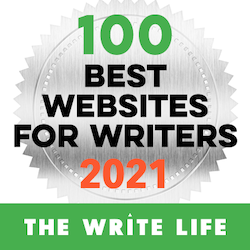 ---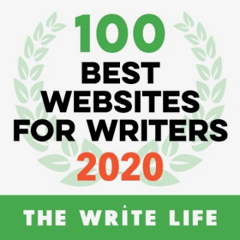 ---
We're proud to announce that our travel writing website has made Writer's Digest Magazine's 2016, 2020, and 2021 101 BEST WEBSITES FOR WRITERS. Writer's Digest doesn't bestow these awards lightly. And we're the only travel writing website on their lists!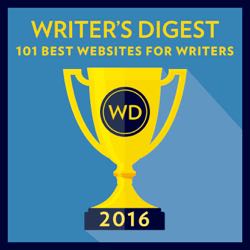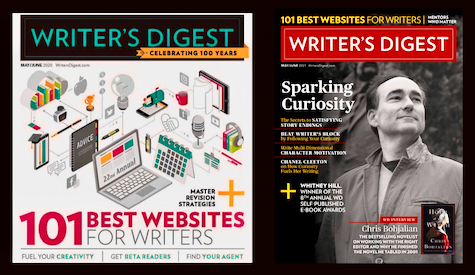 ---
Friend me on Facebook
My Facebook page is about freelance travel writing. I frequently post about:
• links to other well produced travel websites and blogs
• links to my travel articles
• magazine cover stories and back stories
• links to resource pages
• links to coaching and mentoring resources
. . .and plenty of other useful information to get you up to speed



Link to Roy's Personal Facebook page
---


That's all for now. Until next week - just keep pitching! Roy

Roy Stevenson
Pitch Travel Write
www.pitchtravelwrite.com






---