Greetings Fellow Travel Writers!
. . . and WELCOME all new subscribers. Thanks for joining us.


---
WORKSHOP REGISTRATION IS OPEN!
You can still register for our workshops - we still have seats left.

If you sign up for BOTH workshops -- The Complete Package-- you save $800.

Or, you can save $100 off the regular price of each individual workshops:
June 18-21 - The Travel Writing & Photography Retreat and
June 23-25 - The Marketing Master Class for Travel Writers.


Our Travel Writing Workshops Are The Best ANYWHERE!
Here are eight reasons why you won't find better workshops anywhere else:

1. Roy Walks the Talk

The workshops are taught by prolific international travel writer Roy Stevenson, who has more than 1,000 published articles in 200+ regional, national, and international magazines, newspapers, trade journals, custom publications, specialty magazines, in-flights, on-boards, and online travel magazines.

Few travel writers ever crack the 1,000 article barrier, and even fewer have cracked the 200 publications mark — Roy has done both and will show you how he does it.

2. Proven Coaching Success

Roy has coached more than 100 travel writers to great successes. While working with these writers, he noticed they continually make recurring writing errors.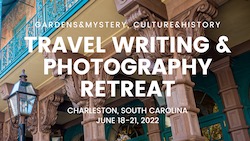 The Travel Writing & Photography Retreat addresses these common mistakes and shows you how to avoid them, while taking your travel writing to publishable levels. Learn more and Register at this link (or click the graphic)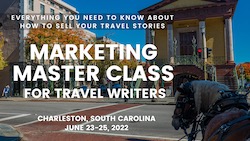 Roy's unique Marketing Master Class curriculum addresses everything related to selling your articles and marketing your work, in detail, with plenty of real-life examples from his experiences. Register at this link (or click graphic)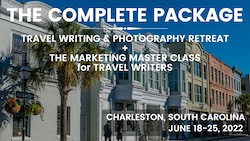 You also have the opportunity to attend both workshops and save a whopping $800 off the regular prices. The Complete Package includes both workshops.
Register here (or click the graphic) for The Complete Package


3. A Proven Track Record With Workshops
We've hosted more than one dozen highly successful travel writing workshops since 2016 in the U.S., Thailand, & Vietnam.

4. In-Depth & Actionable Coursework
Other travel writing workshops gloss over the details, but that's not how we do things. Until now, there's never been a workshop specifically designed to show you how to market and sell your travel stories. Most travel writers struggle with querying and pitching their travel stories. And they have very little idea where to sell them. Our workshops teach you what you need to know to get published.

5. A Well-Published Author
Roy is the author of 11 books on freelance travel writing and has sold thousands of copies of these reference books and guides.

6. Press Trips
Roy has been on more than 100 press trips & Fam tours and dispatched stories from 25 countries in his fifteen-year travel writing career. He's lived in 7 countries: New Zealand, U.S.A, Singapore, Thailand, Belgium, Vietnam, & Fiji.
He'll show you how to parlay your travel writing assignments into free or discounted travel, meals, tours, accommodations, spa treatments, and entry into tourist attractions and museums. You'll save thousands of dollars in travel expenses once you know how to parlay your assignments.

7. Peer Recognition from Respected Organizations
Our website — PitchTravelWrite.com — is listed in Writer's Digest magazine's 2016, 2020, & 2021 "101 Best Websites for Writers" list.
PitchTravelWrite.com is also listed in TheWriteLife.com's 2020 & 2021 "100 Best Websites for Writers"

8. Our free weekly newsletter is THE BEST travel writing newsletter in the biz.


JOIN US in Charleston for the BEST travel writing workshops ANYWHERE


---
Editorial: How to Sell Museum Articles To Break Into Travel Writing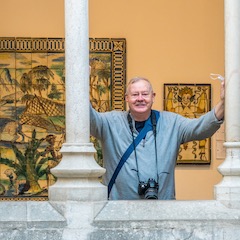 Museums are staple tourist attractions around the world. And, in fact, writing about them helped me break into the competitive travel writing arena. 
My museum stories are one of the keys to my rapid ascent in freelance writing and being published prolifically in print media. I've sold a lot of museum travel articles. And, I mean a LOT - more than two hundred! I've had museum pieces published in several dozen paying print magazines plus a few websites. (Google Roy Stevenson + museums and you'll see a few dozen of them).

A great perk from museum writing is that you get free entry when you have assignments. Often, you receive personal guided tours with the museum curator or a local historian.

Even better, many of the editors have taken repeat museum stories from me, and I've become their museum "go to" writer. Magazine editors tend to accept subsequent pitches once they've run one or two of your articles.

If you've had difficulty breaking into travel writing, I heartily recommend you pitch museum stories to specialty magazines. Mine have sold like hot cakes and yours can, too. Here's how to do it
---
This Week's Featured Post
How to Write an Effective First Person Travel Story
One sure sign of an amateur travel writer or blogger, is the constant use of the pronouns "I" or "we" in their travel stories.

Magazine readers and editors want to know about your destinations. But, no matter how much a place resonates with you, they aren't interested in a mundane blow-by-blow travel narrative. That comes off as an "all about me" attitude. 

Poorly written first person travel stories clog up the destination, rather than revealing the place.

Here's how to craft an effective and compelling first person travel story:

READ THE ARTICLE

---
Upcoming Posts
March 7: Three Ways to Find Unique Story Angles
March 14: Secrets of Successful Travel Writers
March 21: Travel Writers' Success Traits


---
PitchTravelWrite.com Success Stories
Candi Licence: Another PitchTravelWrite Success Story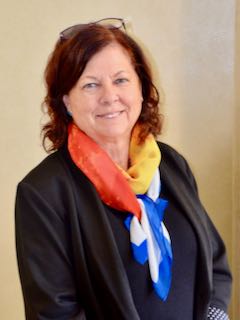 Candi Licence accidentally fell into travel writing but it didn't take long for her to get serious about it. Here's her story:

"I fell into travel writing by accident. My husband and I retired at the end of 2013, sold most of our stuff, stored our precious things like art and family heirlooms, and began traveling full time.

We'd go to places we always wanted to see, stay for 3 months and then move onto our next adventure. I started a blog to let people know where we were and what we were doing, and I got feedback from people I trusted that they loved my writing. Writing about our adventures was intoxicating and getting complimented was exhilarating.

Fast forward 3 years, and I attended a travel writing workshop to see if it was possible for me to become a travel writer. I drafted an article during the workshop, and it got a great reception from participants and an Editor who was coaching aspiring writers throughout the event. I left the workshop fired up, with stars in my eyes.

Once home, tried to sell the article and learned my first hard lesson. Always pitch first! It's hard for beginners to place a completed article.

The second lesson I learned is that you can't submit queries to one editor at a time — it's a complete waste of time. I'd wait a month, get no response and then send my query out to the next editor with the same result. I was spinning my wheels and getting nowhere.

I was frustrated. I thought I had the talent to be a good writer but didn't know how to break into the field. That's when I saw Roy Stevenson's Marketing Master Class for Travel Writers. I signed up, took the workshop, and it changed everything for me."

Read Candi's Travel Writing Success Story
---
Pitch Travel Write: Most Requested Links About the Business of Travel Writing
When you decide to become a travel writer, there are certain business basics to consider. There's a great deal more to the business of travel writing than just "traveling" and "writing".



Some people approach travel writing as a hobby—and that's fine. But, if you want to earn income from your travel writing, you need to think of it as a business. And it helps to know a few business basics specific to travel writing.

Here are 21 of our posts about the business of travel writing


---
Inspirational Travel Quote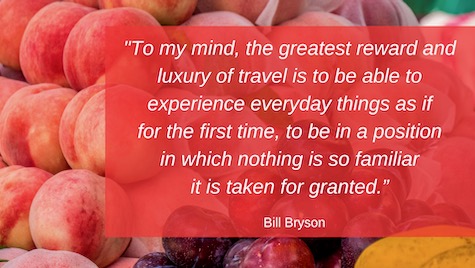 ---
RESOURCES FOR TRAVEL WRITERS
Featured Bundle : Beginner's 3-Pack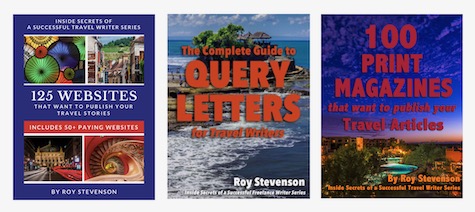 If you're just getting started in travel writing, try our Beginner's 3-Pack—the perfect way to kick-off your travel writing career.

Here's what's included:

The Complete Guide to Query Letters 
Everything you need to know about query letters - and 20 examples you can start using immediately.

125 Websites That Want to Publish Your Travel Stories
 A list of 125+ quality travel websites where you can quickly collect some bylines - without all the struggle of finding websites who want your stories.

100 Print Magazines That Want to Publish Your Travel Articles  
A list of 100 print magazines that will save you hours of time researching and creating lists yourself. They give you a foundation of sales leads you can use and build upon.

When you buy the bundle you get 10% off the price of individual books. And this month you can get an addition $5 off when you use discount code f5b

BUY THE BEGINNERS BUNDLE

Note: Don't forget to use promo code f5b at checkout to get your $5 discount during the month of February.
---
Group Coaching Mastermind Community
Our first Group Coaching Mastermind Community kicked off in October, 2020, and we've got a global group with members living in Australia, Belgium, Canada, Indonesia and the U.S. We're very excited about this group of writers and our new community! We added new members to our community in 2021 and they're getting to know the group and participate in writing activities.

If you missed out on the opportunity to join this session, you can get on the waiting list for the next session starting soon in 2022:

Learn more and get on the waiting list

---
Did You Know . . .
Our Complete Marketing Master Class for Travel Writers is ranked #1 on TravelWritersExchange.com's Top Ten Travel Writing Workshops.

Your next opportunity to attend these classes be in Charleston, South Carolina, June 2022. There are still a few open seats in these workshops, so sign up while we have space.

Our travel writing & marketing workshops are highly informative and a blast, socially.

Travel Writing and Photography Retreat

Marketing Master Class for Travel Writers

The Complete Package (both workshops and a BIG discount)

You can access the list of the top ten travel writing workshops from Travel Writers Exchange at the link below: Travel Writers Exchange workshop list: #1 Marketing Master Class

---
ONLINE Travel Writing & Marketing Master Class
Now, you can study our Marketing Master Class for Travel Writers online for only a fraction of the price of the live class! We recorded it LIVE in Seattle, for aspiring travel writers who weren't able to attend in person.
Who's it for?

If you're a novice travel writer, or you haven't had much luck selling your articles to print magazines, this Online Travel Writing & Marketing Workshop is for you.
If you weren't able to travel to our Live Master Class, here's the opportunity to attend anyway - without any travel costs and at a substantially reduced cost!
If you work a full-time job and can't get time off to attend the live class – you can still attend on your own schedule after working hours.
If you've wanted to attend our Live Marketing Master Class but can't get your schedule to fit with the dates it's offered – here's your opportunity to attend at your own convenience.
---
At Your Service
Coaching and Consulting
Online Courses
If you know someone who will enjoy this newsletter,
please forward or sign up
---
PitchTravelWrite.com, is our information-packed website for travel writers. This e-zine, a series of travel writing books and reference guides, coaching programs, and our workshops all work together to give you guidance in this field.

Our aim is to provide you with practical, nitty gritty information to help you gain entry into the travel writing realm and all the enjoyment that comes with it. 


---
Awards and Accolades
We're thrilled to announce that www.PitchTravelWrite.com is once again on The Write Life's list of 100 BEST WEBSITES FOR WRITERS! 



You can see the entire list by visiting their website - click on the graphic to view the list now.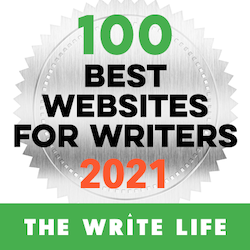 ---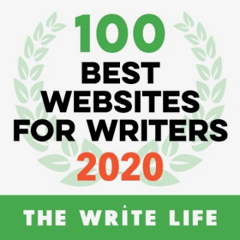 ---
We're proud to announce that our travel writing website has made Writer's Digest Magazine's 2016, 2020, and 2021 101 BEST WEBSITES FOR WRITERS. Writer's Digest doesn't bestow these awards lightly. And we're the only travel writing website on their lists!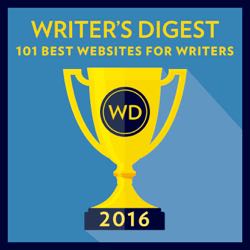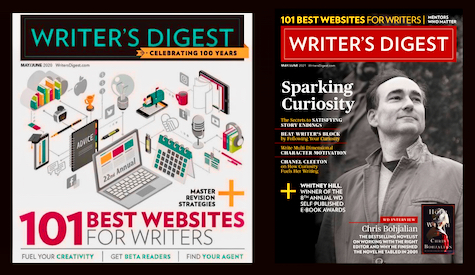 ---
Friend me on Facebook
My Facebook page is about freelance travel writing. I frequently post about:
• links to other well produced travel websites and blogs
• links to my travel articles
• magazine cover stories and back stories
• links to resource pages
• links to coaching and mentoring resources
. . .and plenty of other useful information to get you up to speed



Link to Roy's Personal Facebook page
---


That's all for now. Until next week - just keep pitching! Roy

Roy Stevenson
Pitch Travel Write
www.pitchtravelwrite.com






---