Greetings Fellow Travel Writers!
. . . and WELCOME all new subscribers. Thanks for joining us.


---
Editorial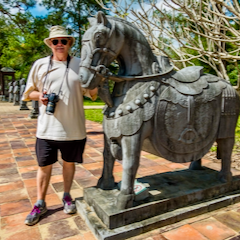 One week from today we'll be winging our way to Vietnam. We have some history there. After living for 9 months in Chiang Mai, Thailand, we moved to Danang, Vietnam, in February 2017, We thought we'd spend a few months in Danang and then move on to our long-term goal of living all around SE Asia for 6-12 months in each country. Boy, did that plan get sidetracked! We loved Vietnam so much that we stayed for 4.5 years.

Why, you ask, did we end up putting our roots down in Vietnam?

Well, for a start, life in Vietnam is inexpensive compared with Seattle, Washington, where we live. We could live the champagne high life there on a beer income. That sure helped us stay there longer — our income stretched so much further.

Then there's the marvelous, low-key social life in Danang. I would often leave our apartment with the full intention of picking up a couple of bottles of water and returning ten minutes later. Two or three hours later I would get home — without the water (duh!) — because I had had such a wonderful time meeting friends as I passed the multitude of coffee shops and restaurants. My friends would wave me in and we would chat for a while, then I would continue on my merry way until I met more friends at another coffee shop 100 meters further up the road. They would wave me in and the whole socialization process would start again as we gossiped and discussed the political problems "back home".

We also loved the food in Danang. That helped us linger longer in Vietnam. In fact, it was our foodie/travel blogger friends Daryl and Mindi Hirsch (https://www.2foodtrippers.com/about-the-2foodtrippers/) whom we met in Thailand, who suggested we stay in Danang City, rather than face the heat, pollution, and overcrowding of Saigon or Hanoi. They were right!

Danang is a low-key city of 1.1 million souls that serves the rural rice fields and tiny villages of neighboring Quang Nam Province. Its people are very friendly. Which leads me to the main reason why we tarried for such a long time in Danang; the locals are absolute sweethearts. They are friendly, helpful, honest, and respectful. We miss them terribly. So, much of our time will be spent catching up Ms Hanh, Ms Le Dung, Ms TuHien, Ms Tam Thao, Ms Loi Mai, and Eddie and Tommy the coffee guys, and many others.

We'll take a 7-night luxury cruise up the Mekong River from My Tho, Vietnam, to Siem Reap, Cambodia at the end of October. I've always wanted to do a luxury cruise on the Mekong. Its fishing villages, stilt villages, silk weaving villages, bustling floating markets, dazzling green rice fields, and towering white Buddhist temples always give you something to marvel at. In the afternoons — when we can tear ourselves away from the on-board gourmet dining — we'll be doing excursions to these riverside attractions and meeting the locals.

Stay tuned to our next newsletter for an update once we land in Vietnam.


---
Registration is Open for our NEW Print Magazine Lists!
What's the #1 stumbling block for all travel writers?
It's finding the right publications where they can pitch their travel stories
Most aspiring travel writers and many veteran writers struggle with tracking down enough magazines where they can send their queries. This immovable hurdle has deterred many promising travel journalists from pursuing a rewarding career in this exciting field. 
 

Struggle no more!

It's not too late to register for our 500 Print Magazines That Want to Publish Your Travel Stories. For the next 10 months you can receive a NEW monthly list of 50 magazines. At the end of 10 months you'll have a grand total of 500 Print Magazines That Want To Publish Your Travel Articles
If you use these NEW listings to sell even one travel article, your purchase has paid for itself!
What you'll get each month . . .

This list of magazines is a monthly compilation that's highly specialized for travel writers. You'll get a list of fifty print magazines each month for ten months.
This is a far more relevant travel publications than what you'll find in Writer's Market. Writer's Market has a very limited travel magazine list because it's aimed at the general freelance writing market. Our lists are specific to travel writers and much more useful.
 

It's taken me seventeen years to compile this list. I've used a wide variety of online sources, field resources, magazine racks, and reference books. This comprehensive list includes a huge array of regional, national, and international publications to help travel writers place their work.
 

You'll get new, up-to-date magazine listings each month, for the next ten months. And you'll also get targeted guidance for any magazine genres that need pitching tips.
Each Month the Lists Include . . .

- Regional Travel and Lifestyle Magazines (15 US publications/month)
- General Travel and Lifestyle Magazines (7 worldwide publications/month)
- Travel Magazines about Select Countries (7 worldwide publications/month)
- Luxury Travel and Lifestyle Magazines (6 worldwide publications/month)
- Outdoor Magazines (6 worldwide publications/month)
- Airline In-Flight Magazines (5 worldwide publications/month)
- RV and Motor Coaching Travel Magazines (2 worldwide publs/month)
- Yachting, Sailing, Cruising Magazines (2 worldwide publications/month)
- Travel Trade Magazines (2 publications/month)
- Travel Photography Magazines (1 publication/month)
- Food and Travel Magazines (1 worldwide publication/month)
- Senior Travel and Lifestyle Magazines (1 publication/month)
- Newspaper Travel Sections (1 publication/month)
- Motorcycle Travel Magazines (1 publication/month)
- Hotel In-Room Magazines (1 publication/month)
Genre Magazines are also included during the ten months . . .

- Cruise Line On-Board Magazines (7 total publications)
- Expat Travel Magazines (4 total worldwide publications)
- Train Magazines (4 total worldwide publications)
- Gold Prospecting and Travel (3 total publications)
- Canals and Waterways Travel (3 total publications)
- Wedding Destination Magazines (3 total publications)
- Family Travel Magazines (2 total publications)
- Inns, B&Bs, Cottages, Log Homes, Victorian Homes (2 total publications)
- Lighthouses (1 total publication)
- Religious Travel (1 total publication)

What kind of information is in each of the listings?

Each Magazine Listing Includes:
1. A general description of the publication
2. Article theme and focus preferences
3. Magazine Departments, where applicable
4. Pitching advice, where applicable
5. Pay details, if available
6. Contact details (editor name/title, email address)

Each magazine listing ranges from 100 words to 2 pages!
We'll release the new list each month around the 15th of each month. Use these NEW listings to sell even one travel article and your purchase has paid for itself!
Here's an example magazine listing . . .

JRNY travel magazine is a quality printed coffee-table magazine, featuring travel stories, essays and photography from some of the world's most talented travel writers and photographers. It is a collaboration between freelancers who will design, write, edit and produce this travel magazine. 

Our aim is to ensure every one of these contributors is paid fairly for their time. From stunning photos to captivating stories, journey with us to some of the most amazing places on Earth.
https://jrnymag.com/about/
Pitch
enquiries: submissions@jrnymag.com

How to get your list of 500 Print Magazines that Want To Publish Your Travel Stories

Testimonials
"Writers will be hard-pressed to find a resource as great as Roy Stevenson's "500 Print Magazines that Want to Publish you Travel Stories." This list is packed with insider details and contact information that will help any writer winnow down markets by developing target-specific lists for publishing their articles." 
- Karen Leperi, Award Winning Travel Writer

"I'm working on an article for Destinations magazine in New Zealand about the trip I'm taking to Door County, Wisconsin. Probably never would've sent a query to Destinations if it hadn't been for you and your list. Thanks again so much."
 - Scott Kendall, Travel Writer

"If you are serious about breaking into freelance writing, check out all of Roy's how-to books. He has produced a resource library that every new freelance writer, regardless of niche, would be wise to own. Roy's how to books will put you on the fast track to success. These are the same techniques he used to skyrocket his own career. I own all of them and they have proven to be a wise investment."
—Martha Veon, Travel Writer

Read more testimonials

Registration is OPEN until Sept 24th, 2023 - ACT NOW!
Register here for 500 Print Magazines that Want To Publish Your Travel Stories


---
Featured Post
Writing a Travel Story: The Art of Turning Your Destination into a Compelling Read
How many mind numbing bullet point listicles have you seen recently? "The Top Ten Things To See in Budapest," "48 Hours In Tokyo" and "Five Things To Do At JFK Airport". 

These lists are everywhere! And they DON'T make for enjoyable or entertaining reading.

Good travel writers encapsulate the facts in vivid story form. Good travel writing helps us imagine a place and makes us want to go there. That's why they're called travel "stories". Readers want to be entertained. They expect you to transport them to a destination – and make it an enjoyable ride.

But how do you transform all those facts and figures and lists into readable and interesting travel stories? 

There are plenty of creative ways to do this – here are six ways you can get started . . .

READ THE POST


---
Upcoming Posts
Oct 2: Writing About Auto Museums: An Overlooked Travel Writing Genre
Oct 16: Guide to Successful Press Trip Invitations for Travel Writers
Nov 6: The Benefits of Hiring a Travel Writing Marketing Coach

---
Inspirational Travel Quote
---
Pitch Travel Write: Most Requested Links - Resell, Repurpose & Repackage Your Travel Articles
Here's how to get a bigger bang for your buck by reselling & repurposing your work in the U.S. and around the world.

When my fellow freelance writers hear that I have more than 1,000 published articles to my name their first reaction is disbelief. Then, when that three hundred of those published articles are reprints, they give me another incredulous look and say, "How can you sell so many reprints?"

Here's how I do it . . .

Read: The Art of Reselling Your Articles

Repurposing means using an item for a different purpose, without making any alterations.  We're most familiar with using physical things in different ways, such as using an old coffee cup to hold pencils and pens. 

But you can also repurpose your articles. Repurposing words you've already written saves you a lot of time and opens up new ways to earn money.  

Here are three ways to do it . . .

Read: Repurposing Your Articles

I get paid several times for many articles I write.  One way to do this is to sell my articles around the world. Here's how to do it:

Read: How to Earn More


---
MORE RESOURCES FOR TRAVEL WRITERS
Featured Book: The Art & Craft of Travel Writing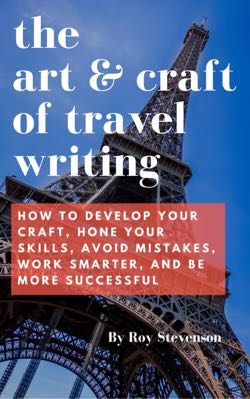 What's in our 21-chapter, 152-page book? We're glad you asked!

The Art & Craft of Travel Writing has five sections:

1. The Craft of Travel Writing
2. Things That Go Wrong in Travel Writing
3. Keys to Success in Travel Writing
4. Working Smarter
5. Goal Setting for Your Travel Writing


Here are some of the chapters . . .

- Creating a Sense of Place and Ambiance
- Turning Your Destination into a Compelling Read
- How to Write Like a Seasoned Professional
- Five Travel Writing Blunders and How to Avoid Them
- Why Some Travel Writers Have More Success
- How to Plug into the Travel Writing Community
- Seven Ways to Take Control of Your Writing Time
- Setting Up Systems to Create More Writing Time


This book will help you hone your travel writing skills and get more stories published.

We'll show you how to allocate your writing time for maximum efficiency, and exactly what you need to do to break into the competitive travel writing market.

BUY THE BOOK

Don't forget: For the month of September save $5 off the regular price of this book if you use discount code: AAC5

---
Latest News eBooks
We're publishing a New eBook:
You need a combination of skills to succeed in the freelance travel writing game. Since 2007 I've been bombarded with hundreds of email questions about all aspects of travel writing. The blogs you're about to read are my succinct answers to these urgent questions.
These blogs are gathered from my email replies, Facebook posts, LinkedIn posts, blogs, and newsletter editorials. They provide quality solutions—in summary form—to the myriad challenges travel writers face.
Even better, at the end of each blog I give you the link to a more detailed and comprehensive coverage of each topic. If you'd like to learn more about each blog, you can continue on to a more in-depth post on my PitchTravelWrite.com website. You're getting a two-for-one on every single post!
These blogs are grouped in 13 categories ranging from finding magazines to pitch to writing killer query letters, and from selling and marketing your travel articles to the business basics every serious travel writer needs to know.
Follow the advice dispensed here and you'll earn more from your travel writing by selling more stories and improving your travel writing.
---
At Your Service
Coaching and Consulting
Online Courses
If you know someone who will enjoy this newsletter,
please forward or sign up
---
PitchTravelWrite.com, is our information-packed website for travel writers. This e-zine, a series of travel writing books and reference guides, coaching programs, and our workshops all work together to give you guidance in this field.

Our aim is to provide you with practical, nitty gritty information to help you gain entry into the travel writing realm and all the enjoyment that comes with it. 


---
Awards and Accolades
We're thrilled to announce that our website, PitchTravelWrite.com has made The Write Life.com's list of 100 BEST WEBSITES FOR WRITERS for 2020 and 2021! 



You can see the entire list by visiting their website - click on the graphic to view the list now.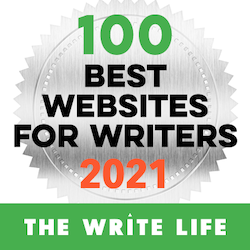 ---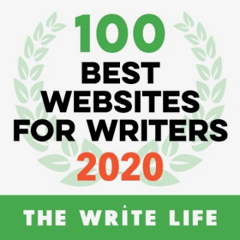 ---
We're proud to announce that our travel writing website, PitchTravelWrite.com has made Writer's Digest Magazine's 2016, 2020, 2021, 2022, and 2023 101 BEST WEBSITES FOR WRITERS.

Writer's Digest doesn't bestow these awards lightly. And we're the only travel writing website on their lists!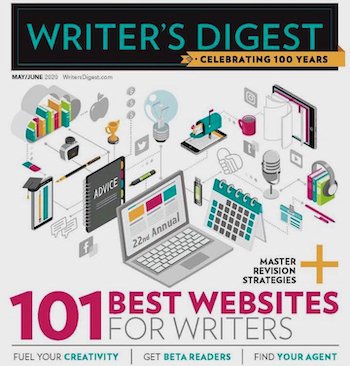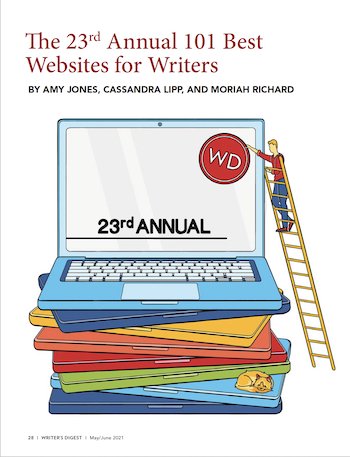 And the accolades for PitchTravelWrite.com just keep pouring in! Our website helps travel writers successfully sell their travel stories.

Thank you, Writer's Digest Magazine for listing us on your "Best Genre/Niche Websites for 2020, 2021, 2022 and 2023."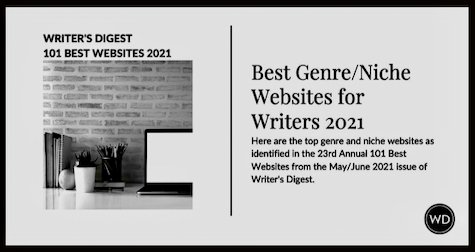 And the accolades for our PitchTravelWrite.com travel writing website just keep pouring in!

Our Complete Travel Writing & Marketing Master Class is ranked #1 on TravelWritersExchange.com's Top Ten Travel Writing Workshops. https://bit.ly/2UV7wjW

Our Online Travel Writing & Marketing Master Class has made Reedsy.com's Best Travel Creative Writing Classes for 2023 list. There are only 21 travel writing courses on this worldwide list! Here's the link to the list: https://blog.reedsy.com/creative-writing-classes/travel/
---
Friend me on Facebook
My Facebook page is about freelance travel writing. I frequently post about:
• links to other well produced travel websites and blogs
• links to my travel articles
• magazine cover stories and back stories
• links to resource pages
• links to coaching and mentoring resources
. . .and plenty of other useful information to get you up to speed



Link to Roy's Personal Facebook page
---


That's all for now. Until next week - just keep pitching! Roy

Roy Stevenson
Pitch Travel Write
www.pitchtravelwrite.com



---