Greetings Fellow Travel Writers!
. . . and WELCOME all new subscribers. Thanks for joining us.


---
WHERE WE ARE NOW
We're in our 6th week in Porto, Portugal, now and are absolutely loving this colorful city of 232,000 that sits astride the Douro River.

We've glimpsed run-down Bohemian sections of this humble city but they only add charm to this compact town. Porto doesn't even try to compete with the capital city, Lisbon, further south.

We've been fascinated by Porto's dense concentration of monuments, churches and museums contained within its historic district. With cobble stone streets, tiled façade buildings, tall bell towers, and a curious mix of old and new architecture, Porto is undoubtedly one of Europe's most astonishing cityscapes. It's no wonder it was voted the Best European Destination of 2017!
Measuring perhaps 3 square miles, the old quarter just waits for us to walk its winding streets and steep hills. Every time we turn a corner we see something unexpected that brings us to a dead stop and invites exploration.

Our sightseeing has taken in most of the town's favorite attractions including the famous Majestic Café, surely the most beautiful café in the world. A brash statement, I know. But how could any other cafe, anywhere, impress more than this sumptuous Art Nouveau cafe on Porto's famous Rua da Santa Catarina?

We popped into the Majestic for dessert, coffee and afternoon tea, and this tribute to Art Nouveau beauty and tradition knocked our socks off!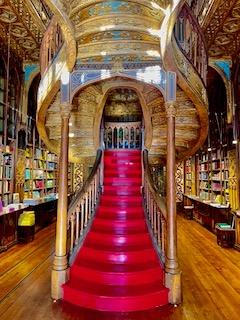 The moment you walk through the marble facade, it's like entering a time tunnel. As you slowly take in the decoratively carved leather chairs, the ornate varnished woodwork, the over-sized mirrors and crystal chandeliers, the carved sculptures, and the decorated ceilings, you feel the cafe's distinctive & elegant atmosphere and don't want to be anywhere else.
Likewise, when we first entered the beautiful Livraria Lello bookstore the first thing we appreciated was its art nouveau interior and striking, elaborately carved wooden staircase.
The opulent red staircase weaves its way up past carved wooden posts - even the undersides of the stairs are intricately carved! The stained glass ceiling helps light this narrow, otherwise dark interior.
Books for sale here are mostly classics in glittering covers for tourist souvenirs and keepsakes. People visit to see the building itself, and it's no surprise that Livraria Lello is widely considered the world's most beautiful bookstore.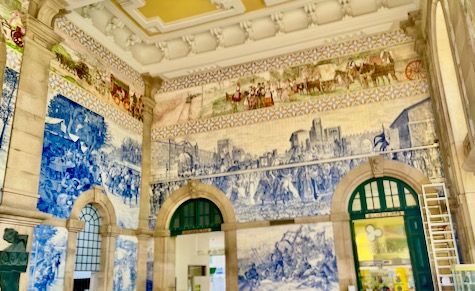 People visit Porto's Estacio de Sao Bento railway terminal to catch trains, but far more tourists visit the station to see the sweeping ceramic tile scenes that panel the main hall.

Opened in 1916, the Sao Bento's 20,000 blue and white tiles depict Portuguese scenes of ethnography, and history. The colored frieze tiles around the top show the history of transport.

The Ponte D. Luis I is Porto's best-known & most photographed bridges & is one of the city's most famous tourist attractions. Designed by Belgian engineer Theophile Seyrig - a follower of Gustave Eiffel - the 3,000-ton iron bridge was opened in 1886.
You can easily see Eiffel's influence in its elegant criss-crossing girders. The bridge once held the title of the world's largest wrought iron arch. Today it's a UNESCO World Heritage site.

These are just a few of the dozens of sights we've seen here. On Thursday we fly to Croatia for a 3-month long stay. Stay tuned.
---
WORKSHOP REGISTRATION IS OPEN!
You can still register for our workshops - we still have seats left.

If you sign up for BOTH workshops -- The Complete Package-- you save $800.

Or, you can save $100 off the regular price of each individual workshops:
June 18-21 - The Travel Writing & Photography Retreat and
June 23-25 - The Marketing Master Class for Travel Writers.


Our Travel Writing Workshops Are The Best ANYWHERE!
Here are eight reasons why you won't find better workshops anywhere else:

1. Roy Walks the Talk

The workshops are taught by prolific international travel writer Roy Stevenson, who has more than 1,000 published articles in 200+ regional, national, and international magazines, newspapers, trade journals, custom publications, specialty magazines, in-flights, on-boards, and online travel magazines.

Few travel writers ever crack the 1,000 article barrier, and even fewer have cracked the 200 publications mark — Roy has done both and will show you how he does it.

2. Proven Coaching Success

Roy has coached more than 100 travel writers to great successes. While working with these writers, he noticed they continually make recurring writing errors.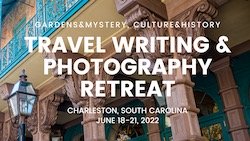 The Travel Writing & Photography Retreat addresses these common mistakes and shows you how to avoid them, while taking your travel writing to publishable levels. Learn more and Register at this link (or click the graphic)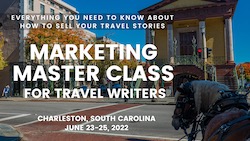 Roy's unique Marketing Master Class curriculum addresses everything related to selling your articles and marketing your work, in detail, with plenty of real-life examples from his experiences. Register at this link (or click graphic)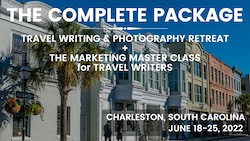 You also have the opportunity to attend both workshops and save a whopping $800 off the regular prices. The Complete Package includes both workshops.
Register here (or click the graphic) for The Complete Package


3. A Proven Track Record With Workshops
We've hosted more than one dozen highly successful travel writing workshops since 2016 in the U.S., Thailand, & Vietnam.

4. In-Depth & Actionable Coursework
Other travel writing workshops gloss over the details, but that's not how we do things. Until now, there's never been a workshop specifically designed to show you how to market and sell your travel stories. Most travel writers struggle with querying and pitching their travel stories. And they have very little idea where to sell them. Our workshops teach you what you need to know to get published.

5. A Well-Published Author
Roy is the author of 11 books on freelance travel writing and has sold thousands of copies of these reference books and guides.

6. Press Trips
Roy has been on more than 100 press trips & Fam tours and dispatched stories from 25 countries in his fifteen-year travel writing career. He's lived in 7 countries: New Zealand, U.S.A, Singapore, Thailand, Belgium, Vietnam, & Fiji.
He'll show you how to parlay your travel writing assignments into free or discounted travel, meals, tours, accommodations, spa treatments, and entry into tourist attractions and museums. You'll save thousands of dollars in travel expenses once you know how to parlay your assignments.

7. Peer Recognition from Respected Organizations
Our website — PitchTravelWrite.com — is listed in Writer's Digest magazine's 2016, 2020, & 2021 "101 Best Websites for Writers" list.
PitchTravelWrite.com is also listed in TheWriteLife.com's 2020 & 2021 "100 Best Websites for Writers"

8. Our free weekly newsletter is THE BEST travel writing newsletter in the biz.


JOIN US in Charleston for the BEST travel writing workshops ANYWHERE


---
Editorial: Patience Will Get You Everywhere In Travel Writing
"I want to be a travel writer and do what you are doing."
"How can I get my stories published in high paying travel magazines and land those travel perks? What do I need to do?" 
These are questions I frequently receive in emails, but they can't be answered in just two or three paragraphs. 
There's a sizable list of skills and abilities that successful freelance travel writers possess: sound writing skills, a high level of literacy, a fertile imagination for dreaming up salable travel stories and a whole bunch of other talents. 
But beyond these skills, there's one overarching attitude required for travel writing success: patience.
Recently one of my friends, an accomplished freelance writer, told me it took him 6 years to break into the field. He was working a full-time job, and pitching away in his evenings and weekends. Six years is a considerable chunk of time to hammer away - with minimal results - without being discouraged! He was patient. Today, he's a very successful full-time freelance writer, and loving it. 
Lured by slick sales hype, many aspiring travel writers believe it's possible to quickly break through into glossy, high paying, travel magazines. When they don't achieve immediate success, they get impatient and drop out of the game before they give it a chance or before they pay their dues. I know others who are stuck in the rut of writing free content for other people's travel websites – ultimately a dead end.
It takes patience to break into the travel writing stratosphere. But, if you persist, you can reap the benefits like free travel, luxury accommodations, gourmet meals, VIP treatment, personal guided tours, and those other cool perks that beginning travel writers dream about. However, this doesn't happen quickly. It takes time, hard work, and patience - just like any other new job. 
Successful travel writers have other characteristics in common. What are they? Check out these 12 vital traits of successful travel writers and see how you measure up
---
This Week's Featured Post
3 Ways to Find Unique Angles for Your Travel Stories
In order to sell travel stories, it's important to find a unique angle about each place you visit.  Editors are only interested in pitches that highlight something different and exciting for their readers. 



One of the ways to keep an edge on your stories, and keep things exciting, is to attempt new experiences everywhere you travel. It's up to you as a travel writer to learn what's unique about a place or a culture so you can help your readers gain a deeper understanding and learn something new.

Here are a few ways travel writers can find experiences and stories that people love to read, and sell travel stories that interest magazine editors.

READ THE POST

---
Upcoming Posts
March 14: Secrets of Successful Travel Writers
March 21: Travel Writers' Success Traits
March 28: Travel Writing Advice: Turning Bad Tips Into Best Practices


---
PitchTravelWrite.com Success Stories
Pam and Gary Baker's Remarkable Travel Writing Journey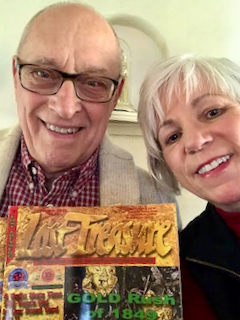 We've got two overachieving travel writers in Pam & Gary Baker!

In their four years as travel writers, Pam and Gary Baker have become an inspiring testament to how hard work can lead to spectacular success in our highly competitive field. I worked with Pam & Gary as their coach & mentor after they took our 2017 Travel Writing & Marketing Master Class. They've gone from strength to strength and demonstrated that it's possible for beginners to move into the top shelf travel glossies if you stick with it and follow the system.

Here's this overachieving couple's story, in their own words.

Read Pam & Gary Baker's Story
---
Pitch Travel Write: Most Requested Links About Earning More Money
How do you make more money for every word you write?

Here's what I do: I resell, repurpose, and repackage many of my travel articles. I get a bigger bang for every story I write by reselling my work in the U.S.A. & around the world.

I do this all the time -- and these posts tell you all about it.

Five Ways to Sell Your Articles More Successfully

Earn More by Selling Your Articles Around the World

The Art of Reselling Your Articles

Repurposing Your Articles


---
Inspirational Travel Quote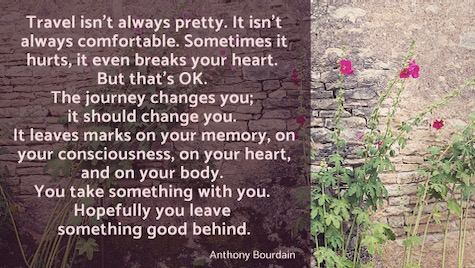 ---
RESOURCES FOR TRAVEL WRITERS
Featured Bundle : Advanced Travel Writing Bundle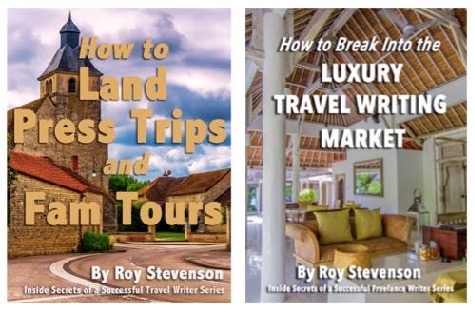 Take your travel writing career up a few notches with our advanced reference guides. The advanced pack saves you 10% off the price of the individual books.

For the month of March you can get an addition $5 off the advanced pack when you use Promo code m5ap at checkout

In How to Land Press Trips and Fam Tours you'll learn about how to use your assignments to request free and low-cost travel.  You'll also get all the resources successful travel writers have at their fingertips to network with the right people and have DMOs clamoring to invite you to visit their region.

If luxury is your preferred style of travel our manual, How to Break into the Luxury Travel Writing Market will help you move quickly into this market. And it gives you a huge ready-made list of magazines and websites interested in publishing luxury articles.

When you purchase both these books together, you automatically save 10% on each book. For the month of March you can get an addition $5 off the advanced pack when you use Promo code m5ap at checkout



Note: Don't forget to use promo code m5ap at checkout to get your $5 discount during the month of March.
---
Group Coaching Mastermind Community
Our first Group Coaching Mastermind Community kicked off in October, 2020, and we've got a global group with members living in Australia, Belgium, Canada, Indonesia and the U.S. We're very excited about this group of writers and our new community! We added new members to our community in 2021 and they're getting to know the group and participate in writing activities.

If you missed out on the opportunity to join this session, you can get on the waiting list for the next session starting soon in 2022:

Learn more and get on the waiting list

---
Did You Know . . .
Our Complete Marketing Master Class for Travel Writers is ranked #1 on TravelWritersExchange.com's Top Ten Travel Writing Workshops.

Your next opportunity to attend these classes be in Charleston, South Carolina, June 2022. There are still a few open seats in these workshops, so sign up while we have space.

Our travel writing & marketing workshops are highly informative and a blast, socially.

Travel Writing and Photography Retreat

Marketing Master Class for Travel Writers

The Complete Package (both workshops and a BIG discount)

You can access the list of the top ten travel writing workshops from Travel Writers Exchange at the link below: Travel Writers Exchange workshop list: #1 Marketing Master Class

---
ONLINE Travel Writing & Marketing Master Class
Now, you can study our Marketing Master Class for Travel Writers online for only a fraction of the price of the live class! We recorded it LIVE in Seattle, for aspiring travel writers who weren't able to attend in person.
Who's it for?

If you're a novice travel writer, or you haven't had much luck selling your articles to print magazines, this Online Travel Writing & Marketing Workshop is for you.
If you weren't able to travel to our Live Master Class, here's the opportunity to attend anyway - without any travel costs and at a substantially reduced cost!
If you work a full-time job and can't get time off to attend the live class – you can still attend on your own schedule after working hours.
If you've wanted to attend our Live Marketing Master Class but can't get your schedule to fit with the dates it's offered – here's your opportunity to attend at your own convenience.
---
At Your Service
Coaching and Consulting
Online Courses
If you know someone who will enjoy this newsletter,
please forward or sign up
---
PitchTravelWrite.com, is our information-packed website for travel writers. This e-zine, a series of travel writing books and reference guides, coaching programs, and our workshops all work together to give you guidance in this field.

Our aim is to provide you with practical, nitty gritty information to help you gain entry into the travel writing realm and all the enjoyment that comes with it. 


---
Awards and Accolades
We're thrilled to announce that www.PitchTravelWrite.com is once again on The Write Life's list of 100 BEST WEBSITES FOR WRITERS! 



You can see the entire list by visiting their website - click on the graphic to view the list now.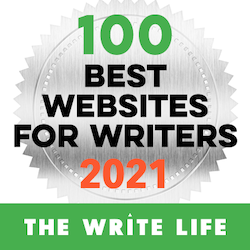 ---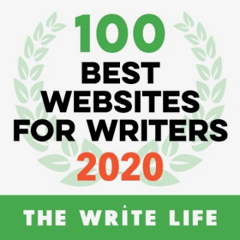 ---
We're proud to announce that our travel writing website has made Writer's Digest Magazine's 2016, 2020, and 2021 101 BEST WEBSITES FOR WRITERS. Writer's Digest doesn't bestow these awards lightly. And we're the only travel writing website on their lists!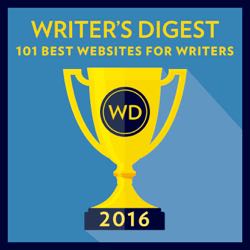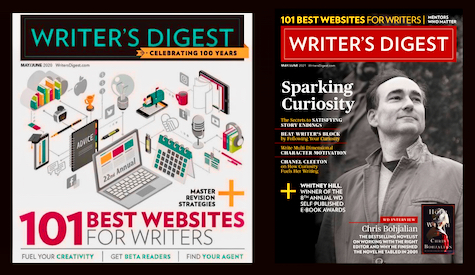 ---
Friend me on Facebook
My Facebook page is about freelance travel writing. I frequently post about:
• links to other well produced travel websites and blogs
• links to my travel articles
• magazine cover stories and back stories
• links to resource pages
• links to coaching and mentoring resources
. . .and plenty of other useful information to get you up to speed



Link to Roy's Personal Facebook page
---


That's all for now. Until next week - just keep pitching! Roy

Roy Stevenson
Pitch Travel Write
www.pitchtravelwrite.com






---