Greetings Fellow Travel Writers!
. . . and WELCOME all new subscribers. Thanks for joining us.

We're now in our fifth year in Da Nang, Vietnam with a hot summer to look forward to. Daily high temperatures are already in the 90s. And with SE Asia's notorious high humidity it feels like 10 degrees higher.
For the next few months we'll stay indoors between 9 am and 5 pm, and then venture out for an evening walk or to stock up on groceries. We do a brisk 2-mile walk at 5 am every morning so our evening walk is more gentle.
The "veggie cart lady" is one of the most welcome sights on our walks. With her wide mobile platform packed with dozens of fruits & vegetables, we shop roadside.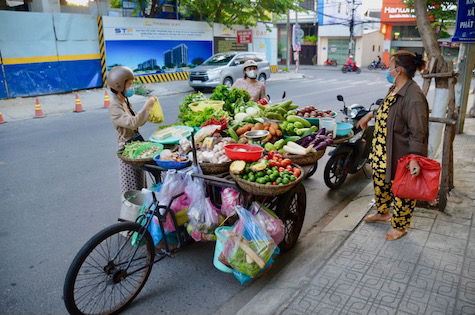 This is truly a coffee country! The beans are rich and potent, grown in the Central Highlands. My favorite drink is Caphe Sua Da (Vietnamese iced coffee), a sweet, iced concoction of strong coffee with a healthy dollop of sweetened condensed milk. I add a considerable amount of fresh milk to make it more like a coffee milkshake. When I drink one of these bad boys, I'm good to go for the rest of the day! Here's the link to a 2-minute video on how to make this delectable drink:
How to make Caphe Sua Da

Coffee shops in Da Nang come in every size imaginable - from small, basic stalls with a few tiny plastic chairs on the sidewalk to large, modern, beautifully decorated and air-conditioned buildings — and everything in between.

We consider ourselves lucky to to ride out the pandemic in Vietnam as it's been controlled extremely well. Vietnam ranks 159th in the world with a TOTAL of 8,580 cases and only 53 deaths as of this writing. Yes, you read those figures right. It's been very safe here. We still don't have vaccines, but hope we'll get them by the end of the year.


Editorial: Five Surefire Sales Strategies for Print Media Travel Writers
The predicted demise of the print magazine industry has been grossly exaggerated. There continues to be a strong demand by print media editors for good travel writers.

Print magazines continue to pay their writers. And print assignments still carry a lot of weight when requesting complimentary travel assistance.

Here are five surefire strategies to help you succeed, get published, and make money in the print magazine arena:

1.Think Beyond "Pure" Travel Magazines: Write for Many Different Magazine Genres

There are 7,293 American consumer magazines listed in the National Directory of Magazines (NDM), plus another 2,639 consumer magazines in the U.K. - and thousands more in Canada, Australia, South Africa, and New Zealand. Hundreds of these are "pure" travel magazines. 

However, dozens of other magazine genres also publish travel stories. Be creative and pitch your stories far-and-wide. Writing for multiple genres makes you more recession- and pandemic-proof. If one magazine genre takes a beating during a recession or market shift, you can jump to another of your established genres. By writing for many magazine genres, you can do this quickly and easily. 


2.  Look for Smaller, Custom Publications

There are 12,707 trade and custom publications listed in the NDM. Many of these are travel trade magazines like Business Traveller, Travel Weekly, Business Travel Magazine, Elite Traveler, Global Traveler, Travel Agent Magazine, Hotel Journal, Luxury Living, Meetings & Conventions, Smarter Travel, Travel Agent Magazine, and many others.

These magazines are screaming out for good content and good writers. These "trades" often pay as well as the more established travel publications.

3.  Look for New Magazine Outlets

Write for as many magazines as you can. Look for new publications on your local bookstore magazine racks. Write and Introduce yourself to new start-up magazines.  
 Writers who rely solely on their "regular" gigs are eventually left high and dry when the editors change or the magazines close down. Many of my friends have found this out the hard way. They've had the carpet pulled from under them when their pet outlets folded or went online only. Always be looking for new outlets.

4.  Send Out Queries as Part of Your Daily Schedule

Don't be complacent. Make pitching part of your daily routine. Keep the pipeline filled with queries so you'll have regular work coming in.

5.  Produce High Quality Content

Travel journalism has always been considered some of the weakest writing but it doesn't have to be so. Editors hire writers who produce good content and people buy magazines with good content. Pitch quality story ideas, turn them into solid travel stories, and you'll do fine.  

The demand for good travel print media content is nearly as insatiable as the demand for online travel stories. Collectively, print media editors still require tens of thousands of stories each month.

And print media editors pay freelancers for their work! If you want to earn money from your writing, this is still the best place to be. The Print Media Industry - How Big Is It?

---
This Week's Featured Post
My Freelance Writing Articles Published In Writing Magazines Around The World
Several of my articles about freelance writing have been published in writing magazines around the world.

You can access the articles here. Just click on the title of the article that interests you and you'll be able to read the article.

Access the list

---
Upcoming Posts
June 14: Travel Accessories for Travel Writers
June 21: Travel Gear: Lightweight Luggage, Travel Clothing and Packing Advice for Travel Writers
June 28: Seven Reasons Why Aspiring Novelists Should Write for Magazines


---
PitchTravelWrite.com Success Stories
Candi Licence: Another Travel Writing Success Story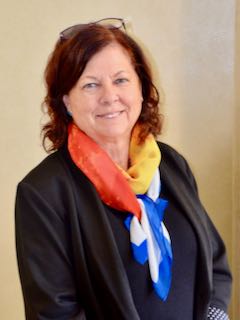 I fell into travel writing by accident," writes Candi Licence.

"My husband and I retired at the end of 2013, sold most of our stuff, stored our precious things like art and family heirlooms, and began traveling full time. We'd go to places we always wanted to see, stay for 3 months and then move onto our next adventure. I started a blog to let people know where we were and what we were doing, and I got feedback from people I trusted that they loved my writing. Writing about our adventures was intoxicating and getting complimented was exhilarating.

Fast forward 3 years, and I attended a travel writing workshop to see if it was possible for me to become a travel writer. I drafted an article during the workshop, and it got a great reception from participants and an Editor who was coaching aspiring writers throughout the event. I left the workshop fired up, with stars in my eyes.

Once home, tried to sell the article and learned my first hard lesson. Always pitch first! It's hard for beginners to place a completed article. The second lesson I learned is that you can't submit queries to one editor at a time—it's a complete waste of time. I'd wait a month, get no response and then send my query out to the next editor with the same result. I was spinning my wheels and getting nowhere.

I was frustrated. I thought I had the talent to be a good writer but didn't know how to break into the field. That's when I saw Roy Stevenson's Marketing Master Class for Travel Writers. I signed up, took the workshop, and it changed everything for me."

Here's the rest of Candi Licence's travel writing success story:

Read Candi's Travel Writing Success Story

---
Pitch Travel Write: Most Requested Links About Researching Your Destinations
Most travel story ideas are worthy of publication somewhere. If you spend some quality time researching your destination you can usually find a marketable story idea or two. 

Sometimes you'll have to abandon a travel story idea. If it doesn't have enough "jam" to hook an editor, you won't be able to sell it.

But it's more likely that you just need to do a little work to discover what's so interesting about a place and to clarify your unique story angle.
Travel Story Idea Troubleshooting Guide or "Why Can't I Sell My Articles?"

What does it take to sell your travel articles? 

In simplest terms, my sales process starts with pitching a story idea. Here's my sales process in a little more detail. This process had worked for me over and over again.
My Sales Process

It takes some experience to know what constitutes a viable travel story.  And deciding whether a story idea is a dog or a shooting star is an important first step in the pitching process.

So where, and how, do travel writers start their quest for a salable story? 

Here are 6 tips to help you.
6 Tips for Dreaming Up Better Story Ideas that Sell


---
Inspirational Travel Quote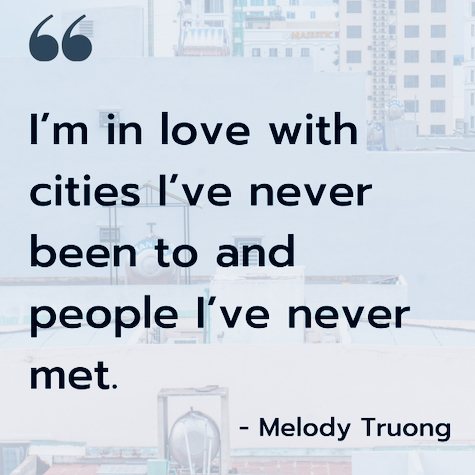 ---
RESOURCES FOR TRAVEL WRITERS
Featured Bundle of the Month: TRAVEL WRITING CREATIVE PACK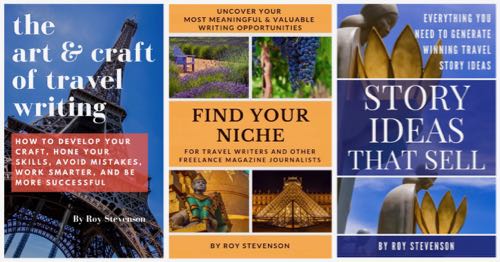 Our Creative Pack provides the first pieces of the travel writing puzzle. These three eBooks give the starting point for every travel writer: dreaming up unique story ideas, finding the best writing niches for your interests, passions and experience, and the art & craft of travel writing. 

When you buy the bundle you automatically save 10% off the regular price of the books. You can get an additional $5 off the price of the bundle if you use promo code JN5 at checkout:

Here's how these reference guides will help you.

The Art & Craft of Travel Writing is a handy reference guide to make your travel stories sparkle and help you become a more successful writer.  

The tips and techniques packed into the 170-page book will help you develop your craft, hone your skills, and work smarter.

In Find Your Niche you'll learn why it's important to write in a variety of genres.  It explores the multitude of opportunities available to travel writers and other freelance writers.  

You'll learn to identify the niches that are most interesting and meaningful to you. And you'll find out how to hone in on the most profitable niches.

Full of  tips, advice and inspiration, this 85-page book will help you find your niche!

Story Ideas that Sell guides you along the highly creative path of inventing and discovering potential travel stories to pitch and sell to travel magazines. Conjuring up viable story ideas are the very bedrock of every successful travel writer today.  

In this 76-page book you'll learn my winning system to generate story ideas that sell. Master this first step - and combine it with a great pitch - and you'll soon find yourself immersed in exciting experiences with fascinating people.

Learn more and buy the bundle
Don't forget to use promo code JN5 at checkout.
---
Group Coaching Mastermind Community
Our first Group Coaching Mastermind Community kicked off in October, 2020, and we've got a global group with members living in Australia, Belgium, Canada, Vietnam and the U.S. We're very excited about this group of writers and our new community! We added new members to our community in early January and they're getting to know the group and participate in writing activities.

If you missed out on the opportunity to join this session, you can get on the waiting list for the next session starting in the fall:

Learn more and get on the waiting list

---
Live Workshops
People have been asking when our 2022 workshops in New Orleans, Louisiana are scheduled.

Here are the 2022 dates:
June 17-20, 2022, Travel Writing & Photography Retreat
June 22-24, 2022, Marketing Master Class for Travel Writers


We've had lots of interest already. You can sign up for our no-obligation interest list for these workshops and receive our substantial early bird discounts when we open registration:

GET ON THE 2022 LIVE WORKSHOP NO-OBLIGATION INTEREST LIST HERE
---
Did You Know . . .
Our Complete Marketing Master Class for Travel Writers is ranked #1 on TravelWritersExchange.com's Top Ten Travel Writing Workshops.

You can access the list of the top ten travel writing workshops at the link below:

Travel Writers Exchange workshop list: #1 Marketing Master Class

Online Travel Writing & Marketing Master Class
Now, you can study our Marketing Master Class for Travel Writers online for only a fraction of the price of the live class! We recorded it LIVE in Seattle, for aspiring travel writers who weren't able to attend in person.
Who's it for?

If you're a novice travel writer, or you haven't had much luck selling your articles to print magazines, this Online Travel Writing & Marketing Workshop is for you.
If you weren't able to travel to our Live Master Class, here's the opportunity to attend anyway - without any travel costs and at a substantially reduced cost!
If you work a full-time job and can't get time off to attend the live class – you can still attend on your own schedule after working hours.
If you've wanted to attend our Live Marketing Master Class but can't get your schedule to fit with the dates it's offered – here's your opportunity to attend at your own convenience.
---
At Your Service
Coaching and Consulting
Online Courses
Vietnam 1-1 Retreat & Consulting
Expat Consulting
email: pitchtravelwrite@gmail.com
If you know someone who will enjoy this newsletter,
please forward or sign up
---
PitchTravelWrite.com, is our information-packed website for travel writers. This e-zine, a series of travel writing books and reference guides, coaching programs, and our workshops all work together to give you guidance in this field.

Our aim is to provide you with practical, nitty gritty information to help you gain entry into the travel writing realm and all the enjoyment that comes with it. 




We're thrilled to announce that www.PitchTravelWrite.com is once again on The Write Life's list of 100 BEST WEBSITES FOR WRITERS! 



You can see the entire list by visiting their website - click on the graphic to view the list now.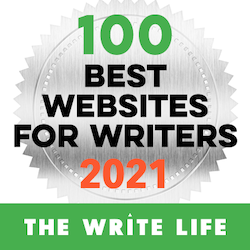 ---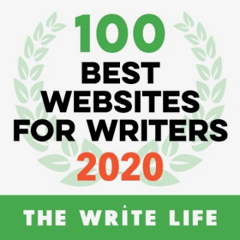 ---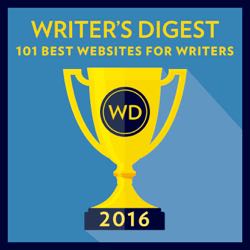 ---
Friend me on Facebook
My Facebook page is about freelance travel writing. I frequently post about:
• links to other well produced travel websites and blogs
• links to my travel articles
• magazine cover stories and back stories
• links to resource pages
• links to coaching and mentoring resources
. . .and plenty of other useful information to get you up to speed



Link to Roy's Personal Facebook page
---


That's all for now. Until next week - just keep pitching! Roy

Roy Stevenson
Pitch Travel Write
www.pitchtravelwrite.com






---