Greetings Fellow Travel Writers!
. . . and WELCOME all new subscribers. Thanks for joining us.



Editorial: Writing About Historic Places Can Be Exciting!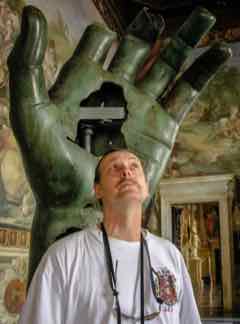 Museums are staple tourist attractions around the world. And writing about museums helped me break into the competitive travel writing arena. They're one of the keys to my rapid ascent in freelance writing.

I've sold a lot of museum travel articles. And I mean, A LOT! With more than two hundred museum pieces published in several dozen paying print magazines, I've become the "go to" museum writer for several magazine editors. These editors take repeat museum stories from me - some of the easiest I've ever sold. Cumulatively, my museum articles have paid tens of thousands of dollars.

My museum assignments have taken me around the world to England, Scotland, U.S.A, France, Belgium, Germany, Luxembourg, Spain, the Netherlands, Hungary, China, Czech Republic, and several other countries. I always round up a few museum stories to help pay for my annual trip to Europe. Do an internet search for "Roy Stevenson + museums" and you'll find a few of them.

Writing about museums has other great perks, too. When you're visiting museums, you walk straight to the front of the line, report to the front desk, and you're good to go!

A great benefit of museum assignments is that you get free admission. Many museums have expensive entry fees, especially in Europe. On a typical day in Paris, for example, a tourist can easily rack up 50 Euros/person in museum entry fees. Spend a week visiting museums in the City of Light and you're down 100-200 Euros, or more. Round up a few museum assignments, or a museum roundup piece, and you'll save a lot of money that you would have paid as a tourist.

Museum writers usually receive personal guided tours with museum curators or local historians. On my tour of England's Tank Museum at Bovington Camp, Dorset, my guide, David Fletcher, knew his stuff about armored vehicles. The museum director later told me that Mr. Fletcher was the author of more than 30 books about mechanized armor and is considered the world's foremost authority on the subject!

One of my most productive museum stories was a visit to the Western Antique Automobile & Aircraft Museum at Hood River, Oregon. I sold six articles about this museum to six different magazines, around the world.

If you've had difficulty breaking into travel writing, I heartily recommend you try pitching museum stories to specialty magazines. My museum pieces sell like hot cakes! Yours can, too.

Read more details in my featured post below . . .

---
This Week's Featured Post
Break Into Travel Writing With Museum Stories
I've had more than 200 museum stories published.

In this post I'll explain to you ...
- who buys museum stories
- what types of museum stories sell well
- how much you can earn
- eight important tips for writing museum pieces


If you want to learn how to break into travel writing with museum stories, read the article . . .

READ THE ARTICLE


---
GROUP COACHING MASTERMIND
Are you tired of talking, thinking, and dreaming of breaking into travel writing?

Are you ready to start writing?

Many of you have asked when we're going to offer group coaching. So, we're working on it. We're planning to make it affordable, fun, and helpful and productive for you.

Everything will be done online with video training, a community of like-minded writers helping each other, a robust focus on the craft of writing and the art of selling, and lots of other resources at your fingertips.

Here are a few of the things we'll be offering through our Group Coaching Mastermind program:

A group coaching place where . . .

- you'll get helpful critiques of your story ideas
- you'll learn how to write successful query letters
- you'll get solid advice about pitching your stories
- you'll get feedback on your articles
- you'll get photography tips for preparing galleries for editors
- you'll have an opportunity to showcase your articles & photos


A safe and helpful community where . . .

- you can ask questions and get the answers you need
- you can gain the confidence to leap over roadblocks
- you can gain insight, encouragement, and support
- you can tap into for help when you're stuck with your writing
- you can give and receive solid advice about problems
- you can celebrate your writing successes
- you can ask for help with magazine leads to pitch your story ideas
- other members can help with"in-the-trenches" perspectives
- everyone exchanges thoughts on story ideas and what works


A mentoring and resource place where . . .

- you'll receive marketing tips about selling your travel stories
- you'll find new resources to boost your freelance travel writing knowledge
- you'll get advice on the craft of travel writing
- you'll have opportunities to fine-tune your photography skills
- you'll get a chance to share your articles & best shots


You'll get a writing community, group coaching and resources and content so you can succeed in travel writing - and have fun with other travel writers while you're doing it.

Our BRAND NEW Group Coaching program will be limited to the first 35 registrants. The people on the interest list will get first option to register, so if you're interested, get on the no-obligation list so you'll be notified first:

Click here to get on the Group Coaching Interest List

---
Upcoming Posts
June 8: What A Year In The Life Of A Fulltime Travel Writer Looks Like
June 15: For Your Best Travel Stories: Tap Into Your Interests and Passions
June 22: Where Travel Writers Can Get Published: 16 Places to Look for Sales Leads


---
PitchTravelWrite.com Success Stories
Jessica Pickett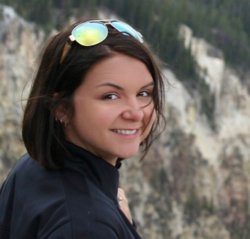 Jessica Pickett's travel writing journey will surely inspire you to try your hand at freelance travel writing. I'm particularly impressed with her story. 

I first met Jessica at a travel writing conference in 2014. Since then, she's made a steady ascent through the freelance writing ranks. Hers is a great example of how a novice travel writer can break into this competitive arena. 

Jessica's trajectory is enviable, and it shows how much is achievable even for complete beginners.  

There were five particular things she did well to succeed in travel writing, right from the start. 

If you're a novice writer, you can do these things, too. Read this post to learn from Jessica as she tells how she launched her freelance writing career . . .

READ JESSICA'S STORY


---
Pitch Travel Write: Most Requested Links about Getting Published

Here's practically everything we've ever published about getting your travel stories published!

Getting your work published is the main objective of freelance travel writers. Every article you write needs to be published somewhere, so you need a solid system in place to do it quickly, efficiently, and successfully.

After all, if you can't sell your article, you don't get to write it!

Here's the link to our entire suite of 30 articles on getting your stories published.

It's a gold mine of information!

Here's the link to our entire suite of 30 articles on getting your stories published. It's a gold mine of information!


---
Inspirational Travel Quote
---
RESOURCES FOR TRAVEL WRITERS
Featured Bundle: The Beginner's 3-Pack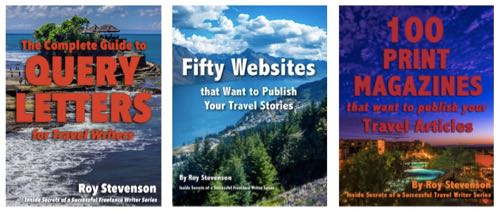 If you're just getting started in travel writing, try our Beginner's 3-Pack—the perfect way to kick-off your travel writing career. You get a 10% discount with the bundle.

The Complete Guide to Query Letters
Everything you need to know about query letters - and 20 examples you can start using immediately.

50 Websites That Want to Publish Your Travel Stories

A list of 50+ quality travel websites where you can collect some bylines.

100 Print Magazines That Want to Publish Your Travel Articles
  
A list of 100 print magazines that want to publish your travel articles. These lists will save you hours of time researching and creating lists yourself. They give you a foundation of sales leads you can use and build upon. You can buy the books individually, or save 10% by grabbing the bundle. Learn more and purchase the Beginner's 3-Pack Reference Guides

---
Live Workshops
People have been asking when our 2021 workshops in the U.S. are scheduled. They're scheduled in June, 2021, in New Orleans, Louisiana.

Here are the 2021 dates:
June 3-6, 2021, Travel Writing & Photography Retreat
June 8-10, 2021, Marketing Master Class for Travel Writers


We have had a lot of interest for these workshops already. You can sign up for our no-obligation interest list for these workshops and receive our substantial early bird discounts when we open registration:

GET ON THE 2021 LIVE WORKSHOP NO-OBLIGATION INTEREST LIST HERE
---
At Your Service
Coaching and Consulting
Online Courses
Vietnam 1-1 Retreat & Consulting
Expat Consulting
email: pitchtravelwrite@gmail.com
If you know someone who will enjoy this newsletter,
please forward or sign up
---
PitchTravelWrite.com, is our information-packed website for travel writers. This e-zine, a series of travel writing books and reference guides, coaching programs, and our workshops all work together to give you guidance in this field.

Our aim is to provide you with practical, nitty gritty information to help you gain entry the travel writing realm and all the enjoyment that comes with it, too.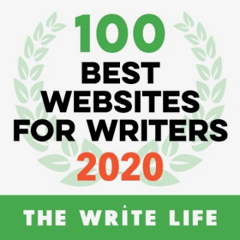 We're thrilled to announce that www.PitchTravelWrite.com is on The Write Life's 2020 list of 100 BEST WEBSITES FOR WRITERS! 



You can see the entire list by visiting their website - click on the graphic to view the list now.



---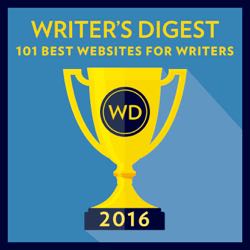 ---
Friend me on Facebook
My Facebook page is about freelance travel writing. I frequently post about:
• travel writing & blogging conferences,
• links to other well produced travel websites and blogs,
• links to my travel articles,
• travel writing themes,
• links to reputable travel writer's groups, associations, and newsletters,
• magazine covers stories and back stories,
• links to resources pages,
• links to travel writing archives,
• links to coaching and mentoring resources,
• and plenty of other useful information to get you up to speed.



Link to Roy's Personal Facebook page
---


That's all for now. Until next week - just keep pitching! Roy

Roy Stevenson
Pitch Travel Write
www.pitchtravelwrite.com






---