Greetings Fellow Travel Writers!
. . . and WELCOME all new subscribers. Thanks for joining us.


---
OUR 2022 WORKSHOPS IN CHARLESTON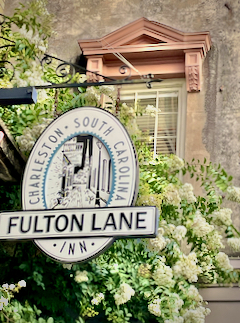 On June 25 we wrapped up our 4-day Travel Writing & Photography Retreat and our 3-day Marketing Master Class for Travel Writers hosted at the Fulton Lane Inn in the heart of historic downtown Charleston, SC.

The workshops were a resounding success!

The Writers Came From Nine States

Eleven excited travel writers & photographers from 9 States attended the workshops. They traveled from Texas, Florida, Washington, Alaska, California, Maine, Illinois, Oregon and Massachusetts.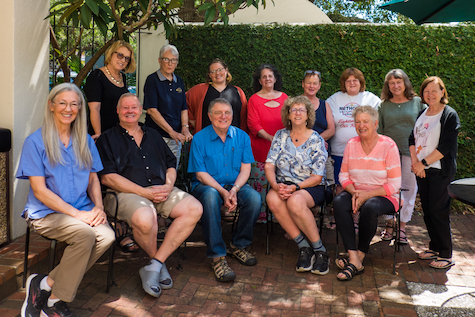 Many Participants Are Already Accomplished Writers
Janet Rae-Dupree, for example, has been a news reporter, sci/tech correspondent, health/medicine writer, and freelance contributor to dozens of newspapers and magazines over the past four decades.
Sharon McLeod has spent over thirty years delivering manuals for high tech products.
Kate Dreger is a corporate communications director.
Emily Corak has a freshly minted Master of Fine Arts.
Donna Hall worked in public relations and marketing for 20 years. She is the author of a travel website about Homer, Alaska. https://www.homerbythebay.com
Ava Kabouchy is the author of a book on her four years in Saudi Arabia, "Wanderlust, A New Lease on Life in the Kingdom of Saudi Arabia". She recently published "Where in the World is Grammie Now? The Adventures of a Globetrotting Grandmother", a book for young readers and their grandmothers. Her superb travel photography can be seen at http://www.avakabouchy.com/about-the-photographer/
Angela Dowdy has a travel website, www.embracesouthernstates.com and writes about people, places, food, and art in the Southeastern United States.
Bonnie McKenna was travel writer for Tribune newspaper for five years and now freelances for Scuba H2O Adventure Magazine, X-Ray Dive ezine and has also been published in TravelWorld International Magazine.
Jill Friedman writes for various online and print magazines including Maritime Executive, Brazos Monthly, Travel Awaits and Sidelights. Jill's book "Sail Around the World - and Get Paid For It" is soon to be self-published on Amazon.
This powerful and impressive depth in their writing backgrounds, their work experience and their enthusiasm made this class a joy to teach.
Topics We Covered
What is Good Travel Writing?
How to Develop Travel Story Ideas That Will Sell
How to Create a Sense of Place With Photographs
How to Craft a Compelling Lede & Summary
Sharing Our Ledes
The Most Common Travel Writing Mistakes
Ten Tips for More Creative Travel Photos
Active vs Passive Travel Writing
Tips for Writing Active & Engaging Travel Stories
How to Research & Write Enticing Travel Articles
How to Edit Stories Before Submitting Them to Editors
Travel Photography - What Magazine Editors Want
How to Turn Creative Sparks Into Compelling Travel Stories
Sharing Charleston Story Ideas
We also took a field trip to Charleston Convention & Visitors Bureau to collect travel story ideas. Everyone returned to class with a list of exciting and unique ideas. They each chose one story idea to research further and write about.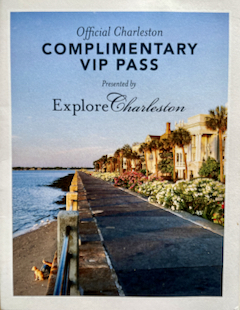 We Were Gifted Complimentary Explore Charleston VIP Passes
Charleston Convention & Visitors Bureau gifted the participants an Explore Charleston VIP Pass that granted them complimentary entry to 22 of the city's top attractions including the Charleston Museum, Magnolia Plantation & Gardens, Boone Hall Plantation, Old Exchange & Provost Dungeon, Old Slave Mart Museum, Patriot's Point Naval & Maritime Museum and 5 historic homes. The combined value of these entry fees is in excess of $500!
And, boy, did they make the most of this gift!
Despite the onset of hot, humid summer days the writers buzzed around Charleston and environs like hyperactive bees, hoovering up the tourist attractions. They had a blast!
By the end of the week, everyone had a publishable front-of-book travel piece to pitch to travel magazines.
What They Got
eBooks The Art & Craft of Travel Writing (Value $14.95)
Find Your Niche:  Uncover Your Most Meaningful and Valuable Writing Opportunities (Value $12.95) 
The Complete Guide To Query Letters For Travel Writers (Value $19.95)
How to Land Press Trips (Value $49)
The Complete Guide to Marketing & Selling Your Travel Articles (Value $99)

One-on-one Coaching With Roy — All participants receive a post workshop mentoring/consultation with Roy on one story idea. Roy walks the writers through the process of how to get their stories published. (Value: $750)

Our Guest Speaker was Kourtney Jones, Media Director, Charleston Convention & Visitors Bureau (CVB). Kourtney's presentation on working with CVBs on travel assignments was a smash hit! Her advice was spot on & she really opened up to us with insider advice & secrets about working with travel writers.
Are Our Travel Writing Workshops The Best In The World?
We think they are!
Don't miss out on our 2023 travel writing workshops! Place your name on the interest list here

We'll be hosting our workshops in the U.S. in 2023. We're currently looking for an exciting town that offers lots of story ideas and opportunities for the participants to explore.
Interested in attending our 2023 workshops? Place your name on our interest list: Interest List for Workshops


---
Editorial: How to Sell Travel Stories After Your Trip
Did you know you can sell travel stories from previous trips you've taken — even years ago? 

I prefer to sell my travel stories before I leave for my destination. But I've also sold dozens of them retroactively, after I've returned. 

There are certain conditions that you must meet if you want to sell your articles after you've traveled.

Most important, your information must be up-to-date. If you're writing a piece several weeks or months later, check your information online to make sure your facts are still correct. Better still, send the draft of your travel story to the media relations director at your destination for fact checking. 

Then, when you send your final article to the editor, you should mention that it has been fact-checked. This will save them time fact checking. It will give the editor confidence in your professionalism and he or she will be more likely to give you assignments in the future. This step is crucial, because if your facts are incorrect the editor will hear about it from irate readers, with a predictable result—the editor will not hire you again!

Here's an example of the importance of making sure your information is current. When I write my automobile museum articles, I always make sure I only write about the cars that are permanently on display, versus the temporary exhibitions. 

Here's why. If I describe an automobile on temporary display and a reader goes to that car museum expecting to see that model, he'll be very disappointed if it's been removed from the gallery floor. And the editor will hear about it from an angry reader!

In many cases, your travel stories can be several years old. Of course, it depends on what you're writing about. I've sold plenty of military museum articles years after I visited them. Museums don't change much over time.

Likewise, if you're writing about ancient historic places, you're going to be fine. The Acropolis and the Coliseum haven't changed for millenia! 

When I'm on assignment I use several methods to collect information about my destinations. How many of these methods do you use? Read the post

---
Featured Post
Best Travel Writing Advice to Turn Your  Worries into Wins
Freelance travel writing is not for the timid or the indecisive. Many writers have the tendency to worry about things that are highly unlikely to happen. Their emails to me are crammed with, "What if…?" questions. 



I started coaching travel writers in February 2015 and continue to do so today. During this time, I've noticed some interesting and similar recurring habits among the new writers. 

Helping them with these concerns is why they hired me in the first place.

My point is, my coaching clients aren't unique in their concerns - it's a universal problem. I hear the same questions and concerns whether I'm at conferences, in workshops, or on press trips.

Beginners at any skill worry over imaginary things. Travel writers are no different. This article has my best travel writing advice for the worriers out there - and strategies to help you move forward ...

READ THE POST

---
Upcoming Posts
Jul 25: Ditch The Travel Writing Cliches!
Aug 1: Using Executive Summaries for Travel Writing Success
Aug 8: Six Tips to Save Time and Earn More Money


---
PitchTravelWrite.com Success Stories
Rey Waters: A Travel Writing Success Story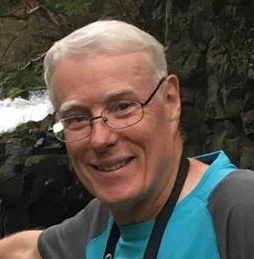 With Travel Writing, My Life Cannot Get Any Better
"I enrolled in a travel writer's course and published my first article in Travel Post Monthly.  

It was not long after, that I discovered Roy Stevenson's travel writing books. His first book that I read was Get Published Now. It had a section that mentioned getting started in your own back yard.
At the time we were living in a suburb of Atlanta, Georgia. My wife and I walked a two-mile hiking trail around a lake every day for our exercise. 

During these walks we met all types of very interesting people. I pitched a story idea to our local newspaper and I guess you can say the rest is history."

Here's Rey Waters' remarkable travel writing success story, so far!


---
Pitch Travel Write: Most Requested Links About Building Your Travel Writing Platform
For the professional 21st century travel writer a marketing platform is no longer a 'nice-to-have' option — it's become essential. Before the hordes of travel writers and bloggers entered the arena, you could slide by with just a decent story idea and a well-crafted query letter.

But now, sales and marketing skills have become increasingly important— even critical — to get your stories published in the highly competitive print media field. 

What's a marketing platform and what do you need to do? You'll find all you need to know in these articles. 

You need a marketing platform to stand out from the thousands of other travel writers and bloggers that have taken up the freelance game in the past few years.

Your Travel Writing Marketing Platform and Why You Need One

Why Freelance Writers Need a Professional Website

Four Reasons to Get Published on Travel Websites

How to Get Testimonials from Editors and CVBs
---
Inspirational Travel Quote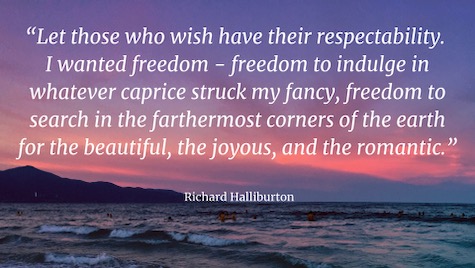 ---
RESOURCES FOR TRAVEL WRITERS
Featured Book : Rock Star Travel Writers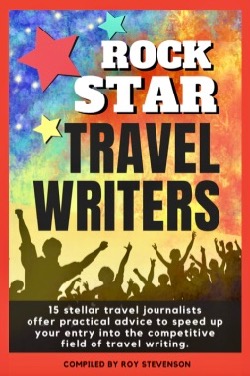 Have you ever wondered how travel writers get their stories published in the top shelf travel magazines?

Our book, Rock Star Travel Writers, reveals—through a series of in-depth interviews—insider tips, tricks, and secrets that 10 leading travel journalists use to land assignments in the most prominent travel glossies, and be paid well for their efforts.

I wish I had this information when I started out on my travel writing journey!

If I'd known, early in my career, what successful travel writers were doing to get published in top flight magazines, it would have knocked a couple of years off my learning curve.

You might ask, "What qualifies these contributors to offer expert advice on the art and science of travel writing?"

The proof is in their bylines. Read through this (partial) list of their bylines. Collectively, these writers have had their work published in the world's most prestigious and heavy hitter travel magazines like National Geographic Traveler, AFAR, BBC Travel, Lonely Planet, Condé Nast Traveler, Travel + Leisure, American Express, Robb Report, Business Jet Traveler, Australia & New Zealand Magazine, plus in-flights like American Way, Hemispheres, and Delta Sky, and many other prestigious publications.

The detailed interviews get right down to the nitty gritty of travel writing. They tell the personal stories of these writer's journeys and show how they've managed to get their stories published in the world's most treasured travel publications.

BUY THE BOOK

Note: Don't forget to use promo code JLY5 at checkout to get your $5 discount during this month.
---
Group Coaching Mastermind Community
Our first Group Coaching Mastermind Community kicked off in October, 2020, and we've got a global group with members living in Australia, Belgium, Canada, Indonesia and the U.S. We're very excited about this group of writers and our new community! We added new members to our community in 2021 and they're getting to know the group and participate in writing activities.

If you missed out on the opportunity to join earlier sessions, you can get on the waiting list for the next session starting later this year:

Learn more and get on the waiting list

---
Did You Know . . .
Our Complete Marketing Master Class for Travel Writers is ranked #1 on TravelWritersExchange.com's Top Ten Travel Writing Workshops.

Your next opportunity to attend these classes be in 2023. Our travel writing & marketing workshops are highly informative and a blast, socially.

Our travel writing & marketing workshops are highly informative and a blast, socially.

Get on our interest list for updates:

Travel Writing Workshops 2023 Interest List

You can access the list of the top ten travel writing workshops from Travel Writers Exchange at the link below: Travel Writers Exchange workshop list: #1 Marketing Master Class

---
At Your Service
Coaching and Consulting
Online Courses
If you know someone who will enjoy this newsletter,
please forward or sign up
---
PitchTravelWrite.com, is our information-packed website for travel writers. This e-zine, a series of travel writing books and reference guides, coaching programs, and our workshops all work together to give you guidance in this field.

Our aim is to provide you with practical, nitty gritty information to help you gain entry into the travel writing realm and all the enjoyment that comes with it. 


---
Awards and Accolades
We're thrilled to announce that www.PitchTravelWrite.com is once again on The Write Life's list of 100 BEST WEBSITES FOR WRITERS! 



You can see the entire list by visiting their website - click on the graphic to view the list now.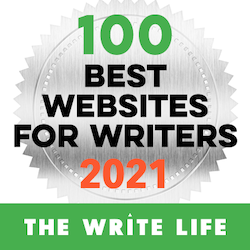 ---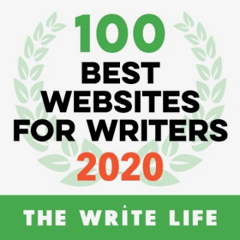 ---
We're proud to announce that our travel writing website has made Writer's Digest Magazine's 2016, 2020, and 2021 101 BEST WEBSITES FOR WRITERS. Writer's Digest Magazine also lists us on their Best Genre/Niche Websites for 2021.

Writer's Digest doesn't bestow these awards lightly. And we're the only travel writing website on their lists!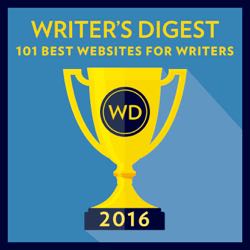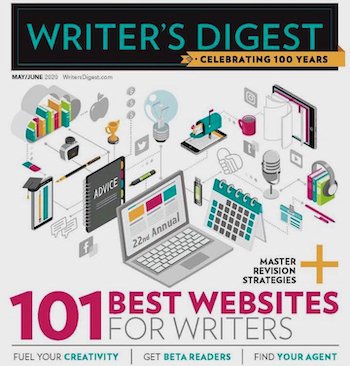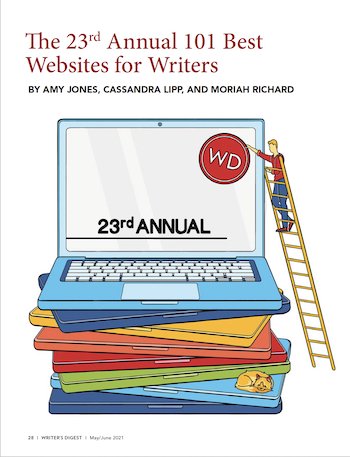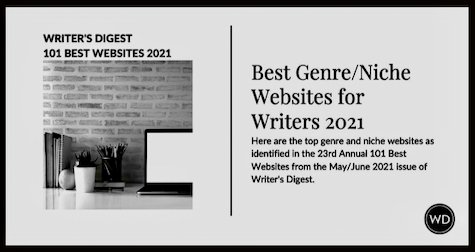 ---
Friend me on Facebook
My Facebook page is about freelance travel writing. I frequently post about:
• links to other well produced travel websites and blogs
• links to my travel articles
• magazine cover stories and back stories
• links to resource pages
• links to coaching and mentoring resources
. . .and plenty of other useful information to get you up to speed



Link to Roy's Personal Facebook page
---


That's all for now. Until next week - just keep pitching! Roy

Roy Stevenson
Pitch Travel Write
www.pitchtravelwrite.com






---