Greetings Fellow Travel Writers!
. . . and WELCOME all new subscribers. Thanks for joining us.


---
As you read this, we're in our fifth day in Porto, Portugal. Our 6 weeks in Lisbon has come to an end. We'll miss Lisbon — it exceeded our expectations! What's not to like about a city stacked with tourist attractions and great food, and where people are friendly and considerate?

Our Lisbon sights included the ever-visible Castelo de Sao Jorge (Castle of St. George) that overlooks the city from wherever you are. We explored the Baixa downtown section including Comercio Square, the beautiful Arch of Augusta, Rossio Square with its flowers, fountains, and Dona Maria National Theater in the background, & the adjacent Figueira Square. The Miradouro Viewpoint offered us an excellent vista over the city's red-tiled roofs, cathedrals and bell towers, and the harbor.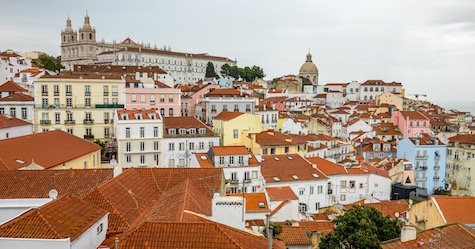 One of the defining characteristics of Portuguese architecture are the buildings, clad in decorative tiles. There are splashes of color around every corner, even in the more run-down neighborhoods.

The history of these ubiquitous tiles are nicely portrayed in Lisbon's Tile Museum (Museu Nacional Do Azulejo)—one of the city's top three tourism attractions. Housed in an atmospheric old Renaissance convent, complete with cloisters, we found gorgeous tiles ranging from the 15th century to the present day.

While we walked through Lisbon's streets we came across quiet little cobble stone squares, usually with a decorative fountain and shade trees. Entrancing, small green kiosks were everywhere. The locals sit here even in winter having a snack and sipping cappuccinos or their favorite alcoholic beverage.
We just had to dine at Cafe Nicola, one of Lisbon's most storied restaurants. Its renowned art deco facade, beautiful brown & white floor tiles, white tablecloths, sculpture artwork and snappily dressed waiters absolutely exude class and make it one of Portugal's "must eat at" restaurants. Located beside Lisbon's bustling Rossio Square, Cafe Nicola dates back to the 18th century. It was the meeting place of Lisbon's intelligentsia.
Our final weeks in Lisbon included the Military Museum of Lisbon, the Botanical Gardens, the Museum of Natural History, the Museum of Archeology & Ancient Art, and the Elevador Santa Justa, located 200 meters from Rossio Square. Constructed in 1902 by Mesnier Ponsard with inspiration from the Eiffel Tower, in beautifully wrought iron, the tower rises 45 meters above Lisbon.
---
Editorial: The Life of a Travel Writer

Once you get a taste of the freedom and excitement that travel writing provides, you'll always crave more. While scrolling through my travel photographs a few days ago, I suddenly realized how many different types of transportation I've used on my travel writing assignments. It's truly staggering!

On dry land, I've been carted around on segways in Oregon, sputtering tuk-tuks in Thailand, rickety trishaws in Vietnam, diesel-spewing buses, rusty bicycles, military jeeps, a mustang sports racing car in Nebraska, huge world war II tanks in Europe, smooth-as-silk trains, bell-ringing trams in San Francisco and Lisbon, a luge sled in Queenstown, New Zealand, sporty dune buggies on Oregon sand dunes, and sat in the finest automobile ever produced, a 1936 Mercedes-Benz 500K Special Roadster worth $10 million!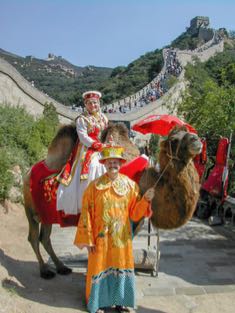 Animal transport that has hauled me around includes elephant rides in Thailand, dog sledding in Alaska, a stagecoach in Tombstone, a camel at the Great Wall of China, and — I know this is a stretch — an enormous "alligator" float at the Lake Charles Mardi Gras Parade.
My water-borne transportation has, at various times been a historic schooner around the Puget Sound, a fishing boat in Alaska, cruise ships, tour boats, Jetboats on the Deschutes River, steamboats in Missouri, Alaska Marine Highway passenger ferries, a 146-foot long luxury boutique hotel barge along France's Burgundy Canal, a historic 126-ft. schooner, a zodiac life raft, kayaks, stand-up paddle boards in Tennessee, a German World War II minesweeper on the Rhine, and a floating gold dredge!
And my aerial travel writing adventures have been by helicopter over the Oregon coast & an Alaskan glacier, small sightseeing aircraft, a World War II C-47 troop transport over Ann Arbor, Michigan, aerial trams in Alaska, and of course airline passenger planes.
You can read more about my adventures as a travel writer at this link
---
This Week's Featured Post
How to Cover Your Travel Costs When Magazine Pay Varies So Much
Travel writing differs from other types of freelance writing in one very specific way: you need to go out in the field to do your research. It costs money to travel and do that research, and travel can be very expensive. 


Magazines seldom pay the writers' travel expenses. So, how can we cover our travel costs when magazine pay varies so much?

Here are three distinctly different examples and real scenarios of press trips I've taken. In these examples, I've included the money I earned through my assignments, and how my travel expenses were covered.

READ THE ARTICLE

---
Upcoming Posts
February 7: The Travel Writer's Guide To Successful Press Trip Invitations
February 14: Should You Send Query Follow-Up Letters To Magazine Editors?
Febuary 21: Use This Checklist Before You Submit Your Travel Articles


---
PitchTravelWrite.com Success Stories
Chuck Warren Uses His Knowledge and Experience to Find Success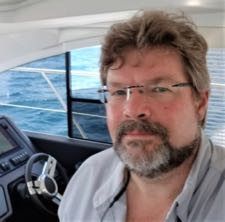 Breaking into freelance magazine writing is something many people aspire to do but never quite figure out or never quite get around to. 

This story is about writing for boating magazines. In particular, it demonstrates how Chuck Warren used his knowledge and experience in the boating industry to get his articles published. He makes it look easy! 

It's an inspirational read for anyone thinking about entering the competitive field of freelance magazine writing.

"My travel writing journey over the past two and a half years has been nothing short of incredible and I'm trying very hard to continue moving forward.

Here's my story on how I made the transition from unpublished wannabe to regular freelance contributor . . ."

Chuck Warren: Writing for Boating Magazines & Other Nautical Publications
---
Pitch Travel Write: Most Requested Links About the Craft of Travel Writing
Here's our PitchTravelWrite.com FREE Resource Page on The Craft of Travel Writing.

As travel writers, we put words together to paint pictures of our destinations. Writing about a place we love seems like such an easy thing to do. From the readers perspective, we live a charmed life.    But, as you know, there's much more to the travel writing craft: things behind the scenes that your reader doesn't know about like . . .



How to say the words in just the right way
Sharing valuable information to catch their attention
Knowing how to keep them engaged
All of this, and more, is part of travel writing.



There's also a lot to learn about controlling your time and freeing yourself up from mundane tasks so that you can spend more time on the things you love to do – writing about travel.



This resource page includes information about topics that focus on your travel writing craft. How you can improve your writing and increase your productivity – and get those articles out to editors.

Link to Travel Writing Craft FREE Resource Page


---
Inspirational Travel Quote
---
RESOURCES FOR TRAVEL WRITERS
Featured Book : 125 Websites That Want To Publish Your Travel Stories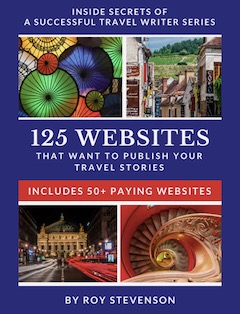 Our NEW eBook, 125 Websites that Want to Publish Your Travel Stories, is a red-hot list of quality websites that are eager to publish your travel articles. And, you can make some money while you're boosting your bylines. Our new book includes more than 50 travel websites that actually PAY their writers!

This reference book for travel writers is one of the most valuable resources you can have in your toolbox. You won't find a list like this anywhere else.


The list of 125 websites - and the advice in this eBook — is your short cut to success. It will accelerate your travel writing career by rapidly enhancing your online presence.

BUY THE BOOK

Note: Use promo code JN5 at checkout to get your $5 discount during the month of January.
---
Group Coaching Mastermind Community
Our first Group Coaching Mastermind Community kicked off in October, 2020, and we've got a global group with members living in Australia, Belgium, Canada, Indonesia and the U.S. We're very excited about this group of writers and our new community! We added new members to our community in 2021 and they're getting to know the group and participate in writing activities.

If you missed out on the opportunity to join this session, you can get on the waiting list for the next session starting soon in 2022:

Learn more and get on the waiting list

---
Live Workshops
We're hosting our 2022 live events in Charleston, South Carolina.

Here are the tentative 2022 dates:
June 18-21, 2022, Travel Writing & Photography Retreat
June 23-25, 2022, Marketing Master Class for Travel Writers


We've had lots of interest already. You can sign up for our no-obligation interest list for these workshops and receive our substantial early bird discounts when we open registration:

Get on the workshop interest list here
---
Did You Know . . .
Our Complete Marketing Master Class for Travel Writers is ranked #1 on TravelWritersExchange.com's Top Ten Travel Writing Workshops.

Your next opportunity to attend these classes be in Charleston, South Carolina, June 2022. There are still a few open seats in these workshops, so sign up while we have space. Registration will open soon - in the meantime, get on our interest list.

Our travel writing & marketing workshops are highly informative and a blast, socially. Sign up for the interest list here

You can access the list of the top ten travel writing workshops from Travel Writers Exchange at the link below: Travel Writers Exchange workshop list: #1 Marketing Master Class

---
ONLINE Travel Writing & Marketing Master Class
Now, you can study our Marketing Master Class for Travel Writers online for only a fraction of the price of the live class! We recorded it LIVE in Seattle, for aspiring travel writers who weren't able to attend in person.
Who's it for?

If you're a novice travel writer, or you haven't had much luck selling your articles to print magazines, this Online Travel Writing & Marketing Workshop is for you.
If you weren't able to travel to our Live Master Class, here's the opportunity to attend anyway - without any travel costs and at a substantially reduced cost!
If you work a full-time job and can't get time off to attend the live class – you can still attend on your own schedule after working hours.
If you've wanted to attend our Live Marketing Master Class but can't get your schedule to fit with the dates it's offered – here's your opportunity to attend at your own convenience.
---
At Your Service
Coaching and Consulting
Online Courses
If you know someone who will enjoy this newsletter,
please forward or sign up
---
PitchTravelWrite.com, is our information-packed website for travel writers. This e-zine, a series of travel writing books and reference guides, coaching programs, and our workshops all work together to give you guidance in this field.

Our aim is to provide you with practical, nitty gritty information to help you gain entry into the travel writing realm and all the enjoyment that comes with it. 


---
Awards and Accolades
We're thrilled to announce that www.PitchTravelWrite.com is once again on The Write Life's list of 100 BEST WEBSITES FOR WRITERS! 



You can see the entire list by visiting their website - click on the graphic to view the list now.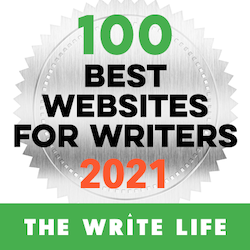 ---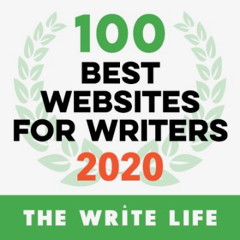 ---
We're proud to announce that our travel writing website has made Writer's Digest Magazine's 2016, 2020, and 2021 101 BEST WEBSITES FOR WRITERS. Writer's Digest doesn't bestow these awards lightly. And we're the only travel writing website on their lists!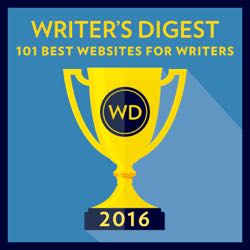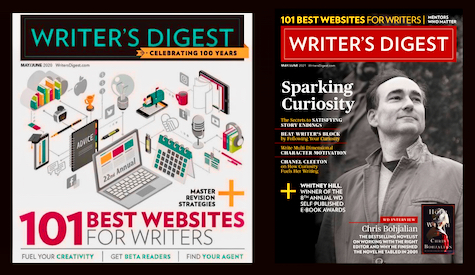 ---
Friend me on Facebook
My Facebook page is about freelance travel writing. I frequently post about:
• links to other well produced travel websites and blogs
• links to my travel articles
• magazine cover stories and back stories
• links to resource pages
• links to coaching and mentoring resources
. . .and plenty of other useful information to get you up to speed



Link to Roy's Personal Facebook page
---


That's all for now. Until next week - just keep pitching! Roy

Roy Stevenson
Pitch Travel Write
www.pitchtravelwrite.com






---