Greetings Fellow Travel Writers!
. . . and WELCOME all new subscribers. Thanks for joining us.



What We're Doing:

We're spending two weeks cooling off in Dalat, an agricultural town of 410,000 people high up in the Central Highlands. With the 4,900-foot altitude here, we get spring-like weather every day. We can walk around without breaking a sweat. It's a welcome change from Danang.

This is a popular vacation town with the Vietnamese, and we're seeing excited families zipping around everywhere. We're lucky. Domestic travel has opened up in Vietnam for the summer season with the coronavirus soundly thrashed.

It's been one year since we were here last, so we started off with a stroll through the Dalat Market (Cho Dalat), enjoying its' vibrant atmosphere and dizzying sounds and smells and colors.

This huge market is packed with hundreds of stalls overflowing with food, baked goods, fruits & veggies, clothing, shoes. You name it, they sell it here. Taking up several blocks, the market buzzes with motorcycles as the locals drop by to pick up their fresh food for the day.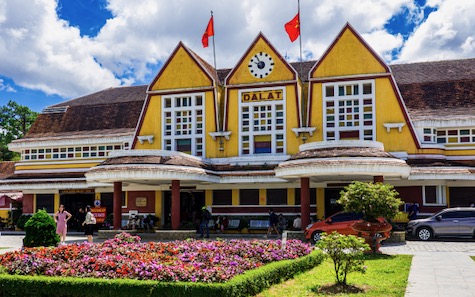 This morning we checked out the vintage art deco Railway Station, built by the French in the 1930's. After touring the station, we stopped by their Choco Cafe where we did some chocolate tasting and had strong Vietnamese coffees.

Thus fortified, we lunched at the gorgeous Dalat Palace Hotel, another vestige of the colonial era. This grande old dame is a classy place to visit.

Completed in 1922, this 5-star hotel retains its original charm with 10 acres of landscaped grounds, looking down on the Ho Xuan Huong lake.

We were awed by its extravagant decor with rich wood paneling, mosaic tiled floors, plush velvet seating, ornate chandeliers and reproduction French paintings.

Today we move across town to a different resort, and have more sightseeing adventures planned. More next week!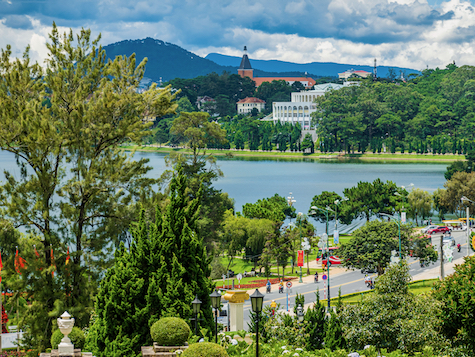 Editorial: Spur-Of-The-Moment Travel Stories Can Pay Off, Big Time!
I've always recommended that you pitch your travel stories and line up multiple assignments before visiting your destination. Being thoroughly prepared and well organized is crucial for efficient cost-effective travel writing. With advance assignments, you can plan your travel schedule in advance and request those money-saving comps.

However, this doesn't mean you should close your mind to potential new travel stories while you're on the road. In fact, I've uncovered hundreds of new story ideas while I've been traveling. These new story ideas have significantly boosted my income and bylines.

So, in addition to having assignments in advance, always keep your "story antennae" up when you're traveling!

When you encounter a tourist attraction, or an experience, or a person you think would make a good publishable story, there are several things you must do immediately.

1. Be sure to take plenty of high resolution photos. And I do mean plenty of images. If you can offer the editor a gallery of high-res images to accompany your story, you're much more likely to land the assignment.

Shoot the attraction, place, or person from multiple angles. Shoot from close-up and from a distance. Do not skimp on your photographs. Memory cards are cheap and you should have a few in your bag. There's no reason why you shouldn't take dozens of photos of any attraction with potential for publication.

2. Collect all pertinent brochures and business cards. Write down the attraction's website address. If you have the time, take copious notes in your writer's notebook. You do carry a notebook with you at all times, don't you?

Taking notes while you're actually at the place, or immediately afterwards, is critical. You won't remember the important details the next day; those details that can often make or break a story. Jot down your impressions of the place and why you think it would make a good story. Write down the basics about the place: who, what, where, when, why & how.

3. Locate the person who supervises the attraction and introduce yourself. Tell them you're going to pitch a story about their attraction and that you'll be back in touch when you need further information and quotes. Ask any questions and write down the answers.

4. When you're back at home base, do further online research to find more information to round out your story. If the story has enough "juice", create your query letter and distribution list and pitch the idea.

These are the steps to take when you find those spur-of-the-moment travel stories. You'll cover the story while you're on-the-ground at the destination and successfully write the article when you're home.

Even though I don't take press trips without advance assignments, many of the press trips and Fam tours I've been on have resulted in dozens of unplanned assignments. I love it when I'm strolling along and see something about a place that makes me think, "Wow, that would make a great story."

And usually, it does!

---
This Week's Featured Post
Repurposing Your Travel Articles
Repurposing means using an item for a different purpose, without making any alterations. You might, for example, repurpose an old, chipped teacup into a herb planter.

You might not think this has anything to do with freelance writing. But, as it turns out, you can also repurpose your articles! 

Repurposing your articles will save you lots of time – and open up new ways to earn money from words you've already written.

Here are three ways to repurpose your travel articles and make more money . . .
---
GROUP COACHING MASTERMIND - Coming September 1st
Are you tired of talking, thinking, and dreaming of breaking into travel writing?

Are you ready to start writing?

Many of you have asked when we're going to offer group coaching. So, we're working on it. We're planning to make it affordable, fun, and helpful and productive for you.

Everything will be done online with video training, a community of like-minded writers helping each other, a robust focus on the craft of writing and the art of selling, and lots of other resources at your fingertips.

Here are a few of the things we'll be offering through our Group Coaching Mastermind program:

A group coaching place where . . .

- you'll get helpful critiques of your story ideas
- you'll learn how to write successful query letters
- you'll get solid advice about pitching your stories
- you'll get feedback on your articles
- you'll get photography tips for preparing galleries for editors
- you'll have an opportunity to showcase your articles & photos


A safe and helpful community where . . .

- you can ask questions and get the answers you need
- you can gain the confidence to leap over roadblocks
- you can gain insight, encouragement, and support
- you can tap into for help when you're stuck with your writing
- you can give and receive solid advice about problems
- you can celebrate your writing successes
- you can ask for help with magazine leads to pitch your story ideas
- other members can help with"in-the-trenches" perspectives
- everyone exchanges thoughts on story ideas and what works


A mentoring and resource place where . . .

- you'll receive marketing tips about selling your travel stories
- you'll find new resources to boost your freelance travel writing knowledge
- you'll get advice on the craft of travel writing
- you'll have opportunities to fine-tune your photography skills
- you'll get a chance to share your articles & best shots


You'll get a writing community, group coaching and resources and content so you can succeed in travel writing - and have fun with other travel writers while you're doing it.

Registration will open in August. Get your name on the interest and you'll be the first to hear when it opens. This Group coaching program will be limited to the first 35 registrants.


Click here to get on the Group Coaching Interest List

---
Upcoming Posts
July 20: Found a New Magazine? How to Pitch the Editor and Get Published
July 27: Four Reasons to Expand Your Writing Genres and How to Do It
Aug 3: Finding Magazine Sales Leads the Easy Way


---
PitchTravelWrite.com Success Stories
Barb Harmon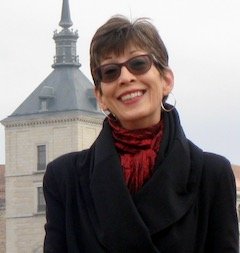 "After the death of my youngest son, I sank into what appeared to be a dark, ugly, depression. I lost interest in everything, including a successful online business.

My grief counselor pronounced a diagnosis of Post-Traumatic Stress Disorder (PTSD). I was shocked, but relieved when she assured me she could help me cope with the symptoms.

She asked, "What do you want to do with your life?" 

Without hesitation, I replied, "I want to be a travel writer."

The first step was to gently dip my toes in the water by creating a new blog. I was writing again and it felt good. I spent hours online reading masses of information on travel writing. I didn't know if anyone would be interested in my stories, but I was determined to write them. 

An editor mentioned she might like a roundup story about Guadalajara in the future. She asked if I was interested.  Of course, I said, "yes."  But what's a roundup story, I wondered?"

Read the rest of Barb Harmon's deeply moving and inspiring travel writing story here . . .

Read Barb's story


---
Pitch Travel Write: Most Requested Links about Press Trips

Once you've established your reputation as a prolific travel writer, and you have a good relationship with several magazine editors, you'll find a whole new world of travel opening up to you - that of FAM Tours and Press Trips.

These press trips and familiarization tours will provide you with free or low cost travel, if you have assignments.

Our Press Trips Resource Page gives you 16 free, full length articles on how to land these free travel assignments and cushy press trips. They show you, step-by-step, how I've scored more than 100 press trips to 26 countries around the world.

Access our Resource Page about Press Trips


---
Inspirational Travel Quote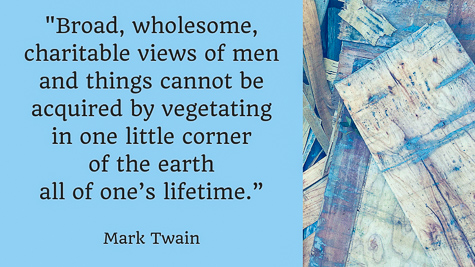 ---
RESOURCES FOR TRAVEL WRITERS
Featured Bundle: Advanced 2-Pack Reference Guides for Travel Writers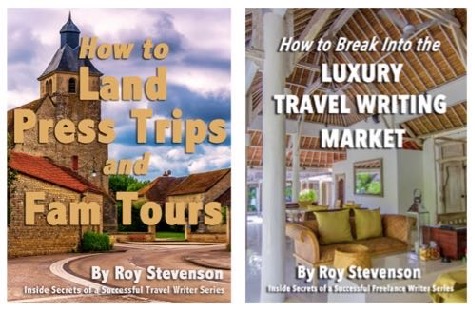 In How to Land Press Trips and Fam Tours you'll learn about how to use your assignments to request free and low-cost travel.  You'll also get all the resources successful travel writers have at their fingertips to network with the right people and have DMOs clamoring to invite you to visit their region.

If luxury is your preferred style of travel, our manual, How to Break into the Luxury Travel Writing Market will help you move quickly into this market. And it gives you a huge ready-made list of magazines and websites interested in publishing luxury articles. You can buy the books individually, or save 10% by grabbing the bundle.

Learn more and purchase the Advanced Travel Writing 2-Pack

---
Live Workshops
People have been asking when our 2021 workshops in the U.S. are scheduled. They're scheduled in June, 2021, in New Orleans, Louisiana.

Here are the 2021 dates:
June 3-6, 2021, Travel Writing & Photography Retreat
June 8-10, 2021, Marketing Master Class for Travel Writers


We have had a lot of interest for these workshops already. You can sign up for our no-obligation interest list for these workshops and receive our substantial early bird discounts when we open registration:

GET ON THE 2021 LIVE WORKSHOP NO-OBLIGATION INTEREST LIST HERE
---
Did You Know . . .
Our Complete Marketing Master Class for Travel Writers is ranked #1 on TravelWritersExchange.com's Top Ten Travel Writing Workshops.

You can access the list of the top ten travel writing workshops at the link below . . .

Travel Writers Exchange workshop list: #1 Marketing Master Class
---
At Your Service
Coaching and Consulting
Online Courses
Vietnam 1-1 Retreat & Consulting
Expat Consulting
email: pitchtravelwrite@gmail.com
If you know someone who will enjoy this newsletter,
please forward or sign up
---
PitchTravelWrite.com, is our information-packed website for travel writers. This e-zine, a series of travel writing books and reference guides, coaching programs, and our workshops all work together to give you guidance in this field.

Our aim is to provide you with practical, nitty gritty information to help you gain entry the travel writing realm and all the enjoyment that comes with it, too. 




We're thrilled to announce that www.PitchTravelWrite.com is on The Write Life's 2020 list of 100 BEST WEBSITES FOR WRITERS! 



You can see the entire list by visiting their website - click on the graphic to view the list now.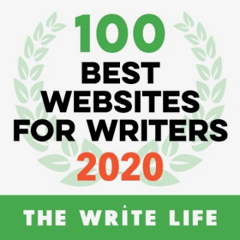 ---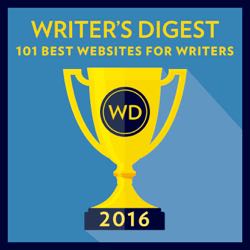 ---
Friend me on Facebook
My Facebook page is about freelance travel writing. I frequently post about:
• links to other well produced travel websites and blogs
• links to my travel articles
• magazine cover stories and back stories
• links to resource pages
• links to coaching and mentoring resources
. . .and plenty of other useful information to get you up to speed



Link to Roy's Personal Facebook page
---


That's all for now. Until next week - just keep pitching! Roy

Roy Stevenson
Pitch Travel Write
www.pitchtravelwrite.com






---