Greetings Fellow Travel Writers!
. . . and WELCOME all new subscribers. Thanks for joining us.


---
Editorial: Pitch Surefire Travel Stories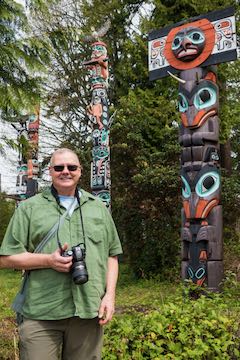 Most successful travel writers sell 25% - 40% of the stories they pitch. I sell 90% of the stories I pitch.

Why is my success rate so high?

One of the reasons I sell so many travel articles is because I go with best bets. I prefer to write about destinations that are well received and safe in normal times. (Yes, I know times are not currently "normal".)

Germany, for example, has just been ranked first in the Anholt-Gfk Nation Brands Index (NBI), which rates the brand image of 50 nations worldwide.

And, conversely, I ignore places that tourists shy away from because of recent natural disasters or that are geopolitical hot spots. It doesn't matter how nice the people are at a destination, or how stunning their attractions.

If a place is undergoing turmoil, or an epidemic, or an active volcano, it's difficult for us to sell stories about it.

Now, this might all seem like common sense, but sometimes travel writers let their "emotional resonance" with a place override their common sense. They love a place so much they just want to tell everyone about it. This response is natural enough.

But as a travel writer you need to temper your enthusiasm with some business sense to make your decision. What's the point of pitching a destination story that is not likely to sell?

Tourists and travel magazine editors are, understandably, a fickle lot. Tourists don't want to spend their annual two-week vacation and their hard-earned money visiting a place that has just been devastated by an earthquake or a landslide, for example. They don't want to visit wine regions that have just been ravaged by wildfires. That's the just way humans are.

A couple of years ago, hundreds of thousands of tourists cancelled their travel to Indonesia's Sulawesi because of its' recent earthquakes. Likewise, they cancelled their trips to Bali because of the Mount Agung volcanic eruptions.

Bali tourism dropped to about 25% of normal levels because tourists changed their minds. The want blue skies and sunshine. They don't want to be in a place that could have a cloud of volcanic ash hovering over it, or get stuck there if they close the airport down.

Here's another example of a hard-to-sell travel story.

Two years ago I declined an enticing 5-day boat cruise press trip around Myanmar's beautiful and remote Mergui Islands. Editors aren't interested in publishing stories about a country where minority people (in this case, the Rohingya) were being persecuted. It doesn't matter that the islands I was going to visit were at the other end of the country. The whole country seemed tainted.

And, who really wants to visit Brazil or Nicaragua right now? There are no guarantees that things have settled down in either of those countries and we don't want to risk being caught in the middle of political riots or an out-of-control pandemic.

Once a place becomes tainted by natural or man-made disasters, it's very difficult to lure tourists back. And it generally takes a long time. It's difficult to sell travel stories about these places to magazine editors, no matter how much you personally love the place.

Conversely, places that handle themselves well in a crisis, such as New Zealand during the pandemic, will be receiving boatloads of tourists because they are perceived as "safe". Of course, New Zealand doesn't want any visitors at this time because they don't want to import any new cases of the virus.

Vacations are supposed to be "feel good" experiences that liberate us from the drudgery of our 9-to-5 existence. Travel magazine editors are well aware of this and they won't buy stories about places facing any kind of strife. They want to keep us in a happy place when we read their stories.

It's common sense. Pitch story ideas about places that are friendly, politically stable, and devoid of natural disasters. You'll have better luck selling them.
---
This Week's Featured Post
Are Travel Blogs and Websites Becoming Irrelevant?
Travel blogs and websites have taken a hammering lately, so I thought it was time to ask the question, "are travel blogs and websites becoming irrelevant?" That's what this special report is about.

There are two main ways that travel writers earn income online: publishing and monetizing their own travel blog, or writing for other people's blogs and websites.

The internet has changed the travel writing industry in many ways. But, so far, it has not developed to the extent that freelance writers can make a livable income by writing travel stories for blogs and websites.

Read the article for my take on the current state of travel blogs . . .

READ THE ARTICLE


---
Upcoming Posts
Nov 2: Five Ways to Sell Your Travel Articles More Successfully
Nov 9: White Paper: How Big Is The Print Media Industry?
Nov 16: Five Rules for Selling Your Travel Articles and Getting Travel Perks




---
PitchTravelWrite.com Success Stories
Chuck Warren's Exciting Freelance Writing Journey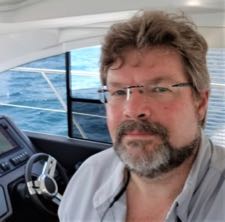 Breaking into freelance magazine writing is something many people aspire to do but never quite figure out.

Here's how Chuck Warren used his knowledge and experience in the boating industry and made it look easy.

It's an inspirational read for anyone thinking about entering the competitive field of freelance magazine writing.

"My travel writing journey over the past two and a half years has been nothing short of incredible and I'm trying very hard to continue moving forward.

Here's my story on how I made the transition from unpublished wannabe to regular freelance contributor . . .

READ CHUCK WARREN'S STORY


---
Pitch Travel Write: Most Requested Links about Preselling Your Articles

A classic novice travel writing mistake is to write a story and then try to sell it. This is a backward approach and it's a waste of your valuable writing time. Inevitably, it ends in disappointment.

Here are three articles about why you should always sell your stories before you write them . . .

Pitch Before You Write: Five Tips for Your Sales Pitch

How to Presell Your Travel Stories

Seven Travel Writing Mistakes and How to Avoid Them


---
Inspirational Travel Quote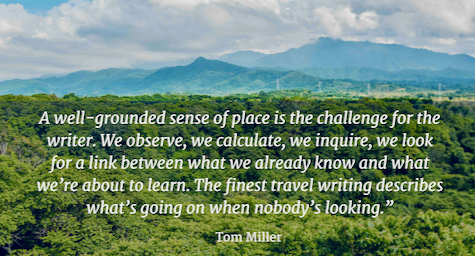 ---
RESOURCES FOR TRAVEL WRITERS
Featured Book: THE COMPLETE GUIDE TO QUERY LETTERS for TRAVEL WRITERS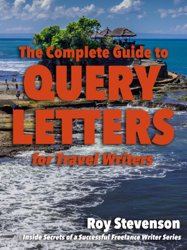 Our best-selling eBook, The Complete Guide To Query Letters For Travel Writers, shows you everything you need to know about crafting compelling query letters to sell your travel articles to magazine editors.

Well-written query letters convince magazine editors that you have an exciting travel story their readers will absolutely love.

In ten years of travel writing I've had more than 1,000 stories published in 200 magazines, journals, newspapers, in-flights, on-boards, specialty magazines, and travel websites – and they all started with a query letter. 

I know how to write killer query letters that work, and I wrote this eBook to show you how to do it.

This is different from all other query letter books because you get 20 sample query letters that worked for me. These are actual query letters I used successfully to get articles published in print magazines.

Each sample query letter comes with a clear explanation of the key things that sold the idea successfully. And you can use my samples to create a template for your own query letters, using the same words and layout.


---
Group Coaching Mastermind Community
Our Group Coaching Mastermind Community kicked off on October 1st and we've got a global group with members living in Australia, Belgium, Canada, Vietnam and the U.S. We're very excited about this group of writers and our new community!

Last week we studied "How to Write a Compelling Beginning to Your Travel Story" and this week we'll be discussing my Marketing Mastery system and how it works.

If you missed out on the opportunity to join this session, you can get on our no-obligation interest list for the next session starting in January.

Be among the first to hear when we re-open registration in early 2021. Learn more about what's included and sign up for the interest list here . . .


Group Coaching Mastermind Community Interest List

---
Live Workshops
People have been asking when our 2021 workshops in New Orleans, Louisiana are scheduled.

Here are the 2021 dates:
June 3-6, 2021, Travel Writing & Photography Retreat
June 8-10, 2021, Marketing Master Class for Travel Writers


We've had lots of interest already. You can sign up for our no-obligation interest list for these workshops and receive our substantial early bird discounts when we open registration:

GET ON THE 2021 LIVE WORKSHOP NO-OBLIGATION INTEREST LIST HERE
---
Did You Know . . .
Our Complete Marketing Master Class for Travel Writers is ranked #1 on TravelWritersExchange.com's Top Ten Travel Writing Workshops.

You can access the list of the top ten travel writing workshops at the link below . . .

Travel Writers Exchange workshop list: #1 Marketing Master Class
---
At Your Service
Coaching and Consulting
Online Courses
Vietnam 1-1 Retreat & Consulting
Expat Consulting
email: pitchtravelwrite@gmail.com
If you know someone who will enjoy this newsletter,
please forward or sign up
---
PitchTravelWrite.com, is our information-packed website for travel writers. This e-zine, a series of travel writing books and reference guides, coaching programs, and our workshops all work together to give you guidance in this field.

Our aim is to provide you with practical, nitty gritty information to help you gain entry into the travel writing realm and all the enjoyment that comes with it. 




We're thrilled to announce that www.PitchTravelWrite.com is on The Write Life's 2020 list of 100 BEST WEBSITES FOR WRITERS! 



You can see the entire list by visiting their website - click on the graphic to view the list now.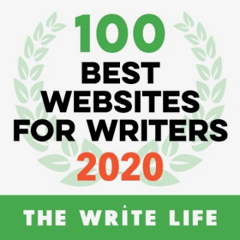 ---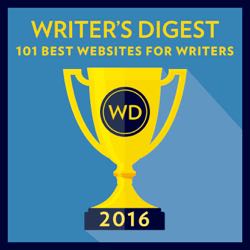 ---
Friend me on Facebook
My Facebook page is about freelance travel writing. I frequently post about:
• links to other well produced travel websites and blogs
• links to my travel articles
• magazine cover stories and back stories
• links to resource pages
• links to coaching and mentoring resources
. . .and plenty of other useful information to get you up to speed



Link to Roy's Personal Facebook page
---


That's all for now. Until next week - just keep pitching! Roy

Roy Stevenson
Pitch Travel Write
www.pitchtravelwrite.com






---