Greetings Fellow Travel Writers!
. . . and WELCOME all new subscribers. Thanks for joining us.


---
WHERE WE ARE NOW
We've been in Dubrovnik, Croatia, for 12 days and are busy scooping up the major tourist attractions including a Game of Thrones Tour and the Rector's Palace.

Our 3-hour Game of Thrones Tour through Dubrovnik far exceeded our expectations. Our knowledgeable guide, Jelena, covered the city's real-life history while taking us to the exact locations where many memorable GoT scenes were filmed.

The stunning city of Dubrovnik was where King's Landing, GoT's capital city, was filmed. We learned that Dubrovnik's historical political intrigue could easily compete with that of imaginary King's Landing. Jelena brought fact & fantasy to life as she showed us photos of GoT scenes.
The Rector's Palace is a great place to start your exploration of Dubrovnik. What is a Rector, you say? Glad you asked. He was the symbol of authority, appointed on a monthly basis, to oversee the city. He lived in the palace during his month-long tenure.

Located in the Rector's Palace, the Cultural-Historical Museum exhibits a courtroom, a dungeon, a study, antique furniture, sedan chairs, clocks, paintings, and official seals. We also found out who rang the bells in this city.

As the city's original gunpowder storage site, the palace was blown up twice, to be rebuilt. They wised up and eventually moved the gunpowder storage elsewhere. The latest Palace incarnation is a Gothic-Renaissance mix. A scene in Game of Thrones took place here.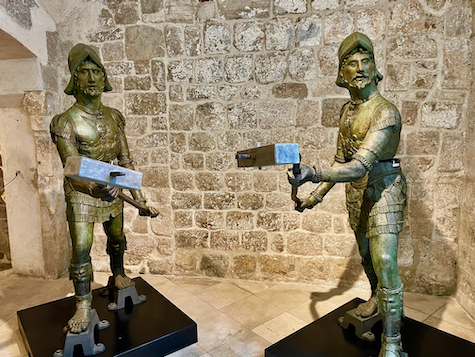 Ancient Bell Ringers
---
WORKSHOP REGISTRATION IS OPEN!
Our Travel Writing Workshops Are The Best ANYWHERE!
This year we're giving you the opportunity to take both of our comprehensive & exciting travel writing courses back-to-back in the U.S.A!

You can still register for our workshops - we still have a handful of seats remaining.

If you sign up for BOTH workshops -- The Complete Package-- you save $800.

Or, you can save $100 off the regular price of each individual workshops:
June 18-21 - The Travel Writing & Photography Retreat and
June 23-25 - The Marketing Master Class for Travel Writers.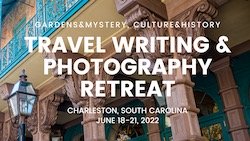 Our unique Travel Writing & Photography Retreat includes creative travel writing and photography workshops. You'll learn and practice the skills you need to be a successful travel writer including dozens of tips to make quick improvements to your writing.
You'll also learn how to produce quality photographs that editors will love. You'll practice by making a photo gallery while you're in Charleston to help you sell and tell your story. By the end of the four days you'll have a completed draft story with photos - ready to pitch to an editor! Learn more and Register at this link (or click the graphic)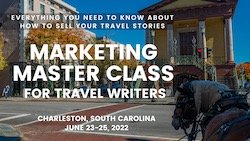 Our popular Travel Writing and Marketing Master Class will follow the Travel Writing & Photography Retreat, from June 23-25, in Charleston.
In this exclusive program we'll explore, in detail, every single step of my travel writing, pitching and selling strategy. It's only offered once a year. If you want to learn how to break into travel writing, sell your stories to reputable paying print magazines, and get paid - you NEED to take this course! Register at this link (or click graphic)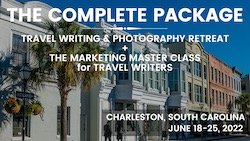 You can take both workshops back-to-back, in Charleston. You'll spend the first 4 days working on your writing craft and your photography skills and then you'll learn exactly what you need to do to sell your stories in the last 3 days of the week. It's the complete package!
If you sign up for both workshops - The Complete Package - you'll receive a whopping discount of $800 off the regular price.  No, that's not a typo, it's a 26% discount when you register for both workshops. Register here (or click the graphic) for The Complete Package

If you're serious about travel writing, this is the best investment you can make to learn everything you need to know about mastering the art & craft of travel writing, travel photography, using your assignments to get complimentary travel perks, successfully selling your stories, and much more. Get additional details here 
To ensure a personal, quality experience for everyone, registrations is limited.
What Makes Charleston An Ideal Destination For Our Travel Writing Workshops?
Charleston, South Carolina well deserves its reputation as one of America's most diverse and interesting small cities. Travel + Leisure magazine has named it the Best City in the U.S. for the last 9 straight years.
JOIN US in Charleston for the BEST travel writing workshops ANYWHERE


---
Editorial: Travel Bloggers Could Be Sitting on a Gold Mine!
There's a mix of print media travel writers and travel bloggers subscribing to this newsletter. If you're a travel blogger with dozens—or hundreds—of travel stories lying dormant on your blog, you could be sitting on a gold mine!

Your raw, unrefined travel blogs could easily form the genesis of travel stories that you can pitch to paying print media. This means you can pluck out your juiciest travel blogs and pitch them to print magazines and newspapers without doing any research.

Additionally, your travel blogs contain practically all the necessary elements of your query letter, saving you valuable time. You won't have to create a query letter from scratch.

Dreaming up and researching travel stories are the first two steps to getting your articles published—and you already have these tasks completed!

Travel bloggers already have several other built-in advantages over novice travel writers too. You have . . .
Travel writing experience
An eye for a good travel story
A travel blog portfolio to refer magazine editors to
Social media skills
A built-in audience to mention in your query letters
A blog to advertise your published article
Getting your stories published in print magazines—and being paid for them—is still not going to be easy. You may need to adjust your writing style to print media standards. But, if you're a reasonable writer, this won't be much of a stretch anyway.

And, of course, you'll still have to create magazine distribution "pitch" lists to send your query letters to.

I've met hundreds of travel bloggers during my freelance writing career. Almost without exception they tell me that they didn't realize how much work would be involved in creating and maintaining a blog. And, most of them tell me they've made little or no money from their travel blog.

If you're looking to make some quick ca$h for all the time and effort you've put into your travel blog, you should consider pitching your most exciting travel blogs to travel magazines. This could reap considerable rewards!

If you're a travel blogger, our featured post this week gives you seven reasons why you should write for print media.
---
This Week's Featured Post
7 Reasons Why Travel Bloggers Should Write for Print Media
The Internet has changed the face of travel writing. It's added another dimension to it and opened up more opportunities for aspiring travel writers.

Thousands of travel websites and blogs have sprung up, literally overnight. Because of this the travel website and blog market is completely saturated. And most travel websites and blogs have discouragingly small traffic. Their stories are lost among the huge mass of information on the Internet.

According to the experts, the problem with travel websites and blogs is that they take a minimum of four years to start earning a livable income — and that's only if they do everything right. The percentage of travel website curators and travel bloggers who can stick it out this long is miniscule.

However, many of the travel bloggers and website writers out there have the talent to get their work published in print magazines and be paid for their work, right from the start.

Here are seven reasons why travel bloggers should write for print media

READ THE POST

---
Upcoming Posts
April 18: 7 Reasons Why Travel Bloggers Should Write for Print Media
May 2: Six Tips for Dreaming Up Travel Story Ideas that Sell


---
PitchTravelWrite.com Success Stories
Jessica Pickett: A Travel Writer's Success Story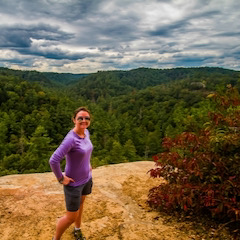 This post will surely inspire you to try your hand at freelance travel writing. It tells Jessica Pickett's story—in her own words—of how she launched her impressive travel writing career.

Hailing from Lake Charles, Louisiana, Jessica's steady ascent through the travel writing ranks is a textbook example of what novice travel writers should be doing to break into this competitive arena. Her trajectory is one that novice writers should aspire to.

Here's Jessica's story . . . 
 "While attending a Travel Writer's Conference in San Diego in 2014, Roy and his wife Linda sat at my table and, to my good fortune, we easily struck up conversation. After chatting with Roy, I immediately purchased his eBooks, even before hearing him speak on stage.

A few short weeks after the conference, I landed my first byline. Bolstered by the knowledge gained from Roy's books and his PitchTravelWrite.com posts, I pitched a well-known regional magazine and blog. This regional blog and magazine where I "started" my travel writing is TexasHillCountry.com 

After answering a "Call for Writers" post (which had been shared over 4,000 times by the time I saw it) I was invited to become a regular monthly contributor . . .

Read the rest of Jessica's remarkable travel writing journey here
---
Pitch Travel Write: Most Requested Links About Preselling Your Travel Stories
A classic novice travel writer's mistake is to write a story and then try to sell it. This strategy inevitably ends in disappointment. It's putting the cart before the horse and it's a waste of your valuable writing time.

Here are three articles to show you how to do it right:

Why You Should Query Your Stories Before You Write Them

Why You Should Presell Your Stories Before Writing Them

7 Beginners Travel Writing Mistakes


---
Inspirational Travel Quote
---
RESOURCES FOR TRAVEL WRITERS
Featured Book : 100 Print Magazines That Want To Publish Your Travel Articles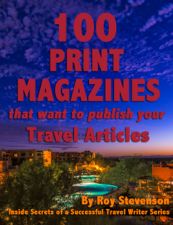 Where do travel writers find magazine leads to pitch and sell their stories? My reference guide, 100 Print Magazines That Want To Publish Your Travel Articles, is a great place to start your search. https://www.pitchtravelwrite.com/print-magazines.html

This compilation is far more specialized than what you'll find in Writer's Market. Compiled over ten years from a wide variety of online sources, field resources and book references, this comprehensive listing includes international publications for the English-speaking market.

If you want to be a successful travel writer and get your articles published in paying print publications, you need to be highly proficient at finding travel magazine leads.

Having a solid list of magazines makes it easier to find assignments that will help get you invited on Press trips.

When you purchase this book in April you can get an additional $5 off when you use Promo code pm5 at checkout

BUY THE BOOK

Note: Don't forget to use promo code pm5 at checkout to get your $5 discount during the month of April.
---
Group Coaching Mastermind Community
Our first Group Coaching Mastermind Community kicked off in October, 2020, and we've got a global group with members living in Australia, Belgium, Canada, Indonesia and the U.S. We're very excited about this group of writers and our new community! We added new members to our community in 2021 and they're getting to know the group and participate in writing activities.

If you missed out on the opportunity to join this session, you can get on the waiting list for the next session starting soon in 2022:

Learn more and get on the waiting list

---
Did You Know . . .
Our Complete Marketing Master Class for Travel Writers is ranked #1 on TravelWritersExchange.com's Top Ten Travel Writing Workshops.

Your next opportunity to attend these classes will be in Charleston, South Carolina in June, 2022. There are still a few open seats in these workshops, so sign up while we have space.

Our travel writing & marketing workshops are highly informative and a blast, socially.

Travel Writing and Photography Retreat

Marketing Master Class for Travel Writers

The Complete Package (both workshops and a BIG discount)

You can access the list of the top ten travel writing workshops from Travel Writers Exchange at the link below: Travel Writers Exchange workshop list: #1 Marketing Master Class

---
At Your Service
Coaching and Consulting
Online Courses
If you know someone who will enjoy this newsletter,
please forward or sign up
---
PitchTravelWrite.com, is our information-packed website for travel writers. This e-zine, a series of travel writing books and reference guides, coaching programs, and our workshops all work together to give you guidance in this field.

Our aim is to provide you with practical, nitty gritty information to help you gain entry into the travel writing realm and all the enjoyment that comes with it. 


---
Awards and Accolades
We're thrilled to announce that www.PitchTravelWrite.com is once again on The Write Life's list of 100 BEST WEBSITES FOR WRITERS! 



You can see the entire list by visiting their website - click on the graphic to view the list now.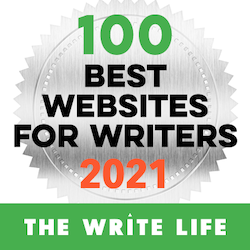 ---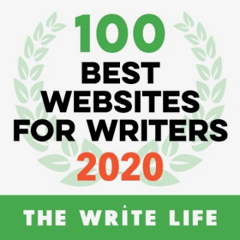 ---
We're proud to announce that our travel writing website has made Writer's Digest Magazine's 2016, 2020, and 2021 101 BEST WEBSITES FOR WRITERS. Writer's Digest Magazine also lists us on their Best Genre/Niche Websites for 2021.

Writer's Digest doesn't bestow these awards lightly. And we're the only travel writing website on their lists!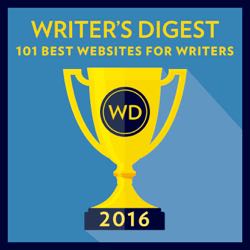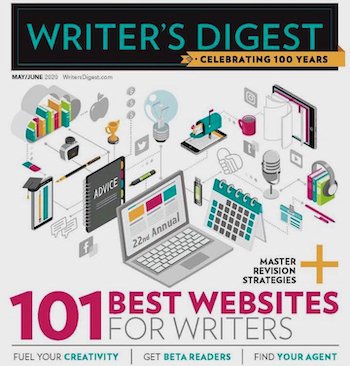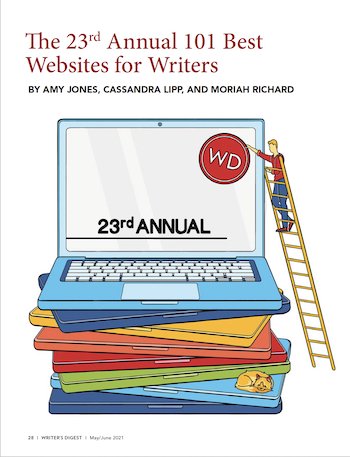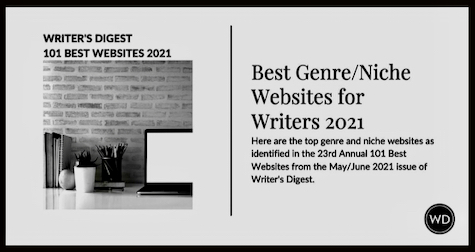 ---
Friend me on Facebook
My Facebook page is about freelance travel writing. I frequently post about:
• links to other well produced travel websites and blogs
• links to my travel articles
• magazine cover stories and back stories
• links to resource pages
• links to coaching and mentoring resources
. . .and plenty of other useful information to get you up to speed



Link to Roy's Personal Facebook page
---


That's all for now. Until next week - just keep pitching! Roy

Roy Stevenson
Pitch Travel Write
www.pitchtravelwrite.com






---