Greetings Fellow Travel Writers!
. . . and WELCOME all new subscribers. Thanks for joining us.


---
WHERE WE ARE NOW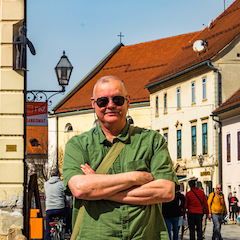 Our final days in Zagreb flew by in a flurry of sightseeing including . . . Varazdin, Castle Trakoscan, & the Krapina Neanderthal Museum.

One of the finest preserved Baroque cities in Central Europe, Varazdin boasts a gorgeous pedestrian center whose streets are lined with pastel-colored palaces and churches. For a brief time in the 18th century Varazdin served as Croatia's capital, which explains why so many aristocratic families built their opulent houses here. The central square which houses the City Hall is a great place to have a coffee while people watching.

The city's centerpiece is undoubtedly the white, immaculately preserved castle, open as a museum. Its sturdy medieval towers and Renaissance courtyard look like something straight out of a Shakespeare play. You can walk through the entire castle, which has been turned into a well-designed museum.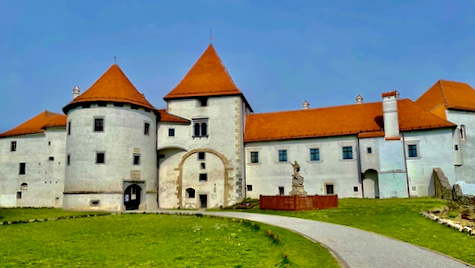 Trakoscan, Croatia's most attractive and romantic castle, makes a great day trip from Zagreb. This perfectly preserved white stone castle, complete with turrets, high atop a mountain, is surrounded by hills and forests.

It's a fairy tale castle. Dating from the 13th century, Trakoscan features a well-designed tour over four floors that covers the Draskovic family & their histories, furniture, paintings, decorations, and other artifacts that reflect the owner's lifestyles.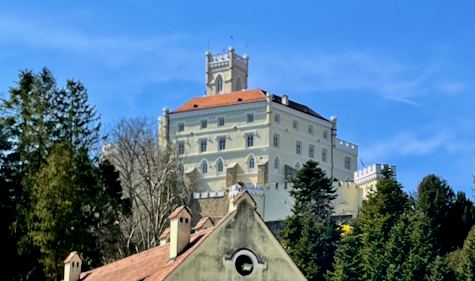 If you weren't interested in the origins of man in your university anthropology classes, you will be when you tour the world-class Neanderthal Museum in Krapina. Built into the side of a hill & located a stone's throw from one of the world's richest Neanderthal sites, this museum walks you through the evolution of man, right up to present times. It focuses on Neanderthal man who disappeared about 30,000 years ago and was replaced by Homo Sapiens.

We left Zagreb and flew to Dubrovnik on April 7 where we're in a different world along the Dalmatian Coast and the Adriatic Sea, with medieval architecture and a fortified old town to explore. We'll tell you all about Dubrovnik next week.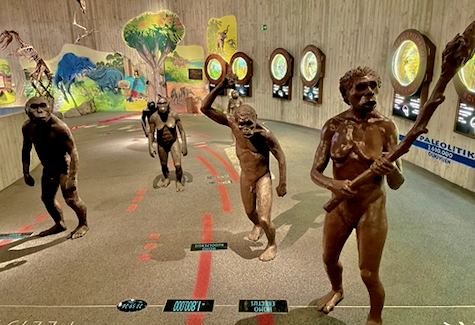 ---
WORKSHOP REGISTRATION IS OPEN!
You can still register for our workshops - we still have a handful of seats remaining.

If you sign up for BOTH workshops -- The Complete Package-- you save $800.

Or, you can save $100 off the regular price of each individual workshops:
June 18-21 - The Travel Writing & Photography Retreat and
June 23-25 - The Marketing Master Class for Travel Writers.


Our Travel Writing Workshops Are The Best ANYWHERE!
Here are eight reasons why you won't find better workshops anywhere else:

1. Roy Walks the Talk

The workshops are taught by prolific international travel writer Roy Stevenson, who has more than 1,000 published articles in 200+ regional, national, and international magazines, newspapers, trade journals, custom publications, specialty magazines, in-flights, on-boards, and online travel magazines.

Few travel writers ever crack the 1,000 article barrier, and even fewer have cracked the 200 publications mark — Roy has done both and will show you how he does it.

2. Proven Coaching Success

Roy has coached more than 100 travel writers to great successes. While working with these writers, he noticed they continually make recurring writing errors.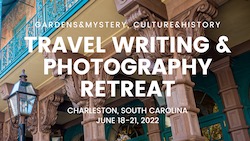 The Travel Writing & Photography Retreat addresses these common mistakes and shows you how to avoid them, while taking your travel writing to publishable levels. Learn more and Register at this link (or click the graphic)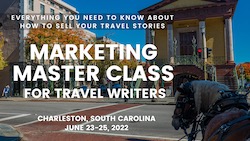 Roy's unique Marketing Master Class curriculum addresses everything related to selling your articles and marketing your work, in detail, with plenty of real-life examples from his experiences. Register at this link (or click graphic)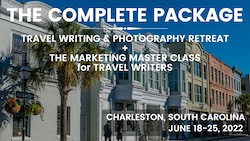 You also have the opportunity to attend both workshops and save a whopping $800 off the regular prices. The Complete Package includes both workshops.
Register here (or click the graphic) for The Complete Package


3. A Proven Track Record With Workshops
We've hosted more than one dozen highly successful travel writing workshops since 2016 in the U.S., Thailand, & Vietnam.

4. In-Depth & Actionable Coursework
Other travel writing workshops gloss over the details, but that's not how we do things. Until now, there's never been a workshop specifically designed to show you how to market and sell your travel stories. Most travel writers struggle with querying and pitching their travel stories. And they have very little idea where to sell them. Our workshops teach you what you need to know to get published.

5. A Well-Published Author
Roy is the author of 11 books on freelance travel writing and has sold thousands of copies of these reference books and guides.

6. Press Trips
Roy has been on more than 100 press trips & Fam tours and dispatched stories from 25 countries in his fifteen-year travel writing career. He's lived in 7 countries: New Zealand, U.S.A, Singapore, Thailand, Belgium, Vietnam, & Fiji.
He'll show you how to parlay your travel writing assignments into free or discounted travel, meals, tours, accommodations, spa treatments, and entry into tourist attractions and museums. You'll save thousands of dollars in travel expenses once you know how to parlay your assignments.

7. Peer Recognition from Respected Organizations
Our website — PitchTravelWrite.com — is listed in Writer's Digest magazine's 2016, 2020, & 2021 "101 Best Websites for Writers" list.
PitchTravelWrite.com is also listed in TheWriteLife.com's 2020 & 2021 "100 Best Websites for Writers"

8. Our free weekly newsletter is THE BEST travel writing newsletter in the biz.


JOIN US in Charleston for the BEST travel writing workshops ANYWHERE


---
Editorial: Flexibility — A Key Attribute for Success
Travel writing is definitely not for people who expect the freelance world to conform to them. A willingness to be flexible in terms of writing styles, feedback from editors, topics, and sales & marketing techniques, is absolutely essential if you want to see your work published in print and be paid for it.

We need to adapt to the fluid writing environment, rather than the other way around. Stubborn writers who refuse to adjust their approach reduce their chances of being published.

Here are some real-life examples of obstinate writer's habits I've seen over the years which cost them assignments. Which ones hit home with you?
writing your articles before pitching them, instead of querying the story idea first
refusing to change your writing style to fit the tone of the magazine you wants to write for
thinking it will be easy to find a half dozen print magazines to write for regularly
not continuing to chase work once you've established a regular gig
failing to create magazine lists because you find it difficult or boring
only writing stories that interest you and expecting them to sell
not being willing to tweak or change an idea to meet the editors' needs
unwilling to analyze why your queries failed
thinking it will be easy to step straight into high end magazines instead of starting with more modest magazines
All the problems listed above can be remedied with some flexible thinking and adjustments on the writers' part. In every case, writers who make these mistakes would be successful when they realize their rigid beliefs are holding them back. Once you know you have a problem, it's much easier matter to learn, adapt, and change.

In my coaching program, I point out where writers are making mistakes, and then provide solutions to help them improve and sell their articles. One couple that I coached accepted every piece of advice I gave them — and surprise, surprise . . . their stories started selling like hotcakes!

Successful travel writers can adapt their writing style to the publications they are querying. Editors aren't interested in working with writers who aren't flexible with their writing and attitude. Insisting on sticking to one writing style or topic will be a major limiting factor in your success.

But, this is not as big a deal as it sounds. After a while, you learn how to adapt and adjust your writing to keep your editors happy. 

During my fifteen years as a freelancer, a few editors have asked me to rewrite my stories to better fit their publications. If I wanted to see my work published, I had to accept that I would need to be flexible with my writing. Over time, this has become second nature and I'm a better writer for it.

This also explains how I've been able to get my stories published in more than 200 different magazines. This is notable because these magazines differ widely in their content. Now that's flexibility!

Are you prepared to adapt and change when an editor requests it? Here are some more key attributes to travel writing success
---
This Week's Featured Post
THE Secret to Freelance Travel Writing Success
I receive emails every week asking, "What is the secret to your travel writing success?" This request is often worded differently like, "How can I get to where you are now, in the shortest possible time?" or, "How can I get lots of articles published and get paid for them, like you do?"

 These aspiring writers are looking for that ONE key to immediate success. 

But is there just one key to success?  

I think there are several specific success criteria, not just one thing, and I lay them out in this post:

READ THE POST

---
Upcoming Posts
April 11: The Secret to Freelance Travel Writing Success
April 18: 7 Reasons Why Travel Bloggers Should Write for Print Media
May 2: Six Tips for Dreaming Up Travel Story Ideas that Sell




---
PitchTravelWrite.com Success Stories
Jessica Pickett: A Travel Writer's Success Story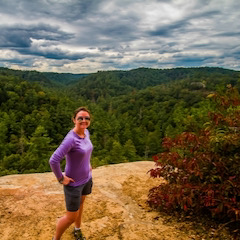 This post will surely inspire you to try your hand at freelance travel writing. It tells Jessica Pickett's story—in her own words—of how she launched her impressive travel writing career.

Hailing from Lake Charles, Louisiana, Jessica's steady ascent through the travel writing ranks is a textbook example of what novice travel writers should be doing to break into this competitive arena. Her trajectory is one that novice writers should aspire to.

Here's Jessica's story . . . 
 "While attending a Travel Writer's Conference in San Diego in 2014, Roy and his wife Linda sat at my table and, to my good fortune, we easily struck up conversation. After chatting with Roy, I immediately purchased his eBooks, even before hearing him speak on stage.

A few short weeks after the conference, I landed my first byline. Bolstered by the knowledge gained from Roy's books and his PitchTravelWrite.com posts, I pitched a well-known regional magazine and blog. This regional blog and magazine where I "started" my travel writing is TexasHillCountry.com 

After answering a "Call for Writers" post (which had been shared over 4,000 times by the time I saw it) I was invited to become a regular monthly contributor . . .

Read the rest of Jessica's remarkable travel writing journey here
---
Pitch Travel Write: Most Requested Links About Preselling Your Travel Stories
A classic novice travel writer's mistake is to write a story and then try to sell it. This strategy inevitably ends in disappointment. It's putting the cart before the horse and it's a waste of your valuable writing time.

Here are three articles to show you how to do it right:

Why You Should Query Your Stories Before You Write Them

Why You Should Presell Your Stories Before Writing Them

7 Beginners Travel Writing Mistakes


---
Inspirational Travel Quote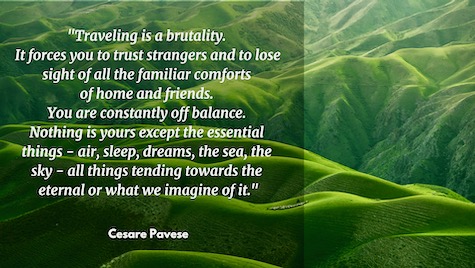 ---
RESOURCES FOR TRAVEL WRITERS
Featured Book : 100 Print Magazines That Want To Publish Your Travel Articles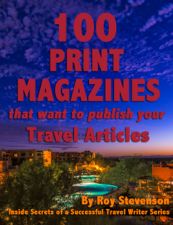 Where do travel writers find magazine leads to pitch and sell their stories? My reference guide, 100 Print Magazines That Want To Publish Your Travel Articles, is a great place to start your search. https://www.pitchtravelwrite.com/print-magazines.html

This compilation is far more specialized than what you'll find in Writer's Market. Compiled over ten years from a wide variety of online sources, field resources and book references, this comprehensive listing includes international publications for the English-speaking market.

If you want to be a successful travel writer and get your articles published in paying print publications, you need to be highly proficient at finding travel magazine leads.

Having a solid list of magazines makes it easier to find assignments that will help get you invited on Press trips.

When you purchase this book in April you can get an additional $5 off when you use Promo code pm5 at checkout

BUY THE BOOK

Note: Don't forget to use promo code pm5 at checkout to get your $5 discount during the month of April.
---
Group Coaching Mastermind Community
Our first Group Coaching Mastermind Community kicked off in October, 2020, and we've got a global group with members living in Australia, Belgium, Canada, Indonesia and the U.S. We're very excited about this group of writers and our new community! We added new members to our community in 2021 and they're getting to know the group and participate in writing activities.

If you missed out on the opportunity to join this session, you can get on the waiting list for the next session starting soon in 2022:

Learn more and get on the waiting list

---
Did You Know . . .
Our Complete Marketing Master Class for Travel Writers is ranked #1 on TravelWritersExchange.com's Top Ten Travel Writing Workshops.

Your next opportunity to attend these classes will be in Charleston, South Carolina in June, 2022. There are still a few open seats in these workshops, so sign up while we have space.

Our travel writing & marketing workshops are highly informative and a blast, socially.

Travel Writing and Photography Retreat

Marketing Master Class for Travel Writers

The Complete Package (both workshops and a BIG discount)

You can access the list of the top ten travel writing workshops from Travel Writers Exchange at the link below: Travel Writers Exchange workshop list: #1 Marketing Master Class

---
At Your Service
Coaching and Consulting
Online Courses
If you know someone who will enjoy this newsletter,
please forward or sign up
---
PitchTravelWrite.com, is our information-packed website for travel writers. This e-zine, a series of travel writing books and reference guides, coaching programs, and our workshops all work together to give you guidance in this field.

Our aim is to provide you with practical, nitty gritty information to help you gain entry into the travel writing realm and all the enjoyment that comes with it. 


---
Awards and Accolades
We're thrilled to announce that www.PitchTravelWrite.com is once again on The Write Life's list of 100 BEST WEBSITES FOR WRITERS! 



You can see the entire list by visiting their website - click on the graphic to view the list now.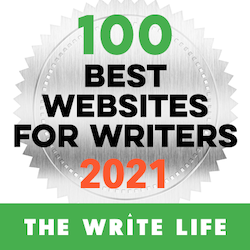 ---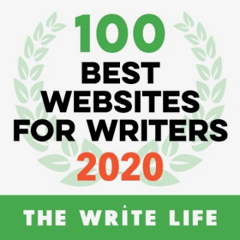 ---
We're proud to announce that our travel writing website has made Writer's Digest Magazine's 2016, 2020, and 2021 101 BEST WEBSITES FOR WRITERS. Writer's Digest Magazine also lists us on their Best Genre/Niche Websites for 2021.

Writer's Digest doesn't bestow these awards lightly. And we're the only travel writing website on their lists!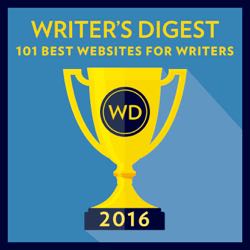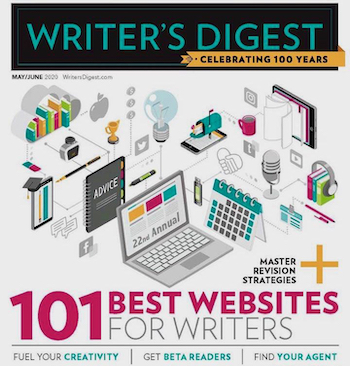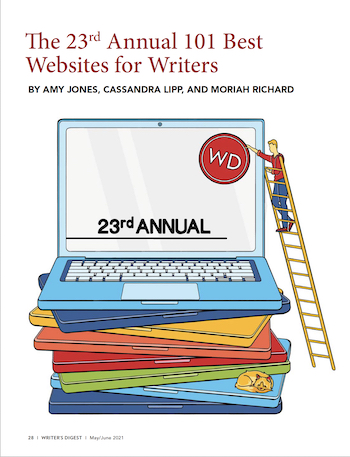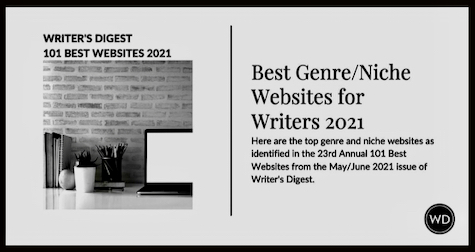 ---
Friend me on Facebook
My Facebook page is about freelance travel writing. I frequently post about:
• links to other well produced travel websites and blogs
• links to my travel articles
• magazine cover stories and back stories
• links to resource pages
• links to coaching and mentoring resources
. . .and plenty of other useful information to get you up to speed



Link to Roy's Personal Facebook page
---


That's all for now. Until next week - just keep pitching! Roy

Roy Stevenson
Pitch Travel Write
www.pitchtravelwrite.com






---