Greetings Fellow Travel Writers!
. . . and WELCOME all new subscribers. Thanks for joining us.


---
WHERE WE ARE NOW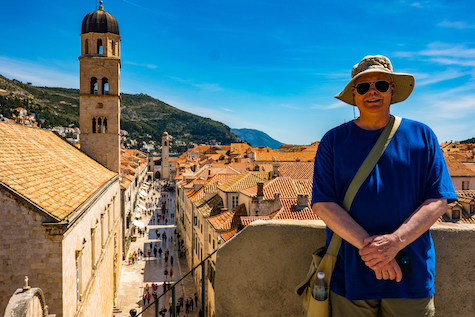 We left Dubrovnik 5 days ago and have moved on to Split, Croatia's second largest city. Our final days in Dubrovnik were taken up with walking the City Walls and visiting nearby Lokrum Island.

Our walk along the Dubrovnik City Walls was one of the highlights of our stay in this perfectly preserved medieval city. It took us 1.5 hours to circumnavigate the 1940 meter (1.3 mile) walls. The city walls are enormous — up to 6 meters (22 feet) thick and 22 meters (77 feet) high! They tower over you while you walk through the streets, shutting out much of the sunlight.

Walking the wall on a cloudless sunny day gave us a bird's-eye view of the urban city center with its tiled roofs and the gorgeous blue Adriatic Sea. It wasn't easy! Expect dozens of steps & uneven cobble stones when you walk the wall. We were lucky the temperature was only in the 60s (F).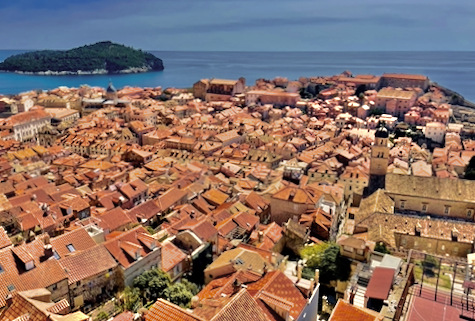 If I was ever asked to write about my favorite island day-trip, it would be Lokrum Island. This gorgeous little island, measuring only .75 square kilometers, has strutting peacocks, fine botanical gardens, a cloistered Benedictine Monastery with a truly magic outdoor café and restaurant shaded under a thick grove of trees.

Somewhat exhausted from Dubrovnik Old Town's burgeoning tourist crowds, we spent an entire day exploring this small, quiet island and loved every minute of it! Only 600 meters offshore, Lokrum Island is reached by a short 10-minute ferry trip. Once you step off the ferry onto the boat landing it's like entering another world. The crowd evaporates in several directions into the dense pine forest along gravel pathways.

Well, what does one do on Lokrum Island? Walk the cloisters at the Neo-Gothic Benedictine Monastery. Take in the beauty of the Monastery gardens. Sit on the sinister sword throne made famous in the HBO Game of Throne series at the monastery.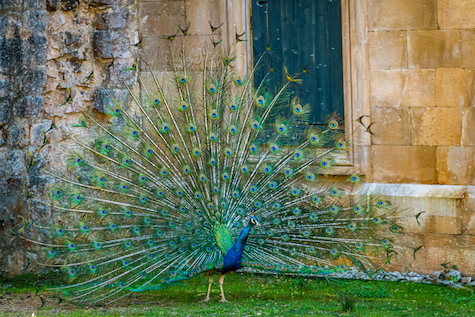 Stroll to the tip of the island to watch the glittering navy blue Adriatic sea disappear over the horizon. Look down at the people bathing in the small saltwater inlet. Watch the male peacocks fanning their multi-colored feathers to attract the females for some romancing.

Admire the succulent cacti & Australian eucalyptus trees in the Botanical Gardens. Fitness walk 97-meters up to the circular Fort Royal at the island's highest point & be rewarded with a panoramic view of Dubrovnik Old Town. End your idyllic day with some fine dining under the shade trees at the restaurant in the monastery grounds. We returned to Dubrovnik tired but renewed.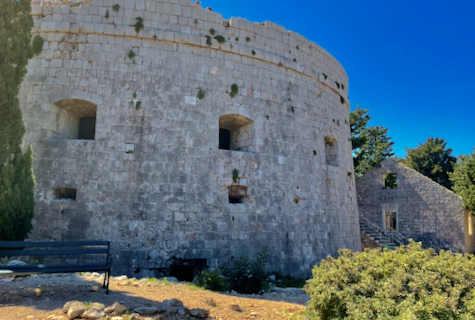 ---
WORKSHOP REGISTRATION IS OPEN!
Our Travel Writing Workshops Are The Best ANYWHERE!
This year we're giving you the opportunity to take both of our comprehensive & exciting travel writing courses back-to-back in the U.S.A!

You can still register for our workshops - we still have a handful of seats remaining.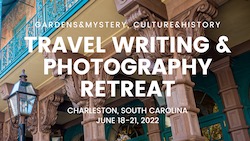 Our unique Travel Writing & Photography Retreat includes creative travel writing and photography workshops. You'll learn and practice the skills you need to be a successful travel writer including dozens of tips to make quick improvements to your writing.
You'll also learn how to produce quality photographs that editors will love. You'll practice by making a photo gallery while you're in Charleston to help you sell and tell your story. By the end of the four days you'll have a completed draft story with photos - ready to pitch to an editor! Learn more and Register at this link (or click the graphic)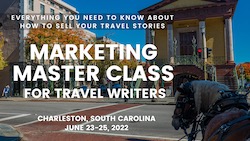 Our popular Travel Writing and Marketing Master Class will follow the Travel Writing & Photography Retreat, from June 23-25, in Charleston.
In this exclusive program we'll explore, in detail, every single step of my travel writing, pitching and selling strategy. It's only offered once a year. If you want to learn how to break into travel writing, sell your stories to reputable paying print magazines, and get paid - you NEED to take this course! Register at this link (or click graphic)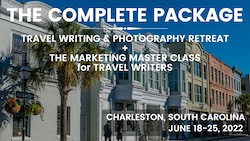 You can take both workshops back-to-back, in Charleston. You'll spend the first 4 days working on your writing craft and your photography skills and then you'll learn exactly what you need to do to sell your stories in the last 3 days of the week. It's the complete package!

If you sign up for both workshops - The Complete Package - you'll receive a whopping discount of $800 off the regular price. No, that's not a typo, it's a 26% discount when you register for both workshops.
If you're serious about travel writing, this is the best investment you can make to learn everything you need to know about mastering the art & craft of travel writing, travel photography, using your assignments to get complimentary travel perks, successfully selling your stories, and much more. Register here (or click the graphic) for The Complete Package

If you're limited on time and can take only one workshop, you can still save $100 off the regular price of each individual workshops:
June 18-21 - The Travel Writing & Photography Retreat and
June 23-25 - The Marketing Master Class for Travel Writers.
To ensure a personal, quality experience for everyone, registrations is limited.
What Makes Charleston An Ideal Destination For Our Travel Writing Workshops?
Charleston, South Carolina well deserves its reputation as one of America's most diverse and interesting small cities. Travel + Leisure magazine has named it the Best City in the U.S. for the last 9 straight years.
JOIN US in Charleston for the BEST travel writing workshops ANYWHERE


---
Editorial: Is There A Single Key to Success?
I'm often asked by novice travel writers if there's a single predictive element we consistently need to have or do, to get our stories published?

In other words, what's that one thing we need above all others? Sadly, there's no single predictive ingredient. There are simply too many factors and variables we have to get right to get our stories published.

There is, however, a rough formula that includes talent in many areas if we want to be successful. This formula includes patience, persistence, good writing ability, spotting a good travel story, sales and marketing skills, plus several other factors. I elaborate on these skills further on my website, PitchTravelWrite.com, in my Travel Writing Workshops and in this newsletter.

Each of these factors are vital links in the publication chain for freelance writing success. And, you must maximize all these links when preparing your query.

If you perform each of these preparatory steps well, statistically your chances of seeing your stories published — and getting paid for them — will improve.

Conversely, novice travel writers make frequent mistakes when they try to break into the travel writing arena.

Are you making any of these errors?
Your story idea is a poor match for the targeted publication
Your research into your story is inadequate
Your query letter is inadequate, lackluster, poorly written, or has typos, misspellings, and poor grammar
You may not have queried enough magazines with your pitches
Your article is rejected because it is poorly written
Make any of these mistakes and your chances of getting your story published plummet.

But once you master the basic pitching techniques, there is one simple thing you can do to get more stories published: pitch more stories to more magazines. In other words, the more stories you pitch, to multiple magazines, the more you'll get published.

Keep churning out a high volume of queries, as often as possible. I've often sent out 2-3 different queries/day, to several dozen magazines! I send my queries out to every magazine I think would be a good target for my stories. As a result, more and more of my stories are published.

For several years, I was writing up to 15 stories each month. Once I wrote 10 articles in 12 days! Another time, I had to write 30 articles in 50 days. I'm not suggesting you get this carried away. But you can vastly improve your success rate if you do this one thing - keep pitching.

I forged longstanding relationships with magazine editors, some of which I still maintain today. I pitch new story ideas when I send my completed submissions to each editor. I pitch multiple story ideas in some of my queries (i.e. more than one story idea in each query letter).

This may all seem daunting to novice writers, especially when you're preparing your magazine lists, but after a year or two you get much faster.

Most novice writers make the mistakes I've mentioned above. Writers who can't be bothered doing all the prep work — or don't have the writing skills — drop out or end up writing free, cliché-riddled travel stories for some else's travel websites.

It doesn't have to be this way. All of these skills can be learned. Join us for our Travel Writing Workshops and master all of these techniques in only a week. You can learn more at this link
---
This Week's Featured Post
My Five-Step Pitching Process From Start to Finish
I've had 1,000+ articles published since 2007, in 200+ different print and online publications. For novice travel writers & bloggers (and perhaps even veteran travel writers), here's how I pitch my travel story ideas to print magazines.

This system will work for you, just as it has worked for me and many other travel writers.  Follow these steps and just keep pitching!

READ THE POST

---
Upcoming Posts
May 2: Six Tips for Dreaming Up Travel Story Ideas that Sell
May 9: Writing For Inflights, Onboards, InRoom & InTrain Magazines
May 16: What Are Your Travel Writing Goals?


---
PitchTravelWrite.com Success Stories
Jessica Pickett: A Travel Writer's Success Story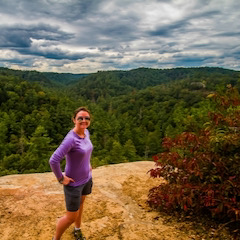 This post will surely inspire you to try your hand at freelance travel writing. It tells Jessica Pickett's story—in her own words—of how she launched her impressive travel writing career.

Hailing from Lake Charles, Louisiana, Jessica's steady ascent through the travel writing ranks is a textbook example of what novice travel writers should be doing to break into this competitive arena. Her trajectory is one that novice writers should aspire to.

Here's Jessica's story . . . 
 "While attending a Travel Writer's Conference in San Diego in 2014, Roy and his wife Linda sat at my table and, to my good fortune, we easily struck up conversation. After chatting with Roy, I immediately purchased his eBooks, even before hearing him speak on stage.

A few short weeks after the conference, I landed my first byline. Bolstered by the knowledge gained from Roy's books and his PitchTravelWrite.com posts, I pitched a well-known regional magazine and blog. This regional blog and magazine where I "started" my travel writing is TexasHillCountry.com 

After answering a "Call for Writers" post (which had been shared over 4,000 times by the time I saw it) I was invited to become a regular monthly contributor . . .

Read the rest of Jessica's remarkable travel writing journey here
---
Pitch Travel Write: Most Requested Links About Preselling Your Travel Stories
A classic novice travel writer's mistake is to write a story and then try to sell it. This strategy inevitably ends in disappointment. It's putting the cart before the horse and it's a waste of your valuable writing time.

Here are three articles to show you how to do it right:

Why You Should Query Your Stories Before You Write Them

Why You Should Presell Your Stories Before Writing Them

7 Beginners Travel Writing Mistakes


---
Inspirational Travel Quote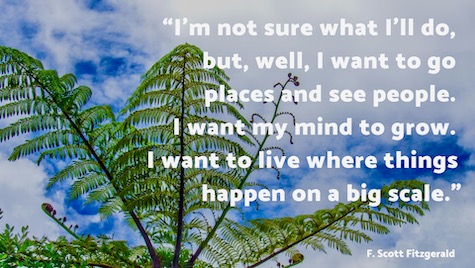 ---
RESOURCES FOR TRAVEL WRITERS
Featured Bundle : The Creative Pack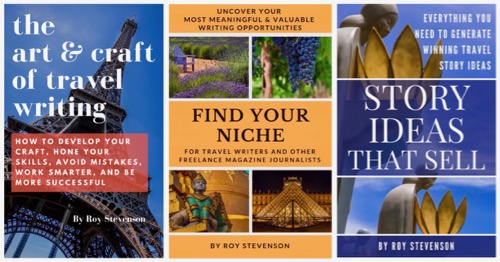 Our Creative Pack provides the first pieces of the travel writing puzzle. These three eBooks give the starting point for every travel writer: dreaming up unique story ideas, finding the best writing niches for your interests, passions and experience, and the art & craft of travel writing. 

This bundle already is discounted 10% from the price of single books. For the next few weeks you can get an additional $10 off by using Promo Code AMTEN at checkout. Get all three of these books for only $24.95!

Here's how these reference guides will help you.

The Art & Craft of Travel Writing is a handy reference guide to make your travel stories sparkle and help you become a more successful writer.  

The tips and techniques packed into the 170-page book will help you develop your craft, hone your skills, and work smarter.

In Find Your Niche you'll learn why it's important to write in a variety of genres.  It explores the multitude of opportunities available to travel writers and other freelance writers.  

You'll learn to identify the niches that are most interesting and meaningful to you. And you'll find out how to hone in on the most profitable niches.

Full of  tips, advice and inspiration, this 85-page book will help you find your niche!

Story Ideas that Sell guides you along the highly creative path of inventing and discovering potential travel stories to pitch and sell to travel magazines. Conjuring up viable story ideas are the very bedrock of every successful travel writer today.  

In this 76-page book you'll learn my winning system to generate story ideas that sell. Master this first step - and combine it with a great pitch - and you'll soon find yourself immersed in exciting experiences with fascinating people.



Note: Don't forget to use promo code AMTEN at checkout to get your $10 discount during this month.
---
Group Coaching Mastermind Community
Our first Group Coaching Mastermind Community kicked off in October, 2020, and we've got a global group with members living in Australia, Belgium, Canada, Indonesia and the U.S. We're very excited about this group of writers and our new community! We added new members to our community in 2021 and they're getting to know the group and participate in writing activities.

If you missed out on the opportunity to join earlier sessions, you can get on the waiting list for the next session starting later this year:

Learn more and get on the waiting list

---
Did You Know . . .
Our Complete Marketing Master Class for Travel Writers is ranked #1 on TravelWritersExchange.com's Top Ten Travel Writing Workshops.

Your next opportunity to attend these classes will be in Charleston, South Carolina in June, 2022. There are still a few open seats in these workshops, so sign up while we have space.

Our travel writing & marketing workshops are highly informative and a blast, socially.

Travel Writing and Photography Retreat

Marketing Master Class for Travel Writers

The Complete Package (both workshops and a BIG discount)

You can access the list of the top ten travel writing workshops from Travel Writers Exchange at the link below: Travel Writers Exchange workshop list: #1 Marketing Master Class

---
At Your Service
Coaching and Consulting
Online Courses
If you know someone who will enjoy this newsletter,
please forward or sign up
---
PitchTravelWrite.com, is our information-packed website for travel writers. This e-zine, a series of travel writing books and reference guides, coaching programs, and our workshops all work together to give you guidance in this field.

Our aim is to provide you with practical, nitty gritty information to help you gain entry into the travel writing realm and all the enjoyment that comes with it. 


---
Awards and Accolades
We're thrilled to announce that www.PitchTravelWrite.com is once again on The Write Life's list of 100 BEST WEBSITES FOR WRITERS! 



You can see the entire list by visiting their website - click on the graphic to view the list now.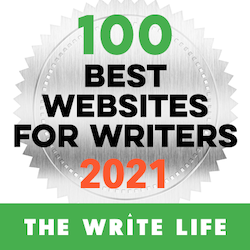 ---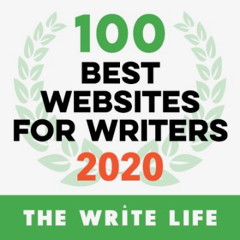 ---
We're proud to announce that our travel writing website has made Writer's Digest Magazine's 2016, 2020, and 2021 101 BEST WEBSITES FOR WRITERS. Writer's Digest Magazine also lists us on their Best Genre/Niche Websites for 2021.

Writer's Digest doesn't bestow these awards lightly. And we're the only travel writing website on their lists!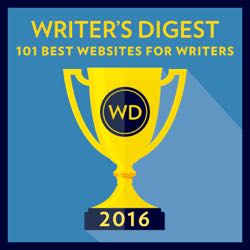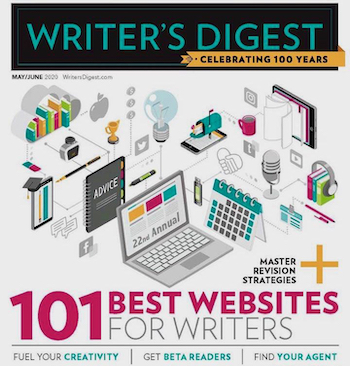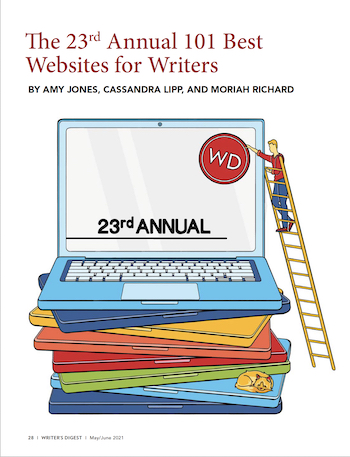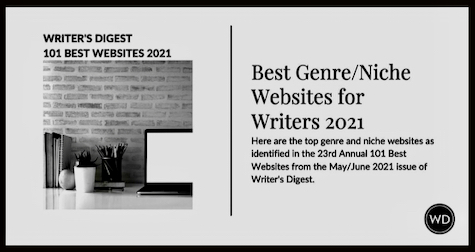 ---
Friend me on Facebook
My Facebook page is about freelance travel writing. I frequently post about:
• links to other well produced travel websites and blogs
• links to my travel articles
• magazine cover stories and back stories
• links to resource pages
• links to coaching and mentoring resources
. . .and plenty of other useful information to get you up to speed



Link to Roy's Personal Facebook page
---


That's all for now. Until next week - just keep pitching! Roy

Roy Stevenson
Pitch Travel Write
www.pitchtravelwrite.com






---