Greetings Fellow Travel Writers!
. . . and WELCOME all new subscribers. Thanks for joining us.


---
Editorial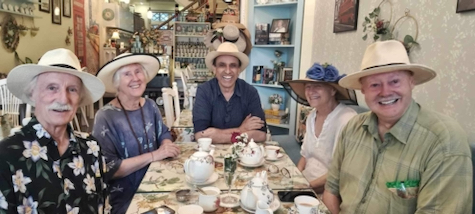 We've been in Vietnam for almost three weeks. It's been a lot of fun catching up with our expat and Vietnamese friends. Our long-stay stay is in the An Thuong Tourist District, a series of 200-meter-long streets absolutely packed with nail salons, spas, restaurants, coffee shops, hotels, and hostels.

Tourism here has recovered somewhat and our friends here tell us that it is at about 50% of what it was pre-COVID. This means that it is pleasantly quiet and not bursting with demanding tourists.

We've caught up with local restaurateurs, coffee baristas, our friends who provide laundry and spa services, plus many expat friends who remained here during the COVID epidemic or have returned for a visit. (In the photo above we're at the Windsor Tea Rooms with our friends — Jan, the owner, John and Melanie who used to live in Da Nang. John writes a travel blog www.Ontheroadnow.com)

We've rejoined our favorite fitness club, Elite Fitness — and are enjoying our workouts with almost the entire club to ourselves. We work out mid-morning, while most members are at work.

We are big fans of the exotic and varied Vietnamese foods and are sampling many of our old favorite dishes; and we're particularly enjoying the low restaurant prices, compared with Seattle prices which have become exorbitant. Plus, we don't have to pay a hefty sales tax and tips on top of our food prices!

Later this week we'll embark on a 7-night luxury cruise up the Mekong River from My Tho, Vietnam, to Siem Reap, Cambodia. I have assignments with three travel websites and one print luxury magazine. I've always wanted to do a luxury cruise on the Mekong. Its fishing villages, stilt villages, silk weaving villages, bustling floating markets, dazzling green rice fields, and towering white Buddhist temples always give you something to marvel at. In the afternoons—when we can tear ourselves away from the on-board gourmet dining — we'll be doing excursions to these riverside attractions and meeting the local people.

Stay tuned to our next newsletter for updates on our Vietnam travels.
---
500 Print Magazines
If you purchased 500 Print Magazines That Want To Publish Your Travel Stories last month, the October issue (#2) is now available. You should have received an email with a login link, but in case you missed it you can access the login page and input your login credentials at this link

In issue #2 you'll receive another 50 magazines plus 7 bonus magazines — along with a wealth of information about each magazines. (In total you've received 114 magazine listings so far!) We've also included some introductory materials about pitching your story ideas to magazines. Be sure to download both files.

If you have any problems downloading issue #2 or the previous issue, please get in touch with us at pitchtravelwrite@gmail.com and we'll be happy to help you.

We're looking forward to hearing from you about which magazines you've pitched successfully and what stories have been picked up by these magazines.
---
Featured Post
Guide to Successful Press Trip Invitations for Travel Writers
"How do I get invitations to press trips? You get a lot of invitations. How do you do it?"

I often field this question from novice writers when I tell them that I've been on more than 200 press trips in 25 countries around the globe. I receive several press trip invitations each month and turn most of them down because my calendar is already booked up or I'm just not interested in the destination.


This article is about how to stop dreaming and take steps to get successful press trip invitations. I've listed out the five things I've found key to making it happen . . .

READ THE POST


---
Introducing Bianca Dumas, a Talented and Prolific Freelance Travel Writer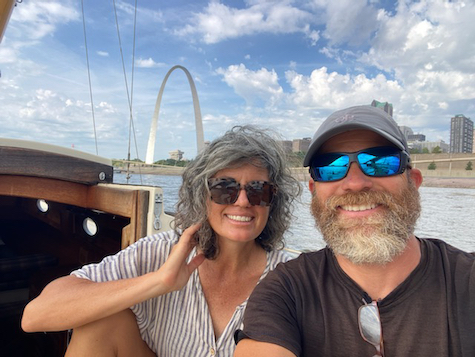 We're proud to introduce Bianca as another PitchTravelWrite.com Coaching Success Story.

I started working with Bianca Dumas through my one-on-one, personalized coaching and mentoring program in February 2023 and she's taken to the freelance writing game like a fish to water. She's already been published — or is about to be published — in a large number of respectable and highly-regarded magazines.

She has patience and initiative and she's a super-fast learner with a distinctive writing voice. Beyond Bianca's writing talents, she's not afraid to pitch her stories to top shelf glossies. And she doesn't balk at creating sizable magazine distribution lists for querying editors. She's already making great strides in this competitive field!

Here's Bianca's freelance travel writing story in her own words; it's a great story and will motivate you if you're wanting to break through into freelance travel writing . . . READ BIANCA'S STORY

---
Travel & Words Conference 2023
Allen Cox, editor of Northwest Travel & Life Magazine, would like to invite qualified travel journalists to attend the annual Travel & Words Conference, in Missoula, Montana, from November 12-14, 2023.

This conference is one of the best travel writing conferences in the country. In addition to presentations by some top-notch industry professionals, attendees get to meet media reps from up to 30 destinations in the Northwest (OR, WA, ID, MT, AK, British Columbia.) At the conference, you discuss your writing outlets and interests with them in one-on-one meetings and see if you are a good match for potential press trips. I've scored dozens of press trips from the contacts I made at this conference.   In addition to some great presentations and networking with the destination media reps, you'll get to meet a lot of fellow travel writers and talk shop with them. Last year, Allen invited four attendees from our June 2022 Charleston Travel Writing Workshop. They all had a blast!

The conference is by invitation only, so if you are interested in attending, contact Allen Cox, editor@nwtravelmag.com
---
Upcoming Posts
Nov 6: The Benefits of Hiring a Travel Writing Marketing Coach
Nov 20: Types of Travel Stories to Help You Find Your Niche
Dec 4: Enhance Your Travel Writing Image Using Facebook

---
Inspirational Travel Quote
---
Pitch Travel Write: Most Requested Links - Should You Specialize or Should You Write in Diverse Travel Genres?
You'll obviously pitch and sell more stories about your interests and passions, but you should always strive to get your stories published in as many different genres and magazines as you can. When you increase the specialty areas and genres you write in, your potential market increases exponentially.

I'll always recommend that you write in as many genres as you can. If I had written solely in one genre, I wouldn't have had anywhere near as much success.

By writing in multiple genres, I've sold more than 1,000 stories to 200+ regional, national, and international magazines, newspapers, trade journals, custom publications, specialty magazines, in-flights, on-boards, and online travel magazines.

Writing in multiple genres expands your writing bandwidth and prevents you getting bored with one subject. And, financially, you'll be better off because it's easier to sell more stories when you write about varied topics.

Here's some more reading on this subject from our PitchTravelWrite website:

Writing Genres and Your Travel Writing Niche

How to Expand Your Writing Genres and Why You Should Do It


---
MORE RESOURCES FOR TRAVEL WRITERS
Featured Book: Story Ideas That Sell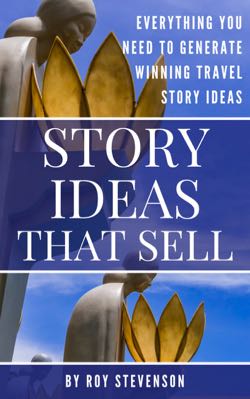 Can't Sell Your Travel Stories?

Want To Know Which Travel Story Ideas Sell The Best?

My book, Story Ideas That Sell guides travel writers along the highly creative path of inventing and discovering potential travel stories to pitch and sell to travel magazines.

Conjuring up viable story ideas is the very bedrock skill of every successful travel writer today. Knowing how to create unique and imaginative story ideas is the first step—before you even write your query letter. Recognizing and developing good story ideas is critical if you want editors to buy and publish your work.

In my book I outline my winning system to generate story ideas that sell. These techniques have helped me conjure up story ideas that resulted in more than 1000 published articles in 200 regional, national, and international magazines, newspapers, trade journals, custom publications, specialty magazines, in-flights, on-boards, and online travel magazines — all in less than nine years!

For the month of October save $5 off the regular price of this book if you use discount code: sits-oc23

BUY THE BOOK

Don't forget: For the month of October save $5 off the regular price of this book if you use discount code: sits-oc23

---
Latest News eBooks
We're publishing a New eBook:
You need a combination of skills to succeed in the freelance travel writing game. Since 2007 I've been bombarded with hundreds of email questions about all aspects of travel writing. The blogs you're about to read are my succinct answers to these urgent questions.
These blogs are gathered from my email replies, Facebook posts, LinkedIn posts, blogs, and newsletter editorials. They provide quality solutions—in summary form—to the myriad challenges travel writers face.
Even better, at the end of each blog I give you the link to a more detailed and comprehensive coverage of each topic. If you'd like to learn more about each blog, you can continue on to a more in-depth post on my PitchTravelWrite.com website. You're getting a two-for-one on every single post!
These blogs are grouped in 13 categories ranging from finding magazines to pitch to writing killer query letters, and from selling and marketing your travel articles to the business basics every serious travel writer needs to know.
Follow the advice dispensed here and you'll earn more from your travel writing by selling more stories and improving your travel writing.
---
At Your Service
Coaching and Consulting
Online Courses
If you know someone who will enjoy this newsletter,
please forward or sign up
---
PitchTravelWrite.com, is our information-packed website for travel writers. This e-zine, a series of travel writing books and reference guides, coaching programs, and our workshops all work together to give you guidance in this field.

Our aim is to provide you with practical, nitty gritty information to help you gain entry into the travel writing realm and all the enjoyment that comes with it. 


---
Awards and Accolades
We're thrilled to announce that our website, PitchTravelWrite.com has made The Write Life.com's list of 100 BEST WEBSITES FOR WRITERS for 2020 and 2021! 



You can see the entire list by visiting their website - click on the graphic to view the list now.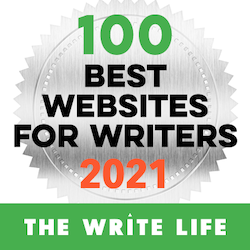 ---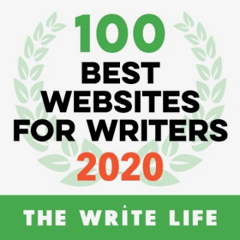 ---
We're proud to announce that our travel writing website, PitchTravelWrite.com has made Writer's Digest Magazine's 2016, 2020, 2021, 2022, and 2023 101 BEST WEBSITES FOR WRITERS.

Writer's Digest doesn't bestow these awards lightly. And we're the only travel writing website on their lists!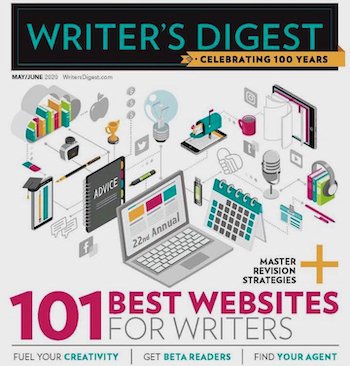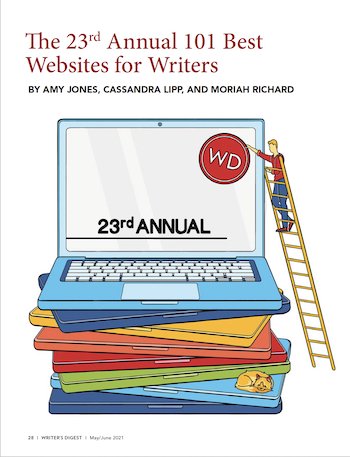 And the accolades for PitchTravelWrite.com just keep pouring in! Our website helps travel writers successfully sell their travel stories.

Thank you, Writer's Digest Magazine for listing us on your "Best Genre/Niche Websites for 2020, 2021, 2022 and 2023."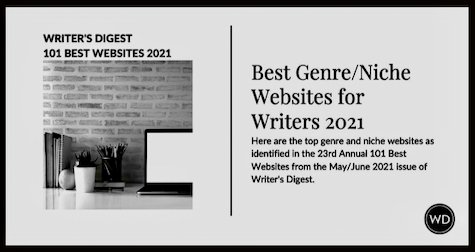 And the accolades for our PitchTravelWrite.com travel writing website just keep pouring in!

Our Complete Travel Writing & Marketing Master Class is ranked #1 on TravelWritersExchange.com's Top Ten Travel Writing Workshops. https://bit.ly/2UV7wjW

Our Online Travel Writing & Marketing Master Class has made Reedsy.com's Best Travel Creative Writing Classes for 2023 list. There are only 21 travel writing courses on this worldwide list! Here's the link to the list: https://blog.reedsy.com/creative-writing-classes/travel/
---
Friend me on Facebook
My Facebook page is about freelance travel writing. I frequently post about:
• links to other well produced travel websites and blogs
• links to my travel articles
• magazine cover stories and back stories
• links to resource pages
• links to coaching and mentoring resources
. . .and plenty of other useful information to get you up to speed



Link to Roy's Personal Facebook page
---


That's all for now. Until next week - just keep pitching! Roy

Roy Stevenson
Pitch Travel Write
www.pitchtravelwrite.com



---