The Complete Package:
Both Workshops at a discounted price!
May 21-26, 2023

Sorry, registration is closed for our 2023 Workshops. 

This year we're giving you the opportunity to take both of our exciting, interactive and informative workshops one venue in Santa Fe, New Mexico. We're now offering our two premium workshops, back-to-back.
Our Travel Writing & Photography Retreat will take place from May 21-24 and our Marketing Master Class for Travel Writers will be May 24-26.

If you're looking for total immersion in the field of Travel Writing, join us for both workshops.

Here's a little bit about each workshop:

Travel Writing & Photography Retreat
Are you a writer looking for hands-on experience to improve your travel writing skills? 

Do you want practice using your camera to help tell your story?

Are you interested in having some exhilarating discussions & soft travel adventures with a small, like-minded group of travel writers?

Would you love to visit one of the best cities in the United States for culture, food, history, atmosphere and fun?
We'll spend time together inside the classroom learning about travel writing and photography. There will be lectures, writing exercises, in-the-field tours, group readings & discussions, and hands-on experience to make quick improvements to your writing. You'll also receive one-on-one feedback & goal setting in a session with Roy.
You'll also learn how to produce quality photographs that editors will love. You'll practice by making a photo gallery while you're in Santa Fe to help you sell and tell your story.

You'll explore the city dreaming up story ideas, writing and making photographs to help you tell your story.  This is your chance to visit Santa Fe, soak in it's unique vibe and brush up on your travel writing and photography skills.
More details about the Travel Writing & Photography Retreat . . .

Marketing Master Class for Travel Writers

Our popular Marketing Master Class for Travel Writers will follow after the Travel Writing & Photography Retreat. In this exclusive program we'll explore, in detail, every single step of my travel writing, pitching and selling strategy. It's only offered once a year. If you want to learn how to break into travel writing, sell your stories to reputable paying print magazines, and get paid -- you need to take this course!
This is your only chance to join us in 2023.
Other workshops gloss over the details, but that's not how we do things around here. You will walk away from this program knowing exactly how to get sensational paid trips around the world and sky-rocket your travel writing success – even if you're starting at $0.

Each workshop is limited to a small number of participants to guarantee a high quality experience and allow plenty of time for interaction between your instructors and fellow writers.

Our Marketing Master Class for Travel Writers is the BEST of its kind, ANYWHERE!  Our "graduates" have an excellent success rate, with most getting their stories into paying print media.
If you want to learn how to become a real travel writer & see your articles & photographs in glossy print magazine and journals, our master class will help you do that.

More details about the Marketing Master Class for Travel Writers . . .

The Complete Package - 2 Workshops at an unbeatable price:
The Travel Writing & Photography Retreat and
The Marketing Master Class

If you're ready to immerse yourself in the two most important skill-sets in travel writing - writing and marketing - you'll want to sign up for The Complete Package. This is the second time we've offered these two workshops together and it was so successful we're doing it again. 
This is your chance to launch your travel writing career with the best information available - and to know exactly what to do when you're back home. The Complete Package has it all at a heavily discounted early bird price.
You can take BOTH workshops, back-to-back, in Santa Fe. You'll spend the first three and a half days working on your writing craft and your photography skills. Then, in the next three days you'll learn exactly what you need to do to sell your stories. You'll also learn how to use your assignments to get complimentary travel perks.
---
Sorry, registration is closed for our 2023 Workshops. 

What's Included:
A suite of travel writing and travel photography tools, tips and techniques as described above.
A private Facebook group is available for all participants.  You can share your work, get advice, and solicit feedback from us before and after the retreat!  You can also ask questions about things to do in Santa Fe so you can plan your itinerary.

You'll receive a complimentary digital copy of The Art & Craft of Travel Writing, a popular resource to have at your fingertips. (Value $14.95)

You'll also receive a complimentary digital copy of our recent book, Find Your Niche:  Uncover Your Most Meaningful and Valuable Writing Opportunities. (Value $12.95)
While you're in Santa Fe, you'll receive writing tasks and constructive feedback to help you grow as a writer.  You'll spend time outside the classroom writing your story and taking photos to accompany the story.  You'll leave with at least one completed draft story and many more story ideas.
The Santa Fe CVB will present each writer with a VIP pass to many major attractions to make it easy for you to get around Santa Fe in style.
We'll facilitate small group breakouts to do readings, share ideas, offer feedback and motivate each other.
Roy & Linda will be available outside classroom hours to meet with you on whatever questions you have about travel writing, photography and what kind of stories you can sell.

Post workshop mentoring/consultation with Roy on one story idea is available when you're ready.  He'll walk you through the process of how to get your story published  during the workshop and after it's over! (Value: $1000)

Class size is limited to the first 25 registrants. This allows you to get your questions answered, get personal feedback and an opportunity to make new friends in an relaxed environment.

In-depth instruction about how I sell my travel stories 90% of the time - so you can sell more stories, too.
In-depth training about how to use your assignments to land press trips and free tours.
Detailed guidance on how to write enticing query letters.
Advice on how to work successfully with editors.

Digital resources including The Complete Guide to Marketing and Selling Your Travel Articles and The Complete Guide to Query Letters (value over $125)

Post-workshop, one-on-one coaching with Roy using one of your story ideas and working through the process, start to finish, worth over $1000.
Special reduced rate at our host hotel. (Full details available when you register.)

Amazing opportunity to socialize with fellow travel writers.

What's Not Included:
Airfare
Ground transportation
Hotel costs

Meals (except where specified on agenda)

Other incidental travel expenses such as laundry, tips, travel insurance, and other miscellaneous costs.
---
---
About Santa Fe, New Mexico

Santa Fe, New Mexico deserves its reputation as one of America's most diverse and interesting small cities. There's good reason for its unofficial title as "The City Different."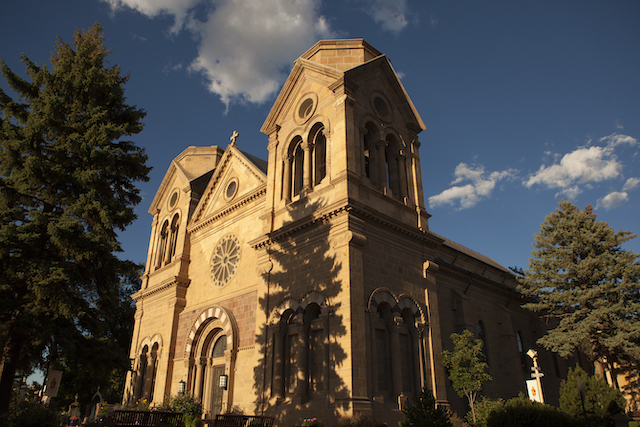 As well as being an internationally renowned destination, Travel + Leisure magazine has listed Santa Fe in its "Top 15 Cities in the U.S." list for ten consecutive years including #2 and #3 rankings.
Conde Nast Traveler's Reader's Choice Awards rates Santa Fe as the #4 best city in the "Top 10 Small Cities in the U.S."
Forbes Magazine ranks Santa Fe as the #3 top destination in the world in the "22 Best Places to Travel in 2022" list.
Described as heaven for foodies and an historic treasure, Santa Fe is also known as one of the friendliest places to visit. With several thriving market areas, historic architecture, and vibrant arts scene, Santa Fe is one of the U.S's finest and most fun tourist hot spots.
Santa Fe claims the oldest state capital in the United States, founded in 1610. The Palace of the Governors is the oldest continuously occupied public building in the country. The adjacent historic Plaza is 412 years old!
Santa Fe also boasts the oldest church in the United States. The town and surrounding downtown area hold histories, mysteries, secrets and curiosities that can be discovered by guided tours or through locally published books (Collected Words Bookstore on Galisteo Street has many of these books.)
You'll find historic monuments everywhere with museums, art galleries and boutique shops spread around downtown — and it's easy to immerse yourself in all of it.
Santa Fe is a gastronomic center of award-winning chefs and more than 400 restaurants. It boasts several chefs who have been nominated for the James Beard "Best Chefs Southwest" awards, with Chef Mark Kiffin owner/chef at The Compound Restaurant receiving top honors.
Find out why red and green Chile appears in Santa Fe foods and drinks where you don't expect it. If you're adventurous, try the green chile apple pie, cheesecake, and cornbread. Sample the green chile cobb salad or mac and cheese.
Santa Fe is a culinary mecca due to its first-class chefs and creative menus as contemporary chefs revive old regional recipes and creative fusion dishes for our modern palate. You can take foodie tours, sample world class seafood and feast on authentic southwestern dishes that reflect the city's unique history.
Travel writers will walk away from this workshop with a multitude of story ideas and a gallery of stunning photographs to go with whatever story you choose to focus on. Santa Fe is a fertile town for travel writers!
---
Sorry, registration is closed for our 2023 Workshops. 

---