Greetings Fellow Travel Writers!
LABOR DAY BOOK SALE
In case you didn't see it in our newsletter, our Labor Day Book Sale is happening through the weekend.
It's back-to-school time. Why not treat yourself to a few books to fine-tune your pitching skills or sharpen up your writing skills?
All our books and bundles are 25% off when you use PROMO CODE LDAY25.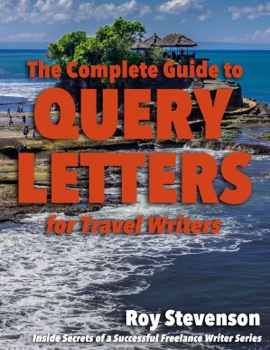 Did you know . . .

Our Query Letters for Travel Writers eBook is our most popular book?

Why?

It's because you'll get 20 query letters that Roy used to successfully sell stories to top shelf magazines. You can use these query letters as templates for your own queries.

That's right - just tweak them for your own story ideas and send them to editors.

Roy also shares his insights for each query about why it worked so well.

You'll learn the sales techniques he uses to get published prolifically so you can use that knowledge to put together your own queries.

Learn more about the Query Letters for Travel Writers eBook


Don't forget, our bundles are already priced at 10% off the individual book prices, so with our sale you're getting an additional 25% discount. That's a total of 35% off our books when you buy a bundle!

The Beginner's Bundle is for writers just getting started who need to know how to write queries and get ready-made lists of magazines and website who will buy your stories

The Creative Bundle is for you if you want help with story ideas, finding your niche and improving your travel writing craft

The Advanced Bundle will tell you everything you need to know about press trips, FAM tours and breaking into luxury travel writing

You can see all of our books and bundles in our BOOKSTORE

Remember to use PROMO CODE LDAY25 for your 25% discount. It's good until midnight (PST) on Sunday, September 11th.

Best wishes for your travel writing success!

Roy and Linda

Go to Our Bookstore to See All of Our Guides, Manuals and Special Reports


---