Greetings Fellow Travel Writers!
Our Labor Day Book Sale is happening through the weekend. When you use PROMO CODE LDAY25 you'll get 25% off the regular price of all books and bundles.
It's back-to-school time. Why not treat yourself to a few books to fine-tune your pitching skills or sharpen up your writing skills? September is a great time to get organized, sit down and start pitching stories.
How To Sell Your Travel Stories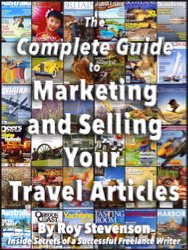 Do you wonder how Roy successfully sells 90% of his story ideas?

You can get all the nitty-gritty in The Complete Guide to Marketing and Selling Your Travel Articles. He covers every step in his sales process so you can learn how to do it when you follow his process.

Learn how to select story ideas that are enticing to editors, how to pitch your ideas the right way, how to find magazines that will be interested, and much, much more.

This complete guide differs from most travel writing "how to" books because it's packed full of practical advice on how to market your articles. You will be able to implement his advice immediately. 

And when you follow the advice in this eBook, you will get your articles published.

Learn more about Marketing and Selling Your Travel Articles


You can get 25% off The Complete Guide to Marketing and Selling Your Travel Articles and ALL of our books and bundles when you use PROMO CODE LDAY25. LINK TO BOOKSTORE


Best wishes for your travel writing success,

Roy and Linda

Go to Our Bookstore to See All of Our Guides, Manuals and Special Reports


---