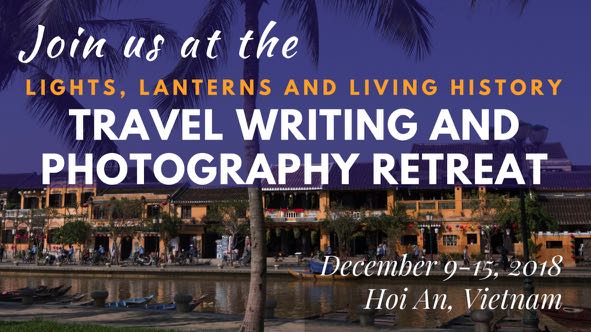 Can You Really Make Money
as a Travel Writer?
By Roy Stevenson
By Roy Stevenson
Veteran travel writers make it all look so easy.  They jet around the world, take private helicopter rides over glistening glaciers, stay in exotic jungle and beach resorts, and stroll along pristine, white sandy shores under gently swaying palm trees.

I've certainly done all those things on travel writing assignments. And from my Facebook posts, you'd think it was easy-peasy.

Lots of people want to be travel writers, attracted by the apparent glamor of this profession and the free travel opportunities.  I can certainly understand this.

For the travel writers who've mastered the game, life is good!  This has been my experience. In fact, I've never felt as fulfilled as I have in my decade as a travel writer.

But is it really easy? And how exactly do you get paid to live this idyllic life?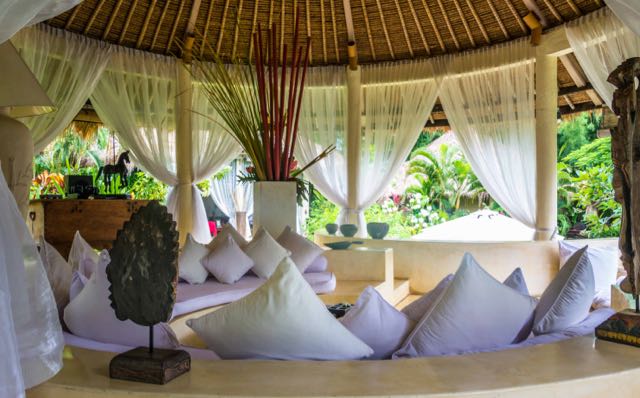 Our outdoor living space at Villa Mathis Resort, Bali, Indonesia. Missing from the photo: the travel writer hard at work (indoors) catching up on writing tasks.
Here's an email I received a while ago from a novice writer.  It was a lengthy email, so I've edited it back to the most important question to get to the crux of this issue. 

"I have one question that everyone wants to ask at travel writer's conferences and workshops, but no one does, perhaps because it seems indiscreet: Can you really make money at this?  Or is travel writing really for people whose financial security is otherwise assured by trust fund or hefty retirement income and who are going to travel anyway? 

As a writing coach and mentor, I'm often asked this BIG question, "Can I really make money as a travel writer?"

The short answer is "yes".  You can make money as a travel writer. 

It's a simple formula: come up with great story ideas and sell them to magazine editors.

A Secondary Stream of Income
If you want to break into travel writing, and have a steady source of income from a job, the best advice I can give you is, "Don't give up your day job." 

It's okay to be a part-time travel writer or blogger.  For beginners, this is practically mandatory.  Freelance income is variable so you can't initially depend on it to pay your bills. 

Many solo businesses get started as part-time endeavors, while you already have a job.  It's the least stressful way to start a business.


Most of the writers I meet on press trips and at travel writing conferences are part-timers. They do it for fun, for pin money, and for the occasional press trip. My guesstimate is that 90% of all travel writers are part-time.


Many travel writers have full-time jobs. They send out queries in their spare time, and they use their vacation time to go on press trips.  This is the best way to get started.  Use travel writing as a secondary stream of income.


Others work a part-time job for some steady income. For my first couple of years freelancing I did this, too. At various times, I've taught part-time at two Seattle universities and a local community college. 


In other cases, you might have a working spouse willing to take responsibility for paying the bills.  In fact, that's how I started. My wife had a great corporate job that paid the bills while I learned the freelance travel writing trade.


Yet other travel writers live off investments, retirement incomes, trust funds, lucrative divorce settlements, or some combination of these.

The point is, every situation is different.  What's the same is they all have other income that enables them to pay their bills.  They don't depend on travel writing income. 

My Travel Writing Journey
When I started freelance writing, I worked 10-12 hours/day, 7 days/week, for my first few years.  Obviously, I wanted to be a travel writer really badly!

I hasten to add that this fierce dedication was also motivated in part by the fact that my wife had generously agreed to pay the bills for a while.  She gave me two years to break into travel writing and start earning a regular income. 

Those long hours were the price I was willing to pay to learn the ropes and get established.  I didn't want to go back to working for the man!  I was under the gun!

My sales and marketing skills evolved rapidly.  Right from the start I was able to attain a high level of success.  It was worth the long hours of work.

And it all worked out fine.  In less than ten years, I managed to sell more than 1,000 articles to 200+ regional, national, and international magazines, specialty magazines, custom publications, newspapers, trade journals, in-flights, on-boards, and online travel magazines and blogs.  I'm considered to be one of the most prolific freelance writers in the U.S.

Today, I have confidence that I'll sell 90% of the stories I pitch to magazines.  I may not always place my travel stories exactly where I expect.  But I usually sell them to print magazines somewhere around the world and get paid.


And, I know plenty of other travel writers that are consistently selling their stories and making money. So, it can be done!  You can make money as a travel journalist.

You Have To Do The Work

Scratch every professional travel writer and they'll tell you that they work hard at it.  It requires a combination of talents, skills and abilities to consistently sell your travel stories to paying magazines.

It takes plenty of practice and patience to learn to break through the early travel writing barriers.  It takes time to get established and build your bylines.

The reality of travel writing is that if you don't do the work, the closing ratio for your queries will be very low. And you won't earn much, if any, money.

Freelance travel writing is just like any other business.  It involves hard work.  And it takes talent to get your stories published in top shelf glossy magazines.

Over the past two years, I've coached more than fifty neophyte writers through the entire travel writing marketing process.  That means:
•    Dreaming up a saleable story idea. 
•    Creating a viable magazine distribution list. 
•    Writing an enticing query letter, and finally,
•    Writing a publishable travel article.

What I've learned is most novice writer's story ideas, query letters, and sales skills are inadequate.  Beginners are at the bottom of the learning curve – or more like a steep cliff, really.  It's easy to blow your prospects with editors with a few ill-chosen sentences, or from a lack of insider knowledge.

The average neophyte travel journalist has a closing ratio around 10%.  This means that only one beginner's query in ten is likely to be picked up by a paying publication.  A talented beginner might hit 20%, but this is exceptional.


Even seasoned travel writers consider themselves lucky to sell 25%-40% of the stories they pitch.  You have to pitch and turn over a lot of stories to make money.  It takes consistent work.
Many people dream of quitting their jobs and being their own boss.  If you love to travel and you love to write, becoming a travel writer is a satisfying way to tell people about your journeys. 

And if you put in the work needed to succeed, and give yourself time to get established, you can make money as a travel writer.

But there's another side to this equation:  how can you cover travel costs when your assignments don't pay enough?  I'll cover this in a separate article soon.

Related articles that will interest you:
Getting Paid for Your Travel Stories
Five Travel Writing Secrets for Success
Business Basics for Travel Writers
How to Make Money Travel Writing

---
---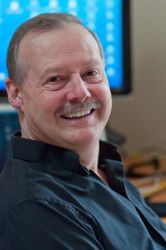 Roy Stevenson is a professional travel writer and the author of www.PitchTravelWrite.com.  Over the past ten years, he's had more than 1000 articles published in 200 magazines, trade and specialty journals, in-flights, on-boards, blogs and websites and has traveled on assignment around the U.S. and to dozens of international destinations.

IF YOU ENJOYED THIS POST, GET UPDATES.  IT'S FREE.

---
IF YOU ENJOYED THIS POST, GET UPDATES.  IT'S FREE.