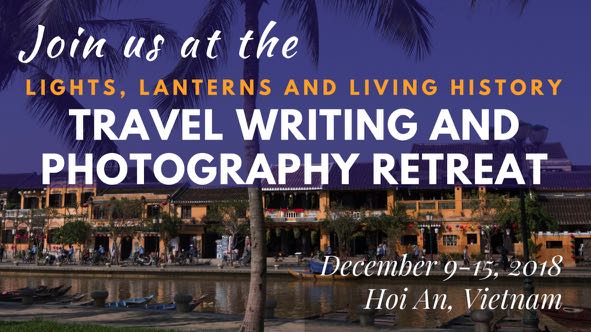 What Are Your Business Policies?

Travel Writers and Press Trips
By Roy Stevenson
Establishing business policies is important for professional freelance writers who want to earn an income from their writing.

  Travel writers need one policy that's unique to this genre, and it answers this question:
How do you decide if it's worth your time to go on a press trip?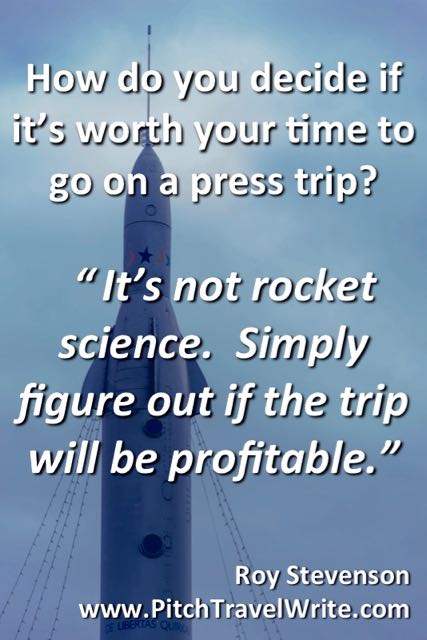 Here's what I mean.  I get invited on an average of one or two press trips each week.  I'd love to go on them all, and for a while, I did!  It's really difficult to turn down a press trip.
But press trips take up your time and energy.  You don't get any work done while you're away.   Without a business policy, it's unclear when to accept an offer and when to stay home.
Here are four common scenarios that happen to most travel writers.  Each scenario is meant to give you something to think about and decide how you want to handle it.  There isn't a right or wrong answer.  The answer depends upon your goals and your own policies:

Scenario 1.  Vacation First - Story Later

Frequently I hear from writers who are planning a vacation.  They want to know if they can request comps, even though they don't have an assignment.

Just last week I received this email from a writer:   "I'm going on vacation in two weeks and think I might be able to write a story about the place I'm going.  Can I ask for comps even if I don't have an assignment?"

My stock answer is that you should have an assignment before you request comps.  Plan your vacation well in advance of the trip, pitch your stories and get some assignments.  Then contact the CVB/DMO and ask if they can assist you.

But what happens when you're already on vacation and it occurs to you that you can write a story about the place?

That's happened to me.  Sometimes I run across an interesting attraction and think "I could write a story about this."

  When that happens, you have a decision to make.  You can pay your own way into the attraction and try and sell a story later.

Or, you can introduce yourself and ask for complimentary entry into the attraction.  You usually have to talk with a manager, explain who you are and give them you press credentials.  You need to be prepared and bring along your business cards with your website address so they can check you out on the spot. 
A few years ago we were on vacation in Arizona and we ran across some tourist attractions that I thought I could write about.  Since it was unplanned, I talked my way into the attractions in exchange for a potential story, by introducing myself, showing my credentials, and requesting complimentary entry.
After the trip I produced articles about the attractions.  This approach works well for unplanned activities.
Another time my wife planned a hiking trip in New Zealand where we stayed at boutique hotels and resorts each night.  It was a vacation and she paid for the trip.  It wasn't until we were on the trip that I began to fully understand the story potential. 
As we stopped at each resort, I introduced myself as a travel writer and we received some complimentary meals and drinks.  I talked with hotel owners and managers about the stories I planned to write.  We vacationed first, and I worked on the stories later. 

When I got home I produced a nice article about the hiking experience, including the lodges and restaurants. 


You can use this approach when you genuinely intend to write a story in exchange for comps.   But, please don't use this approach if you don't intend to deliver on your promise - that's not ethical and it ruins things for other travel writers who come after you.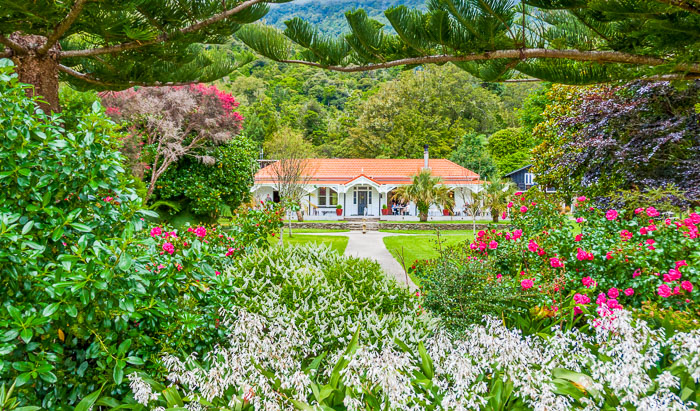 First stop on our New Zealand hike, Furneaux Lodge - a beautiful setting with luxury cabins. What a way to end our first day of hiking!
Scenario 2.  Low-Cost Self-Guided Press Trip
Another writer emailed and said, "I have an assignment and contacted the CVB.  They said they can help with some of my costs, but I will have to cover some meals and my own transportation.  What should I do?"

The tourist office, or CVB/DMO has their own budget constraints to work within.  Depending upon the strength of your assignments and their budget, they sometimes can only help with a portion of your costs but cannot pay for everything. 


In a typical scenario, your lodging, entry into tourist attractions, and some meals might be covered.  It's up to you to pay for transportation, and any meals or other expenses that aren't covered. 


Your business policies can guide you in deciding if it's worth taking the trip.
For example, getting partial comps is a nice bonus in exchange for an article if you're planning to go on the trip anyway. 
It's also possible the stories you sell will cover your expenses, and leave you with a profit.
On the other hand, if its a place that's hard to get to, requires high cost airfare or overnight lodging at your expense, it might not be worthwhile to proceed. 


Make an estimate of your share of the expenses and weigh that against whether or not your article sales will cover those costs.  Then decide if the trip is worth it.

Scenario 3.
All Expenses Are Paid After You Arrive
"I've been invited on a press trip in Costa Rica, but I'm responsible for paying my airfare.  I don't have an assignment.  Should I go? " asked another travel writer.

Sometimes press trips are offered with all expenses paid - once you get there.  You are responsible for paying your transportation costs to and from the destination.

Last year I was considering a press trip to the Galapagos Islands.  It included two weeks of exploring the islands on a small tour, all expenses paid.  After a quick check into the price of round-trip airfare, and a comparison with what my outlets pay for a story, I declined the trip.  I couldn't justify two weeks away from my desk for an unprofitable trip.

If your policy is "no press trips unless all expenses are covered", the answer is even easier.  You will decline these trips.

But, as they say, every rule is meant to be broken.  Is this the trip of your dreams - one you could never afford if you had to pay for it?  Then picking up the tab for airfare can be worth it - for you.

There are a lot of variables - and questions only you can answer.  Look carefully at each opportunity before making your final decision.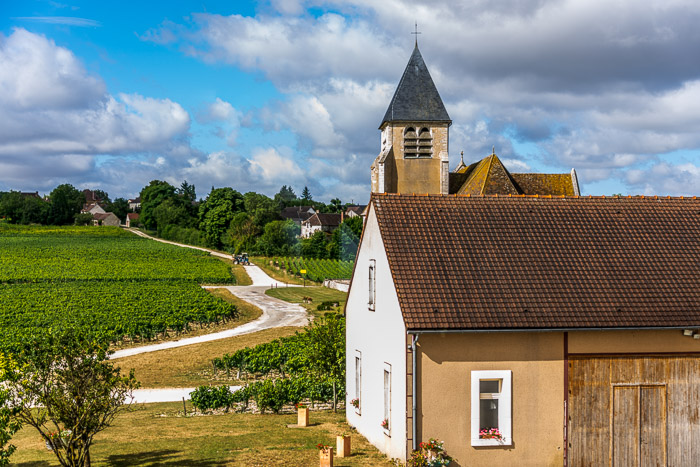 A day trip on our luxury barge cruise included enjoying wine tasting and the scenery at Jean-Marc Brocard Estate in Chablis, France.
Scenario 4.  Everything Is Covered
Another travel writer recently emailed this question:  "I'm invited on a week-long cruise - all expenses paid!  I don't have an assignment, but the DMO wants to know which print magazine I'm likely to get an article published in when I get home.  Can you help?"
I know this scenario sounds like a slam-dunk.  Of course you'll go on the trip if everything is covered.


But is that wise?  Not necessarily.

First of all, do you have an outlet for your article that will accept your story?  If yes, then contact the editor today and get your assignment confirmed.  Otherwise, start pitching lots of magazines and try rounding up an assignment before you commit to the trip.

I never recommend making promises you can't keep.  If you aren't able to sell the story before your trip, it's unlikely you'll sell it after the trip is over.


Having all the expenses covered only means that you won't be paying your travel expenses.  It's still up to you to get paid for your time by selling articles.

 
Sure, it's great to be able to do your research on someone else's dime, but that doesn't translate into money coming into your bank account.  It only translates into a free trip.


If your goal is to make money with your writing, you need to sell stories about your destination.  You can use a simple formula to establish what you need to earn to make the trip worthwhile.  I'll show you an example of how I do it in the last section of this article.

Why You Need Business Policies for Press Trips

If you're a professional freelance travel writer, the only way you get paid for your time is to sell your articles. 
Even if the press trip covers all your expenses, you don't get paid for your time while you're on the road.   From a business perspective, this means a "free trip" still costs you money.  


The freelance writing life is different from being an employee.  As an employee, if you go on a business trip you get paid for your time and expenses.  If you take vacation time as an employee, your vacation benefits pay for your time.  Either way, your time during the trip is paid.
That doesn't happen for freelance writers. 
As a freelancer, you are only paid for your time on the road when you sell your stories.  You need paying assignments to cover the time away from your desk.   Can you make money as a travel writer?  Read this article to find out.

Every time you take a press trip, you're giving up valuable time you could be using to sell and write stories - your way of producing income.  Sure, your time away can be considered research for your stories, but it comes at a high price if you're away for several days. 


Don't get me wrong - I love to travel, and it breaks my heart when I have to decline a press trip.  That's why I finally established business policies to help me navigate through the decision of deciding whether to accept a trip or decline the invitation. 


It's not rocket science.  Simply figure out if the trip will be profitable.  Here's how ...


I add up the anticipated income from my assignments and weigh it against the number of days I'll be on the press trip.  This tells me whether the press trip is worthwhile or not.  (More details on this later.)


Having business policies about press trips helps me bail when a PR company or DMO is pressuring me into joining their tour. 

Sometimes I can't think of any good story angles for my outlets, so my chances of getting anything published is slim to none.  But I also don't want to offend the DMO media reps,  I want to keep being invited on their press trips. 


When I'm looking for a polite way to decline an invitation, I simply refer to my business policy.  It lets me off the hook gracefully.  No one expects me to lose money by accepting a press trip invitation.
 

As you evolve into a well-published travel writer, you'll face this dilemma more frequently.  So even while you're getting established - read on to learn what's in store so you can handle it professionally.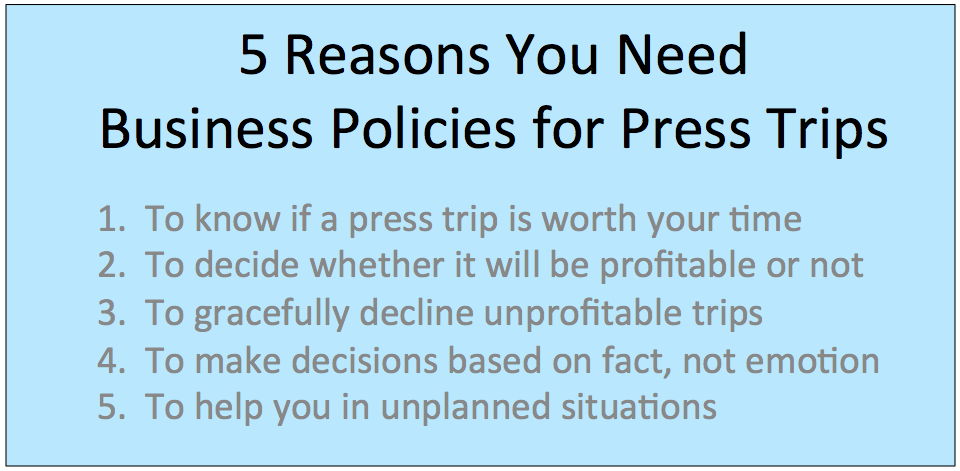 Many travel writers fall into the trap of taking business losses without realizing what's happening.  Press trip invitations look like a great thing - a mini-vacation, in fact.  But too many little vacations will set back your productivity more than you suspect.


With a business policy to help you decide whether or not to accept a press trip invitation, you'll be able to make a sound decision.  One based on objective data rather than your powerful emotions.  You know that emotion - the tremendous urge to say "Yes! I want to go there! It's a free trip!".


Some travel writers I know have one single business policy:  "I will only travel if 100% of my expenses are paid."  If you see things in black and white, then one policy may be all you need.


What's more common is dealing with the variety of offers that come your way.  If you like to stay open to opportunities, you will want to weigh each one depending on the situation.

What's My Business Policy for Press Trips?
My travel writing business policies have evolved as my writing as evolved.  In the beginning I was happy just to get free entry into attractions, or a clean bed in a cheap motel!

These days, I rarely accept a press trip or Fam tour invitation just because it 'sounds like fun'.  Let's face it - they all sound like fun! 

Now I always weigh up a trip against my paying assignments to see if it will be worth it.  I only go on press trips if all expenses are paid, and if I have a paid assignment.  Those are my two criteria. 

In fact, I prefer to round up several paid assignments for every trip, in advance of the trip.


Here's my simple formula:

I need to earn a minimum of $200 per day to consider going on a press trip.  This means for a 5-day trip, my pre-sold travel stories need to be worth a minimum of $1000, or I'll turn the trip down. 

This minimum requirement won't make me a wealthy man - but it gives me a guideline to follow when deciding whether or not it's worth giving up my time to tour a destination.


In order to meet my minimum requirement, I pre-sell stories and also pitch multiple stories for each trip.  As my assignments roll in, I can easily see whether I'll meet or exceed the minimum requirements.  


If I'm not able to pre-sell articles, I decline the trip.  After all, if I can't sell a story before the trip, chances are I'll have trouble selling it afterwards.

So that's my business policy.

Your business policies for press trips will be different than mine.  If you have other income to fund your travels you will make different decisions. 
For example, if you work a full time job, or have a working spouse, a trust fund, or a hefty pension, making money from your writing might not be so important.


But if you want to earn money with your travel writing, your business policies are important tools in your toolbox. 

Knowing when to spend your valuable time on a press trip, and when not to, leads to more money in your pocket in the long run. 


---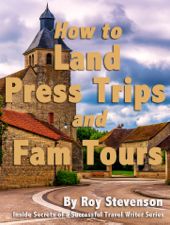 Special Report:
How to Land Press Trips and Fam Tours
I've written a guide about how to land press trips and fam tours.  It will tell you everything you want to know about how to get into the inner circle and get invited on regional, national and international press trips. 
---
Related articles that will interest you:
Business Policies for Travel Writers - Part 1
Pre-sell Your Travel Stories
Multiply Your Income with Multiple Stories
The Complete Guide to Query Letters for Travel Writers eBook
---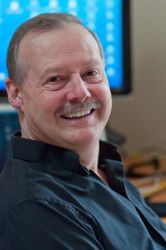 Roy Stevenson is a professional travel writer and the author of www.PitchTravelWrite.com.  Over the past ten years, he's had more than 1000 articles published in 200 magazines, trade and specialty journals, in-flights, on-boards, blogs and websites and has traveled on assignment around the U.S. and to dozens of international destinations.

---
IF YOU ENJOYED THIS POST, GET UPDATES.  IT'S FREE.

IF YOU ENJOYED THIS POST, GET UPDATES.  IT'S FREE.