Greetings Fellow Travel Writers and Bloggers!
. . . and WELCOME all new subscribers to The Best Travel Writing Newsletter, ANYWHERE!!
Thanks for joining us.


Editorial: When In Doubt About A Magazine – Pitch It!
I'm standing on the Buddha bridge at BaNa Hills in this photo. BaNa Hills is a popular tourist destination just a short drive outside of Danang.

We didn't visit this place until we had already been here for 2 years because we assumed it was too touristy and we wouldn't like it. We completely ignored the place.

Finally, based on a recommendation from some friends, we decided to visit. Still, we had low expectations and thought enjoying the place was a long shot.

But guess what? We loved it and had a fabulous day out.

Novice writers make a similar error. They overthink the magazines that might be interested in their story. More to the point, they make assumptions about which magazines might not be interested and they leave them off their list. They don't pitch the long shots.

Practically every novice writer does this and even some veteran writers do this, too. And it costs them published articles.

Sometimes I've added "long shot" magazines to my pitch list. When I pitched the story idea, I thought the editor wouldn't go for it. But I fired out the query anyway.

Guess what happened? Several times the editors of those "long shot" magazines replied they would love the story!

The ultimate irony is that some editors I was sure would go for my story idea didn't. The "sure thing" editors didn't pan out.

The fact is, you need to pitch every magazine on your list that is aimed at your story idea. You'll never know who is interested in your story. So, please - go ahead and send your query to every magazine on your list, even if you think it only has a remote chance.

Use your common sense, though.

For example, there's no point pitching a family budget travel story to a luxury travel magazine, or vice versa. And there's no point pitching a story about an inland destination to 'Islands' or 'Coastal Living' Magazines. You would target inland regional and state magazines instead. 

But if a magazine is a "maybe" - don't overthink it. Don't make assumptions. Go ahead and pitch it. It only takes a few minutes of your time. And the results might surprise you!
---
This Week's Featured Post
Ten Things About Me You Didn't Know
This post is meant to welcome our many new subscribers, give them a little background about me, and to take a break and publish something less serious. Here are 10 things about me that you probably don't know.

- Did you know that I'm a New Zealander, but I wasn't born there?

- Do you know what one of my serious obsessions is?

- Want to know how many countries I've visited?

- Are you wondering what my major was for my master's degree? (It's NOT journalism!)

- Did you know that I have a real life superpower?

You'll find the answers to these intriguing questions — and more — in this fascinating post.

READ THE ARTICLE


---
Upcoming Posts
September 30: Building a Professional Website For Travel Writers
October 7: Travel Writing Tips: Working with Editors
October 14: Recommended Facebook Travel Writing Sites


---
Pitch Travel Write: Most Requested Links about Query Letters

Are you struggling with the basic structure of your query letter? Here's a short, simple description of the main components.

Are you using the most effective type of query letter? This post covers the two main types of query letters and their advantages and disadvantages. Are you familiar with these strategies?

Are you making any of these mistakes? This post covers twelve common mistakes writers make with query letters and how to fix them.

I wrote a definitive guide on query letters. Everything you need to know to craft compelling query letters - and 20 real-life examples that got me plum paying assignments. You can create your own query letter templates from these examples and start using them immediately. The Complete Guide to Query Letters for Travel Writers


---
Inspirational Travel Quote
---
RESOURCES FOR TRAVEL WRITERS
Featured Books of the Month: The Beginner's 3-Pack for Travel Writers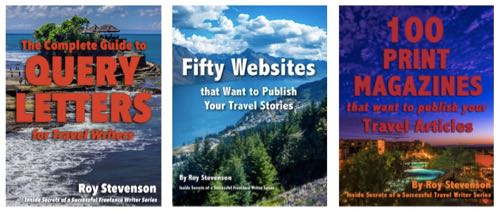 If you're just getting started in travel writing, try our Beginner's 3-Pack — the perfect way to kick-off your travel writing career. 

Buying the bundle gives you a discount off individual book prices and includes:

The Complete Guide to Query Letters 
Everything you need to know to craft compelling query letters - and 20 real-life examples you can start using immediately as templates.

50 Websites That Want to Publish Your Travel Stories 
If you want to establish your bylines quickly, getting published online is the fastest way to do it.  Here's a list of 50+ quality websites along with ten pages of advice about how to get published online. Save yourself hundreds of hours of research time using this list of websites each time you want to get one of your stories published.

100 Print Magazines That Want to Publish Your Travel Articles  
This gets you started with a list of 100 print magazines that publish travel articles from freelance writers.  It's the list I use to sell my travel articles. These lists will save you hours of time researching and creating lists yourself. They give you a foundation of sales leads you can use and build upon.


---
We'd like to say THANK YOU to all our subscribers and social media followers. Running the PitchTravelWrite site would not be possible without your support. Thank you for following us, reading our posts, and emailing questions, comments, and compliments.

We value you more than you can know. Our goal is to help you break into travel writing, get paid for it, and land some cool press trips and free travel.

So keep emailing us - we love hearing from you!
---
At Your Service
Coaching and Consulting
Travel Writing & Marketing Master Class
Travel Writing and Photography Retreat
Online Courses
Vietnam 1-1 Retreat & Consulting
Expat Consulting
email: pitchtravelwrite@gmail.com
If you know someone who will enjoy this newsletter,
please forward or sign up
---
Friend me on Facebook
My Facebook page is about freelance travel writing. I frequently post about:
• travel writing & blogging conferences,
• links to other well produced travel websites and blogs,
• links to my travel articles,
• travel writing themes,
• links to reputable travel writer's groups, associations, and newsletters,
• magazine covers stories and back stories,
• links to resources pages,
• links to travel writing archives,
• links to coaching and mentoring resources,
• and plenty of other useful information to get you up to speed.



Link to Roy's Personal Facebook page
---


That's all for this week.

Until next week, just keep pitching!

Roy

Roy Stevenson
Pitch Travel Write
www.pitchtravelwrite.com













---