Greetings Fellow Travel Writers and Bloggers!
. . . and WELCOME all new subscribers to The Best Travel Writing Newsletter, ANYWHERE!!
Thanks for joining us.


---
A Gastronomic & Travel Writing Tour De Force
December 8-14, 2019
There's more to our Travel Writing & Photography Retreat than learning how to take your travel writing to the next level. Here's a taste of what our attendees will enjoy.

Vietnamese food has gained popularity all over the world. And we've made sure that sampling Vietnam's varied and delicious dishes are a large part of this workshop. The Retreat is practically a foodie's tour of Vietnam. It's a culinary tour of Hoi An's most tasty dishes — and most of it is on us!

Methods of cooking range from simmering and boiling to frying and grilling. Ingredients include chili, coconut milk, lemon grass, limes, tamarind, cane sugar, noodles, mango, papaya, pickled carrots, cucumber, and garlic, and much more.

Meat dishes include meatballs, cold roast pork, pates, fish, chicken, and beef. But there's plenty for vegetarians, too. Vietnamese dishes are well-known for all their fresh vegetables and herbs, and there's plenty to choose from.

These are the culinary highlights INCLUDED in our Travel Writing & Photography Retreat:
• Meet & Greet with French-inspired Vietnamese tapas
• Opening Night Dinner at Miss Vy's Signature Restaurant
• Boat trip across the river to the Hoi An Market with market tour
• Miss Vy's Cooking Class. (You'll get to make some of the dishes described below.)
• Celebration Dinner at the Secret Garden
• Personalized coffee and tea service during the class sessions


The Hotel Royal Hoi An has a world class buffet breakfast. (It's 30 meters long, seriously!) And you can taste Vietnam's rich coffee blends at any of the dozens of Hoi An Cafes while you're out exploring. We think Vietnamese coffee is the best in the world.

Here are a few of our favorite Vietnamese dishes. If you join us at The Retreat you'll have the opportunity to try all of them and so many others:

Banh Mi (Roy's favorite!)
The Vietnamese equivalent of a "submarine" sandwich, these light and crusty baguettes are stuffed with a huge variety of fillings including ham, cold cuts, cheese, roast pork, pork belly, sausage, meatballs, fried eggs, pickled carrot and cucumber, cilantro, chili sauce, pate, and various gravies.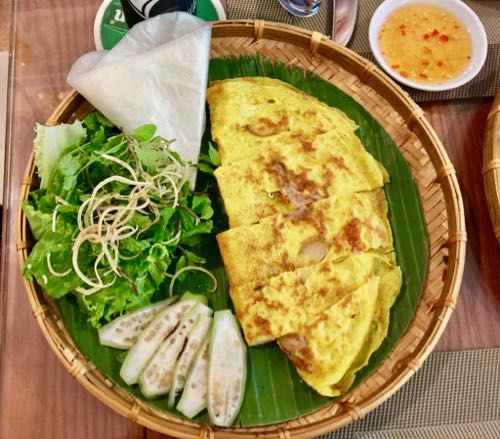 Banh Xeo (Roy's other favorite!)
These giant savory pancakes are crispy crepes bulging with pork, shrimp, and bean sprouts, plus a garnish of fresh herbs. Their name translates into "sizzling pancake" because they sizzle when they're being cooked.

Preparing your serving of Banh Xeo is half the fun. To eat these pancakes, you cut them into manageable slices, roll the slice up in rice paper along with lettuce leaves, herbs, pickled carrot and cucumbers, and then dip them in a sweet sauce that's served with the pancakes.

Bun Cha (Linda's favorite)
Grilled meat, tasty meatballs, spring rolls, rice vermicelli noodles, lettuce leaves, and herbs served with a slightly sweet, flavorful bowl of broth. You combine whatever ingredients strike your fancy and eat it like soup.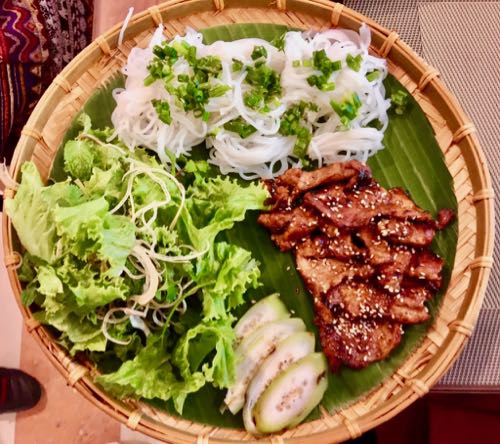 Goi Cuon
These are the famous "summer rolls" with shrimp, pork, herbs and vegetables, rolled in rice paper. Served cold with a peanut dipping sauce. They can also be served deep fried.

Pho (Rice Noodle Soup)
This classic Vietnamese street food is a soup with chewy rice noodles, herbs, and tender slice of chicken or beef tenderloin or brisket in a hot savory broth. It's topped with crunchy or spicy herbs, Vietnamese basil, mint leaves, lime, and bean sprouts, as a garnish.

Che (Vietnamese Sweet Dessert) These sweet dessert drinks are served in cups or soup bowls; a mix of coconut milk, sweetened beans, glutinous rice, colorful jellies, dried jackfruit, and many other sweet dried fruits.


Attend our Travel Writing & Photography Retreat in Hoi An, and experience Vietnam's unique and delicious cuisine.

This is your last chance to sample the real thing and enjoy it with a group of like-minded people, in a fun & dynamic setting.

HURRY! REGISTRATION ENDS TONIGHT AT MIDNIGHT, SEPTEMBER 9TH: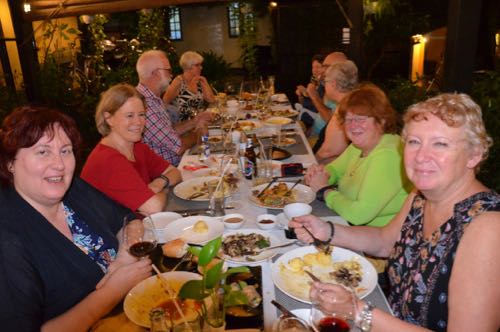 ---
"We loved every minute of this workshop! For those of you who are on the fence, you will thoroughly enjoy the workshop, the excursions, the dinners with the group and the friends you will make. Wish we could be there again this year!" Pam Baker, 2018 Hoi An Retreat Attendee
---

"This is an investment worth making! Roy & Linda are a great teaching team. Roy's method is like no other & with commitment to the steps, it works. Hoi An is knockout charming. I loved every minute, every raindrop, every mouthful of local cuisine & every morsel of education! Do not miss this!" Janet De Acevedo Macdonald, 2018 Hoi An Retreat Attendee
---
Read more testimonials and register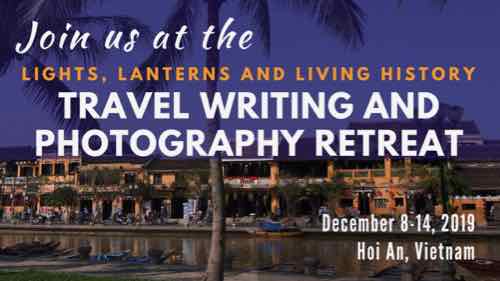 ---
This Week's Featured Post
Trip Planning For Travel Writers
Rigorous trip planning is an important part of any major trip or international journey. Travel writers need to be well prepared to get the most out of them.

Since travel writing is a business, you need to make sure you're planning the trip with your assignments in mind. If you just "wing it", you'll likely make some bad decisions and take a hit in your wallet.

To thoroughly plan your international trip or any major domestic trip, here are seven things you need to do - do you know what they are?

READ THE ARTICLE


---
Upcoming Posts
September 16: Top Ten Travel Safety Tips For Travel Writers
September 23: Ten Things About Me That You Didn't Know
September 30: Building a Professional Website For Travel Writers


---
Pitch Travel Write: Most Requested Links Creating Your Magazine Lists

I get requests from travel writers every week asking me to help them prepare magazine lists where they can send their queries.

I'm not surprised that so many travel writers contact me with this request. I get it. Searching for target magazines is perceived as an onerous clerical task and can take many hours. Yet, it's an indispensable step in getting your freelance articles published.

After all, if you can't find magazines to pitch, you're not going to get your stories published.

There are some things you can do to enhance your magazine researching skills. The following articles cover the nuts-and-bolts of creating distribution lists.

How to build your magazine distribution lists shows you—step-by-step—how to create your magazine lists, and where to look for them.

Where to Pitch Travel Stories covers the basic approach to building distribution lists.

Finding Travel Magazine Sales Leads on Vendor Websites shows a little known place to find magazines.

Here's what I use to find new magazine leads:
Finding Magazine Leads: The 6 Best Print References on the Market Today

If you're looking for easy, here's a solution: Magazine Sales Leads to Create Fast and Easy Lists

To help novice travel writers expand their distribution list, I've published a reference guide to help you, 100 Print Magazines That Want to Publish Your Travel Articles
---
Inspirational Travel Quote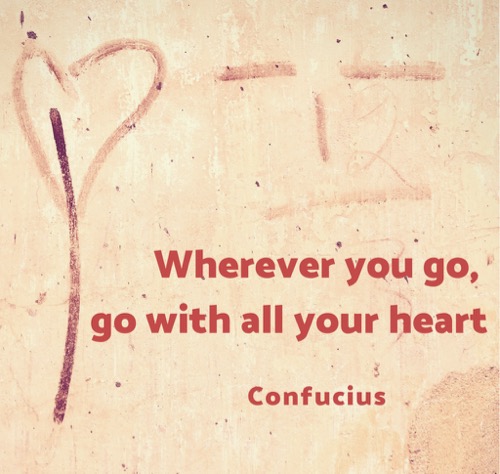 ---
RESOURCES FOR TRAVEL WRITERS
Featured Book of the Month: The Art & Craft of Travel Writing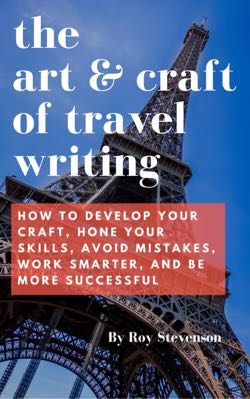 The Art & Craft of Travel Writing will help your develop your craft, hone your skills, avoid mistakes, work smarter, and be more successful. It's a handy reference guide to have at your fingertips when you're writing your travel stories to make them shine.

What's in our 21-chapter, 152-page book? The Art & Craft of Travel Writing has 5 sections:
1. The Craft of Travel Writing
2. Things That Go Wrong in Travel Writing
3. Keys to Success in Travel Writing
4. Working Smarter
5. Goal Setting for Your Travel Writing


Here are some of the chapters . . .
- Creating a Sense of Place and Ambiance
- Turning Your Destination into a Compelling Read
- How to Write Like a Seasoned Professional
- Five Travel Writing Blunders and How to Avoid Them
- Why Some Travel Writers Have More Success
- How to Plug into the Travel Writing Community
- Seven Ways to Take Control of Your Writing Time
- Set Up Systems to Create More Writing Time


This book will help you hone your travel writing skills and get more stories published. We'll show you how to allocate your writing time for maximum efficiency, and exactly what you need to do to break into the competitive travel writing market.

---
We'd like to say THANK YOU to all our subscribers and social media followers. Running the PitchTravelWrite site would not be possible without your support. Thank you for following us, reading our posts, and emailing questions, comments, and compliments.

We value you more than you can know. Our goal is to help you break into travel writing, get paid for it, and land some cool press trips and free travel.

So keep emailing us - we love hearing from you!
---
At Your Service
Coaching and Consulting
Travel Writing Workshops
Travel Writing Retreats
Online Courses
Vietnam 1-1 Retreat & Consulting
Expat Consulting
email: pitchtravelwrite@gmail.com
If you know someone who will enjoy this newsletter,
please forward or sign up
---
Friend me on Facebook
My Facebook page is about freelance travel writing. I frequently post about:
• travel writing & blogging conferences,
• links to other well produced travel websites and blogs,
• links to my travel articles,
• travel writing themes,
• links to reputable travel writer's groups, associations, and newsletters,
• magazine covers stories and back stories,
• links to resources pages,
• links to travel writing archives,
• links to coaching and mentoring resources,
• and plenty of other useful information to get you up to speed.



Link to Roy's Personal Facebook page
---


That's all for this week.

Until next week, just keep pitching!

Roy

Roy Stevenson
Pitch Travel Write
www.pitchtravelwrite.com













---