Greetings Fellow Travel Writers and Bloggers!
. . . and WELCOME all new subscribers to The Best Travel Writing Newsletter, ANYWHERE!!
Thanks for joining us.


Editorial: Experiment With & Create Your Own Sales System
For my first couple of years in travel writing I was pitching and writing several articles each week for print magazines. I was not yet mixing in travel writing circles at conferences and press trips, so I had no basis of comparison to know whether I was being successful or not.

During my third year of freelancing, I attended a travel writing conference in the Pacific Northwest. At the conference a veteran travel writer on a panel was boasting, very proudly, that she had been published in 100 magazines, over her 20 year writing career.

"What's the big deal about that? It only took me 25 months to get published in 100 magazines," I thought to myself.

When I shared this thought with the 5 people at my table, one of the guys said, "Bull—t". The rest of them stared at me like I was from Mars.

So, I showed them my long list of published articles and bylines on my computer. Up until then, I had thought that everyone was selling one, two, three, or even four articles every week like me.

Then everyone at my table started asking me how I had managed to get published so much. And it occurred to me for the first time that what I was doing was quite noteworthy.

The second "aha" moment was when I purchased a book on breaking into travel writing. The author, a successful travel writer, had been writing for one year longer than me and had 78 magazine bylines to her name.

I'd been writing for one year less than her and had 650 bylines to my name.

A quick calculation told me she only had 8% of the number of published articles that I had, yet she was still considered successful.

Again, that tipped me off that I was doing something right.

I realized I had evolved a sales & marketing system that worked better than either of these two writers. I'd taken a bunch of sales techniques and reworked them into a logical sequence that made sense to me and reaped great rewards.

That's what I write about on PitchTravelWrite.com. It's a place where you can find lots of free content and learn my process about how to get published more prolifically.

But here's the moral of the story:

Never be afraid to experiment with your own sales ideas. Don't believe that there's only one way to succeed. While you're learning, copy what other successful freelance writers are doing until you come up with your own system.

Tweak traditional sales techniques and other people's systems. Evolve a system of your own that works consistently for you.
---
This Week's Featured Post
Travel Writing Tips: Working with Editors Successfully
This post addresses eight questions writers have asked about working with editors. Here are a few:



- How long should I wait to hear back from an editor?
- Who do I contact for letters of assignment?
- Should I negotiate pay with magazine editors?
- What if my bylines are nothing to brag about?



Here are my answers to these questions to help you work more successfully with editors.

Read the article for all eight questions and my answers …

READ THE ARTICLE


---
Upcoming Posts
October 14: Recommended Facebook Travel Writing Sites
October 21: Highly Effective Self Promotions: Gathering Testimonials from Magazine Editors & CVBs
October 28: The Travel Writer's Resource List


---
Pitch Travel Write: Most Requested Links about Query Letters

Are you struggling with the basic structure of your query letter? Here's a short, simple description of the main components.

Are you using the most effective type of query letter? This post covers the two main types of query letters and their advantages and disadvantages. Are you familiar with these strategies?

Are you making any of these mistakes? This post covers twelve common mistakes writers make with query letters and how to fix them.

I wrote a definitive guide on query letters. Everything you need to know to craft compelling query letters - and 20 real-life examples that got me plum paying assignments. You can create your own query letter templates from these examples and start using them immediately. The Complete Guide to Query Letters for Travel Writers


---
Inspirational Travel Quote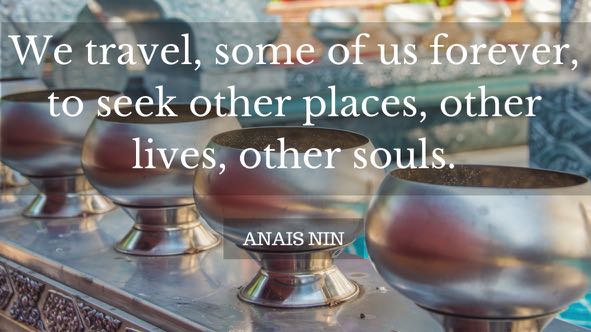 ---
RESOURCES FOR TRAVEL WRITERS
Featured Books of the Month: The Beginner's 3-Pack for Travel Writers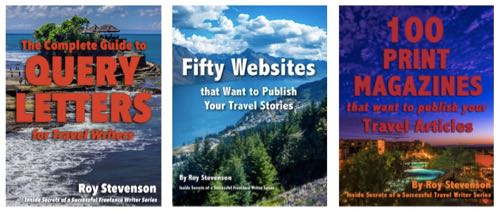 If you're just getting started in travel writing, try our Beginner's 3-Pack — the perfect way to kick-off your travel writing career. 

Buying the bundle gives you a discount off individual book prices and includes:

The Complete Guide to Query Letters 
Everything you need to know to craft compelling query letters - and 20 real-life examples you can start using immediately as templates.

50 Websites That Want to Publish Your Travel Stories 
If you want to establish your bylines quickly, getting published online is the fastest way to do it.  Here's a list of 50+ quality websites along with ten pages of advice about how to get published online. Save yourself hundreds of hours of research time using this list of websites each time you want to get one of your stories published.

100 Print Magazines That Want to Publish Your Travel Articles  
This gets you started with a list of 100 print magazines that publish travel articles from freelance writers.  It's the list I use to sell my travel articles. These lists will save you hours of time researching and creating lists yourself. They give you a foundation of sales leads you can use and build upon.


---
We'd like to say THANK YOU to all our subscribers and social media followers. Running the PitchTravelWrite site would not be possible without your support. Thank you for following us, reading our posts, and emailing questions, comments, and compliments.

We value you more than you can know. Our goal is to help you break into travel writing, get paid for it, and land some cool press trips and free travel.

So keep emailing us - we love hearing from you!
---
At Your Service
Coaching and Consulting
Travel Writing & Marketing Master Class
Travel Writing and Photography Retreat
Online Courses
Vietnam 1-1 Retreat & Consulting
Expat Consulting
email: pitchtravelwrite@gmail.com
If you know someone who will enjoy this newsletter,
please forward or sign up
---
Friend me on Facebook
My Facebook page is about freelance travel writing. I frequently post about:
• travel writing & blogging conferences,
• links to other well produced travel websites and blogs,
• links to my travel articles,
• travel writing themes,
• links to reputable travel writer's groups, associations, and newsletters,
• magazine covers stories and back stories,
• links to resources pages,
• links to travel writing archives,
• links to coaching and mentoring resources,
• and plenty of other useful information to get you up to speed.



Link to Roy's Personal Facebook page
---


That's all for this week.

Until next week, just keep pitching!

Roy

Roy Stevenson
Pitch Travel Write
www.pitchtravelwrite.com













---