Greetings Fellow Travel Writers and Bloggers!
. . . and WELCOME all new subscribers to The Best Travel Writing Newsletter, ANYWHERE!!
Thanks for joining us.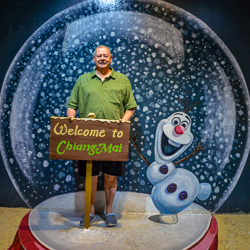 We've just returned from a week in Chiang Mai, Thailand. We were there on a "visa run" and stayed a week to visit friends and to see what has changed.

Many of you know we lived in Chiang Mai when we first moved to SE Asia. We thoroughly enjoyed living in this thriving rural tourist town. When we were there, from mid-2016 to early-2017, it absolutely buzzed with digital nomads, expats, tourists, and backpackers. Chiang Mai was even proclaimed as the Digital Nomad Capital of the World.

I would attend the Chiang Mai Digital Nomad Group meetings on Friday afternoons to pick up tips from the guest speakers. (Digital Nomads are people who travel while they derive their income from the internet.) There would be 60-80 enthusiastic people of all ages, looking to start their own online businesses.

On Sunday afternoons I'd meet with 20-30 writers at another local coffee shop. The Chiang Mai Writer's Group lined up guest speakers to present on various aspects of writing.

Both groups held meetings that were the equivalent of university crash courses. I walked away with valuable tips about running an internet business and how to improve my writing. They were stimulating times!

Our recent visit was different. We noticed a considerable exodus from this town. And we were weirded out by the quiet streets. There were significantly fewer digital nomads, tourists, expats, and backpackers. Coffee shops were quiet, not jam-packed with travelers.

We heard they had tightened up on Thai visas, but we didn't believe it until we saw the result. The digital nomad and writer's group meetings that were so popular a few years ago now are sparsely attended. It seems the digital nomad and backpacker's groups have moved on and dispersed across the globe. I'm so glad I was part of these groups when they were booming.

Is Chiang Mai still worth visiting? It absolutely is! There are plenty of tourist activities and temples to visit, enough to keep you busy for several days. Although we had already done most of the tourist stuff, there were some places we still needed to see on this visit.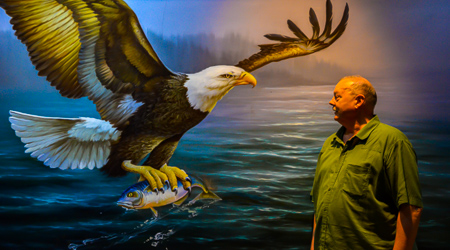 One attraction on our list was Art In Paradise, a huge gallery of interactive 3D art. Some tourists think these galleries are lame, but I love them. You get to release your inner child, be part of a snow globe scene, talk to an eagle about the environment, and have lots of fun becoming part of the scene. No doubt you'll see some of our photos in future posts!
We also went to hell and back, literally. The Wat Mae Kaet Noi Temple garden, contains two shady acres of hell. Yes, that hell. And it's only a half-hour drive out of Chiang Mai.

I'd wanted to visit this offbeat tourist attraction when we lived in Chiang Mai, but never got around to it. I kept thinking, this place would make a great story! And, eventually I will sell a piece about the temple. Hell Recreated is a great story angle.

So I was hell bent on touring this weird temple, and I talked my wife into going along for the ride.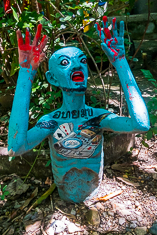 It was created by a Buddhist Abbott named Clean Teacher Monk (I did not make this name up). The good monk saw fit to create life size sculptures of what happens to sinners of all stripes. Very graphic visions – things I can't post on Facebook. It's an in-your-face version of hell that will promptly make you get right with your god.
I sure as hell thought it an accurate depiction of hell, although I have yet to visit the real thing. No punches pulled here. In short, we had a hell of a time visiting this place. It did not disappoint me, but my wife might not agree.
---
Travel Writing & Photography Retreat
Two spaces have opened up in our Travel Writing & Photography Retreat, December 8-14.

Two attendees have withdrawn due to family/medical reasons. So we now have space for 2 more people.

If you're interested, send us an email at: pitchtravelwrite@gmail.com and we'll get you signed up.


---
This Week's Featured Post
The Ultimate Travel Writer's Website Resource List
In my thirteen years as a travel writer I've checked out many online resources for travel writers. Although I've abandoned some, outgrown some, and others have fallen by the wayside, I still refer to many websites to keep up with the industry.

Our updated 2020 website resource list is worth browsing for travel information, story ideas, networking, and fun.

You'll find 3 websites to provide you with offbeat, unique, and downright weird travel destinations and attractions; an expert on all things aviation; a source of marvelous travel writing; a free travel writer's membership group; a networking website; 2 travel copywriter's websites; a website for a group that hosts a great linkup between writers and top flight travel magazines, and other juicy travel writing intel.

Access the List


---
Upcoming Posts
November 4: Travel Writing Tips: A Letter To Myself Back In Time
November 11: How Travel Photographs Will Help You Sell More Stories
 & Our Latest Recommendations for the Best Travel Cameras
November 18: Twitter and Travel Writing


---
Pitch Travel Write: Most Requested Links about Improving Your Travel Writing

Our readers want to experience the place and meet the locals when they read our stories. Here's how to write travel stories that plant you smack dab in the middle of the action and help your readers feel as if they're in the place with you. The Art of the Travel Story: Turn Your Destination into a Compelling Read

Here are four highly recommended books that will help you improve your creative non-fiction writing. How to Improve Your Writing - 4 Books that Will Help You

Try these seven techniques to polish your articles, improve your writing style, and make your readers - and editors - keep coming back for more: 7 Ways to Improve Your Writing Style

We thrilled to release our seventh book, The Art & Craft of Travel Writing: How to Develop Your Craft, Hone Your Skills, Avoid Mistakes, Work Smarter, and Be More Successful


---
Inspirational Travel Quote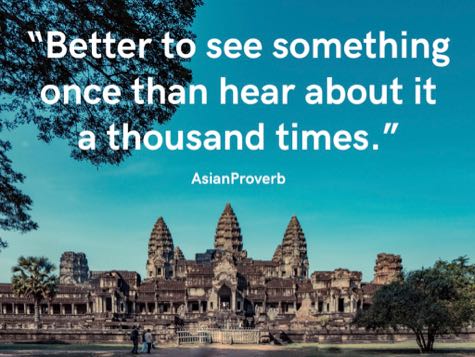 ---
RESOURCES FOR TRAVEL WRITERS
Featured Books of the Month: Advanced Travel Writer's Two-Pack Reference Guides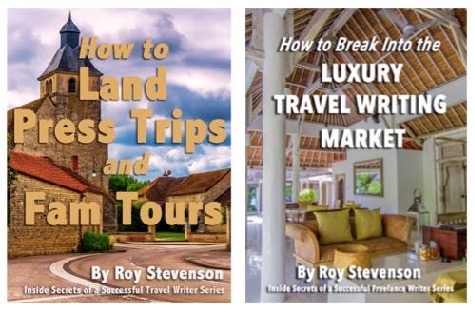 Take your travel writing career up a few notches with our advanced reference guides and get a big discount!

In How to Land Press Trips and Fam Tours you'll learn about how to use your assignments to request free and low-cost travel.  You'll also get all the resources successful travel writers have at their fingertips to network with the right people and have DMOs clamoring to invite you to visit their region.

If luxury is your preferred style of travel, How to Break into the Luxury Travel Writing Market will help you move quickly into this market.  And it gives you a ready-made list of magazines and websites interested in publishing luxury articles.

When you purchase both these books together, you automatically save 10% on each book.


---
We'd like to say THANK YOU to all our subscribers and social media followers. Running the PitchTravelWrite site would not be possible without your support. Thank you for following us, reading our posts, and emailing questions, comments, and compliments.

We value you more than you can know. Our goal is to help you break into travel writing, get paid for it, and land some cool press trips and free travel.

So keep emailing us - we love hearing from you!
---
At Your Service
Coaching and Consulting
Travel Writing & Marketing Master Class
Travel Writing and Photography Retreat
Online Courses
Vietnam 1-1 Retreat & Consulting
Expat Consulting
email: pitchtravelwrite@gmail.com
If you know someone who will enjoy this newsletter,
please forward or sign up
---
Friend me on Facebook
My Facebook page is about freelance travel writing. I frequently post about:
• travel writing & blogging conferences,
• links to other well produced travel websites and blogs,
• links to my travel articles,
• travel writing themes,
• links to reputable travel writer's groups, associations, and newsletters,
• magazine covers stories and back stories,
• links to resources pages,
• links to travel writing archives,
• links to coaching and mentoring resources,
• and plenty of other useful information to get you up to speed.



Link to Roy's Personal Facebook page
---


That's all for this week.

Until next week, just keep pitching!

Roy

Roy Stevenson
Pitch Travel Write
www.pitchtravelwrite.com













---