Greetings Fellow Travel Writers and Bloggers!
. . . and WELCOME all new subscribers to The Best Travel Writing Newsletter, ANYWHERE!!
Thanks for joining us.


Editorial: Dealing with Magazines That Don't Pay For Your Work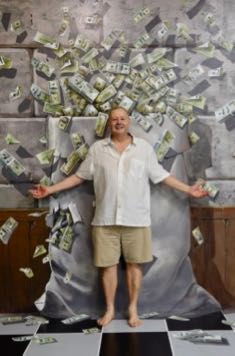 In my first couple of years in the freelance writing game, I would occasionally discover magazines that did not pay their contributors. This surprised me at the time.

These editors rely upon the novice writer's gullibility, or play on their desire to get published, using phrases like "it will increase your exposure as a writer" to get them to donate an article.

Sometimes I decided to play their game - I would donate a story if it suited me. I wanted to build my bylines. So I had one story published in each non-paying magazine.

Of my first 100 published articles, 34 were written for free. This helped me build my bylines rapidly. Then, as I moved up the travel writing totem pole, I stopped donating my stories.

If you encounter a magazine that doesn't pay, you'll need to decide about whether or not you want to "donate" an article for the byline, or simply move on. This decision depends largely on where you are in your progression as a writer, and your own business philosophy.

Seasoned writers typically ignore magazines that do not pay. We target the ones that pay top dollar. Beginners don't usually have the luxury of getting published in top dollar magazines, but most magazines do pay their writers, however modest. Whether or not to write an article for free is a decision you'll have to make for yourself.

Here's a link to a more in-depth article about writing for free and when you might consider doing it. And, because this is always a hot topic, I wrote some guidelines for travel writers and writing for free.
---
This Week's Featured Post
Highly Effective Self Promotions: How to Gather Testimonials from Editors & CVBs
I often look at other travel writer's websites to get ideas on how to improve my writer's website. And, I'm constantly amazed at how my peers undersell themselves and their talents. 

It's understandable that people have trouble self-promoting - and it's a common problem with introverted writers. 

But, there's an easy and highly effective technique you can use to promote yourself and your writing. It will help you get assignments and pave the way for travel assistance on self-guided press trips.

What's the technique? Let someone else promote you!   Here's how I collect testimonials from editors and Convention & Visitors' Bureaus (CVBs), and then publish them on my writer's website. Follow these same steps to collect your testimonials, enhance your website, and let other people promote you and your writing …

READ THE ARTICLE


---
Upcoming Posts
October 28: The Travel Writer's Resource List
November 4: Travel Writing Tips: A Letter To Myself Back In Time
November 11: How Travel Photographs Will Help You Sell More Stories
 & Our Latest Recommendations for the Best Travel Cameras


---
Pitch Travel Write: Most Requested Links about Improving Your Travel Writing

Our readers want to experience the place and meet the locals when they read our stories. Here's how to write travel stories that plant you smack dab in the middle of the action and help your readers feel as if they're in the place with you. The Art of the Travel Story: Turn Your Destination into a Compelling Read

Here are four highly recommended books that will help you improve your creative non-fiction writing. How to Improve Your Writing - 4 Books that Will Help You

Try these seven techniques to polish your articles, improve your writing style, and make your readers - and editors - keep coming back for more: 7 Ways to Improve Your Writing Style

We thrilled to release our seventh book, The Art & Craft of Travel Writing: How to Develop Your Craft, Hone Your Skills, Avoid Mistakes, Work Smarter, and Be More Successful


---
Inspirational Travel Quote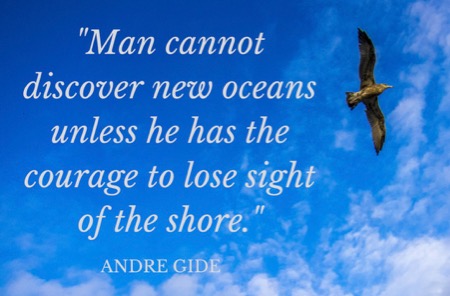 ---
RESOURCES FOR TRAVEL WRITERS
Featured Books of the Month: Advanced Travel Writer's Two-Pack Reference Guides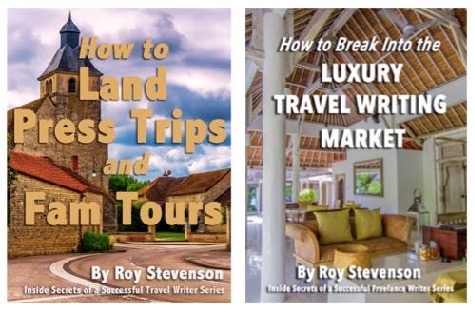 Take your travel writing career up a few notches with our advanced reference guides and get a big discount!

In How to Land Press Trips and Fam Tours you'll learn about how to use your assignments to request free and low-cost travel.  You'll also get all the resources successful travel writers have at their fingertips to network with the right people and have DMOs clamoring to invite you to visit their region.

If luxury is your preferred style of travel, How to Break into the Luxury Travel Writing Market will help you move quickly into this market.  And it gives you a ready-made list of magazines and websites interested in publishing luxury articles.

When you purchase both these books together, you automatically save 10% on each book.


---
We'd like to say THANK YOU to all our subscribers and social media followers. Running the PitchTravelWrite site would not be possible without your support. Thank you for following us, reading our posts, and emailing questions, comments, and compliments.

We value you more than you can know. Our goal is to help you break into travel writing, get paid for it, and land some cool press trips and free travel.

So keep emailing us - we love hearing from you!
---
At Your Service
Coaching and Consulting
Travel Writing & Marketing Master Class
Travel Writing and Photography Retreat
Online Courses
Vietnam 1-1 Retreat & Consulting
Expat Consulting
email: pitchtravelwrite@gmail.com
If you know someone who will enjoy this newsletter,
please forward or sign up
---
Friend me on Facebook
My Facebook page is about freelance travel writing. I frequently post about:
• travel writing & blogging conferences,
• links to other well produced travel websites and blogs,
• links to my travel articles,
• travel writing themes,
• links to reputable travel writer's groups, associations, and newsletters,
• magazine covers stories and back stories,
• links to resources pages,
• links to travel writing archives,
• links to coaching and mentoring resources,
• and plenty of other useful information to get you up to speed.



Link to Roy's Personal Facebook page
---


That's all for this week.

Until next week, just keep pitching!

Roy

Roy Stevenson
Pitch Travel Write
www.pitchtravelwrite.com













---