Greetings Fellow Travel Writers and Bloggers!
. . . and WELCOME all new subscribers to The Best Travel Writing Newsletter, ANYWHERE!!
Thanks for joining us.


Editorial: Can You Make a Living from Travel Writing?
Here's an email question I received. I get asked some version of this question all the time:

"I've been told I could never sustain a living by writing solely for travel magazines or guidebooks. Can you actually earn enough from writing for magazines to have a financially independent life? What's your opinion?"

This is a valid question that provokes evasive answers from travel writers, depending on where they lie along the travel writing continuum. Travel writing has so much hype and glamour attached, it's hard for a novice to decipher "the truth".

I don't know what constitutes a "financially independent life" for the writer who asked this question, but here's my short answer to the question: You would have to be an exceptional travel writer to support yourself solely by writing for print magazines or travel guidebooks.

Almost without exception, today's leading travel writers do not subsist solely by writing travel articles for magazines. I know plenty of professionals who support themselves through travel writing and other travel-related or writing activities. They have several streams of income.

A year or so ago I was curious to find out the real fiscal truth lurking behind the alluring travel writing façade. I conducted in-depth interviews with ten elite travel writers from the U.S., England, and New Zealand. My goal was to see how they get their work published in top shelf magazines. And I wanted to understand how they earn a livable income.

These elite writer's bylines would make us drool. Between them, they've been published in practically every top shelf publication worth shaking a stick at including National Geographic Traveler, National Geographic Adventure, AFAR, BBC Travel, Lonely Planet, Condé Nast Traveler, American Express, Robb Report, Business Jet Traveler, Cowboys & Indians, Gourmet, Wine Spectator, Outside, New York Times, LA Times, Wall Street Journal, Washington Post, San Francisco Chronicle, New Zealand Herald, Newsweek, Frommer's, Forbes, Cosmopolitan, plus dozens of in-flights like American Way, Hemispheres, Delta Sky, Open Skies, Kia Ora, and numerous other classic travel glossies.

Every travel writer I interviewed was different in terms of their income needs and sources. Some were full time writers, but not full time travel writers.

Almost all the elite travel writers profiled in my Rock Star Travel Writers book derive their incomes from several additional activities like editing, copywriting, photography, consulting, mentoring, teaching, speaking engagements, advertising, even as travel guides and travel agents. (You can find the full interviews and results published in my book, Rock Star Travel Writers.

So, if it's so difficult to earn a primary income from travel writing, why do so many people do it? It turns out that travel writers pursue their occupation for a variety of reasons:

• Many travel writers are supported by their spouses and dabble in travel writing just for fun. They get a thrill seeing their name in print.

• Others do it for the complimentary travel perks, which can be considerable and take them to places they couldn't otherwise afford to visit. (This has certainly been true for me.)

• Lots of people love to write & travel and enjoy the extra income they can earn by selling their articles. It's a good way to see the world and tell people about your experiences.

What does this mean for an aspiring travel writer?

Every individual has different financial needs. You'll need to decide whether travel writing alone can satisfy your financial needs, or if you'll require additional sources of income. Travel writing for magazines is not a lucrative career. But, in my opinion, it can create a solid supplemental income stream with opportunities for generous comps if you are willing to learn, can stay focused and work at it.
---
Travel Writing & Photography Retreat
Two spaces have opened up in our Travel Writing & Photography Retreat, December 8-14.

Two attendees have withdrawn due to family/medical reasons. So we now have space for 2 more people.

If you're interested, send us an email at: pitchtravelwrite@gmail.com today and we'll get you signed up.

Time is running short - this week is your last chance!


---
This Week's Featured Post
Travel Writing Tips: A Letter To Myself Back In Time
Although I've had a lot of success in the freelance writing game, I'm going to share the things that didn't go so well in my first few years. If I had to do it all over again, these are the things I would change and why it matters.



This letter, written to myself, outlines the mistakes I made that I would do differently if I had the chance. These errors cost me time and money, and in some ways hindered my progress as a travel writer. 



You can use the checklist to see if you're making the same errors. And if you learn from my mistakes, you can make course corrections for quicker success in your own travel writing journey. 



Here's my letter to myself, back when I was a rookie travel writer . . .

READ THE ARTICLE


---
Upcoming Posts
November 11: How Travel Photographs Will Help You Sell More Stories
 & Our Latest Recommendations for the Best Travel Cameras
November 18: Twitter and Travel Writing
November 25: Expand Your Writing Genres: How To Write With Authority When You're Not An Expert


---
Pitch Travel Write: Most Requested Links about Improving Your Travel Writing

Our readers want to experience the place and meet the locals when they read our stories. Here's how to write travel stories that plant you smack dab in the middle of the action and help your readers feel as if they're in the place with you. The Art of the Travel Story: Turn Your Destination into a Compelling Read

Here are four highly recommended books that will help you improve your creative non-fiction writing. How to Improve Your Writing - 4 Books that Will Help You

Try these seven techniques to polish your articles, improve your writing style, and make your readers - and editors - keep coming back for more: 7 Ways to Improve Your Writing Style

We thrilled to release our seventh book, The Art & Craft of Travel Writing: How to Develop Your Craft, Hone Your Skills, Avoid Mistakes, Work Smarter, and Be More Successful


---
Inspirational Travel Quote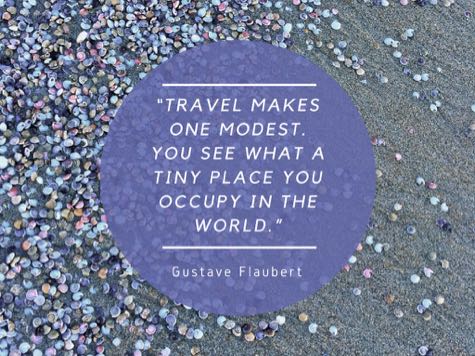 ---
RESOURCES FOR TRAVEL WRITERS
Featured Books of the Month: Advanced Travel Writer's Two-Pack Reference Guides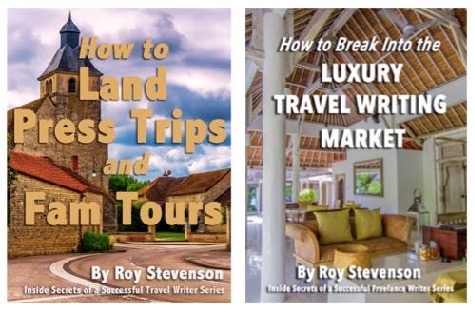 Take your travel writing career up a few notches with our advanced reference guides and get a big discount!

In How to Land Press Trips and Fam Tours you'll learn about how to use your assignments to request free and low-cost travel.  You'll also get all the resources successful travel writers have at their fingertips to network with the right people and have DMOs clamoring to invite you to visit their region.

If luxury is your preferred style of travel, How to Break into the Luxury Travel Writing Market will help you move quickly into this market.  And it gives you a ready-made list of magazines and websites interested in publishing luxury articles.

When you purchase both these books together, you automatically save 10% on each book.


---
We'd like to say THANK YOU to all our subscribers and social media followers. Running the PitchTravelWrite site would not be possible without your support. Thank you for following us, reading our posts, and emailing questions, comments, and compliments.

We value you more than you can know. Our goal is to help you break into travel writing, get paid for it, and land some cool press trips and free travel.

So keep emailing us - we love hearing from you!
---
At Your Service
Coaching and Consulting
Travel Writing & Marketing Master Class
Travel Writing and Photography Retreat
Online Courses
Vietnam 1-1 Retreat & Consulting
Expat Consulting
email: pitchtravelwrite@gmail.com
If you know someone who will enjoy this newsletter,
please forward or sign up
---
Friend me on Facebook
My Facebook page is about freelance travel writing. I frequently post about:
• travel writing & blogging conferences,
• links to other well produced travel websites and blogs,
• links to my travel articles,
• travel writing themes,
• links to reputable travel writer's groups, associations, and newsletters,
• magazine covers stories and back stories,
• links to resources pages,
• links to travel writing archives,
• links to coaching and mentoring resources,
• and plenty of other useful information to get you up to speed.



Link to Roy's Personal Facebook page
---


That's all for this week.

Until next week, just keep pitching!

Roy

Roy Stevenson
Pitch Travel Write
www.pitchtravelwrite.com













---