Greetings Fellow Travel Writers and Bloggers!
. . . and WELCOME to all new subscribers! Thanks for joining us.


One of the things about living in Vietnam that never ceases to amaze and amuse me is the way local vendors load up their motorcycles. They pack their small 100cc beasts of burden with impossibly large cargos. They'll have dozens—even hundreds—of items hanging off every inch of their machines.

Their items for sale run the whole gamut from tourist souvenirs and sliced fruit to sunglasses, postcards, batteries, selfie sticks, small ukuleles(!?), wooden car toys, dried fruit, candies, razors, toothbrushes, and pretty near anything else that tourists consume, wear, or buy as a souvenir.

It's not unusual for these motorbikes to be completely covered with goods. We'll often encounter their "mobile shops" parked on busy street corners. If the vendors are driving around, we'll flag them down with a wave of our hand to have a closer look at their stuff. They screech to a halt and begin their sales patter in broken English.

I admire their enterprise and optimism. I'm sure they manage to sell some of their stuff each day, but they must also get a lot of "no thank yous".

I see a parallel here, with freelance writers. We're constantly pitching our stories to editors, hoping they'll buy them. Like the motorcycle vendors, freelancers constantly face rejection, but the real professionals keep on plugging away, learning from each accepted story—or rejection.

How's your freelance writing enterprise and optimism?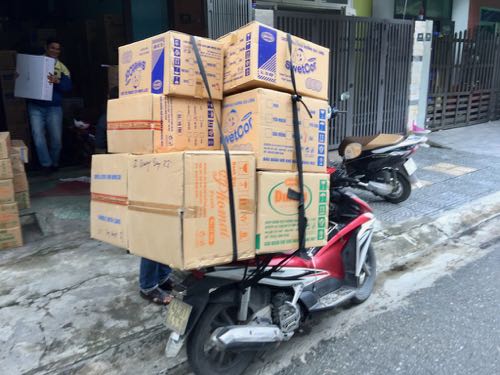 To Improve Your Travel Writing You Must Do This One Thing
During my recent Travel Writing & Photography Retreat in Vietnam, I emphasized one easy and fun way aspiring travel writers could quickly improve their writing. I recommended they read stories by top shelf travel journalists.

Of course, the writers immediately asked, "Where do I find good travel writing?" Great question!

Here's a list of magazines where you'll find some of the world's best travel stories. This mix of regional, national, and global publications gives you a wide variety of writing styles and topics. Here are some magazines to look for.

This is by no means a comprehensive list of the best travel magazines, but it is an excellent cross section. Obviously, you won't need to read all these magazines!

Pick A Few Magazines from this Extensive List:
Afar, Travel + Leisure, Islands, Conde Nast Traveler, Lonely Planet Traveller, National Geographic Traveler, Travel International Magazine, Global Traveler, Wanderlust, Coastal Living, Geographical, Maco Destinations, Backpacker, Outside, American Road, Sidetracked, Sunset, Britain, Cruise Travel, Cruising World, Cabin Life, Caribbean Travel + Life, Discover Britain, Food and Travel, France, German Life, Scotland, Robb Report, Southern Travel & Lifestyles, Northwest Travel & Life, Vermont Life, Texas Highways, Arizona Highways, Trailer Life, and Travel 50 & Beyond

Spend quality time at your local bookstore browsing through the travel magazine section for any of the titles listed above (and any other travel magazines that interest you). Thumb through your inches-deep stack of magazines for interesting articles. It'll give you a good excuse to have a coffee or two.

Then, buy a few of the magazines that resonate with you and carefully place the rest back on the track. Subscribe to a few travel publications that consistently deliver good travel writing.

Just skimming through travel stories is not enough to learn how to improve your writing. You need to read actively, highlighting the most descriptive and captivating passages.

Study, re-read, and take notes. What was it about these sentences and paragraphs that appealed to you?

Reading the works of the very best travel writers has an important place in your education and will move your writing along to the next level.


You've seen our brash advertising claims before. Why do we bill our Complete Travel Writing & Marketing Master Class as the BEST travel writing & marketing workshop, ANYWHERE?

Because no one else shows you how to market & sell your travel stories like we do.

There are dozens of travel writing courses offered around the globe. They all offer similar course material about writing style and technique, but none of them show you how to actually sell your stories to paying print magazines.

Well, we do!

Twelve years ago, when I entered the freelance travel writing arena I mistakenly thought that if I could write good travel stories, magazine editors would beat my door down and flood my inbox with writing assignments. This didn't happen.

And it didn't take long to realize that to get my work published, my sales skills were far more important than my writing skills.

Sure, I still had to turn in well-written copy to my editors, but if I couldn't sell my stories to magazine editors, I'd never get to write them anyway.

So, I focused on improving my sales skills like dreaming up exciting story ideas, writing spectacular query letters, and getting repeat business with my "regular" editors. I suddenly sold more and more articles!

It is not uncommon for me to sell and write 3, 4, or 5 articles each week. My acceptance rate is 90%. This means that there is a 90% chance that each time I send out queries to magazines, an editor will pick it up for publication. My veteran travel writing peers have acceptance rates of 25% - 40%, and many of them are far better writers than I'll ever be.

I have more than 1,000 published bylines in 200+ regional, national, and international magazines, newspapers, trade journals, custom publications, specialty magazines, in-flights, on-boards, and online travel magazines. I'm considered one of the most prolific travel writers in the U.S.A.

I've often had more travel assignments than I could handle—a problem that most freelance writers would give anything to have. If you'd like to learn how I market and sell my stories, we still have seats available next month in our Complete Travel Writing & Marketing Master Class


I'll show you how to . . .
• Consistently Market & Sell Your Travel Stories
• Land Press Trips & Get Complimentary Travel
• Launch, Improve and Accelerate Your Travel Writing Career


You'll get all this information—and much more—in my three-day intensive workshop for travel writers, The Complete Travel Writing & Marketing Master Class.

The focus for the first 2 days is on marketing & selling your articles, and on using your assignments to request complimentary travel - two of the areas where most writers struggle.


"I cannot say enough about how valuable this workshop has been. Roy is a wealth of knowledge and just a joy to work with! I love his enthusiasm, encouragement and passion for helping new travel writers."
Pam Baker, Master Class attendee, April 2018

---
This Week's Featured Post
Writing for the Expat Magazine Market
Novice travel writers have difficulty pitching stories to standard travel glossies. The competition for these magazines is fierce.  Editors of glossy magazines receive too many pitches and can afford to be very picky when handing out assignments. Often they work with writers they already know.

A proven way to improve your chances of getting published is pitching lesser known, travel-related genres, like expat magazines. Your chances of placing your stories are much higher. All it takes is knowing the right approach.  

Expat magazines and websites are aimed at people living overseas or working overseas. This includes those who travel long-term, or move from one country to another.   

The editors of these magazines look for stories about myriad subjects. These range from living and working overseas to lifestyle and travel.  

Even if you don't live overseas, it's possible to get your story ideas accepted in expat magazines or websites.  If you have skills and knowledge that can be applied to living internationally, this will help you generate appropriate story ideas.  Expat magazines feature some generic topics that do not require you to live in a foreign country. 

But don't race off and start pitching random travel story ideas to expat magazines.  You need to understand who reads expat magazines, and what topics most interest them and the editors.  Armed with this knowledge, you'll have a better idea of what stories to pitch expat magazines – and a better chance of getting your article published.

Here's what you need to know to break into expat magazines …

READ THE ARTICLE


---
Upcoming Posts
March 25: Query Letter Success Strategies
April 1: Break Into Travel Writing With Stories about Vehicles
April 8: Why Practice Makes Perfect is Terrible Advice for Travel Writers
April 15: Rey Waters: Another PitchTravelWrite Success Story


---
Pitch Travel Write: Most Popular Links About Press Trips
Press Trip Tips for Travel Writers
Press Trips for Travel Writers for U.S. and International Destinations
Making Press Trip Decisions: Your Business Policies
How to Land Press Trips
---
Inspirational Travel Quote of the Week
---
RESOURCES FOR TRAVEL WRITERS
Featured Book of the Month: Rock Star Travel Writers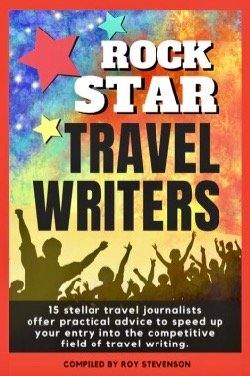 If you ever wondered how some travel writers consistently get their stories published in the top shelf travel magazines - you'll learn how in this book.



Rock Star Travel Writers gives you insider tips, tools, tactics and habits that ten leading travel journalists use to land assignments in the world's most prized travel glossies.



The unique tribe of mentors generously share their journeys and dispense invaluable techniques, insightful habits, and practical advice with you.  You won't find this wealth of information from a group of elite travel journalists anywhere else!

We appreciate our subscribers! Get $5 off the price of Rock Star Travel Writers during the month of March when you use Discount Code MH5 at checkout.

BUY THE BOOK


---
We want to say THANK YOU to all our subscribers and social media followers. Running the PitchTravelWrite site would not be possible without your support. Thank you for following us, reading our posts, and emailing questions, comments, and compliments.

We value you more than you can know. Our goal is to help you break into travel writing, get paid for it, and land some cool press trips and free travel.

So keep emailing us - we love hearing from you!
---
Friend me on Facebook
My Facebook page is about freelance travel writing. I frequently post about:
• travel writing & blogging conferences,
• links to other well produced travel websites and blogs,
• links to my travel articles,
• travel writing themes,
• links to reputable travel writer's groups, associations, and newsletters,
• magazine covers stories and back stories,
• links to resources pages,
• links to travel writing archives,
• links to coaching and mentoring resources,
• and plenty of other useful information to get you up to speed.



Link to Roy's Personal Facebook page
---
Please share the e-zine with friends, family or anyone you know who's interested in travel writing. They can sign up for the newsletter and get free marketing tips each week at this link:

Sign up for my weekly marketing tips

That's all for this week.

Until next week, just keep pitching!

Roy

Roy Stevenson
Pitch Travel Write
www.pitchtravelwrite.com













---