Greetings Fellow Travel Writers and Bloggers!
. . . and WELCOME to all new subscribers! Thanks for joining us.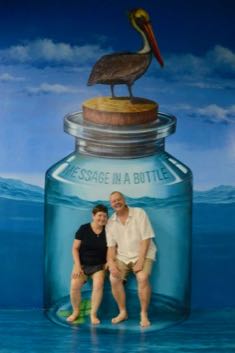 Hello from Da Nang!
We are settling back into our comfortable lives here in Da Nang, Vietnam after our trip to Seattle for the Complete Travel Writing & Marketing Master Class and then making various stops across the USA on writing assignments. We're glad to be in one place for a change.
In our first week back we received an invitation to the Grand Opening of the new 5-story Tran Restaurant & Event Center in downtown Da Nang. We thought "that's nice, a free meal" but this spectacular event is something to remember forever. It was a cross between the Cannes film festival & a rock concert, with a restaurant flavor thrown in. The event drew all the beautiful people from Da Nang's social elite, including the country's most famous singer My Tam. She's known as "The Queen of Pop".
Other glitterati included the Miss Vietnam Universe Runner up, Mau Thuy, and other popular singers and beauty queens. There were even two Vietnamese comedians posing as Thai ladyboys, calling out the lucky numbers.
I was proudly underdressed for the wrong occasion, wearing shorts for the event. All the Vietnamese women were dressed in their finest clothes - sparkling dresses and spike heels. The men were more understated but I was the only guy in shorts.
The street scene below shows the sizable welcoming committee, resplendent in lime green uniforms. There was also a large group of sidewalk fans watching the beautiful people make their entrance. Linda and I elicited applause from them as we made our entrance, just in case we were someone famous. Now I know how Brad Pitt feels on the red carpet at Cannes.
We met up in the reception area with our friends Melanie, John, and Tin, and enjoyed the evening spectacle together along with a very late dinner. A good time was had by all!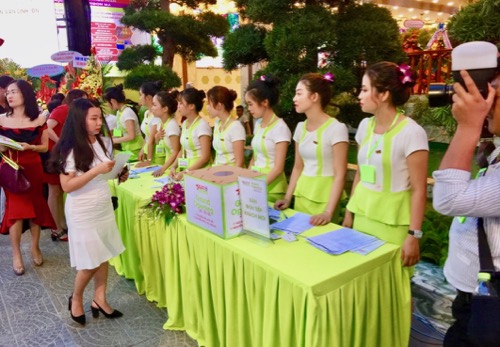 ---
BOOK SALE COMING SOON!
Watch your Inbox for our special announcement later this week. All books in our travel writing bookshop will be 25% off. This includes the book bundles, too! It's one of the best times of the year to invest in yourself, improve your travel writing and save money.

If you've been thinking about buying a book and adding to your travel writing know-how, mark your calendar. The 4-day sale will be starting on Thursday, June 6th.

While you're waiting for our sale to begin, you can visit our bookstore and see what we have to choose from ...
---
Editorial: Why You Should Write For Smaller Magazines
When I started my freelance writing career back in 2007, I wasn't fussy about the publications that ran my articles. I just wanted to get my stories published, anywhere!

Many of my early publications had small circulations. You certainly wouldn't find them on the top shelf of the magazine racks, and some never even made the racks at all. They were smaller specialty publications with relatively low numbers of subscribers that you would find at your local newsagents.

As I steadily moved up the travel writing totem pole, I continued to write for some of the smaller magazines because they offered significant benefits.

Here's why you should pitch the smaller magazines, too.

Small publications are easier to break into

You'll find far less competition when you pitch the small guys. Because these magazines tend to pay less, most veteran writers bypass them. This leaves the small fry editors more receptive to pitches from novice writers.

Two of my earliest small magazines were Colors Northwest, where I wrote about the multi-racial student population at a community college I was teaching at, and Tech Directions, where I write about a fellow instructor who was the nation's top motorcycle repair teacher.

Small magazines help you to build your bylines faster

Your acceptance rate will be much higher with the more obscure publications. If you focus on pitching smaller outlets in your first year or two of freelance writing, you'll build your bylines much quicker. For example, I used the Kitsap Sun newspaper and Coast Food & Arts magazine to build my bylines, among many other small magazines.

With some bylines your belt your confidence will build and before long you'll feel ready to move up to larger (and better paying) publications.

---
This Week's Featured Post
The Continuing Success Story of Pam & Gary Baker

Pam and Gary Baker continue their ascent into the travel writing stratosphere, seeing their work in premium print publications and landing some sweet, complimentary luxury assignments that saved them thousands of dollars. Over the past 12 months, this travel writing couple's acceptance rate has risen to an astonishing 60%. (Typical veteran travel writers only have a 25% - 40% rate.)

You'll want to read the Baker's update on how they've progressed up the travel writing totem pole with great flair and style. From a luxury wine cruise on a historic schooner to a luxury train trip across Australia on the India Pacific Railroad. Wine tasting tours in 2 states and blogging for a cruise line. Yep, they've done all these things and have been paid for their stories!

Pam writes, "In our first year as travel writers, with Roy Stevenson as our coach, we had some great successes and gained considerable momentum. As a result, we've moved up the travel writing totem pole and started getting better paid assignments with print magazines.

We've leveraged those assignments for two memorable complimentary trips this past year. And we made a strategic decision to extend our coaching contract with Roy – and we're glad we did!"

Here's what their travel writing career has brought them in the past 12 months …

READ THE ARTICLE


---
Upcoming Posts
June 10: Do You Know The Best Place To Start Your Travel Writing Career?
June 17: A Day In The Life Of A Travel Writer
June 24: How to Target Specialty Magazines
July 1: Earn More: How to Sell Your Articles Around the World


---
Pitch Travel Write: Most Popular Links for Press Trips and Comped Travel

Getting press trips to interesting and exotic destinations is a major incentive for travel writers. It's the primary reason so many of us stay in the game. Solid assignments play a major role in helping travel writers get press trips. How Assignments Can Help You Fund Your Travels

What exactly do tourist and PR agencies expect of you after you've been wined and dined at their expense? Quid Pro Quo - Expectations for travel writers & press trips

Stop dreaming and take steps to get successful press trip invitations!  I've listed out the five things I've found key to making it happen in this article. How to Get Invited on Press Trips and FAM Tours

I'm frequently asked how I get invited to go on so many of these trips and FAM Tours.  Here are three ways to do this. How to land regional press trips and FAM tours

Here are some of the questions that writers ask about applying for comps.  My answers will clarify the tenuous process of requesting complimentary travel, so that you can enjoy some of the fine fruits that travel writing can provide. 5 Rules for Selling Articles & Getting Travel Perks

How to Land Press Trips and Fam Tours will tell you exactly what you need to do to get invitations for Press Trips and FAM tours. Complete with sample letters you can use to request assistance. How to Land Press Trips & FAM Tours


---
Inspirational Travel Quote of the Week
---
RESOURCES FOR TRAVEL WRITERS
Featured Book of the Month: The Complete Guide to Query Letters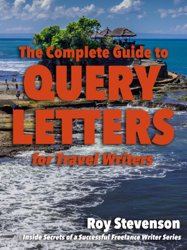 Do you have trouble getting an editor's attention and selling your travel stories?

Our best-selling eBook shows you everything you need to know about crafting compelling query letters to sell your travel articles to magazine editors.

Well-written query letters convince magazine editors that you have an exciting travel story their readers will absolutely love.

In ten years of travel writing I've had more than 1,000 stories published in 200 magazines, journals, newspapers, in-flights, on-boards, specialty magazines, and travel websites – and they all started with a query letter.  I know how to write killer query letters that work, and I wrote this eBook to show you how to do it.

This is different from all other query letter books because you get 20 sample query letters that worked for me. These are actual query letters I used successfully to get articles published in print magazines. Each sample query letter comes with a clear explanation of the key things that sold the idea successfully. And you can use my samples to create a template for your own query letters, using the same words and layout.

Here's renowned travel writer & blogger Chris Backe's review of my Query Letter eBook:

"Pitch letters can sometimes feel like the secret sauce of the blogging world. Many folks have a template or two they use, but few share them as openly as Roy has here. Call this what it is – a master-class of sales writing to get into magazines and newspapers.

The book itself is clean, complete, yet concise enough to be read in a single sitting. Roy's real world experience and credentials underscore the opening chapters, which reads like common sense should – if it were still common sense. It's up-to-date with the way things actually work here in 2015 (not the way we want them to work).

A two-page template is the appetizer, with twenty query letters written by him that resulted in an article placement as the main course. You'll soon notice the patterns used, and feel empowered to try it yourself. Note that some lateral thinking is rewarding – and that tailoring your pitch to ensure that magazine's angle is taken care of is paramount. Highly recommended."



---
We want to say THANK YOU to all our subscribers and social media followers. Running the PitchTravelWrite site would not be possible without your support. Thank you for following us, reading our posts, and emailing questions, comments, and compliments.

We value you more than you can know. Our goal is to help you break into travel writing, get paid for it, and land some cool press trips and free travel.

So keep emailing us - we love hearing from you!
---
Friend me on Facebook
My Facebook page is about freelance travel writing. I frequently post about:
• travel writing & blogging conferences,
• links to other well produced travel websites and blogs,
• links to my travel articles,
• travel writing themes,
• links to reputable travel writer's groups, associations, and newsletters,
• magazine covers stories and back stories,
• links to resources pages,
• links to travel writing archives,
• links to coaching and mentoring resources,
• and plenty of other useful information to get you up to speed.



Link to Roy's Personal Facebook page
---
Please share the e-zine with friends, family or anyone you know who's interested in travel writing. They can sign up for the newsletter and get free marketing tips each week at this link:

Sign up for my weekly marketing tips

That's all for this week.

Until next week, just keep pitching!

Roy

Roy Stevenson
Pitch Travel Write
www.pitchtravelwrite.com













---