Greetings Fellow Travel Writers and Bloggers!
. . . and WELCOME all new subscribers to The Best Travel Writing Newsletter, ANYWHERE!! Thanks for joining us.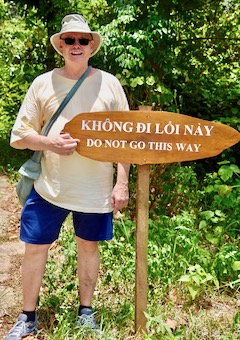 Editorial: When Should You Chart Your Own Course?
If you ask ten successful travel writers what techniques they use to sell their stories, you'll get ten different answers. Certainly there will be some overlap with common elements such as choosing marketable story ideas, writing enticing query letters, and making sure your writing skills are excellent.

But if you press them for finer details, their answers will usually diverge. They'll often present differing and conflicting approaches to their sales process, for example:

- Some travel writers are big believers in sending follow up emails to magazine editors. Others don't bother sending follow-ups.

- Some writers will tell you they tailor their query letters to each publication. Others send out identical query letters to multiple publications.

- Some writers believe that self-promotion through social media has played a large part in their success. Others seldom use social media.

The bottom line is that they're all doing things that work well for them.

There is no single "right" way to travel writing nirvana. There's no one-size-fits-all method guaranteed to work in every instance for every person.

The top writers have clearly built the foundation of their writing platforms using proven practices, and then branched out and developed their own approaches.

I know dozens of well-published travel writers who have evolved their own systems and who are steadily forging ahead, consistently getting their work published. We've featured ten of them in our eBook, Rock Star Travel Writers.

The marketing and sales process I've developed is one that works beautifully for novice travel writers. The writers I coach often achieve spectacular results using my system when they follow the process and do the work, even when they haven't been published before.

Through years of trial and error, and hours of hard work, I've managed to sell more than one thousand stories to 200+ regional, national, and international magazines, newspapers, trade journals, custom publications, specialty magazines, in-flights, on-boards, and online travel magazines. I'm considered one of the most prolific travel writers in the US.

I make it look easy but that's only because I've put hours of hard work behind what I do. My brain is wired for marketing and selling stories to publications. It's in my DNA. I'm always surprised to learn that some marketing ideas that seem like common sense to me have not even occurred to other travel writers.

Putting in the work is a "biggie" for success this field, as it is in any other.

Pam and Gary Baker are two very successful travel writers I've mentored who have put in the work. I coached them for two years, and they've been published in numerous prestigious glossy print magazines, and achieved a pitch acceptance rate of 60%, a phenomenal figure! Additionally, they've landed some spectacular complimentary luxury travel gigs that would make your mouth water.

I coach people to become self-sufficient, and now that Pam and Gary have mastered the basics, they're ready to go out on their own. I'm sure they'll continue to use my techniques that have served them well. But, I also know they'll replace or add to some of my techniques with what suits their own personalities and style. They'll evolve in their own way based on their experience.

If you're a novice travel writer, it's important to master the proven writing and sales techniques. Then, once you've got some traction and you feel confident in your abilities, you can experiment with your own methods and test different techniques that might suit you better.

Once you've mastered the basics and you're getting your work published regularly, it's time to begin charting our own course.
---
Online Travel Writing & Marketing Master Class
If you missed our Live Travel Writing & Marketing Master Class, you might be interested in our Online Master Class. We recorded it at our Seattle workshop so it's exactly the same material, but you can experience it in the comfort of your own home, and view the workshop at your own pace.

It includes everything you need to know about travel writing:

- All About Marketing - Roy Stevenson shares all his techniques and strategies that have helped him get published more than 1000 times.

- Working with Editors - Allen Cox for Northwest Travel & Life Magazines tells you how to get the attention of a busy editor and successfully get published.

- How to Land Press Trips and FAM Tours - Annette Bagley from the Whatcom County WA Tourism Organization shares exactly what you need to do to request assistance from CVBs for complimentary travel, lodging and attractions.

- Creative Travel Writing Techniques - Nick O'Connell shares his best tips and techniques about travel writing, different types of travel writing, and how to improve your writing to the next level.

- Bonus: Listen in as our Success Panel of four workshop participants talk about how they've been published and landed press trips. Includes a Q&A from the audience that helps drill down about what has worked for them.

Watch your email for more information about the Online Master Class this Friday. We'll be running a half-price sale later this week.

In the meantime, you can learn more details here:




LEARN MORE ABOUT THE ONLINE MASTER CLASS

We're running a special offer with a 50% discount for 3 days only starting on June 28.

This discount is for subscribers only. Watch your email on Friday for the offer. Make make sure you don't miss it!

---
This Week's Featured Post
Target Specialty Magazines to Sell More Travel Stories
One of my most successful strategies is targeting specialty magazines. It has led to more sales and more income.

When I pitch a story there's a 90% chance that an editor somewhere will pick it up. In freelance writing, these are pretty good odds.

As a freelance travel writer you have to develop a "knack" for dreaming up plenty of story ideas. It helps to have a process for doing this. 

Here are seven techniques to help you generate story ideas so that you can sell your travel stories to specialty magazines:

READ THE ARTICLE


---
My Coaching Program is Full
If you want to work with me on selling your travel stories to print media, building your bylines, getting paid for them, and parlaying your assignments into complimentary travel perks, my next intake will be January 2020.

If you're interested in receiving advanced notice for my coaching program, before we open up to the public, place your name on our no-obligation list here:

Interest List: Coaching for Travel Writers

We limit each intake to five new writers to guarantee quality service for the writers in my coaching on demand program. Get your name on the interest list to be the first to hear about our next opening.
---
Does Your Travel Website Accept Guest Posts?
If you'd like your travel website featured in our reference book, 100 Travel Websites That Want To Publish Your Stories, please let us know.

Send your request and a link to your website to pitchtravelwrite@gmail.com. Please send other relevant information about your website: writers guidelines, the types of articles you publish, and traffic statistics.
---
What's Your Success Story?
We're Looking for More PitchTravelWrite Travel Writing Success Stories.

Have you used our reference books, our PitchTravelWrite.com website, Roy's coaching, our Master Class, our online Master Class, our Travel Writing & Photography Retreat, our weekly newsletter, or any of our other resources to achieve travel writing success?

If so, we'd love to hear from you. Don't be shy!

We also want to hear how you've used our resources to land press trips, score complimentary stays at hotels and resorts and spas, get free guided tours and meals and ground transport and tours, etc.

Please send a summary of your successes to pitchtravelwrite@gmail.com.
---
Upcoming Posts
July 1: Earn More: How to Sell Your Articles Around the World
July 8: How to Be a Prolific Travel Writer
July 15: Memorable Travel Writing Assignments
July 22: Travel Guidebooks vs. the Internet


---
Pitch Travel Write: Most Popular Links for Press Trips and Comped Travel

Getting press trips to interesting and exotic destinations is a major incentive for travel writers. It's the primary reason so many of us stay in the game. Solid assignments play a major role in helping travel writers get press trips. How Assignments Can Help You Fund Your Travels

What exactly do tourist and PR agencies expect of you after you've been wined and dined at their expense? Quid Pro Quo - Expectations for travel writers & press trips

Stop dreaming and take steps to get successful press trip invitations!  I've listed out the five things I've found key to making it happen in this article. How to Get Invited on Press Trips and FAM Tours

I'm frequently asked how I get invited to go on so many of these trips and FAM Tours.  Here are three ways to do this. How to land regional press trips and FAM tours

Here are some of the questions that writers ask about applying for comps.  My answers will clarify the tenuous process of requesting complimentary travel, so that you can enjoy some of the fine fruits that travel writing can provide. 5 Rules for Selling Articles & Getting Travel Perks

How to Land Press Trips and Fam Tours will tell you exactly what you need to do to get invitations for Press Trips and FAM tours. Complete with sample letters you can use to request assistance. How to Land Press Trips & FAM Tours


---
Inspirational Travel Quote of the Week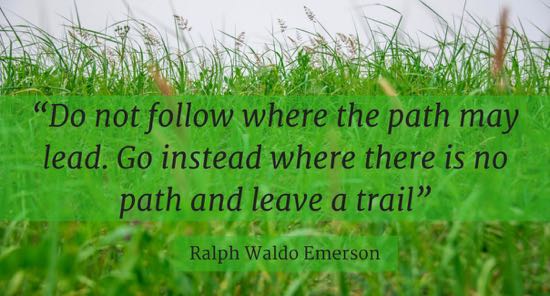 ---
RESOURCES FOR TRAVEL WRITERS
Featured Book of the Month: The Complete Guide to Query Letters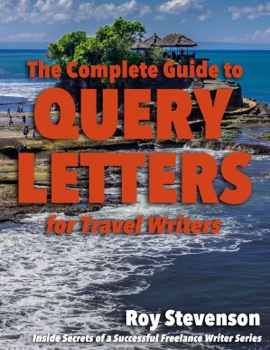 Do you have trouble getting an editor's attention and selling your travel stories?

Our best-selling eBook shows you everything you need to know about crafting compelling query letters to sell your travel articles to magazine editors.

Well-written query letters convince magazine editors that you have an exciting travel story their readers will absolutely love.

In ten years of travel writing I've had more than 1,000 stories published in 200 magazines, journals, newspapers, in-flights, on-boards, specialty magazines, and travel websites – and they all started with a query letter.  I know how to write killer query letters that work, and I wrote this eBook to show you how to do it.

This is different from all other query letter books because you get 20 sample query letters that worked for me. These are actual query letters I used successfully to get articles published in print magazines. Each sample query letter comes with a clear explanation of the key things that sold the idea successfully. And you can use my samples to create a template for your own query letters, using the same words and layout.

Here's renowned travel writer & blogger Chris Backe's review of my Query Letter eBook:

"Pitch letters can sometimes feel like the secret sauce of the blogging world. Many folks have a template or two they use, but few share them as openly as Roy has here. Call this what it is – a master-class of sales writing to get into magazines and newspapers.

The book itself is clean, complete, yet concise enough to be read in a single sitting. Roy's real world experience and credentials underscore the opening chapters, which reads like common sense should – if it were still common sense. It's up-to-date with the way things actually work here in 2015 (not the way we want them to work).

A two-page template is the appetizer, with twenty query letters written by him that resulted in an article placement as the main course. You'll soon notice the patterns used, and feel empowered to try it yourself. Note that some lateral thinking is rewarding – and that tailoring your pitch to ensure that magazine's angle is taken care of is paramount. Highly recommended."



---
We want to say THANK YOU to all our subscribers and social media followers. Running the PitchTravelWrite site would not be possible without your support. Thank you for following us, reading our posts, and emailing questions, comments, and compliments.

We value you more than you can know. Our goal is to help you break into travel writing, get paid for it, and land some cool press trips and free travel.

So keep emailing us - we love hearing from you!
---
Friend me on Facebook
My Facebook page is about freelance travel writing. I frequently post about:
• travel writing & blogging conferences,
• links to other well produced travel websites and blogs,
• links to my travel articles,
• travel writing themes,
• links to reputable travel writer's groups, associations, and newsletters,
• magazine covers stories and back stories,
• links to resources pages,
• links to travel writing archives,
• links to coaching and mentoring resources,
• and plenty of other useful information to get you up to speed.



Link to Roy's Personal Facebook page
---
Please share the e-zine with friends, family or anyone you know who's interested in travel writing. They can sign up for the newsletter and get free marketing tips each week at this link:

Sign up for my weekly marketing tips

That's all for this week.

Until next week, just keep pitching!

Roy

Roy Stevenson
Pitch Travel Write
www.pitchtravelwrite.com













---