Greetings Fellow Travel Writers and Bloggers!
. . . and WELCOME to all new subscribers! Thanks for joining us.


Linda and I recently spent a fun five day mini-vacation in Central Vietnam's Quang Binh Province. People come from around the world to visit the area's main attractions - several magnificent caves - including Phong Nha Cave and Paradise Cave.
The Phong Nha Caves are only accessible by 8-meter-long boats, from the Son Trach tourist village. We had a pleasant 45-minute ride up the river powered by chugging marine engines.
We glided past small farms, villages with church steeples, towering limestone peaks, and pig farmers collecting piles of seaweed from the river, with a lush background of jungle foliage and mountains. At the mouth of the cave, the guide cuts the engine and rows us through a one-kilometer series of eerie river caves.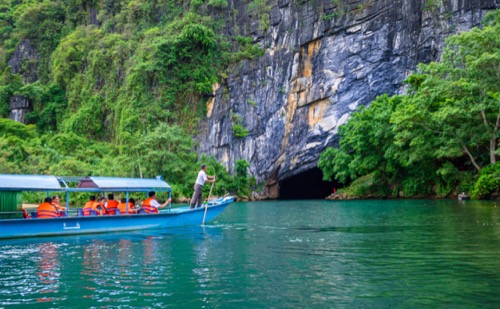 As much as these phenomenal river cave systems impressed me, I couldn't help noticing the strong and capable young Vietnamese women who poled the boats silently through the water. They made it look easy! If you're ever challenged to an arm wrestling contest in a local Phong Nha bar by a young Vietnamese woman, don't embarrass yourself. Swallow your pride and walk away.

Paradise Cave (a.k.a. Heaven Cave) lives up to its grandiose names—and then some! It has an entirely different vibe from its Phong Nha counterpart. Paradise Cave is equipped with a wide, raised board walk that extends one kilometer into its massive interior. When you reach the end, you turn around and retrace your steps back to the bustling entry point.
Both caves boast surreal white limestone sculptures on a grand scale, atmospherically lit by spotlights. You can see standing elephants, grinning skulls, macabre faces, long pointed teeth, writhing snakes, and pretty much any other creature features that linger in the recesses of your imagination.

And just as much fun as the caves themselves, is watching the Vietnamese tourists and their unbridled joy as they revel in these awe inspiring fissures.

On both days we got to the caves early to beat the throngs of Vietnamese tourists, who clearly had them on their bucket list. Well, for the most part we succeeded, but only just.

As we puttered back down the river from the Phong Nha Caves, we encountered an armada of tour boats headed upriver, brimming with excited tourists. And, as we wrapped up our walking tour through the Paradise Caves, the crowd had reached epic flood proportions. If you ever plan a trip here, arrive early - like 7 a.m. to beat the heat and the crowds.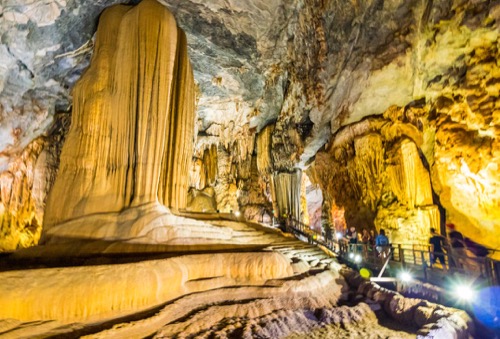 Our home base for this jaunt was Phong Nha Farmstay, a boutique hotel in rural Cu Nam village. The Farmstay overlooks the expansive Bong Lai Valley, with peaceful rice fields dotted with water buffalo, large white flocks of quacking ducks, colorful & ornate ancestral burial plots, with a backdrop of impressive karst limestone mountains that form the Phong Nha-Ke Bang National Park.

Owners Le Thi Bich and her Aussie husband Ben Mitchell started small - with hammocks for tourists at the family home - before building it into the resort that exists today. They've created a little paradise in the middle of nowhere - complete with 2 swimming pools, an outdoor bar/restaurant and their French Colonial style hotel. It was a wonderful place to rest & relax after a day of hiking around the caves.

Ben hosts an early morning walk around the small Cu Nam village, where he points out the local fruits and vegetation, and talks about life in the village. Our walking group was followed by shy and curious local kids, waving and shouting "hello!" You can also enjoy a motorcycle sidecar ride around the valley, free of charge.

Phong Nha Farmstay lies only 9 kilometers from the tourist service town of Son Trach. If you prefer luxury, you can stay in town at their sister property, Victory Road Villas , the only high end accommodations in Son Trach.
---
Editorial: Don't Overthink It!
Have you fallen into an "information gathering" trap?

I know plenty of writers with superb writing skills and all the right education who never pitch or write a story. Instead, they keep attending conferences and workshops, buying books, and gathering information on how to play the freelance travel writing game.

There's such an abundance of information on freelance travel writing especially online. You'll never quite catch up with it and learn it all. Trying to continuously gather information is that I call "overthinking".

It's easy to fall into this trap. Gathering information is easier than sitting down and generating story ideas, writing query letters, creating magazine lists and writing travel stories. And it's non-threatening.

Overthinking is a procrastination technique. It stems from a whole suite of reasons related to entering a new, unfamiliar field: fear of failure, fear of rejection, and lack of confidence, to name a few. And travel writing requires a certain amount of daily grind. It's hard work, especially when you're getting started.

Information gathering is important, but it's only half of what you need to break into travel writing. The other half is "experience". There comes a point where you've just got to sit down and start working through the freelance writing process to get some stories published.

It's through your experiences you'll discover the other fifty percent of of your education. You'll learn the freelance travel writing arena is messy and has no consistency. Take pay rates for example. I've written a 5,000-word article for $300 and a 500-word piece for $500! Where's the consistency in that?

With experience you'll learn that travel editors differ tremendously in their preferences for stories and writing styles. Many editors are great to work with while a few are not-so-great. Experience teaches you that your work doesn't need to be perfect to be publishable. I make no claims to be a Hemingway or a Steinbeck. Yet, I've managed to get more than 1,000 articles published in 200+ regional, national, and international magazines, newspapers, trade journals, custom publications, specialty magazines, in-flights, on-boards, and online travel magazines.

You'll learn as much from the experience of doing freelance writing as you will from an MFA, a journalism degree, and "how to" books & the multitude of workshops and conferences.

Most importantly, with experience you'll confront the demons of rejection and failure head on and learn to vanquish them. Your mistakes will teach you even more than your successes.

If you're stuck in the rut of information gathering or overthinking, start putting pen to paper and pitch a few story ideas. That's how you'll learn those other valuable freelance writing lessons that will lead to getting your work published.

---
This Week's Featured Post
A Day in the Life of a Travel Writer
As a travel writer I have a lot of variety in my life. Sometimes I'm on the road and sometimes I'm in the office. No two days are the same and this suits me just fine.

People often assume my life is exciting and glamorous. They say I'm "living the dream". I've written this post to give you an idea of what my days are really like - when I'm traveling on assignment or at home running my business and writing my articles.

Read the article. Then decide what you think. Is a travel writer's life glamorous and exciting?

READ THE ARTICLE


---
My Coaching Program is Full
If you want to work with me on selling your travel stories to print media, building your bylines, getting paid for them, and parlaying your assignments into complimentary travel perks, my next intake will be January 2020.

If you're interested in receiving advanced notice for my coaching program, before we open up to the public, place your name on our no-obligation list here:

Interest List: Coaching for Travel Writers

We limit each intake to five new writers to guarantee quality service for the writers in my coaching on demand program. Get your name on the interest list to be the first to hear about our next opening.
---
Does Your Travel Website Accept Guest Posts?
If you'd like your travel website featured in our reference book, 100 Travel Websites That Want To Publish Your Stories, please let us know.

Send your request and a link to your website to pitchtravelwrite@gmail.com. Please send other relevant information about your website: writers guidelines, the types of articles you publish, and traffic statistics.
---
What's Your Success Story?
We're Looking for More PitchTravelWrite Travel Writing Success Stories.

Have you used our reference books, our PitchTravelWrite.com website, Roy's coaching, our Master Class, our online Master Class, our Travel Writing & Photography Retreat, our weekly newsletter, or any of our other resources to achieve travel writing success?

If so, we'd love to hear from you. Don't be shy!

We also want to hear how you've used our resources to land press trips, score complimentary stays at hotels and resorts and spas, get free guided tours and meals and ground transport and tours, etc.

Please send a summary of your successes to pitchtravelwrite@gmail.com.
---
Upcoming Posts
June 24: How to Target Specialty Magazines
July 1: Earn More: How to Sell Your Articles Around the World
July 8: How to Be a Prolific Travel Writer
July 15: Memorable Travel Writing Assignments


---
Pitch Travel Write: Most Popular Links for Press Trips and Comped Travel

Getting press trips to interesting and exotic destinations is a major incentive for travel writers. It's the primary reason so many of us stay in the game. Solid assignments play a major role in helping travel writers get press trips. How Assignments Can Help You Fund Your Travels

What exactly do tourist and PR agencies expect of you after you've been wined and dined at their expense? Quid Pro Quo - Expectations for travel writers & press trips

Stop dreaming and take steps to get successful press trip invitations!  I've listed out the five things I've found key to making it happen in this article. How to Get Invited on Press Trips and FAM Tours

I'm frequently asked how I get invited to go on so many of these trips and FAM Tours.  Here are three ways to do this. How to land regional press trips and FAM tours

Here are some of the questions that writers ask about applying for comps.  My answers will clarify the tenuous process of requesting complimentary travel, so that you can enjoy some of the fine fruits that travel writing can provide. 5 Rules for Selling Articles & Getting Travel Perks

How to Land Press Trips and Fam Tours will tell you exactly what you need to do to get invitations for Press Trips and FAM tours. Complete with sample letters you can use to request assistance. How to Land Press Trips & FAM Tours


---
Inspirational Travel Quote of the Week
---
RESOURCES FOR TRAVEL WRITERS
Featured Book of the Month: The Complete Guide to Query Letters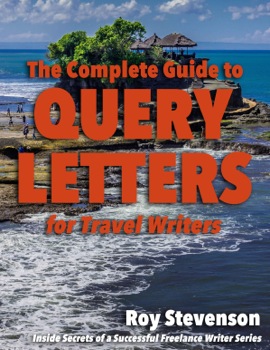 Do you have trouble getting an editor's attention and selling your travel stories?

Our best-selling eBook shows you everything you need to know about crafting compelling query letters to sell your travel articles to magazine editors.

Well-written query letters convince magazine editors that you have an exciting travel story their readers will absolutely love.

In ten years of travel writing I've had more than 1,000 stories published in 200 magazines, journals, newspapers, in-flights, on-boards, specialty magazines, and travel websites – and they all started with a query letter.  I know how to write killer query letters that work, and I wrote this eBook to show you how to do it.

This is different from all other query letter books because you get 20 sample query letters that worked for me. These are actual query letters I used successfully to get articles published in print magazines. Each sample query letter comes with a clear explanation of the key things that sold the idea successfully. And you can use my samples to create a template for your own query letters, using the same words and layout.

Here's renowned travel writer & blogger Chris Backe's review of my Query Letter eBook:

"Pitch letters can sometimes feel like the secret sauce of the blogging world. Many folks have a template or two they use, but few share them as openly as Roy has here. Call this what it is – a master-class of sales writing to get into magazines and newspapers.

The book itself is clean, complete, yet concise enough to be read in a single sitting. Roy's real world experience and credentials underscore the opening chapters, which reads like common sense should – if it were still common sense. It's up-to-date with the way things actually work here in 2015 (not the way we want them to work).

A two-page template is the appetizer, with twenty query letters written by him that resulted in an article placement as the main course. You'll soon notice the patterns used, and feel empowered to try it yourself. Note that some lateral thinking is rewarding – and that tailoring your pitch to ensure that magazine's angle is taken care of is paramount. Highly recommended."



---
We want to say THANK YOU to all our subscribers and social media followers. Running the PitchTravelWrite site would not be possible without your support. Thank you for following us, reading our posts, and emailing questions, comments, and compliments.

We value you more than you can know. Our goal is to help you break into travel writing, get paid for it, and land some cool press trips and free travel.

So keep emailing us - we love hearing from you!
---
Friend me on Facebook
My Facebook page is about freelance travel writing. I frequently post about:
• travel writing & blogging conferences,
• links to other well produced travel websites and blogs,
• links to my travel articles,
• travel writing themes,
• links to reputable travel writer's groups, associations, and newsletters,
• magazine covers stories and back stories,
• links to resources pages,
• links to travel writing archives,
• links to coaching and mentoring resources,
• and plenty of other useful information to get you up to speed.



Link to Roy's Personal Facebook page
---
Please share the e-zine with friends, family or anyone you know who's interested in travel writing. They can sign up for the newsletter and get free marketing tips each week at this link:

Sign up for my weekly marketing tips

That's all for this week.

Until next week, just keep pitching!

Roy

Roy Stevenson
Pitch Travel Write
www.pitchtravelwrite.com













---