Greetings Fellow Travel Writers and Bloggers!
. . . and WELCOME to all new subscribers! Thanks for joining us.


In the brief three weeks since we've returned from our recent trip to the U.S., we've been reminded why we choose to live here in Da Nang.

Small, repeated acts of kindness by our Vietnamese friends here have humbled us and warmed our hearts. They've greeted us like we were returning family members. The girls who work in the local restaurants all welcomed us back, and shyly confided they were worried we had moved away.

It's their little acts of kindness that move us. Like our friend, a barista at the nearby Avatar Hotel who insisted on making me a sweet hot ginger and lime drink when she learned I had a sinus infection. It's a traditional Vietnamese remedy for such ailments.

And then there's Oanh, a lady who owns some small rental apartments on our street. We chat with her some mornings when we're out walking. She invited us over for a delicious dinner of Bun Nam. This simple meal was a traditional mix of rice noodles, fried pork, seafood rolls, bean sprouts, and handfuls of vegetables, doused in a sweet sauce. Delicious!

And there's Miss Youm, our friend who runs a local spa. Miss Youm cuts my hair, does my pedicures and arranges my foot massages. She was so thrilled that we were back that she took us out for a traditional Vietnamese breakfast of Banh Mi Hoa Ma. It was a yummy dish, delivered in a small skillet filled with fried beef strips, eggs, sausage, and vegetables plus a baguette to soak up the sauce.

These small unconditional acts of friendship remind us daily how lucky we are here in Da Nang, embraced by our Vietnamese friends and always made to feel at home.
---
Editorial: Dealing With Rejection
Pick up any writer's magazine or "how to" book about freelance writing off the bookstore racks and there's a 50/50 chance it'll have a story about how to deal with rejection from editors. These grim little articles are usually accompanied by depressing graphics of dark storm clouds hanging over the dejected writer's head.

The purported symptoms of "writer's rejection" range from disappointment to devastation – or from damage to one's self-esteem to a bruised ego. The list of reactions to "writer's rejection" goes on . . . anger, pain, bitterness. Maybe you've had some of these feelings.

I've always been puzzled by this "writer's rejection" phenomenon because I've never experienced it. Never. I even wondered if I was some kind of low-level sociopath because I couldn't feel that awful sting that other people feel with rejection.

Well, good news - it turns out I'm not a sociopath. I learned this just last month in Seattle, while holding our annual Deep Dive workshop for coaching clients. James Ullrich , one of my travel writing peers, gave a presentation about his experience in breaking into travel writing. He briefly touched on the subject of writer's rejection.

James is one of the ten elite travel writers featured in our eBook, Rock Star Travel Writers. He's been well published in top shelf magazines, has been a tour guide with Rick Steves in Europe and he's a psychologist.

Curious about my lack of emotional response to "writer's rejection", I asked James if he thought I was a sociopath.

James didn't even blink as he answered, "No. You were a fully formed adult when you started writing (I was 53), so you handle rejection better than younger people".

He added, "Since you've been a professional writer right from the start, you expected rejection to be part of the process. You're not a touchy feely kind of guy, so it makes sense you don't take it personally when your queries are rejected or when you don't hear back from editors."

My lack of emotion when I see a rejection email from a magazine editor finally made perfect sense to me.

How about you?

Do you feel devastated when an editor rejects your pitches or doesn't respond to your queries?

Have you come to terms with rejection, and accepted that it's simply part of the freelance writing game?

---
My Coaching Program is Full
If you want to work with me on selling your travel stories to print media, building your bylines, getting paid for them, and parlaying your assignments into complimentary travel perks, my next intake will be January 2020.

If you're interested in receiving advanced notice for my coaching program, before we open up to the public, place your name on our no-obligation list here:

Interest List: Coaching for Travel Writers

We limit each intake to five new writers to guarantee quality service for the writers in my coaching on demand program. Get your name on the interest list to be the first to hear about our next opening.
---
Does Your Travel Website Accept Guest Posts?
If you'd like your travel website featured in our reference book, 100 Travel Websites That Want To Publish Your Stories, please let us know.

Send your request and a link to your website to pitchtravelwrite@gmail.com. Please send other relevant information about your website: writers guidelines, the types of articles you publish, and traffic statistics.
---
This Week's Featured Post
The Best Place To Start Your Travel Writing Career

It's almost a rite of passage for travel writers to start their careers selling articles to regional magazines. Regional travel & lifestyle magazines aren't intimidating to beginners. And most states have dozens of them.

Here's what regional travel & lifestyle magazines can do for you, and how to break into them.

READ THE ARTICLE


---
Upcoming Posts
June 17: A Day In The Life Of A Travel Writer
June 24: How to Target Specialty Magazines
July 1: Earn More: How to Sell Your Articles Around the World
July 8: How to Be a Prolific Travel Writer



---
Pitch Travel Write: Most Popular Links for Press Trips and Comped Travel

Getting press trips to interesting and exotic destinations is a major incentive for travel writers. It's the primary reason so many of us stay in the game. Solid assignments play a major role in helping travel writers get press trips. How Assignments Can Help You Fund Your Travels

What exactly do tourist and PR agencies expect of you after you've been wined and dined at their expense? Quid Pro Quo - Expectations for travel writers & press trips

Stop dreaming and take steps to get successful press trip invitations!  I've listed out the five things I've found key to making it happen in this article. How to Get Invited on Press Trips and FAM Tours

I'm frequently asked how I get invited to go on so many of these trips and FAM Tours.  Here are three ways to do this. How to land regional press trips and FAM tours

Here are some of the questions that writers ask about applying for comps.  My answers will clarify the tenuous process of requesting complimentary travel, so that you can enjoy some of the fine fruits that travel writing can provide. 5 Rules for Selling Articles & Getting Travel Perks

How to Land Press Trips and Fam Tours will tell you exactly what you need to do to get invitations for Press Trips and FAM tours. Complete with sample letters you can use to request assistance. How to Land Press Trips & FAM Tours


---
Inspirational Travel Quote of the Week
---
RESOURCES FOR TRAVEL WRITERS
Featured Book of the Month: The Complete Guide to Query Letters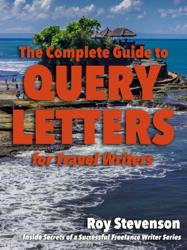 Do you have trouble getting an editor's attention and selling your travel stories?

Our best-selling eBook shows you everything you need to know about crafting compelling query letters to sell your travel articles to magazine editors.

Well-written query letters convince magazine editors that you have an exciting travel story their readers will absolutely love.

In ten years of travel writing I've had more than 1,000 stories published in 200 magazines, journals, newspapers, in-flights, on-boards, specialty magazines, and travel websites – and they all started with a query letter.  I know how to write killer query letters that work, and I wrote this eBook to show you how to do it.

This is different from all other query letter books because you get 20 sample query letters that worked for me. These are actual query letters I used successfully to get articles published in print magazines. Each sample query letter comes with a clear explanation of the key things that sold the idea successfully. And you can use my samples to create a template for your own query letters, using the same words and layout.

Here's renowned travel writer & blogger Chris Backe's review of my Query Letter eBook:

"Pitch letters can sometimes feel like the secret sauce of the blogging world. Many folks have a template or two they use, but few share them as openly as Roy has here. Call this what it is – a master-class of sales writing to get into magazines and newspapers.

The book itself is clean, complete, yet concise enough to be read in a single sitting. Roy's real world experience and credentials underscore the opening chapters, which reads like common sense should – if it were still common sense. It's up-to-date with the way things actually work here in 2015 (not the way we want them to work).

A two-page template is the appetizer, with twenty query letters written by him that resulted in an article placement as the main course. You'll soon notice the patterns used, and feel empowered to try it yourself. Note that some lateral thinking is rewarding – and that tailoring your pitch to ensure that magazine's angle is taken care of is paramount. Highly recommended."



---
We want to say THANK YOU to all our subscribers and social media followers. Running the PitchTravelWrite site would not be possible without your support. Thank you for following us, reading our posts, and emailing questions, comments, and compliments.

We value you more than you can know. Our goal is to help you break into travel writing, get paid for it, and land some cool press trips and free travel.

So keep emailing us - we love hearing from you!
---
Friend me on Facebook
My Facebook page is about freelance travel writing. I frequently post about:
• travel writing & blogging conferences,
• links to other well produced travel websites and blogs,
• links to my travel articles,
• travel writing themes,
• links to reputable travel writer's groups, associations, and newsletters,
• magazine covers stories and back stories,
• links to resources pages,
• links to travel writing archives,
• links to coaching and mentoring resources,
• and plenty of other useful information to get you up to speed.



Link to Roy's Personal Facebook page
---
Please share the e-zine with friends, family or anyone you know who's interested in travel writing. They can sign up for the newsletter and get free marketing tips each week at this link:

Sign up for my weekly marketing tips

That's all for this week.

Until next week, just keep pitching!

Roy

Roy Stevenson
Pitch Travel Write
www.pitchtravelwrite.com













---