Greetings Fellow Travel Writers and Bloggers!
. . . and WELCOME all new subscribers to The Best Travel Writing Newsletter, ANYWHERE!!
Thanks for joining us.


---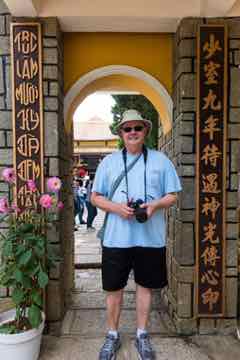 We're excited to announce that registration is OPEN for our annual Travel Writing and Photography Retreat in Hoi An, Vietnam, December 8-14.

If you need a relaxing, atmospheric place to practice your travel writing craft and hone your photography skills, join us in Hoi An.

We're very excited to learn that Hoi An, Vietnam has just been voted the Best City in the World for 2019 by Travel+Leisure Magazine. Hoi An is the hottest travel destination in the world right now!


You can read more about Hoi An, Vietnam at these links:

Metro article about Hoi An - World's Best City 2019
Lonely Planet article about a Perfect Weekend in Hoi An
Travel&Leisure article about World's Best City





You can find more information about our retreat after the editorial, or at this link:


LEARN MORE ABOUT OUR RETREAT IN HOI AN



---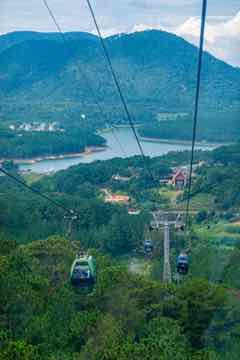 We've just returned from 10 days in Dalat, Vietnam – a respite from the heat in Danang. Dalat has its fair share of tourist attractions and I mentioned a few last week.

Here are a few more tourist highlights we enjoyed:

The best way to get to the Truc Lam Monastery is by cable car. On this 1.2 mile trip we glided gently above the extensive pine forest that covered the mountains for miles around.

The monastery provided a peaceful Zen-style Buddhist retreat, replete with gorgeous gardens and serene temples. Two hours of strolling through well maintained gardens and peering into the temples gave us plenty of time to soak up the calm atmosphere.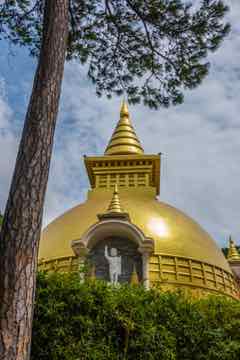 We wandered through the Dalat Central Market, one of Vietnam's largest. Dalat produces most of the vegetables, fruit and flowers for all of Vietnam. Dalat is Vietnam's greenhouse; there's not much that can't be grown here in it's rich, red volcanic soil. Strolling through the maze of stalls at the market is a great way to get a crash course on Dalat's produce.
One of the highlights of our visit was the evening 3-hour Dalat Food Tour. We visited five different restaurants and food stalls, sampling traditional Dalat dishes at each. Fortunately, it was a walking tour because we needed to walk and work up an appetite between courses!
We enjoyed the Banh Can - poached quail's eggs on a soft rice cake dipped in a delicious semi-sweet sauce. Then we popped across the road to a food cart to sample Dalat "pizza", called Banh Trang Nuong. This circular rice paper is heated on an open flame and topped with egg, cheese, meat, vegetables and other good stuff. To eat, it's folded up like a burrito, wrapped in paper and handled with care because it's hot off the grill. It didn't taste like Italian pizza but it was delicious!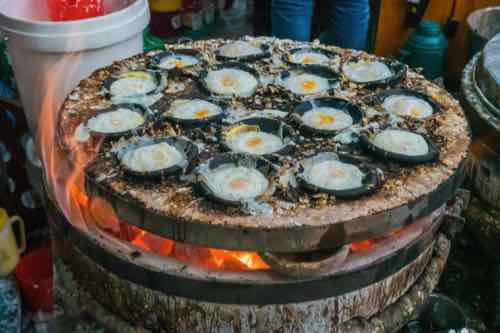 Next, we took a trip down a back alley to Xap Xap, a tiny restaurant that serves small circular baked rice flour cakes with a sweet sauce poured on top. We also tried a salad with slivers of beef liver - which doesn't sound enticing – but if my mother had served beef liver like this, I would have happily eaten it as a child. Tasted great!

Our next restaurant was supposed to be the "main meal" after all the appetizers. It featured thin rice paper wraps stuffed with roast pork, vegetables and herbs, then dipped in a peanut sauce. Excellent!

We were full by this time but there was one more place to stop – a dessert restaurant. We capped off a great progressive Vietnamese meal with Che Chuoi Chung, a banana dish soaked in sweet tapioca and a rich sweet coconut sauce, topped with chopped nuts. Then our guide called a taxi for us and we headed back to our villa, smarter about street food and with memories of a great time with our new friend, Binh.
---
Editorial: How to Get Creative about Pitching Your Travel Stories
For years I've been hearing from veteran travel writers, complaining that their regular travel magazine outlets have dried up. They tell me there's so much competition for the top tier travel publications, it's harder to place their stories.

I think both complaints can be overcome with some imagination and initiative. Many non-travel publications are wide open to travel-related stories. They pay well, and sometimes better than travel magazines. All you need to do is track down the non-travel publications and pitch your stories to them.

I recently did a review of the 200+ regional, national, and international magazines, trade journals, custom publications, specialty magazines, and in-flights, and on-boards that have published my articles. Surprisingly, I've had as many travel stories published in non-travel magazines as I've had published in travel magazines.

The number of travel magazines and websites that have run my travel stories is 53. And the number of non-travel publications that have run my travel stories is exactly the same - 53!

Competition to place your stories in elite travel magazines like Islands, Travel + Leisure, Conde Nast Traveller, Afar, Lonely Planet, Wanderlust, and others of the same ilk is fierce. They pay well and they make highly respected bylines. And you should certainly pitch worthy stories to these magazines.

However, you should also be pitching lesser-known, non-travel magazine genres. When you do this one thing you'll get published and paid more frequently.

Editors of non-travel specialty magazines love the occasional travel piece because they add spice to their content. Travel has become accepted as part of life in affluent countries, so editors are always happy to drag a travel or special interest story into their publications.

Here are some magazine genres where you should also be attempting to place your travel stories:

• You'll be surprised at how many lifestyle magazines have dedicated travel sections, so don't hesitate to query these magazines.

• Food, wine and beer magazines regularly feature travel stories.

• Trade magazines often have travel sections, and editors of these magazines always appreciate stories that tie together their trade or industry with some sort of travel piece.

• Likewise, business magazines often have travel sections, especially when the travel story focuses on business "hot spots" like Singapore, London or New York.

• Special interest magazines like art and photography can present the smart travel writer and photographer with a medium for his travel stories.

• Golf, running hiking, sailing, and other sports magazines also have sections dedicated to travel, revolving around the magazine's special interest. For example, golf resort stories sell well to golfing magazines. I have a friend who regularly places his travel stories in golfing magazines. I've sold several dozen marina destination pieces to sailing and yachting magazines.

• I've sold numerous travel articles to history magazines and continue to work this genre with ease. You might not think these kinds of magazines are likely places to get a travel story published. Four such magazines that have taken my travel stories are Aviation History, World War II, World War II Quarterly, and Renaissance magazines.

• Another surprising, and untapped type of publication that frequently publishes travel stories is alumni magazines, usually focusing on alumni and their work overseas. If you've attended a college or university, or have one in your local area, that's a good place to start.

So if you're feeling like your regular outlets have dried up, dig into some new genres and pitch your stories there instead. You might be surprised at the results.


---
Travel Writing & Photography Retreat
December 8-14, Hoi An, Vietnam
We're pleased to announce that registration is open for our Travel Writing & Photography Retreat in Hoi An, Vietnam, December 8-14th.

Vietnam's atmospheric and beguiling UNESCO World Heritage City of Hoi An offers an unforgettable experience. It will inspire your writing, spark your imagination and please your palate. Hidden inside the ancient buildings are some of the best culinary delights known to mankind. 

Here's your chance to visit the Best City In The World for 2019 as voted by readers of Travel & Leisure magazine. And you'll brush up on your travel writing and photography skills while you're here. Don't worry, you'll have plenty of time to tour Hoi An.

Our classes run from 9am to Noon, then you're on your own to stroll around this captivating town and soak up its extraordinary atmosphere.
The ancient town of Hoi An, Vietnam was a SE Asian trading port in the 15th through 19th centuries and is a UNESCO World Heritage site. The town continues to thrive today as a trading port, center of commerce and tourist destination.
Hoi An is especially loved for its beautiful lanterns that decorate the streets by day and magically transform the town into a colorful wonderland every night.
At the retreat you'll learn the craft of travel writing while touring this unique destination. No experience is necessary! Just bring an open mind, a laptop, or simply pen and paper. Your sense of curiosity and creative juices will flow no matter which tools you use.
We'll explore the fascinating local attractions and experience true Vietnamese culture — all while learning the craft of travel writing and photography from a seasoned travel journalist and photographer.
We'll spend three hours each day in classroom instruction including writing and photography activities. The rest of the time you're free to explore Hoi An, relax with a spa treatment, go on a bike tour or practice your writing and photography.
Join us in Hoi An this December for an unforgettable experience! We limit registration to 10 people.

LEARN MORE AND REGISTER

Here's what some of the 2018 Attendees had to say about the Travel Writing & Photography Retreat:
"Thank you for an amazing week! We learned so many useful tips to improve our writing and photography. We thoroughly enjoyed the dinners, drinks and cooking class. You are so gracious and generous. Your workshop was everything we hoped for and more!"
- Pam and Gary Baker
"I would like to thank you for all you did for me in Hoi An. I thought you made the classes very relaxed and understandable and passed on a wealth of information. This was the biggest bang for my buck of all the travel writing workshops I've attended. I learned more from you in those 5 days than I did in two previous workshops with a competitor. I will definitely recommend your classes."
- Linda Blair
"I loved the small size of the group and the relaxed and friendly atmosphere."
- Jill Friedman
"The balanced curriculum between writing and photography were outstanding."
- Deb Sittko

To learn more and register for the Travel Writing & Photography Retreat click here.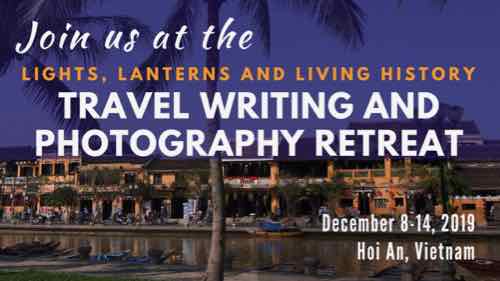 ---
This Week's Featured Post
Facebook Tips For Travel Writers
Despite the problems in the past year or so, Facebook is still a powerful tool for travel writers. It improves your media exposure, boosts your influencer ratings, gives you credibility, helps you network with other writers and editors, and provides many other benefits. 



According to the book, Mastering The New Media Landscape by Barbara Henricks and Rusty Shelton, Facebook is far from a spent force and it's still a popular platform.  83% of female online users and 75% of male online users use Facebook, versus 28% for Instagram, and 22% for LinkedIn.

More people use Facebook than any other social media other than YouTube. Facebook is a powerful tool - and the best social media tool for travel writers.

If you're not using Facebook, you might want to consider these 2019 statistics from Pew Research:

1. With the exception of YouTube, no other major social media platform comes close to Facebook in terms of usage.

2. Of the U.S. adults that use Facebook, the majority (74%) use it at least once a day.

3. Facebook is popular among all demographic groups, young and old.  More women (75%) use it than men (63%) and more people with college degrees use it (74%) than those without (61%). It's still popular with young people (79% usage by 18-29 year olds), and usage by older people has doubled since 2012.


Given the benefits and the usage, travel writers need a Facebook presence.

Do you know how to use Facebook to your best advantage as a travel writer? Here are my Facebook tips on what constitutes an image-enhancing Facebook page, along with some advice on what to avoid posting.

READ THE ARTICLE


---
What's Your Success Story?
We're Looking for More PitchTravelWrite Travel Writing Success Stories.

Have you used our reference books, our PitchTravelWrite.com website, Roy's coaching, our Master Class, our online Master Class, our Travel Writing & Photography Retreat, our weekly newsletter, or any of our other resources to achieve travel writing success?

If so, we'd love to hear from you. Don't be shy!

We also want to hear how you've used our resources to land press trips, score complimentary stays at hotels and resorts and spas, get free guided tours and meals and ground transport and tours, etc.

Please send a summary of your successes to pitchtravelwrite@gmail.com.
---
Upcoming Posts
August 5: Breaking Into Military Travel Writing
August 12: How To Prepare for Overseas Assignments
August 19: Travel Safety: This Article Could Save Your Life!


---
Pitch Travel Write: Most Popular Links for Dreaming Up Story Ideas

It's getting harder and harder to be a generalist travel writer trying to do what thousands of other generalist travel writers are doing. You have to be really creative to come up with unique story ideas that editors haven't heard before.

A huge factor in selling story ideas and getting them published is the quality of your idea. While this may seem self-evident, finding an interesting story to pitch is a daunting task for novice freelance writers. 

It takes some experience to know what constitutes a viable travel story.  And deciding whether a story idea is a dog or a shooting star is an important first step in the pitching process.

So where, and how, do travel writers start their quest for a salable story? Here are 6 Tips for Dreaming Up Better Story Ideas

For novice freelance writers, trying to figure out what story to pitch to an editor is a daunting task. Because of inexperience, you have no frame of reference.  Often, beginners lack confidence in their story ideas. So where do you start? 
 If you want to boost your bylines, try My Winning System for Dreaming Up Travel Story Ideas

The beauty of travel writing is that you can write an article about almost every aspect of your travels and find a home for it somewhere. Editors get tired of being pitched the same kind of roundup story. They see it all the time and it's not what they're looking for anymore.  They are looking for new ideas and fresh perspectives.

This page will give you some idea of the types of travel stories you can write and sell.

I'm often asked, "What are the best travel stories to write?"  The answer is:  whatever you enjoy writing about. Maybe you enjoy writing food, wine, or beer stories. But, by far, my favorite travel stories are roundup pieces.

Round-up travel stories are high-level descriptions, or "roundups", of what a city or destination has to offer.  There's enough variety to offer something of interest for everyone--or at least to the audience the editor wants to appeal.
 Here's how to write roundup stories and why Roundup Travel Stories are the Most Fun to Write

Do you have trouble figuring out what travel stories will sell? This ebook guides you along the highly creative path of inventing and discovering potential travel stories to pitch and sell to magazines. Master this first step - and combine it with a great pitch - and you'll soon find yourself immersed in exciting experiences with fascinating people. Learn more about Story Ideas that Sell here.


---
Inspirational Travel Quote of the Week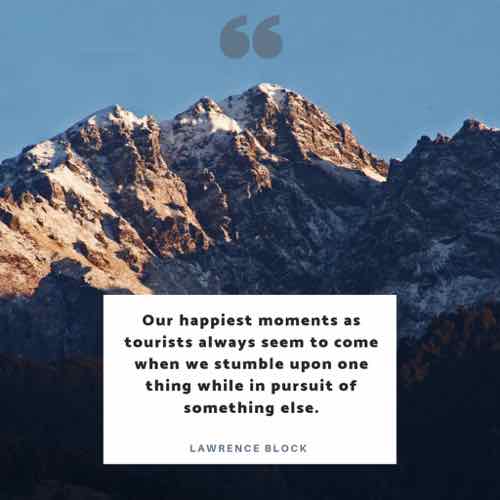 ---
RESOURCES FOR TRAVEL WRITERS
Featured Book of the Month: How to Break Into the Luxury Travel Writing Market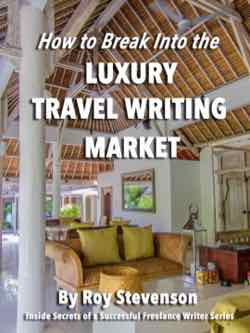 Would you like to stay at luxury resorts, villas, and lodges—for free?

How about being treated like royalty in high-end resorts?

Would you enjoy personalized tours with your own guide and driver?

Does being pampered with lavish treatments in some of the world's most beautiful spas sound good to you?

Would you enjoy eating at some of the finest restaurants in the world—for free? Or wine tasting at some of the world's most gorgeous boutique wineries?

Do you want to know how to enjoy the luxuries of travel without the high cost?

My 12-chapter, 130-page manual will walk you, step-by-step, through the luxury travel writing process. You'll learn how to get luxury travel assignments and leverage them to land luxury travel trips. I've used these techniques to land assignments at dozens of the finest luxury resorts and spas in the world.

This manual contains an up-to-date list of 150+ print magazines and travel websites that publish luxury travel articles. It's the most comprehensive list of luxury magazine outlets you'll find ANYWHERE. Having immediate access to these lists alone is worth the price of the eBook, saving you hundreds of hours of research.



---
We want to say THANK YOU to all our subscribers and social media followers. Running the PitchTravelWrite site would not be possible without your support. Thank you for following us, reading our posts, and emailing questions, comments, and compliments.

We value you more than you can know. Our goal is to help you break into travel writing, get paid for it, and land some cool press trips and free travel.

So keep emailing us - we love hearing from you!
---
At Your Service
Coaching and Consulting
Travel Writing Workshops
Travel Writing Retreats
Online Courses
Vietnam 1-1 Retreat & Consulting
Expat Consulting
email: pitchtravelwrite@gmail.com
If you know someone who will enjoy this newsletter,
please forward or sign up
---
Friend me on Facebook
My Facebook page is about freelance travel writing. I frequently post about:
• travel writing & blogging conferences,
• links to other well produced travel websites and blogs,
• links to my travel articles,
• travel writing themes,
• links to reputable travel writer's groups, associations, and newsletters,
• magazine covers stories and back stories,
• links to resources pages,
• links to travel writing archives,
• links to coaching and mentoring resources,
• and plenty of other useful information to get you up to speed.



Link to Roy's Personal Facebook page
---


That's all for this week.

Until next week, just keep pitching!

Roy

Roy Stevenson
Pitch Travel Write
www.pitchtravelwrite.com













---