Greetings Fellow Travel Writers and Bloggers!
. . . and WELCOME all new subscribers to The Best Travel Writing Newsletter, ANYWHERE!!
Thanks for joining us.


---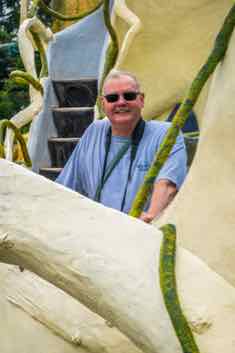 We're excited to announce that registration is OPEN for our Travel Writing and Photography Retreat in Hoi An, Vietnam, December 8-14.

If you need a relaxing, atmospheric place to practice your travel writing craft and hone your photography skills, join us in Hoi An.

We're very excited to learn that Hoi An, Vietnam has just been voted the Best City in the World for 2019 by Travel & Leisure Magazine.

You can find more information about our retreat after the editorial, or at this link:




LEARN MORE ABOUT OUR RETREAT IN HOI AN



---
Greetings!

I write this from our apartment on a hillside on the outskirts of Dalat, Vietnam. We're taking a 10-day respite from the heat in Danang. Temperatures have been in the high 90s – every day - for the past two months, so we decided to cool off in Dalat's moderate climate.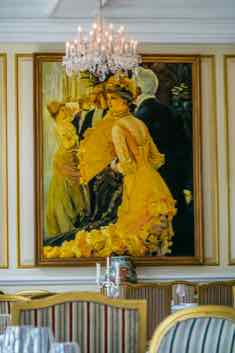 Located in the southern end of Vietnam's Central Highlands, Dalat's 4,900-feet-altitude guarantees a pleasant 75 degrees each day. In fact, it's nicknamed the "City of Eternal Spring".

Our first stop was the 5-star Dalat Palace Heritage Hotel where we enjoyed a pleasant lunch. This historic hotel is a gorgeous old French Grande Dame. With rich wood paneling, colonial old world décor, intricate mosaic tiled floors, plush velvet seats by the fireplace, crystal chandeliers, and full size reproduction Monet paintings, it's a place to relax in old style grandeur.

Then we switched gears.

What sort of house would you get if you hired a deranged architect fueled with industrial strength LSD, tossed in some Disneyland props, added a hint of Dr. Seuss's dreams, and a dash of Alice in Wonderland?

These descriptions do not exaggerate the weirdness that is Han Nga's Crazy House. After visiting this totally disorienting tourist attraction, we'll never be the same! We're still recovering from the flashbacks. If you like the weird, funky, & unusual, put this on your bucket list.
We also visited the summer palace of Emperor Bao Dai. This art deco house of Vietnam's last emperor gives insight into the lifestyle of Vietnam's last emperor. It's not a particularly majestic home he wanted for nothing. There were plenty of spacious bedrooms upstairs (all with en-suites), large meeting rooms, an office downstairs, a large dining room for entertaining and several intimate rooms for family gatherings. With some paint and a few plumbing upgrades, we could happily move in.

More about our Dalat sightseeing in next week's newsletter.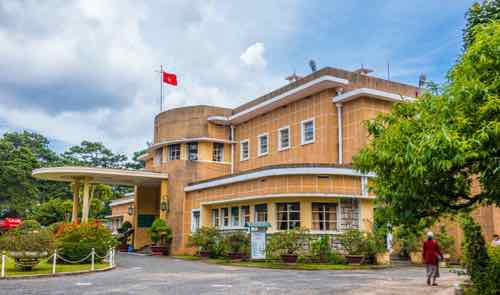 ---
Editorial: How to Look for Stories When You're Traveling
I prefer to line up assignments before I travel, but I'm always looking for new story ideas when I'm on the road. Every extra story brings in extra income. You don't want to stumble past them and miss the opportunity.

Here are a few examples my spur-of-the-moment discoveries – and how I dealt with them on-the-spot.

The Beekeeper. I was driving through the Columbia River Gorge on assignment for a travel magazine when I came across an older gentleman selling honey by the roadside. I stopped to chat. He told me his son, James, collects the honey and is the only beekeeper in the Gorge. I asked for James's contact details because I thought I could sell his story.

A few weeks later I was able to swing an appointment with James. We went into an orchard, kitted up in protective equipment and I helped collect the honey out of the hives. This article appeared in Columbia Gorge magazine, for which I was paid $280.

Missiles led to Military Vehicles. While on a luxury lodges assignment in Arizona, we stopped by the Titan missile base museum just outside Tucson. This museum is underground, leading into a former missile launching room. Afterwards, as we wandered around above-ground, I noticed several military vehicles. We took a bunch of photos of all the vehicles and reader-boards.

That night, I pitched a U.K. military vehicle magazine a story about the vehicles, and the next morning the assignment was waiting in my inbox. This was a short piece, published in Military Machines International magazine and paid 150 GBP (worth about $225 USD at the time.)

Curious Sea Animal Sculptures. Linda and I were doing a bunch of assignments on the Oregon Coast. Driving down the highway, we saw an enormous sculpture of a sea bird along the roadside. We stopped to check it out.

It turned out the seabird was made from plastic picked up on the local beaches. We were invited into the artist's studio where we met Angela Pozzi and learned about her Washed Ashore project. Her program is designed to educate the public about the ecological damage from plastic pollution by producing "sea-saving art". A few months later I had this story published in Oregon Coast magazine and was $270 richer.

Viking Village.In York, England I toured the Jorvik Viking Center. I pitched a story about the recreated Viking Village to Renaissance magazine when I got home. After it was published, I was $133 better off.

Kayaking in Alaska. On a press trip one of our activities was kayaking on some of S.E. Alaska's Lakes. This was great fun and fortunately a few months later an editor posted a call-out for Alaska travel stories. I pitched a story about kayaking in Alaska and it was published in Disney Cruise Line, Norwegian Cruise Line, and Holland America Cruise line's on-board magazines. My haul for this story was $650.

I've had dozens more stories published from spur-of-the-moment discoveries like these. While the individual payments for these assignments seem modest, combined they've added up to thousands of dollars each year. These unplanned assignments were added bonuses to each trip.

So, keep your eyes open for story opportunities when you travel – you never know what you might find. And be prepared to take notes and photographs in case you sell the story later.


---
Travel Writing & Photography Retreat
December 8-14, Hoi An, Vietnam
We're pleased to announce that registration is open for our Travel Writing & Photography Retreat in Hoi An, Vietnam, December 8-14th.

Vietnam's atmospheric and beguiling UNESCO World Heritage City of Hoi An offers an unforgettable experience. It will inspire your writing, spark your imagination and please your palate. Hidden inside the ancient buildings are some of the best culinary delights known to mankind. 

Here's your chance to visit the Best City In The World for 2019, and brush up on your travel writing and photography skills. Don't worry, you'll have plenty of time to tour Hoi An. Our classes run from 9am to Noon, then you're on your own to stroll around this captivating town and soak in its magical atmosphere.
The ancient town of Hoi An, Vietnam was a SE Asian trading port in the 15th through 19th centuries and is a UNESCO World Heritage site. The town continues to thrive today as a trading port, center of commerce and tourist destination.
Hoi An is especially loved for its beautiful lanterns that decorate the streets by day and magically transform the town into a colorful wonderland every night.
At the retreat you'll learn the craft of travel writing while touring this extraordinary destination. No experience is necessary! Just bring an open mind, a laptop, or simply pen and paper. Your sense of curiosity and creative juices will flow no matter which tools you use.
We'll explore the fascinating local attractions and experience true Vietnamese culture — all while learning the craft of travel writing and photography from a seasoned travel journalist and photographer.
We'll spend three hours each day in classroom instruction including writing and photography activities. The rest of the time you're free to explore Hoi An, relax with a spa treatment, go on a bike tour or practice your writing and photography.
Join us in Hoi An this December for an unforgettable experience! We limit registration to 10 people.

LEARN MORE AND REGISTER

People have been asking . . .
"What's the difference between the Seattle Master Class and the Travel Writing & Photography Retreat in Hoi An, Vietnam?"
Here's the short answer:
- The Travel Writing & Photography Retreat in Vietnam is a one-week creative travel writing and photography event 100% focused on improving your writing and photography skills. It's a relaxed, vacation-like retreat with lessons each morning, a cooking class mid-week, a tour around the ancient town of Hoi An, some group meals, two photography shoots and lots of time to practice your writing and your photography. We call it a "retreat" to make it clear you'll have time to explore, relax, and practice your creative skills.
- The Seattle Master Class is a 3-day intensive workshop in the U.S. focused on selling your articles, getting paid, working with editors and getting comps. We meet for 8 hours each day in information-packed sessions and often in the evenings in impromptu sessions. It's an "intensive" 3 days.
Each class serves a different purpose. There is very little overlap between the two classes.
If you have further questions, please ask. We'll be happy to hear from you. Or, if you're ready register for the Travel Writing Retreat click here.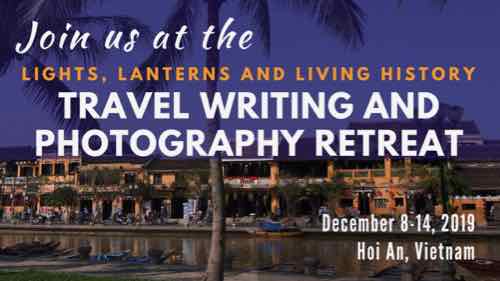 ---
This Week's Featured Post
Smackdown: Travel Guidebooks vs. the Internet
Sales of travel guidebooks have declined significantly in the past few years. But bookstores still carry hundreds of them. With so much information available on the Internet, are travel guidebooks necessary anymore?

One of my favorite activities when I'm planning a trip is to get my hands of as much information as possible about the destination. So I use both travel guidebooks and the Internet for this purpose. 

Most people I know rely solely on the Internet these days for their travel information. But I think that's a big mistake! I'll explain why in this article.

Both guidebooks and the Internet have advantages and shortcomings, depending on what you're looking for and what you're going to do with the information.

Here's how I use both of these valuable sources of information - and what I ignore.

READ THE ARTICLE


---
What's Your Success Story?
We're Looking for More PitchTravelWrite Travel Writing Success Stories.

Have you used our reference books, our PitchTravelWrite.com website, Roy's coaching, our Master Class, our online Master Class, our Travel Writing & Photography Retreat, our weekly newsletter, or any of our other resources to achieve travel writing success?

If so, we'd love to hear from you. Don't be shy!

We also want to hear how you've used our resources to land press trips, score complimentary stays at hotels and resorts and spas, get free guided tours and meals and ground transport and tours, etc.

Please send a summary of your successes to pitchtravelwrite@gmail.com.
---
Upcoming Posts
July 29: Facebook Tips for Travel Writers
August 5: Breaking Into Military Travel Writing
August 12: How To Prepare for Overseas Assignments
August 19: Travel Safety: This Article Could Save Your Life!


---
Pitch Travel Write: Most Popular Links for Dreaming Up Story Ideas

It's getting harder and harder to be a generalist travel writer trying to do what thousands of other generalist travel writers are doing. You have to be really creative to come up with unique story ideas that editors haven't heard before.

A huge factor in selling story ideas and getting them published is the quality of your idea. While this may seem self-evident, finding an interesting story to pitch is a daunting task for novice freelance writers. 

It takes some experience to know what constitutes a viable travel story.  And deciding whether a story idea is a dog or a shooting star is an important first step in the pitching process.

So where, and how, do travel writers start their quest for a salable story? Here are 6 Tips for Dreaming Up Better Story Ideas

For novice freelance writers, trying to figure out what story to pitch to an editor is a daunting task. Because of inexperience, you have no frame of reference.  Often, beginners lack confidence in their story ideas. So where do you start? 
 If you want to boost your bylines, try My Winning System for Dreaming Up Travel Story Ideas

The beauty of travel writing is that you can write an article about almost every aspect of your travels and find a home for it somewhere. Editors get tired of being pitched the same kind of roundup story. They see it all the time and it's not what they're looking for anymore.  They are looking for new ideas and fresh perspectives.

This page will give you some idea of the types of travel stories you can write and sell.

I'm often asked, "What are the best travel stories to write?"  The answer is:  whatever you enjoy writing about. Maybe you enjoy writing food, wine, or beer stories. But, by far, my favorite travel stories are roundup pieces.

Round-up travel stories are high-level descriptions, or "roundups", of what a city or destination has to offer.  There's enough variety to offer something of interest for everyone--or at least to the audience the editor wants to appeal.
 Here's how to write roundup stories and why Roundup Travel Stories are the Most Fun to Write

Do you have trouble figuring out what travel stories will sell? This ebook guides you along the highly creative path of inventing and discovering potential travel stories to pitch and sell to magazines. Master this first step - and combine it with a great pitch - and you'll soon find yourself immersed in exciting experiences with fascinating people. Learn more about Story Ideas that Sell here.


---
Inspirational Travel Quote of the Week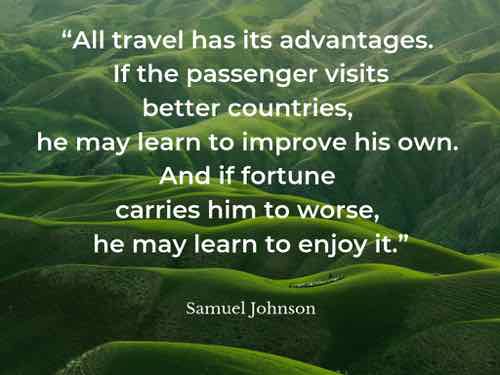 ---
RESOURCES FOR TRAVEL WRITERS
Featured Book of the Month: How to Break Into the Luxury Travel Writing Market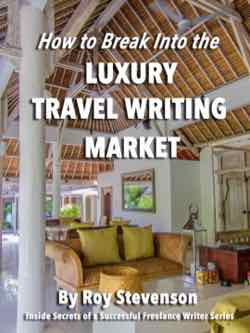 Would you like to stay at luxury resorts, villas, and lodges—for free?

How about being treated like royalty in high-end resorts?

Would you enjoy personalized tours with your own guide and driver?

Does being pampered with lavish treatments in some of the world's most beautiful spas sound good to you?

Would you enjoy eating at some of the finest restaurants in the world—for free? Or wine tasting at some of the world's most gorgeous boutique wineries?

Do you want to know how to enjoy the luxuries of travel without the high cost?

My 12-chapter, 130-page manual will walk you, step-by-step, through the luxury travel writing process. You'll learn how to get luxury travel assignments and leverage them to land luxury travel trips. I've used these techniques to land assignments at dozens of the finest luxury resorts and spas in the world.

This manual contains an up-to-date list of 150+ print magazines and travel websites that publish luxury travel articles. It's the most comprehensive list of luxury magazine outlets you'll find ANYWHERE. Having immediate access to these lists alone is worth the price of the eBook, saving you hundreds of hours of research.



---
We want to say THANK YOU to all our subscribers and social media followers. Running the PitchTravelWrite site would not be possible without your support. Thank you for following us, reading our posts, and emailing questions, comments, and compliments.

We value you more than you can know. Our goal is to help you break into travel writing, get paid for it, and land some cool press trips and free travel.

So keep emailing us - we love hearing from you!
---
At Your Service
Coaching and Consulting
Travel Writing Workshops
Travel Writing Retreats
Online Courses
Vietnam 1-1 Retreat & Consulting
Expat Consulting
email: pitchtravelwrite@gmail.com
If you know someone who will enjoy this newsletter,
please forward or sign up
---
Friend me on Facebook
My Facebook page is about freelance travel writing. I frequently post about:
• travel writing & blogging conferences,
• links to other well produced travel websites and blogs,
• links to my travel articles,
• travel writing themes,
• links to reputable travel writer's groups, associations, and newsletters,
• magazine covers stories and back stories,
• links to resources pages,
• links to travel writing archives,
• links to coaching and mentoring resources,
• and plenty of other useful information to get you up to speed.



Link to Roy's Personal Facebook page
---


That's all for this week.

Until next week, just keep pitching!

Roy

Roy Stevenson
Pitch Travel Write
www.pitchtravelwrite.com













---