Greetings Fellow Travel Writers and Bloggers!
. . . and WELCOME to all new subscribers! Thanks for joining us.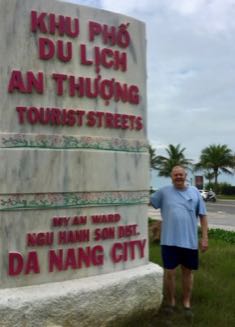 Happy 2019!
We brought in the new year in Danang, Vietnam. The Vietnamese celebrated the New Year with fireworks and many took New Year's Day off. Then, life goes on apace. The streets buzz with motorcycles and motor scooters as the locals ride to work wearing winter jackets over their hotel or spa uniforms. We often see mom, dad, and two kids on one motorcycle. Low budget SUVs!
The "sunglass ladies" never take a day off. They're always walking up and down the streets, bearing large pieces of plywood (about 3 feet by 2 feet), hanging from a strap over their shoulder, offering dozens of pairs of sunglasses, neatly arranged in plastic-wrap.
The "fruit ladies" also zip up and down our streets on motorcycles. Their wide baskets have assorted mangos, pineapples, durian, pomelos, and other exotic fruits we don't recognize.


The new year always excites me! I know it's just another week on the calendar, but I like starting each year off with a clean slate, some new travel writing goals, and a plan to accomplish those goals.

I'm sure most of you are having similar thoughts.

More than half of our newsletter readers are unpublished travel writing novices. You want to take those first steps and get your first bylines to gain bylines, credibility, and confidence.

Another 25% of our subscribers have accumulated a modest list of bylines, mainly online. With most stories unpaid, or only a modest payout, you're anxious to expand your publications, break into print media and get paid for your work. And you want to learn how to get some complimentary travel from your writing assignments.

The remaining 25% of our followers have been published online and in print media, and been paid for some of your work. You want to get your travel stories more consistently into paying print media and work the complimentary travel angle more for press trips and free travel.

We can help you achieve your travel writing goals for 2019. That's what we do!

Registration opens this week for our 2019 Travel Writing and Marketing Master Class.
Watch your email for our early bird registration announcement along with a substantial subscriber discount.

Better yet, get on the interest list and be the first to hear when registration opens. We limit the workshop to the first 25 people who sign up.

If you're planning to attend, get on the interest list here ...

---
This Week's Featured Post
Why Write for Free? Here's my take on this controversial issue
Should you write for free?  All travel writers, at some time during their writing career, struggle with the contentious issue of whether they should write articles for free.   We've all received emails back from editors along these lines, "We love your proposed article idea, but want you to know up front that we do not pay for contributions to our magazine. If you are still interested in submitting your story, we'll be happy to look at it."



What?  Do you mean that some magazines don't pay their writers for their work?  



Sadly, this practice is far more widespread than you can imagine. In my experience over a number of years, I have received some benefits from writing articles for free.  Some of these benefits are direct, others indirect. 



To help you decide on your own policy, here's my take on when you might want to consider writing for free.

READ THE ARTICLE


---
Freelancers Can Learn A Lot From Each Other
I'm plugged into the freelance writing field and am always interested in who's emerging from the churning talent pool.

One impressive freelancer I've been noticing lately is Lindy Alexander, from Australia. To say she's broken into this challenging arena is like Sir Edmund Hilary, the first man to climb Mount Everest, saying it was just a small hill.

Lindy has, almost from the start, met with remarkable success. She's racking up notable bylines—and just as importantly—a significant income. Read on to see how much—it'll blow you away!

Lindy and I have a few things in common. Within one week of taking a course on feature writing for magazines and newspapers, she had an article commissioned. Since then she says, "I haven't looked back". This recalls my first week of freelancing, back in August 2007, when two paying magazines commissioned my stories.

Lindy's bylines include Sunday Life, The Guardian, Good Food, The Sydney Morning Herald, Modern Farmer, and Jetstar magazine, to name but a few.

Lindy also believes in writing, as I do, in diverse genres and writing fields. She does a lot of copywriting for various associations and corporations. And with her travel writing, Lindy's scoring glamorous press trips to places like Northern Queensland, Vietnam, Thailand, and Fiji.

While Lindy's rapid emergence is impressive, her most spectacular achievement is her six-figure income. In the 2018 calendar year, Lindy earned $120K of commissioned work. Not too shabby for a writer who has only been in the game for six years and who works part time!

Lindy produces a well-written free weekly blog, The Freelancer's Year, about what she's earning and how she's doing it, sparing no gory details. And like me, Lindy coaches other writers.

I follow Lindy's blog diligently, and am always picking up take-home messages, large and small, that will help me on my freelance writing journey. I strongly recommend you subscribe to her weekly blog too. You can subscribe here: Link to The Freelancers Year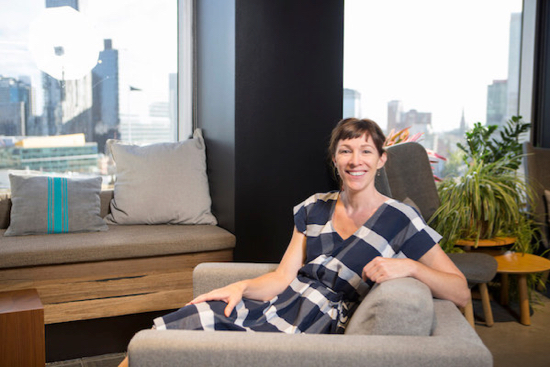 While you're there, read some of Lindy's posts. They're timely, interesting and always have good solid practical information and writing tips and strategies, including mistakes she's made along the way.

Recently when I contacted Lindy, I was tickled pink to learn she's been following my weekly PitchTravelWrite newsletters for a few years. She reads them faithfully and I'm honored by this.

Lindy Alexander gets it. She's always thinking, learning, reading, writing, pitching, press tripping, and moving steadily up the freelance writing totem pole. You can learn more about Lindy's inspiring achievements at her website https://www.lindyalexander.net/about/

There's always something new to learn in freelance writing. In fact, the day we think we know it all is the day our freelance writing career starts declining.
---
Upcoming Posts
January 14: Barb Harmon: Another PitchTravelWrite Success Story
January 21: How to Earn More When You Travel
January 28: Where to Pitch Travel Stories
February 4: Is Your Story Saleable? Take this 10 question test


---
Pitch Travel Write: Most Popular Links
Top Five Most Read Posts in 2018
7 Ways to Improve Your Writing Style
Press Trips for Travel Writers
12 Characteristics of Successful Travel Writers
How to Get Published & Make Money
Travel Writers Associations - Which One is Right for You?
---
Inspirational Travel Quote of the Week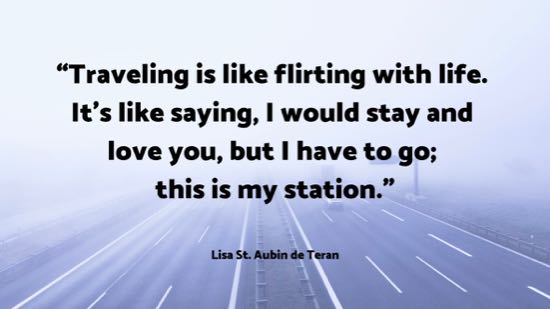 ---
Featured Book of the Month: The Beginner's Bundle
Three Key Reference Guides to Kick-off Your Travel Writing Career
By Roy Stevenson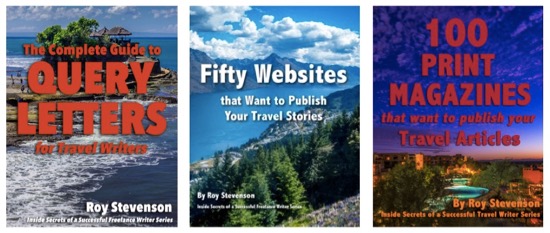 Are you wondering what you need to get started as a travel writer?

My Beginner's Pack of reference books and guides is the perfect way to kick off your travel writing career.  These three guides will lead you step-by-step through everything you need to know to get started.

Here's how these reference guides will help you:


The Complete Guide To Query Letters For Travel Writers - Everything you need to know to craft compelling query letters.  118 pages with 20 actual query letters that you can use to create your own successful query letters. 

100 Print Magazines That Want To Publish Your Travel Articles - 
This gets you started with a list of 100 print magazines that publish travel articles from freelance writers.  It's the list I use to sell my travel articles. This list will save you hundreds of hours of time - time that you can spend writing and traveling instead. 

This book is also packed with expert advice to help you use the magazine listings to your best advantage, to save you time, and get published more often.

50 Websites That Want To Publish Your Travel Stories - 
If you want to establish your bylines quickly, getting published online is the fastest way to do it.  Here's a list of 50+ quality websites along with ten pages of advice about how to get published online. Save yourself hundreds of hours of research time using this list of websites each time you want to get one of your stories published.


Buy the Beginner's Pack bundle and save 10% off the individual prices of the books!

BUY THE BUNDLE


---
We want to say THANK YOU to all our subscribers and social media followers. Running the PitchTravelWrite site would not be possible without your support. Thank you for following us, reading our posts, and emailing questions, comments, and compliments.

We value you more than you can know. Our goal is to help you break into travel writing, get paid for it, and land some cool press trips and free travel.

So keep emailing us - we love hearing from you!
---
Friend me on Facebook
My Facebook page is about freelance travel writing. I frequently post about:
• travel writing & blogging conferences,
• links to other well produced travel websites and blogs,
• links to my travel articles,
• travel writing themes,
• links to reputable travel writer's groups, associations, and newsletters,
• magazine covers stories and back stories,
• links to resources pages,
• links to travel writing archives,
• links to coaching and mentoring resources,
• and plenty of other useful information to get you up to speed.



Link to Roy's Personal Facebook page
---
Please share the e-zine with friends, family or anyone you know who's interested in travel writing. They can sign up for the newsletter and get free marketing tips each week at this link:

Sign up for my weekly marketing tips

That's all for this week.

Until next week, just keep pitching!

Roy

Roy Stevenson
Pitch Travel Write
www.pitchtravelwrite.com













---