Greetings Fellow Travel Writers and Bloggers!
. . . and WELCOME to all new subscribers! Thanks for joining us.

Linda and I like to stroll through our neighborhood and stop off for a strong Vietnamese coffee at one of the two dozen local coffee shops. Most of the staff know us well by now and even remember our coffee orders.
My favorite coffee shop is Thanh Tam, only two hundred meters from our apartment. Parked on the corner of a large convent, Tanh Tam is special education center for young people with disabilities. It's funded by a non-profit agency in Luxembourg and the school hosts a fabulous coffee shop and bakery.
We love relaxing in this cool and breezy cafe with its high ceiling, comfortable wicker chairs, and interesting architecture. They serve fresh food and baked goods along with home grown, organic coffee. My order is typically an iced latte while Linda's is a coconut coffee.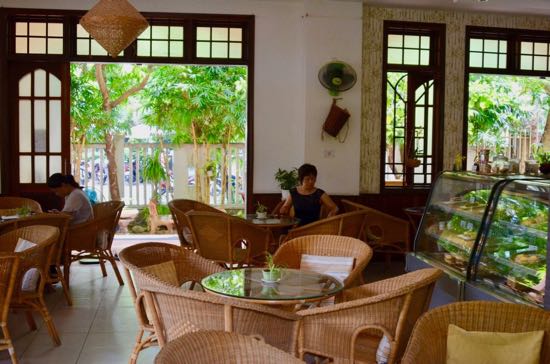 I'd love it if you'd join me in Seattle for The Complete Travel Writing & Marketing Master Class
Last year, aspiring travel writers came from five countries to attend our Seattle Travel Writing & Marketing Master Class. And our U.S. attendees were from ALL over the country.

Why are aspiring travel writers traveling from all over the world for the Master Class? Because it's the BEST travel writing class, ANYWHERE. Seriously!

Do you want to learn how to ...

• Consistently sell Your Travel Stories To Paying Print Magazines?

• Land Press Trips & Get Complimentary Travel?

• Improve and Accelerate Your Travel Writing Career?

• Transform your travel blogs into cash by selling them to print magazines

You'll get all this information—and much more—in my three-day intensive workshop for travel writers, The Complete Travel Writing & Marketing Master Class. 
 The focus is on marketing & selling your articles, and on using your assignments to request complimentary travel - two of the areas where most writers struggle.

We still have seats available in this year's workshop!

LEARN MORE AND REGISTER

"We attended Roy's Master Class and Deep Dive in Seattle. We had just flown in from Europe the night before and I worried I would be too jet lagged to stay awake during the workshop. But the excitement of the class and the tremendous information kept me awake all day long!

You will learn things in the class that you won't get from books. And you'll make friends, too, that have the same goals. You'll continue to stay in touch and encourage each other and cheer your successes. A network is important! If you haven't signed up for Roy's class this April, you need to do it now before it is sold out!

I cannot say enough about how valuable this workshop has been. Roy is a wealth of knowledge and just a joy to work with! I love his enthusiasm, encouragement and passion for helping new travel writers."


Pam & Gary Baker
, Master Class Attendees, 
April 2017

Save $300 when you register before February 14th.

REGISTER HERE

---
This Week's Featured Post
Where to Pitch Travel Stories
Every week I get emails from travel writers asking me where to pitch travel stories.  "Which magazines are the best targets for my query letter," they ask.


I coach novice travel journalists and notice they also struggle with this. Finding the right magazines to pitch stories is an ongoing challenge.



The process of figuring out where to pitch travel stories confounds most writers at the onset of their career. In light of this, I devoted an entire chapter to this topic in my marketing book, The Complete Guide to Marketing and Selling Your Travel Articles. 



But, if you don't have my marketing book, or you want a quick refresher, here are six ways to find places to pitch.

READ THE ARTICLE


---
Upcoming Posts
February 4: Is Your Story Saleable? Take this 10 question test
February 11: My 5 Step Pitching Process
February 18: Creating a Sense of Place in Your Travel Articles
February 25: Using Writers Guidelines to Sell Your Travel Stories


---
Pitch Travel Write: Most Popular Links
Top Five Most Read Posts in 2018
7 Ways to Improve Your Writing Style
Press Trips for Travel Writers
12 Characteristics of Successful Travel Writers
How to Get Published & Make Money
Travel Writers Associations - Which One is Right for You?
---
Inspirational Travel Quote of the Week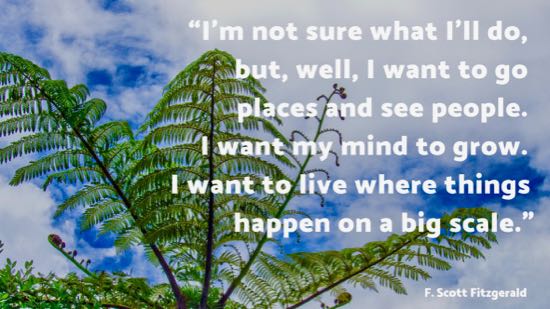 ---
Featured Book of the Month: The Beginner's Bundle
Three Key Reference Guides to Kick-off Your Travel Writing Career
By Roy Stevenson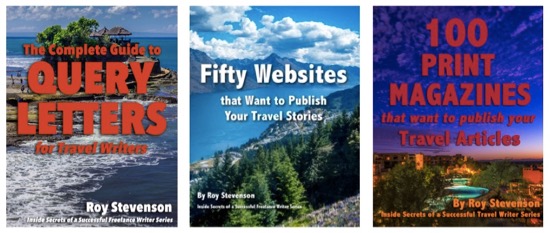 Are you wondering what you need to get started as a travel writer?

My Beginner's Pack of reference books and guides is the perfect way to kick off your travel writing career.  These three guides will lead you step-by-step through everything you need to know to get started.

Here's how these reference guides will help you:


The Complete Guide To Query Letters For Travel Writers - Everything you need to know to craft compelling query letters.  118 pages with 20 actual query letters that you can use to create your own successful query letters. 

100 Print Magazines That Want To Publish Your Travel Articles - 
This gets you started with a list of 100 print magazines that publish travel articles from freelance writers.  It's the list I use to sell my travel articles. This list will save you hundreds of hours of time - time that you can spend writing and traveling instead. 

This book is also packed with expert advice to help you use the magazine listings to your best advantage, to save you time, and get published more often.

50 Websites That Want To Publish Your Travel Stories - 
If you want to establish your bylines quickly, getting published online is the fastest way to do it.  Here's a list of 50+ quality websites along with ten pages of advice about how to get published online. Save yourself hundreds of hours of research time using this list of websites each time you want to get one of your stories published.


Buy the Beginner's Pack bundle and save 10% off the individual prices of the books!

BUY THE BUNDLE


---
We want to say THANK YOU to all our subscribers and social media followers. Running the PitchTravelWrite site would not be possible without your support. Thank you for following us, reading our posts, and emailing questions, comments, and compliments.

We value you more than you can know. Our goal is to help you break into travel writing, get paid for it, and land some cool press trips and free travel.

So keep emailing us - we love hearing from you!
---
Friend me on Facebook
My Facebook page is about freelance travel writing. I frequently post about:
• travel writing & blogging conferences,
• links to other well produced travel websites and blogs,
• links to my travel articles,
• travel writing themes,
• links to reputable travel writer's groups, associations, and newsletters,
• magazine covers stories and back stories,
• links to resources pages,
• links to travel writing archives,
• links to coaching and mentoring resources,
• and plenty of other useful information to get you up to speed.



Link to Roy's Personal Facebook page
---
Please share the e-zine with friends, family or anyone you know who's interested in travel writing. They can sign up for the newsletter and get free marketing tips each week at this link:

Sign up for my weekly marketing tips

That's all for this week.

Until next week, just keep pitching!

Roy

Roy Stevenson
Pitch Travel Write
www.pitchtravelwrite.com













---