Greetings Fellow Travel Writers!
. . . and WELCOME all new subscribers. Thanks for joining us.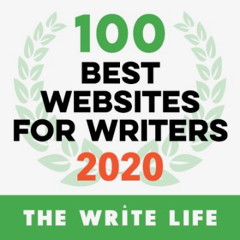 We're thrilled to announce that www.PitchTravelWrite.com is on The Write Life's 2020 list of 100 BEST WEBSITES FOR WRITERS! 
We're one of only four travel writing websites listed!


You can see the entire list by visiting their website - click on the graphic to view the list now.



---
Editorial: Think Globally to Sell More Travel Stories
People often ask me how it's possible to earn a decent income with freelance writing, when many magazines pay so little for articles. One technique that freelancers use, in order to increase their income, is to sell the same story more than once. So it's important to know how to get paid multiple times for the same article.

How do you do this? One of my favorite ways is to resell to the overseas market.

Once I've prepared my query letter, I usually send simultaneous queries to editors of magazines in other English speaking countries. It's all income – whether a writer is paid in US dollars, British pounds, or Australian or Canadian dollars. So I look at the opportunities to sell my work internationally.

If editors in two different countries want your article, you can sell it to them both at the same time as long as their circulations don't overlap. You don't have to wait six months after it's been published in one country before it can be published in the next. Your article can, theoretically, even be published in the same month in both countries – although this scenario is unlikely.

So you might be wondering, if you sell an article to an editor in the U.K. and the same article to and editor in the U.S., do you need to tell them?

I don't usually bother. As long as the magazine's circulations do not overlap, then the editors wouldn't care anyway. And if the magazines are different genres, they'd care even less.

As an example, I once had a freelance article about preventing skin damage from outdoor sports published simultaneously in a golfing magazine, a tennis magazine, and a triathlon magazine. No one minded – different genres, no overlap.

Is there a time when you cannot sell articles simultaneously? 

Yes, and it's very important that you understand this part.

1. Don't Sell To Overlapping Markets
As mentioned above, you cannot sell articles simultaneously if the circulations of the magazines overlap – whether in the same country or different countries.

2. Don't Resell If You've Sold "All Rights"
You cannot sell an article simultaneously anywhere if you sign over "All Rights" to one of the magazines.

Signing over "all rights" means that you will not be able to sell the story to anyone, ever again. If a magazine owns "all rights" to one of your articles, it is now their property.

You should never give away "all rights" unless it's a prestigious, high paying publication. In other words, if you're being paid a premium fee for your article, then "all rights" is just fine.

It's unusual for a magazine to purchase "all rights" in my experience, and most editors don't request it. But always be certain, before signing a contract, that you're not giving away "all rights".
---
Coming in 2020
We thought you'd like to know what plans we've got in the works for you, for this year.

WORKSHOPS

Travel Writing & Photography Retreat, New Orleans, June 11-14, 2020. This year we're giving you the opportunity to take this exciting, interactive & informative course in the U.S.

This unique destination writer's retreat includes creative travel writing and photography workshops. You'll learn and practice the skills you need to be a successful travel writer including numerous tips to make quick improvements to your writing.

You'll also learn how to produce quality photographs that editors will love. You'll practice by making a photo gallery while you're in New Orleans to help you sell and tell your story.  By the end of the four days you'll have a completed draft story with photos - ready to pitch to an editor!

Our popular Travel Writing and Marketing Master Class will follow after the Retreat on June 16-18, 2020, also in New Orleans. 

In this exclusive program we'll explore, in detail, every single step of my travel writing, pitching and selling strategy.  It's only offered once a year. If you want to learn how to break into travel writing, sell your stories to reputable paying print magazines, and get paid - you NEED to take this course!

If you haven't taken our workshops, you can take both workshops, back-to-back, in New Orleans. You'll spend the first 4 days working on your writing craft and then you'll learn exactly what you need to do to sell your stories in the last 3 days of the week. It's the complete package!

To ensure a personal, quality experience for everyone, registrations will be limited to the first 10 people to sign up for the Retreat, and the first 25 people to sign up for the Master Class.

New Orleans ranks as the most unique city in the U.S, so it will be an inspirational backdrop and give our participants lots of travel story ideas to work with during the retreat. We'll spend time writing about New Orleans & learning ways to improve your writing craft.

We'll offer our international Travel Writing & Photography Retreat in December in Vietnam. There's nothing like being in the World's Best City while taking the Retreat and enjoying this UNESCO world heritage site.

We'll have more details for you in the coming weeks as we finalize hotel details, but here are the tentative dates. Mark your calendar NOW!

- Travel Writing & Photography Retreat, New Orleans, June 11-14, 2020

- Travel Writing & Marketing Master Class, New Orleans, June 16-18, 2020

- Travel Writing & Photography Retreat, Vietnam, December 6-12, 2020

If you want to get on our workshop interest list, you can sign up here. We'll send you workshops updates when we finalize the details.

Workshops in 2020 - Interest List Signup

Group Coaching

Many of you have also asked when we're going to offer group coaching. We're planning to make it affordable, fun, helpful and productive for you. We'll be releasing the final details soon. Stay tuned!

Our BRAND NEW group coaching program will be limited to the first 25 registrants. Only people on the interest list will receive early signup privileges and discounts.

Click here to get on the Group Coaching Interest List

---
This Week's Featured Post
The Best Query Letter Books To Improve Your Pitches
Query letters are where the rubber meets the road in the freelance travel writing game. Your query letter pitches your story idea to an editor and requests the opportunity to write for him or her.

After all the books I've reviewed on the art and craft of creating query letters over the past few years, here are three that I recommend to my readers:

READ THE ARTICLE


---
Upcoming Posts
February 3, 2020: How to Build Distribution Lists To Sell Your Travel Stories
February 10: Luxury Travel Writing: My Story and How You Can Do It, Too
February 17, 2020: Magazine Editors: The Good, The Bad and The Ugly


---
PitchTravelWrite.com Success Stories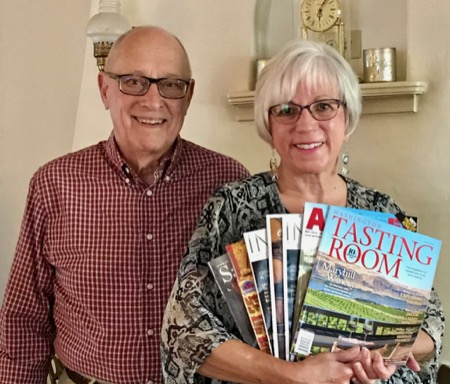 Pam and Gary Baker: A Remarkable Travel Writing Journey
We've got two overachieving travel writers in Pam & Gary Baker! In their two years as travel writers, Pam and Gary Baker have become an inspiring testament to how hard work can lead to spectacular success in our highly competitive field. I worked with Pam & Gary as coach & mentor since they took our 2017 Travel Writing & Marketing Master Class. They've gone from strength to strength and demonstrated that it's possible for beginners to move into the top shelf travel glossies if you stick with it and follow the system.
Here's this delightful couple's story, in their own words.

A Remarkable Travel Writing Journey by Pam & Gary Baker
---
Pitch Travel Write: Most Requested Links about Dreaming Up New Travel Story Ideas

To sell your travel stories, you have to be really creative to come up with unique story ideas that editors haven't heard before.

It takes some groundwork to become savvy at recognizing and mining gold nugget travel story ideas. A huge factor in selling story ideas and getting them published is the quality of your idea. While this may seem self-evident, finding an interesting story to pitch is a daunting task for novice freelance writers. 



So where, and how, do travel writers start their quest for a salable story? Here are 6 Tips for Dreaming Up Better Story Ideas that Sell

For novice freelance writers, trying to figure out what story to pitch to an editor is a daunting task. Because of inexperience, you have no frame of reference.  Often, beginners lack confidence in their story ideas. So where do you start? If you want to boost your bylines, try my winning system. These seven techniques can be used to constantly generate saleable ideas.

The beauty of travel writing is that you can write an article about almost every aspect of your travels and find a home for it somewhere. Editors are looking for new ideas and fresh perspectives. This post will give you some idea of the types of travel stories you can write and sell.

The best travel story is a result of writing about your personal interests or passions. Anything that interests you will result in an article that has more meaning, more emotion and a deeper level of knowledge to share with your readers.  For me, this happens to be anything about military history, especially WWII.  Your interests will be different but the important part is that it is something you truly enjoy.
Writing Genres - Find Your Travel Writing Niche

Did these articles help you refine and define your travel story ideas?

Are you ready to go to the next level? Try our Travel Writing Creative Pack to get more in-depth information.

Our Creative Pack provides the first piece of the travel writing puzzle. These three eBooks give the starting point for every travel writer: dreaming up unique story ideas, finding the best writing niches for your interests, passions and experience, and the art & craft of travel writing.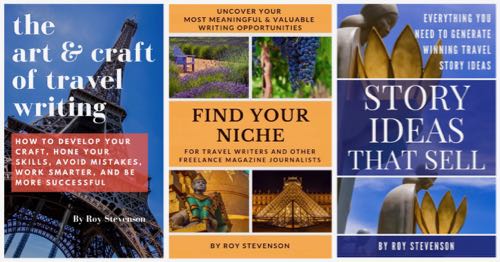 The Art & Craft of Travel Writing is a handy reference guide to make your travel stories sparkle and help you become a more successful writer. The tips and techniques packed into the 170-page book will help you develop your craft, hone your skills, and work smarter.

In Find Your Niche you'll learn why it's important to write in a variety of genres.  It explores the multitude of opportunities available to travel writers and other freelance writers.  



You'll learn to identify the niches that are most interesting and meaningful to you. And you'll find out how to hone in on the most profitable niches.

 Full of  tips, advice and inspiration, this 85-page book will help you find your niche!

Story Ideas that Sell guides you along the highly creative path of inventing and discovering potential travel stories to pitch and sell to travel magazines. Conjuring up viable story ideas are the very bedrock of every successful travel writer today.  

In this 76-page book you'll learn my winning system to generate story ideas that sell.  Master this first step - and combine it with a great pitch - and you'll soon find yourself immersed in exciting experiences with fascinating people.

---
Inspirational Travel Quote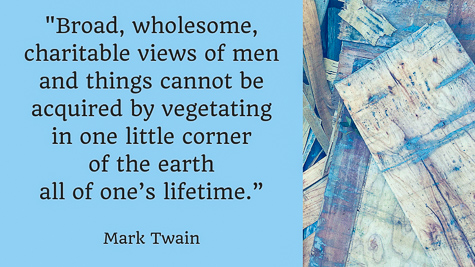 ---
RESOURCES FOR TRAVEL WRITERS
Featured Book of the Month: THE COMPLETE GUIDE TO QUERY LETTERS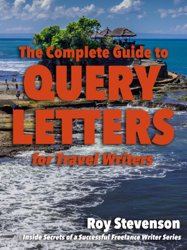 Our best-selling eBook, The Complete Guide To Query Letters For Travel Writers, shows you everything you need to know about crafting compelling query letters to sell your travel articles to magazine editors.

Well-written query letters convince magazine editors that you have an exciting travel story their readers will absolutely love.

In ten years of travel writing I've had more than 1,000 stories published in 200 magazines, journals, newspapers, in-flights, on-boards, specialty magazines, and travel websites – and they all started with a query letter.  I know how to write killer query letters that work, and I wrote this eBook to show you how to do it.

This is different from all other query letter books because you get 20 real query letters that worked for me. These are query letters I used successfully to get articles published in print magazines.

Each query letter comes with a clear explanation of the key things that sold the idea successfully. And you can use my samples to create a template for your own query letters, using similar words and layout.

Testimonials
Here's travel writer & blogger Chris Backe's review of my Query Letter eBook:


"Pitch letters can sometimes feel like the secret sauce of the blogging world. Many folks have a template or two they use, but few share them as openly as Roy has here. Call this what it is – a master-class of sales writing to get into magazines and newspapers.
The book itself is clean, complete, yet concise enough to be read in a single sitting. Roy's real world experience and credentials underscore the opening chapters, which reads like common sense should – if it were still common sense. It's up-to-date with the way things actually work here in 2015 (not the way we want them to work).
A two-page template is the appetizer, with twenty query letters written by him that resulted in an article placement as the main course. You'll soon notice the patterns used, and feel empowered to try it yourself. Note that some lateral thinking is rewarding – and that tailoring your pitch to ensure that magazine's angle is taken care of is paramount. Highly recommended." 


And another testimonial from Australian writer, Jillian Huntley:

  "Dear Roy,

I want to thank you for the fantastic amount of information you so
 freely share with the writing community.

I have been published in the academic world but as yet, nothing other
than one small article in the Travel section of the Weekend Australian, although I am just starting out as a freelance writer.


I like the structure of your query letters (having bought your e-book). I have recently completed a Travel Writing course with the Australian Writers Centre, which was most helpful, however, I found that the structure of the pitch letters we wrote in the course were not as informative or as detailed as yours. This is not a criticism of their style as everyone does things differently but to me it make sense (again) to follow a format such as yours which is detailed and informative.
As I write my 
pitch letters - I have your e-book open as a guide!

 Again, thank you Roy for your generosity in sharing your experiences."

Kind Regards
, Jillian Huntley


---
At Your Service
Coaching and Consulting
Travel Writing & Marketing Master Class
Travel Writing and Photography Retreat
Online Courses
Vietnam 1-1 Retreat & Consulting
Expat Consulting
email: pitchtravelwrite@gmail.com
If you know someone who will enjoy this newsletter,
please forward or sign up
---
Friend me on Facebook
My Facebook page is about freelance travel writing. I frequently post about:
• travel writing & blogging conferences,
• links to other well produced travel websites and blogs,
• links to my travel articles,
• travel writing themes,
• links to reputable travel writer's groups, associations, and newsletters,
• magazine covers stories and back stories,
• links to resources pages,
• links to travel writing archives,
• links to coaching and mentoring resources,
• and plenty of other useful information to get you up to speed.



Link to Roy's Personal Facebook page
---


That's all for now. Until next week - just keep pitching! Roy

Roy Stevenson
Pitch Travel Write
www.pitchtravelwrite.com






---