Greetings Fellow Travel Writers!
. . . and WELCOME all new subscribers. Thanks for joining us.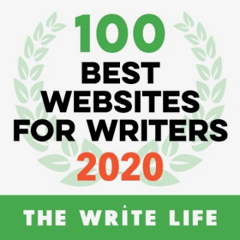 We're thrilled to announce that www.PitchTravelWrite.com is on The Write Life's 2020 list of 100 BEST WEBSITES FOR WRITERS! 
We're one of only four travel writing websites listed!


You can see the entire list by visiting their website - click on the graphic to view the list now.



---
Our Travel Update
We're in the midst of packing for our upcoming tour and visa run - to Myanmar! We leave tomorrow.
We're very excited to visit Mandalay, Bagan, and Inle Lake on this trip! First stop in Mandalay offers us a wealth of historic sites including the Mahamuni Temple, the Schwenanday Monastery, aka Mandalay Palace, and the view from Mandalay Hill. We also plan to visit the ruins of medieval Inwa, the pagoda-covered hill at Sagaing, Amarapura, and the Zegyo Market.
We'll share photos and I'll tell you more about what we found most spectacular in next week's newsletter!

Editorial: Do You Pitch Before You Write?
One of the most common questions aspiring writers ask is, "Should I write my article first and then send a query to the magazine editors, or should I query my story to the editor first and then write the article?" 

The answer: Query first!


Beginners should always query their story idea to an editor before writing their article. Your sales pitch comes first.

The reasons are simple: If no one buys the article, you've spent two days writing the story with nothing to show for it. It's hanging there in article limbo and you've just wasted two days of your life—which you can never take back.

As a new writer, it's more difficult to sell your articles than it is for seasoned writers. As a newbie, your publication success rate is going to be lower. So it's very important to write your query letters to magazine editors before writing the articles. Otherwise, you'll become very disappointed early in the game. 

It takes much less time to write a query letter than to write a complete story, so querying first is a far better use of your time.

Is there ever a time when you can write an article with confidence that the editor will accept it for publication? 
 Yes, once you've developed a sound relationship with an editor by delivering multiple articles over a period of time.

If you've produced good copy, before deadline, and established trust with that editor you might be able to write first without querying.

But this is exceptional. Only a few established and talented writers produce a story and then try to sell it.

Often editors leave one magazine and move on to another. That leaves you with a new editor to "break in". So then you have to start from scratch again with the new editor.

Always query your story first.

You can learn more about creating a good sales pitch and how to successfully sell your freelance travel articles in my digital manual, The Complete Guide To Marketing & Selling Your Travel Articles.
---
Coming in 2020
We thought you'd like to know what plans we've got in the works for you, for this year.

WORKSHOPS

Travel Writing & Photography Retreat, New Orleans, June 7-10, 2020. This year we're giving you the opportunity to take this exciting, interactive & informative course in the U.S.

This unique destination writer's retreat includes creative travel writing and photography workshops. You'll learn and practice the skills you need to be a successful travel writer including dozens of tips to make quick improvements to your writing.

You'll also learn how to produce quality photographs that editors will love. You'll practice by making a photo gallery while you're in New Orleans to help you sell and tell your story.  By the end of the four days you'll have a completed draft story with photos - ready to pitch to an editor!

Our popular Travel Writing and Marketing Master Class will follow after the Retreat on June 12-14, 2020, also in New Orleans. 

In this exclusive program we'll explore, in detail, every single step of my travel writing, pitching and selling strategy.  It's only offered once a year. If you want to learn how to break into travel writing, sell your stories to reputable paying print magazines, and get paid - you NEED to take this course!

If you haven't taken our workshops, you can take both workshops, back-to-back, in New Orleans. You'll spend the first 4 days working on your writing craft and then you'll learn exactly what you need to do to sell your stories in the last 3 days of the week. It's the complete package!

To ensure a personal, quality experience for everyone, registrations will be limited to the first 10 people to sign up for the Retreat, and the first 25 people to sign up for the Master Class.

New Orleans ranks as the most unique city in the U.S, so it will be an inspirational backdrop and give our participants lots of travel story ideas to work with during the retreat. We'll spend time writing about New Orleans & learning ways to improve your writing craft.

We'll offer our international Travel Writing & Photography Retreat in December in Vietnam. There's nothing like being in the World's Best City while taking the Retreat and enjoying this UNESCO world heritage site.

We'll have more details for you in the coming weeks as we finalize hotel details, but here are the tentative dates. Mark your calendar NOW!

- Travel Writing & Photography Retreat, New Orleans, June 7-10, 2020

- Travel Writing & Marketing Master Class, New Orleans, June 12-14, 2020

- Travel Writing & Photography Retreat, Vietnam, December 6-12, 2020

If you want to get on our workshop interest list, you can sign up here. We'll send you workshops updates when we finalize the details.

Workshops in 2020 - Interest List Signup

Group Coaching

Many of you have also asked when we're going to offer group coaching. We're planning to make it affordable, fun, helpful and productive for you. We'll be releasing the final details soon. Stay tuned!

Our BRAND NEW group coaching program will be limited to the first 25 registrants. Only people on the interest list will receive early signup privileges and discounts.

Click here to get on the Group Coaching Interest List

---
This Week's Featured Post
5 Marketing Mistakes That Travel Writers Make
There are several marketing mistakes that will mess up your chances of getting your articles published. And beginner travel writers tend to make all of them. 
 Here are the 5 most common marketing mistakes, and my advice on how to fix them and sell more stories.

Are you making any of these mistakes?

READ THE ARTICLE


---
Upcoming Posts
January 27, 2020: The Best Query Letter Books to Improve Your Travel Writing Pitches
February 3, 2020: How to Build Distribution Lists To Sell Your Travel Stories
February 10: Luxury Travel Writing: My Story and How You Can Do It, Too


---
PitchTravelWrite.com Success Stories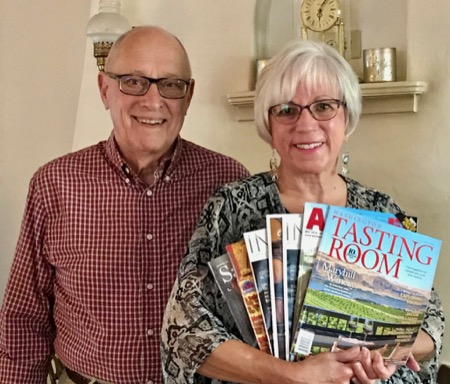 Pam and Gary Baker: A Remarkable Travel Writing Journey
We've got two overachieving travel writers in Pam & Gary Baker! In their two years as travel writers, Pam and Gary Baker have become an inspiring testament to how hard work can lead to spectacular success in our highly competitive field. I worked with Pam & Gary as coach & mentor since they took our 2017 Travel Writing & Marketing Master Class. They've gone from strength to strength and demonstrated that it's possible for beginners to move into the top shelf travel glossies if you stick with it and follow the system.
Here's this delightful couple's story, in their own words.

A Remarkable Travel Writing Journey by Pam & Gary Baker
---
Pitch Travel Write: Most Requested Links about Dreaming Up New Travel Story Ideas

To sell your travel stories, you have to be really creative to come up with unique story ideas that editors haven't heard before.

It takes some groundwork to become savvy at recognizing and mining gold nugget travel story ideas. A huge factor in selling story ideas and getting them published is the quality of your idea. While this may seem self-evident, finding an interesting story to pitch is a daunting task for novice freelance writers. 



So where, and how, do travel writers start their quest for a salable story? Here are 6 Tips for Dreaming Up Better Story Ideas that Sell

For novice freelance writers, trying to figure out what story to pitch to an editor is a daunting task. Because of inexperience, you have no frame of reference.  Often, beginners lack confidence in their story ideas. So where do you start? If you want to boost your bylines, try my winning system. These seven techniques can be used to constantly generate saleable ideas.

The beauty of travel writing is that you can write an article about almost every aspect of your travels and find a home for it somewhere. Editors are looking for new ideas and fresh perspectives. This post will give you some idea of the types of travel stories you can write and sell.

The best travel story is a result of writing about your personal interests or passions. Anything that interests you will result in an article that has more meaning, more emotion and a deeper level of knowledge to share with your readers.  For me, this happens to be anything about military history, especially WWII.  Your interests will be different but the important part is that it is something you truly enjoy.
Writing Genres - Find Your Travel Writing Niche

---
Inspirational Travel Quote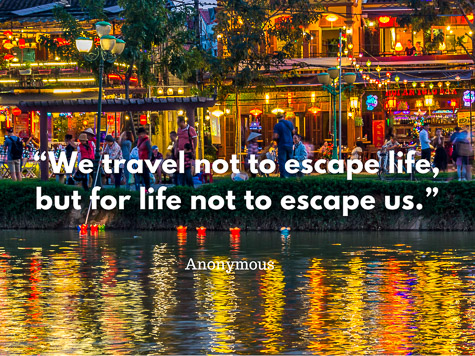 ---
RESOURCES FOR TRAVEL WRITERS
Featured Book of the Month: THE COMPLETE GUIDE TO MARKETING AND SELLING YOUR TRAVEL ARTICLES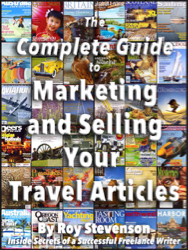 If you can't sell your travel stories, you don't get to write them.

My guide shows you EVERYTHING you need to know about selling your travel articles.

My manual, The Complete Guide to Marketing and Selling Your Travel Articles tells you how to select saleable story ideas, how to write first class query letters, how to pitch your ideas the right way, how to find magazines that will be interested in buying your story, and how you can start selling your travel articles to magazines immediately and reap the fantastic travel benefits.

Here's what professional travel writer, Mike Gerrard, said in his review of my marketing manual:

"I bought this book direct from the author's website and even though I'm a full-time travel writer myself, I learned a heck of a lot from it. We all have our weak spots, and mine is definitely pitching and writing query letters. This book pushed me into action, showed me lots of the author's own query letters that worked, and has now given me a 'to do' list for pitches I want to send. Just reading it reminded me of trips I've done in the last year or two that I could sell more pieces from, and also stuff that's on my own doorstep that I could and should be pitching.

Whether you're a professional or a complete beginner, I highly recommend this book."
-Mike Gerrard


---
At Your Service
Coaching and Consulting
Travel Writing & Marketing Master Class
Travel Writing and Photography Retreat
Online Courses
Vietnam 1-1 Retreat & Consulting
Expat Consulting
email: pitchtravelwrite@gmail.com
If you know someone who will enjoy this newsletter,
please forward or sign up
---
Friend me on Facebook
My Facebook page is about freelance travel writing. I frequently post about:
• travel writing & blogging conferences,
• links to other well produced travel websites and blogs,
• links to my travel articles,
• travel writing themes,
• links to reputable travel writer's groups, associations, and newsletters,
• magazine covers stories and back stories,
• links to resources pages,
• links to travel writing archives,
• links to coaching and mentoring resources,
• and plenty of other useful information to get you up to speed.



Link to Roy's Personal Facebook page
---


That's all for now. Until next week - just keep pitching! Roy

Roy Stevenson
Pitch Travel Write
www.pitchtravelwrite.com






---