Greetings Fellow Travel Writers and Bloggers!
. . . and WELCOME to all new subscribers! Thanks for joining us.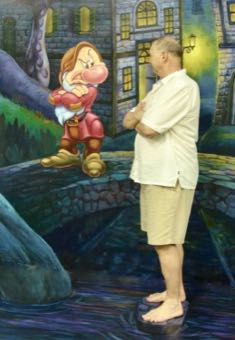 Editorial: Outdated Travel Writing "Rules" That Should Be Broken
The New Year is a time when thousands of aspiring travel writers are considering how they can break into this exciting field. They want to snag paying print media assignments in glossy magazines. They want to land press trips and get those glamorous complimentary travel perks they hear about from veteran travel journalists.
While travel writing might seem simple at first glance, it takes much more time and effort to be successful than beginners would expect. And often the "experts" have different viewpoints and even contradict each other.
When I began my freelance writing career in 2007, I wasn't aware of 'the rules'. Lacking any constructive guidance about writing query letters, I simply did things the way I thought they should be done. I experimented and sent out dozens of query letters to multiple magazines. I tried all sorts of techniques, discarded the failures, and tweaked the winners.
Much of what I do goes against the traditional travel writing grain. But traditional rules don't work anymore, if they ever did. I learned the things that do work. And these things continue to get me and my coaching clients published.
One of the writers I coach recently returned from a travel writing workshop perplexed. The experts at this pricey workshop gave her some bad advice and she was confused about what to do. Here's are 3 pieces of advice you should ignore – and what you should do instead:
Erroneous Rule #1: Your query letters must be brief, only 3-5 paragraphs.
This advice does a great disservice and costs you assignments. When I began sending longer, more detailed query letters, I went immediately from a very poor response rate to selling 90% of my articles.
To further validate this, when the writers whom I coach beef up their query letters, they suddenly start selling their stories like hotcakes! It makes sense. Editors don't know you so giving them more detail in your query letters is an advantage.
Always give the editors enough information to convince them you know your topic and you're the right person to write the story.
Inaccurate Rule #2: Social media activity is a must and editors always look for evidence of a writer's social media presence before commissioning articles.
While there's nothing wrong with a strong social media presence, common sense tells you that you should have something to crow about first. What's the point of displaying an embarrassingly scant writer's website or social media platform, if you don't have any articles to show off?
Beginners should work their bylines up to a respectable number before building their social media following. As a novice your best bet is to spend quality time getting published, and then start bragging about your published stories on social media. Facebook is a good place to start, then proceed to any other social media you believe will help advance your status.
The reality is, that few editors, if any, bother checking out a writer's social media when they're considering a pitch. They are looking for unique story ideas relevant to their audience.
Social media is a huge distraction. If you're a novice travel writer, it can kill your time — time you can be spending on pitching, selling, and writing more travel stories and building your bylines.
Obsolete Rule #3: Tailor your queries for each individual magazine.
You should be sending out the exact same queries to multiple magazines. Only tailor the query for each editor's name and publication. Otherwise, make your query well written with a strong story angle and send it to every appropriate magazine that might be interested. Yes, send the same query letter to everyone.
Anyone who's spent time as a freelancer will tell you there's an art, a craft, and a science, to being a successful travel writer. I've worked with the editors of more than 200 publications and can tell you they differ widely in their approach.
Any expert who tells you there is only one way to be a successful travel writer is blowing smoke. There is no "one size fits all" set of rules for freelance writing.
It's time to try ditch the traditional rules and try innovative techniques that work. That's how you'll break out of the "I-feel-like-a-failure-because-editors-are-not-responding-to-my pitches" rut and start getting your travel stories published.

---

Registration Is Open
We're excited to announce our Travel Writing & Marketing Master Class is now open for registration.

The Travel Writing & Marketing Master Class is an exclusive program where we'll explore, in detail, every single step of my travel writing, pitching and selling strategy.  It's only offered once a year. This year it will be held on April 25-27 in Seattle, WA.

Other workshops gloss over the details, but that's not how we do things around here. You will walk away from this program knowing exactly how to get sensational paid trips around the world and sky-rocket your travel writing success – even if you're starting at $0.

Each workshop is limited to a small number of participants to guarantee a high quality experience and allow plenty of time for interaction between your instructors and fellow writers.



We believe our Travel Writing & Marketing Master Class is the BEST of its kind, ANYWHERE!  Our "graduates" have a marvelous success rate, with most getting their stories into paying print media.

If you want to learn how to become a real travel writer & see your articles & photographs in glossy print magazine and journals, our three-day master class will do the job nicely.

We hope to see you in Seattle in April for this once-a-year event!

We've extended the Early Bird price! You can still get in on the Early Bird special and save $500 off the regular price of the workshop.

This offer ends soon so sign up now while you can get the biggest savings!


LEARN MORE AND REGISTER

"This weekend was one for the books! It was an incredible honor to be a part of Roy's world-class marketing conference and I'm eager to see how my fellow classmates and I crush it!" - 
Jessica Pickett



"Home and ready to go to Barnes & Noble this morning. Thanks so much to Roy & Linda for this amazing weekend and thanks to all the participants for your support and generosity with advice. Looking forward to your success stories!" - 
Mary Lou Osmond



"What a great learning weekend! Great workshop...hope to see everyone again next year. I loved the small intimacy of the size of the group. Really felt like there was good camaraderie & enough attention from the presenters as well. I'm looking forward to what happens in the future with the knowledge I've picked up."
 - Becky Breshears

Register NOW for the 2019 Travel Writing Workshop Seattle and save $500


---
This Week's Featured Post
Barb Harmon's Travel Writing Success Story
Barb Harmon attended our Travel Writing & Marketing Master Class in April of last year (2018). She had already met with some success and been published on several travel websites.

Barb has forged on and is building her travel writing portfolio from strength to strength. Since attending our master class, she's racked up twenty three more articles (with ten in the pipeline) with bylines in a variety of respectable publications.

Spectacularly, Barb has also landed luxury press trips on assignments like her private tasting and tour of Casca Dragones, home of the world's #1 sipping Tequila in San Miguel de Allende. She's also toured Paris's Ritz, and Yves Saint Laurent Musee, and other upscale French attractions on assignment.

But I don't want to steal Barb's thunder. You can read her inspirational travel writing journey here. Barb tells how she got started only one year ago, and shows how far she's come since. You'll pick up some tips from Barb's journey and above all, realize that that this could be you, too!

READ THE ARTICLE


---
Upcoming Posts
January 21: How to Earn More When You Travel
January 28: Where to Pitch Travel Stories
February 4: Is Your Story Saleable? Take this 10 question test
February 11: My 5 Step Pitching Process


---
Pitch Travel Write: Most Popular Links
Top Five Most Read Posts in 2018
7 Ways to Improve Your Writing Style
Press Trips for Travel Writers
12 Characteristics of Successful Travel Writers
How to Get Published & Make Money
Travel Writers Associations - Which One is Right for You?
---
Inspirational Travel Quote of the Week

---
Featured Book of the Month: The Beginner's Bundle
Three Key Reference Guides to Kick-off Your Travel Writing Career
By Roy Stevenson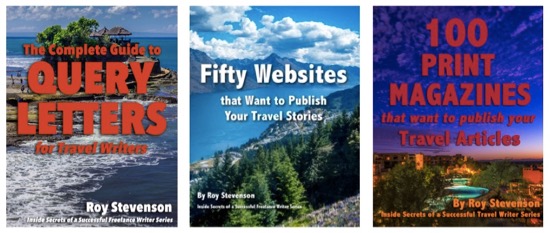 Are you wondering what you need to get started as a travel writer?

My Beginner's Pack of reference books and guides is the perfect way to kick off your travel writing career.  These three guides will lead you step-by-step through everything you need to know to get started.

Here's how these reference guides will help you:


The Complete Guide To Query Letters For Travel Writers - Everything you need to know to craft compelling query letters.  118 pages with 20 actual query letters that you can use to create your own successful query letters. 

100 Print Magazines That Want To Publish Your Travel Articles - 
This gets you started with a list of 100 print magazines that publish travel articles from freelance writers.  It's the list I use to sell my travel articles. This list will save you hundreds of hours of time - time that you can spend writing and traveling instead. 

This book is also packed with expert advice to help you use the magazine listings to your best advantage, to save you time, and get published more often.

50 Websites That Want To Publish Your Travel Stories - 
If you want to establish your bylines quickly, getting published online is the fastest way to do it.  Here's a list of 50+ quality websites along with ten pages of advice about how to get published online. Save yourself hundreds of hours of research time using this list of websites each time you want to get one of your stories published.


Buy the Beginner's Pack bundle and save 10% off the individual prices of the books!

BUY THE BUNDLE


---
We want to say THANK YOU to all our subscribers and social media followers. Running the PitchTravelWrite site would not be possible without your support. Thank you for following us, reading our posts, and emailing questions, comments, and compliments.

We value you more than you can know. Our goal is to help you break into travel writing, get paid for it, and land some cool press trips and free travel.

So keep emailing us - we love hearing from you!
---
Friend me on Facebook
My Facebook page is about freelance travel writing. I frequently post about:
• travel writing & blogging conferences,
• links to other well produced travel websites and blogs,
• links to my travel articles,
• travel writing themes,
• links to reputable travel writer's groups, associations, and newsletters,
• magazine covers stories and back stories,
• links to resources pages,
• links to travel writing archives,
• links to coaching and mentoring resources,
• and plenty of other useful information to get you up to speed.



Link to Roy's Personal Facebook page
---
Please share the e-zine with friends, family or anyone you know who's interested in travel writing. They can sign up for the newsletter and get free marketing tips each week at this link:

Sign up for my weekly marketing tips

That's all for this week.

Until next week, just keep pitching!

Roy

Roy Stevenson
Pitch Travel Write
www.pitchtravelwrite.com













---