Greetings Fellow Travel Writers and Bloggers!
. . . and WELCOME to all new subscribers! Thanks for joining us.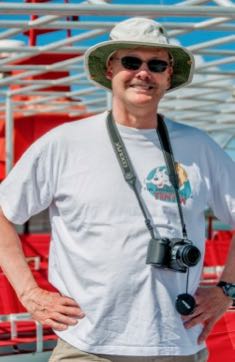 Right about the time you read this newsletter, we'll be touching down at Auckland's Mangere International Airport. I was raised in New Zealand until I left to study in the U.S. at the tender age of 25. Then I got waylaid, big time, in the U.S. when I married an American. I only return to "GodZone" (a Kiwi euphemism for "God's Own Country") every 5 years or so. Our last visit was in 2013.
Returning to New Zealand is always an emotional time for me. I get together with my old friends and relive our glorious distance running and drinking feats and catch up with each other's lives. I spend time with my family; two older sisters, one younger brother and a multitude of nieces, nephews and their offspring.
Some of our planned activities will be visiting my family's ancestral home on Auckland's North Shore—a middle class suburb named Mairangi Bay. It's a small village really, with maybe a 600-meters shopfront, and a beach where I spent an inordinate amount of time as a kid.
And we'll be visiting Auckland, Whangarei, the Bay of Islands, Cambridge, Napier, Hastings, and a few other smaller towns during our 3-week tour. I'll keep you posted on my travels and misadventures through this newsletter.

Join us in Seattle for The Complete Travel Writing & Marketing Master Class
This exclusive program will help you dramatically improve your article sales and speed up your travel writing learning curve.

What will you learn? We'll explore, in detail . . .

• The tried-and-tested way to dream up captivating travel story ideas and assess their marketability.

• Where to find hundreds of publications that want to buy your travel stories.

• Why you should always query your story idea before writing it.

• How to craft irresistible query emails that will sell your stories.

• The exact query email formatting and structure used by elite travel writers.

• How to avoid making amateur mistakes that damage your relationships with editors.

• How to pitch several story ideas to skyrocket your acceptance rate.

• How to handle the flood of acceptance emails you'll get.

• How to resell your articles multiple times around the world to maximize your profit.

• How to network like a pro and market yourself effectively within the travel writing industry.

• How to build an online platform so editors can find you and read your clips.

• The secrets behind using your assignments to request complimentary travel perks. Hello, first class luxury!

Ultimately, you'll learn exactly how I sell 90% of the travel stories that I pitch, and how you can improve your success rate when you use my proven strategies from start to finish.



"This workshop was extremely valuable because it gave me an understanding about press trips and how to request them. The marketing strategies were valuable because I learned how to research and evaluate places and go and get story ideas in advance to gain assignments. I also learned how to manage multiple acceptances and selling the same, or similar, articles multiple times. Fabulous class, fabulous people. I'm inspired!"

Candi Licence, Master Class Attendee, 2018

Save $300 when you register before February 14th.


From today until February 14th we're running a "bring a friend for half-price" special. All you need to do is change the quantity in your shopping cart to "2" and pay the workshop deposits for both of you. We'll take care of the rest with the final billing.

Bring a neighbor, a friend, a sibling or spouse - and register now to take advantage of this special offer!


---
This Week's Featured Post
Successful Travel Stories:
9 Key Questions to Ask Before You Pitch
How can you write successful travel stories that will sell to magazine editors? Figuring out what an editor wants seems like a mystery, but it doesn't have to be.

Time is your most valuable asset when you're a freelance writer. And pitching weak story ideas is a massive time waster. All those hours you've spent researching your topic, writing a query letter, and tracking down potential magazines goes down the drain if your story is rejected for publication. Rejection also causes a dent in your morale.

Save yourself some time and stress when dreaming up new story ideas. Use this simple screening technique to examine the feasibility of successful travel stories and getting your work published.

READ THE ARTICLE


---
Upcoming Posts
February 11: My 5 Step Pitching Process
February 18: Creating a Sense of Place in Your Travel Articles
February 25: Using Writers Guidelines to Sell Your Travel Stories
March 4: Tim Cotroneo: Another PitchTravelWrite Success Story


---
Pitch Travel Write: Most Popular Links
Building Your Travel Writing Platform
Building a Professional Website for Freelance Writers
4 Reasons to Get Published Online on Travel Websites
How to Get Testimonials from Editors and CVBs
---
Inspirational Travel Quote of the Week
---
Featured Book of the Month: Advanced Pack
Take your travel writing career up a few notches
By Roy Stevenson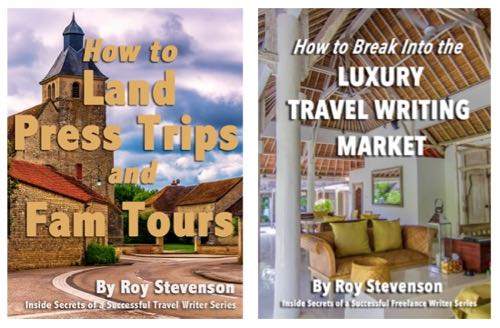 In How to Land Press Trips and Fam Tours you'll learn about how to use your assignments to request free and low-cost travel.  You'll also get all the resources successful travel writers have at their fingertips to network with the right people and have DMOs clamoring to invite you to visit their region.

If luxury is your preferred style of travel, How to Break into the Luxury Travel Writing Market will help you move quickly into this market.  And it gives you a ready-made list of magazines and websites interested in publishing luxury articles.

Buy the Advanced Pack and save 10% off the individual prices of the books!

BUY THE BUNDLE


---
We want to say THANK YOU to all our subscribers and social media followers. Running the PitchTravelWrite site would not be possible without your support. Thank you for following us, reading our posts, and emailing questions, comments, and compliments.

We value you more than you can know. Our goal is to help you break into travel writing, get paid for it, and land some cool press trips and free travel.

So keep emailing us - we love hearing from you!
---
Friend me on Facebook
My Facebook page is about freelance travel writing. I frequently post about:
• travel writing & blogging conferences,
• links to other well produced travel websites and blogs,
• links to my travel articles,
• travel writing themes,
• links to reputable travel writer's groups, associations, and newsletters,
• magazine covers stories and back stories,
• links to resources pages,
• links to travel writing archives,
• links to coaching and mentoring resources,
• and plenty of other useful information to get you up to speed.



Link to Roy's Personal Facebook page
---
Please share the e-zine with friends, family or anyone you know who's interested in travel writing. They can sign up for the newsletter and get free marketing tips each week at this link:

Sign up for my weekly marketing tips

That's all for this week.

Until next week, just keep pitching!

Roy

Roy Stevenson
Pitch Travel Write
www.pitchtravelwrite.com













---