Greetings Fellow Travel Writers and Bloggers!
. . . and WELCOME to all new subscribers! Thanks for joining us.



Many friends & followers ask why we choose to live in Da Nang, Vietnam. After moving here from Chiang Mai, Thailand, we initially thought we'd only stay in Vietnam for 6 months, and perhaps a little longer if we liked the place.

Yet here we are, two years later, renewing our apartment lease for another year, with no plans to leave in the foreseeable future!

Why do we like Da Nang? There are plenty of convenient services here, like three excellent supermarkets that, between them, have everything we need and then some. Living in the An Thuong Tourist Area we have a bewildering number of restaurants that offer excellent Vietnamese cuisine, plus dishes from many other countries.

But what really keeps us here are the local people. We've certainly made friends with plenty of expats, but it's the Vietnamese who warm our hearts every day with their friendship and kindness.

The Vietnamese deliver an abundance of genuine, heartfelt smiles every day. Whether it's the women who clean our apartment, the "fried egg lady" at our favorite street stall near the market, Miss Youm at her spa, the friendly server, Miss Loan, at the Cohibar Restaurant across the road, or the "fruit juice lady" at the market, everyone makes us feel welcome and even like family. They're the reason we love staying in Danang.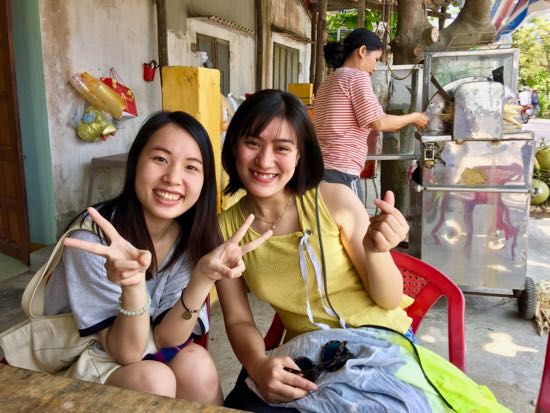 Editorial: You Need Plenty of Initiative To Be a Travel Writer
I field emails every week from aspiring travel writers who want to do what I'm doing; travel freely, write about it, and get paid for it—and get cool press trips to exciting, exotic, luxury destinations.
This is where initiative enters the picture. It's defined as the "ability to assess things and initiate actions independently". I can tell you that if you don't have a healthy dose of initiative, you're going to find it very difficult breaking into this highly competitive arena.
Novice travel journalists should be watching the freelance writing market, studying the tools and techniques, keeping abreast of what's working, and deciding what they want to incorporate into their strategy.
One of the writers who attended my Seattle Travel Writing & Marketing Master Class last April posted this on my Master Class Facebook site the day after the class finished:

"Stayed in Downtown Seattle last night and planned a day of magazine hunting for my distribution list. Googled libraries near me and found that the Seattle Central library was 1.5 blocks away. When I got there, I asked where the magazines were and was told 'the sixth FLOOR!' 


Five and a half hours later, I emerged with a list of 77 new magazines. I'm guessing 50 are solid - others are ones I'll need to dig into more to see if they are a good fit. For the ones I didn't know much about, I photographed the table of contents and editor's letter to get a better feel for the mag, and will drill down later. This was on top of the 9 mags I added yesterday at Barnes and Noble. 


My total travel magazine distribution list is now up to 251 and I'm going out again tomorrow because a lot of the mags I saw at Barnes and Noble were not at the library."
This hunt for potential magazines to pitch showed commendable initiative. After reading this, I have absolutely no doubts this writer will go on to be published in magazines she cannot even dream of today. This willingness to get things done, and take charge is one of the most important attributes that we freelancers need to succeed.
Here's another example of initiative from a couple that I'm coaching:
"We've been following your advice to pitch trade journals for travel articles. We pitched Meeting News Northwest before we went on the Schooner Zodiac but they already had a recent piece on it. But, the editor was friendly and said he was open to more pitches. So when we got back home, we pitched him short pieces on Semiahmoo, Lynden Inn, Janzten Art Center, Fairhaven Village Inn, and Bellingham Cruise Terminal.

We just got commissioned for a 500 word piece on Fairhaven Village Inn, Bellingham Cruise Terminal, and things to do in Bellingham. Pays 25 cents a word.

That's four articles so far from our recent trip to Whatcom County. We are still working on more from that trip as you can see from the five story ideas we just sent you."

This couple showed incredible initiative in wringing out as many stories they could from their recent trip to the Pacific Northwest. They didn't sit on their single assignment — they pushed for multiple assignments to make their trip to Bellingham worthwhile and profitable.
How are you amping up your initiative in 2019?

---

Registration Is Open
We're excited to announce our Travel Writing & Marketing Master Class is now open for registration.

The Travel Writing & Marketing Master Class is an exclusive program where we'll explore, in detail, every single step of my travel writing, pitching and selling strategy.  It's only offered once a year. This year it will be held on April 25-27 in Seattle, WA.

Other workshops gloss over the details, but that's not how we do things around here. You will walk away from this program knowing exactly how to get sensational paid trips around the world and sky-rocket your travel writing success – even if you're starting at $0.

Each workshop is limited to a small number of participants to guarantee a high quality experience and allow plenty of time for interaction between your instructors and fellow writers.



We believe our Travel Writing & Marketing Master Class is the BEST of its kind, ANYWHERE!  Our "graduates" have a marvelous success rate, with most getting their stories into paying print media.

If you want to learn how to become a real travel writer & see your articles & photographs in glossy print magazine and journals, our three-day master class will do the job nicely.

We hope to see you in Seattle in April for this once-a-year event!

We've extended the Early Bird price! You can still get in on the Early Bird special and save $500 off the regular price of the workshop.

This offer ends soon so sign up now while you can get the biggest savings!


LEARN MORE AND REGISTER

"This weekend was one for the books! It was an incredible honor to be a part of Roy's world-class marketing conference and I'm eager to see how my fellow classmates and I crush it!" - 
Jessica Pickett



"Home and ready to go to Barnes & Noble this morning. Thanks so much to Roy & Linda for this amazing weekend and thanks to all the participants for your support and generosity with advice. Looking forward to your success stories!" - 
Mary Lou Osmond



"What a great learning weekend! Great workshop...hope to see everyone again next year. I loved the small intimacy of the size of the group. Really felt like there was good camaraderie & enough attention from the presenters as well. I'm looking forward to what happens in the future with the knowledge I've picked up."
 - Becky Breshears

Register NOW for the 2019 Travel Writing Workshop Seattle and save $500


---
This Week's Featured Post
Query Multiple Travel Story Ideas and Multiply Your Sales
You can query multiple travel story ideas once you know an editor. It's a sales technique that you can try.

But don't rush off just yet! Read this article to make sure you're doing it right.

If applied wisely, presenting multiple travel story ideas in one query letter multiplies your chances of having more stories accepted for publication.

Sending out one query at a time is like a retail business offering only one product to a customer in each visit. The retail business wouldn't last very long with this approach!

It's more profitable for the business to offer multiple products with each customer visit. And, it's better for the customer, too.

In a similar way, as a freelance writer you can offer multiple products (travel story ideas) to an editor in one query letter. Some writers may look at this as a radical approach, but it's not any different than the retail store example described above.

Here's how to do it successfully . . .

READ THE ARTICLE


---
Upcoming Posts
January 28: Where to Pitch Travel Stories
February 4: Is Your Story Saleable? Take this 10 question test
February 11: My 5 Step Pitching Process
February 18: Creating a Sense of Place in Your Travel Articles


---
Pitch Travel Write: Most Popular Links
Top Five Most Read Posts in 2018
7 Ways to Improve Your Writing Style
Press Trips for Travel Writers
12 Characteristics of Successful Travel Writers
How to Get Published & Make Money
Travel Writers Associations - Which One is Right for You?
---
Inspirational Travel Quote of the Week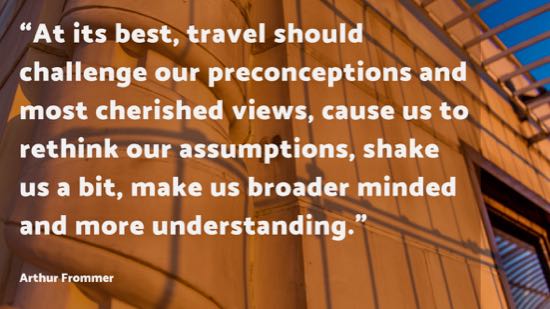 ---
Featured Book of the Month: The Beginner's Bundle
Three Key Reference Guides to Kick-off Your Travel Writing Career
By Roy Stevenson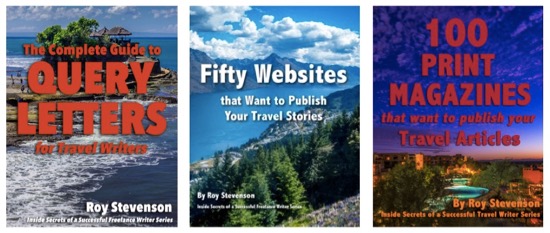 Are you wondering what you need to get started as a travel writer?

My Beginner's Pack of reference books and guides is the perfect way to kick off your travel writing career.  These three guides will lead you step-by-step through everything you need to know to get started.

Here's how these reference guides will help you:


The Complete Guide To Query Letters For Travel Writers - Everything you need to know to craft compelling query letters.  118 pages with 20 actual query letters that you can use to create your own successful query letters. 

100 Print Magazines That Want To Publish Your Travel Articles - 
This gets you started with a list of 100 print magazines that publish travel articles from freelance writers.  It's the list I use to sell my travel articles. This list will save you hundreds of hours of time - time that you can spend writing and traveling instead. 

This book is also packed with expert advice to help you use the magazine listings to your best advantage, to save you time, and get published more often.

50 Websites That Want To Publish Your Travel Stories - 
If you want to establish your bylines quickly, getting published online is the fastest way to do it.  Here's a list of 50+ quality websites along with ten pages of advice about how to get published online. Save yourself hundreds of hours of research time using this list of websites each time you want to get one of your stories published.


Buy the Beginner's Pack bundle and save 10% off the individual prices of the books!

BUY THE BUNDLE


---
We want to say THANK YOU to all our subscribers and social media followers. Running the PitchTravelWrite site would not be possible without your support. Thank you for following us, reading our posts, and emailing questions, comments, and compliments.

We value you more than you can know. Our goal is to help you break into travel writing, get paid for it, and land some cool press trips and free travel.

So keep emailing us - we love hearing from you!
---
Friend me on Facebook
My Facebook page is about freelance travel writing. I frequently post about:
• travel writing & blogging conferences,
• links to other well produced travel websites and blogs,
• links to my travel articles,
• travel writing themes,
• links to reputable travel writer's groups, associations, and newsletters,
• magazine covers stories and back stories,
• links to resources pages,
• links to travel writing archives,
• links to coaching and mentoring resources,
• and plenty of other useful information to get you up to speed.



Link to Roy's Personal Facebook page
---
Please share the e-zine with friends, family or anyone you know who's interested in travel writing. They can sign up for the newsletter and get free marketing tips each week at this link:

Sign up for my weekly marketing tips

That's all for this week.

Until next week, just keep pitching!

Roy

Roy Stevenson
Pitch Travel Write
www.pitchtravelwrite.com













---