Greetings Fellow Travel Writers and Bloggers!
. . . and WELCOME to all new subscribers! Thanks for joining us.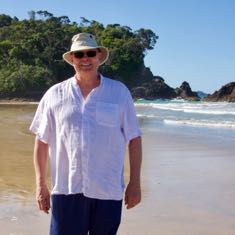 We've just got back from 5 days in the northern part of New Zealand, first staying with my brother John in Whangarei, and then with my niece, Emily, at the renowned surfing beach in Ngunguru.
Ngunguru is one of a series of perfect Kiwi beaches, each separated by a few miles of bush-clad hills and steep winding roads. New Zealanders bring their families here for a week or two during the summer for beach camping, swimming, surfing, picnics and barbecues. My hour-long swim in the warm and wild surf at Woolley's Bay brought back great memories of my youth in New Zealand. We're currently at my nephew's lake house on the shores of Lake Rotoehu, one of the Central North Island's 18 pristine lakes. Adam's house is tucked away in a small lakeside community surrounded on three sides by towering hills clad in a thick mantle of green native New Zealand flora.
It's a quiet little hamlet with only a couple of dozen holiday homes, and Linda and I have this place to ourselves for the next few days. Yesterday Adam took us all out for a spin in his boat on Lake Rotoma. We cruised around the coastline of this gorgeous, clear lake, formed millions of years ago by a massive volcanic explosion, much like Oregon's Crater Lake.
We return to Auckland on Wednesday to stay with my best friend and then my niece before we fly home to Vietnam.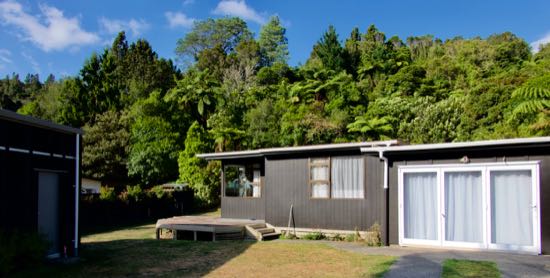 Here are 10 reasons why you don't want to miss this workshop:
Reason #10. You'll learn—step-by-step—exactly how to break into the competitive print and online media arena and get paid for your travel writing.
Reason #9. You'll learn the same tips, techniques & secrets I've used to get more than 1,000 stories published in 200+ regional, national, and international magazines, specialty publications, trade journals, in-flights, on-boards, newspapers, and travel websites.
Reason #8. I'll share my secret advanced marketing tips, tricks, and techniques that have skyrocketed my acceptance and publication rates in magazines around the world.
Reason #7. I'll show you how to score thousands of dollars worth of complimentary travel perks at exotic resorts and fine dining restaurants; you'll learn how to parlay your travel writing assignments into luxury tours with personal travel guides, and even free transportation.
Reason #6. Our Travel Writing & Marketing Master Class is completely unique. It's not the standard fare workshop that shows you how to write travel articles. In fact, you won't find another class like it anywhere else. It's the only workshop IN THE WORLD that focuses on how to market and sell your travel articles to print and online magazines. And we also have an expert travel writing instructor who will show you the art and craft of travel writing.
Reason #5. Our course fee is a bargain when you consider that you'll make tens of thou$ands of dollar$ for your article, and complimentary travel if you practice what you learn in our master class.
Reason #4. I'll personally work with you, one-on-one, for three months after the workshop, on your travel writing projects. I'll guide you through the five necessary steps to getting your stories published. I'll personally be on call via email and Skype to answer your questions, after the master class and help you hone your article ideas and craft your queries.
Reason #3. You'll learn where to find thousands of publications that buy freelance travel stories.
Reason #2. We'll show you how to avoid the most common beginning travel writing mistakes.

And the #1 reason why you should attend our master class: because you can't afford not to!
I hope to see you in Seattle!
Roy Stevenson
"I cannot say enough about how valuable this workshop has been. Roy is a wealth of knowledge and just a joy to work with! I love his enthusiasm, encouragement and passion for helping new travel writers."
- Pam Baker, Master Class Attendee, April 2018



---
This Week's Featured Post
Creating a Sense of Place in Your Travel Articles
The essence of good travel writing is to give your readers a sense of place by revealing its ambiance as if they were there, experiencing it.  The trick is to write imaginatively enough to paint pictures with your words.

Most people read travel articles as a form of escapism.  So your words need to be easy to follow and your descriptions succinct.  People don't want to work hard reading your stories.  Your readers want to feel the atmosphere of a place without choking on overused or non-descript words.

There are a few techniques that are particularly effective in helping your reader feel a sense of place, and they all have to do with carefully choosing your words. 

Here are four tips to make your articles more unique and enjoyable for your readers:

READ THE ARTICLE


---
Upcoming Posts
February 25: Using Writers Guidelines to Sell Your Travel Stories
March 4: Tim Cotroneo: Another PitchTravelWrite Success Story
March 11: Two Obstacles to Success in Travel Writing
March 18: How To Break Into The Expat Magazine Market


---
Pitch Travel Write: Most Popular Links
Building Your Travel Writing Platform
Building a Professional Website for Freelance Writers
4 Reasons to Get Published Online on Travel Websites
How to Get Testimonials from Editors and CVBs
---
Inspirational Travel Quote of the Week
---
Featured Book of the Month: Advanced Pack
Take your travel writing career up a few notches
By Roy Stevenson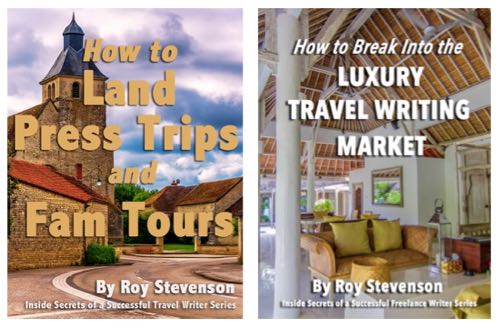 In How to Land Press Trips and Fam Tours you'll learn about how to use your assignments to request free and low-cost travel.  You'll also get all the resources successful travel writers have at their fingertips to network with the right people and have DMOs clamoring to invite you to visit their region.

If luxury is your preferred style of travel, How to Break into the Luxury Travel Writing Market will help you move quickly into this market.  And it gives you a ready-made list of magazines and websites interested in publishing luxury articles.

Buy the Advanced Pack and save 10% off the individual prices of the books!

BUY THE BOOKS


---
We want to say THANK YOU to all our subscribers and social media followers. Running the PitchTravelWrite site would not be possible without your support. Thank you for following us, reading our posts, and emailing questions, comments, and compliments.

We value you more than you can know. Our goal is to help you break into travel writing, get paid for it, and land some cool press trips and free travel.

So keep emailing us - we love hearing from you!
---
Friend me on Facebook
My Facebook page is about freelance travel writing. I frequently post about:
• travel writing & blogging conferences,
• links to other well produced travel websites and blogs,
• links to my travel articles,
• travel writing themes,
• links to reputable travel writer's groups, associations, and newsletters,
• magazine covers stories and back stories,
• links to resources pages,
• links to travel writing archives,
• links to coaching and mentoring resources,
• and plenty of other useful information to get you up to speed.



Link to Roy's Personal Facebook page
---
Please share the e-zine with friends, family or anyone you know who's interested in travel writing. They can sign up for the newsletter and get free marketing tips each week at this link:

Sign up for my weekly marketing tips

That's all for this week.

Until next week, just keep pitching!

Roy

Roy Stevenson
Pitch Travel Write
www.pitchtravelwrite.com













---