Greetings Fellow Travel Writers and Bloggers!
. . . and WELCOME to all new subscribers! Thanks for joining us.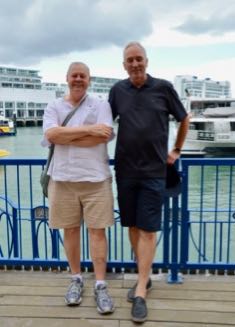 We're at the tail end of our first week in New Zealand. We stayed the first few days with my oldest sister, Nerida, and had an epic family reunion at her daughter's place. My brother, two sisters, and their prodigious offspring – three generations in all - all rolled up for this whanau (the Maori term for a gathering of the clan).
It's always fun seeing how our nieces and nephews have grown and become productive members of society, and how their healthy and robust kids are now at various stages from toddler to university. These gatherings are very emotional, of course, and always a lot of fun.
Nerida indulged my request for a "Nostalgia Day", where we drove around Auckland's North Shore, revisiting our childhood ancestral homes. What strikes me the most about Auckland is how it has developed a very upscale standard of living; trendy coffee shops and cafes, and little boutique shops and gourmet restaurants.
The main downtown Auckland shopping drag, Queen Street, is busy but nowhere near as crowded as many U.S. cities. Couple this neat Kiwi lifestyle with good clean air and water, friendly residents, and a multi-cultural society that actually works, and you've got a fine quality of life. And I'm not even being paid by the N.Z. Tourism Board to say this!
We've spent the last couple of days with Corrie, my best friend in New Zealand reliving our glorious former distance running days in technicolor detail.
This afternoon we're heading to the northern part of New Zealand to the rural city of Whangarei, to stay with my brother, John, and then with his daughter Emily in Ngunguru.
I'll let you know more next week. Until then, keep pitching your stories!

If you've decided to make 2019 your year to break into travel writing, our Travel Writing & Marketing Master Class coming up on April 25-27, 2019, in Seattle, Washington, USA, will help you launch your career in this exciting field.

We'll show you—step-by-step—exactly how to break into print and online media and get paid for your travel writing. You'll learn the same secrets I've used to get more than 1,000 stories published in 200+ regional, national, and international magazines, specialty publications, in-flights, on-boards, newspapers, and travel websites.

And, I'll tell you how I've scored thousands of dollars' worth of complimentary travel perks at exotic resorts and fine dining restaurants. I'll show you how to parlay your travel writing assignments into luxury tours with personal travel guides, and even free transportation.

But you'd better hurry up and register for this class. We only started advertising two weeks ago and we only have a handful of seats left!



"It's one thing to try and increase your skills, or learn a new skill, from reading books. It's another to have someone to properly teach you how. If you're looking to improve or learn, travel writing skills, there is only one person that I recommend.

At Roy Stevenson's travel writing and marketing workshop, you'll learn everything you need to know about travel writing. The workshop is intense, in-depth, and a lot of fun, all at the same time. There are no holds barred. Ask any question and you'll get the full answer.

Roy is a master of his trade of travel writing and teaching. He imparts his knowledge and experience in a way that makes it very easy to absorb. He isn't afraid that you're going to steal business from him. His ambition is to help you to become a master at travel writing. Be prepared for surprise tutors who will also pass on their knowledge about other skills associated with travel writing.

Unlike other classes I've experienced, your learning doesn't finish when the workshop ends. Roy is there to answer questions or critique your work into the future.

Peter Safe, Master Class Attendee, 2016

Only 3 days left to save $300 when you register before February 14th.


For 3 more days, until February 14th, we're running a "bring a friend for half-price" special. All you need to do is change the quantity in your shopping cart to "2" and pay the workshop deposits for both of you. We'll take care of the rest with the final billing.

Bring a neighbor, a friend, a sibling or spouse - and register now to take advantage of this special offer!


---
This Week's Featured Post
My 5-Step Pitching Process
Pitching travel stories can be a mystery to new writers.  When I first started travel writing, I had no clue how to go about pitching travel stories to magazine editors.  Completely lacking experience, I felt totally lost about how to sell my stories.

If you're a new travel writer, you're probably in the same boat.  So, for you novice travel writers out there, here is my five-step process for pitching travel story ideas to print magazines:

READ THE ARTICLE


---
Upcoming Posts
February 18: Creating a Sense of Place in Your Travel Articles
February 25: Using Writers Guidelines to Sell Your Travel Stories
March 4: Tim Cotroneo: Another PitchTravelWrite Success Story
March 11: Two Obstacles to Success in Travel Writing


---
Pitch Travel Write: Most Popular Links
Building Your Travel Writing Platform
Building a Professional Website for Freelance Writers
4 Reasons to Get Published Online on Travel Websites
How to Get Testimonials from Editors and CVBs
---
Inspirational Travel Quote of the Week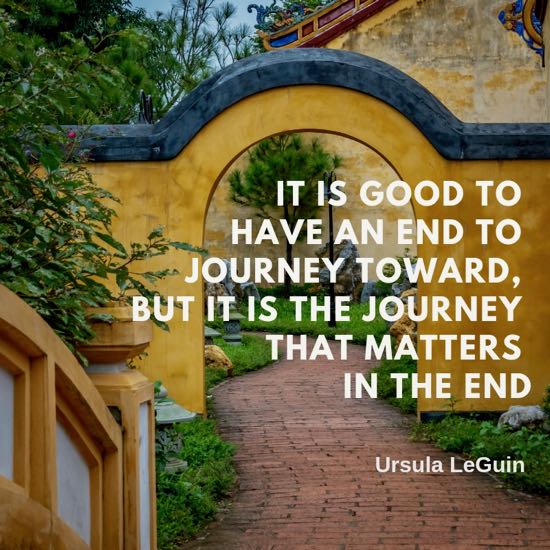 ---
Featured Book of the Month: Advanced Pack
Take your travel writing career up a few notches
By Roy Stevenson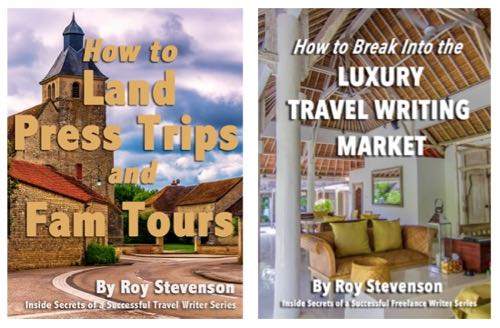 In How to Land Press Trips and Fam Tours you'll learn about how to use your assignments to request free and low-cost travel.  You'll also get all the resources successful travel writers have at their fingertips to network with the right people and have DMOs clamoring to invite you to visit their region.

If luxury is your preferred style of travel, How to Break into the Luxury Travel Writing Market will help you move quickly into this market.  And it gives you a ready-made list of magazines and websites interested in publishing luxury articles.

Buy the Advanced Pack and save 10% off the individual prices of the books!

BUY THE BOOKS


---
We want to say THANK YOU to all our subscribers and social media followers. Running the PitchTravelWrite site would not be possible without your support. Thank you for following us, reading our posts, and emailing questions, comments, and compliments.

We value you more than you can know. Our goal is to help you break into travel writing, get paid for it, and land some cool press trips and free travel.

So keep emailing us - we love hearing from you!
---
Friend me on Facebook
My Facebook page is about freelance travel writing. I frequently post about:
• travel writing & blogging conferences,
• links to other well produced travel websites and blogs,
• links to my travel articles,
• travel writing themes,
• links to reputable travel writer's groups, associations, and newsletters,
• magazine covers stories and back stories,
• links to resources pages,
• links to travel writing archives,
• links to coaching and mentoring resources,
• and plenty of other useful information to get you up to speed.



Link to Roy's Personal Facebook page
---
Please share the e-zine with friends, family or anyone you know who's interested in travel writing. They can sign up for the newsletter and get free marketing tips each week at this link:

Sign up for my weekly marketing tips

That's all for this week.

Until next week, just keep pitching!

Roy

Roy Stevenson
Pitch Travel Write
www.pitchtravelwrite.com













---