Greetings Fellow Travel Writers and Bloggers!
. . . and WELCOME to all new subscribers! Thanks for joining us.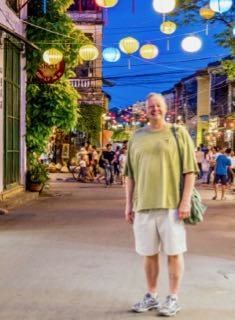 It's been a fun year as Linda and I continue with our long-stay travel through S.E. Asia. Here's our 2018 recap:

We've been at at our home base in Da Nang, Vietnam for two years! Our community in the An Thuong tourist district is like a village and we socialize every day with our local & expat friends.

Our apartment is only three blocks from the famous 6-mile long My Khe Beach (aka China Beach), frequented by locals and tourists alike. Linda makes the most of beach walks several days a week, and sometimes I join her – especially if there's the promise of a meal at one of the beachside resorts along the way.

In late January we traveled to Bali, Indonesia, on assignment for some luxury travel websites and magazines. Our mission: stay at ten high end luxury resorts and villas then report back on our experiences. For one opulent month we lived like rock stars!

April brought us back to Seattle. Here, we hosted our third annual Travel Writing & Marketing Master Class. I love teaching the enthusiastic attendees everything I know about marketing and selling freelance travel stories. And it was fun catching up with my friends in Seattle.
From Seattle, we popped over to Ohio to stay with Linda's sister at their ancestral home. We squeezed in a road trip to Auburn, Indiana, to tour the renowned Auburn Cord Duesenberg Automobile Museum, on assignment for a classic car magazine. A couple of days later I flew east to Boston to tour the Larz Anderson Automobile Museum on another classic car assignment.

We visited the ancient World Heritage town of Hoi An in June and September. Even though it's only a half-hour drive from Danang, it's very different. This is where we decided to host our Travel Writing & Photography Retreat. We booked meeting rooms, planned our group dinners, and organized various tours around town.

In late September we flew to Georgetown, Penang, Malaysia for a visa run. We also assessed its' potential for a future long stay. Well settled by expats, Georgetown is very much on the digital nomad map.

We love Georgetown because of its unique Nyonya cuisine. Known in Penang as Jawi Peranakan, it's a delicious blend of Chinese, Malay, Indian and Thai flavors. (Peranakans are the Straights Chinese who settled in Malaysia, Singapore and a few other places in SE Asia.)


Last week we ended the year with a bang at our Travel Writing and Photography Retreat in Hoi An, Vietnam, with nine aspiring and published writers. Our goal was to help our travel writers bring life to their stories and bring their stories to life.
Every morning we held class sessions on travel writing and travel photography. In the afternoons and evenings we explored this fascinating ancient city and enjoyed the ambiance of this magical place.
Our Retreat writers learned the trade secrets for writing a good travel story. A few of the topics we covered included how to develop their story angles to make them marketable, how to craft compelling ledes, how to write active stories, and how to make their travel writing more descriptive.
Travel photography was another highlight of the retreat, with tips on how to create a sense of place through images, and techniques on how to improve their photos so editors will love them. Our morning and evening photo shoots helped everyone practice these techniques while basking in Hoi An's vibrance.
But it wasn't all work and no play! Mid-week we had a private cooking class with Miss Lulu at Vy's Market & Cooking School. We learned to prepare five different Vietnamese dishes, most of them Hoi An specialties. Eating the food we prepared was a big hit - it tasted delicious! We ended our cooking lesson by preparing a bananas flambé dessert with coconut milk and rum. Yum! (Image of Miss Lulu photo credit: Deb Sittko)
It rained most of the week at our Travel Writing and Photography Retreat, but our intrepid travel writers were up to the challenge. They simply donned some fashionable rain gear and ventured out into the puddles with a positive attitude. Everyone had a fantastic time.

There's never a dull moment as a travel writer!

What travel do you have planned for 2019?

What travel stories are you going to pitch in 2019?

This is our last ezine for 2018. We'll be back on January 7th, 2019.

Enjoy the holiday season and Happy New Year!
---
Coaching Registration is Open
I can teach you how to sell your travel stories. My specialty as a marketing coach is showing my travel writers how to get their stories published in print media, and then capitalizing on these on these assignments for complimentary travel.

My clients have had tremendous success! Ninety-five percent of them have had at least one story published, and most have had multiple stories published in print media. They've also used their assignments to score complimentary travel. Often the comps were beyond their wildest dreams!

Twice a year I open registration for 5 new coaching clients. Registration opened a few days ago and we'll keep it open until five people sign up - then it closes until mid-2019. I'll start working with my new clients January 1.

If you're ready to move forward with your travel writing career, sign up now while there are still spaces available!

LEARN MORE AND SIGN UP FOR COACHING


---
This Week's Featured Post
Twelve Query Letter Mistakes & How to Fix Them
A successful query takes your compelling story idea, your solid writing background, and persuasive prose and convinces the editor that you have what it takes to provide an exciting and interesting story for the readers. 

A query letter can showcase your very best side to an editor. But if you make query letter mistakes it shows your worst side instead. Being a few inches off the mark with your query is as bad as missing the target completely. 

If you're a beginning freelance writer, this list of query letter mistakes will help ensure you won't develop bad habits and make common beginner errors.

READ THE ARTICLE: Twelve Query Letter Mistakes and How to Fix Them


---
Upcoming Posts
January 7: Why Write For Free?
January 14: Barb Harmon: Another PitchTravelWrite Success Story
January 21: How to Earn More When You Travel
January 28: Where to Pitch Travel Stories


---
Pitch Travel Write: Most Popular Links
Pitching Comes Before Writing
A classic novice travel writer's mistake is to write your story and then try to sell it.

I've written three articles about why you should never do this . . .

Five Tips for Why You Should Pitch Before You Write Your Article
Presell Your Travel Stories Before Your Trip
Travel Writing Mistakes and How to Avoid Them

---
Inspirational Travel Quote of the Week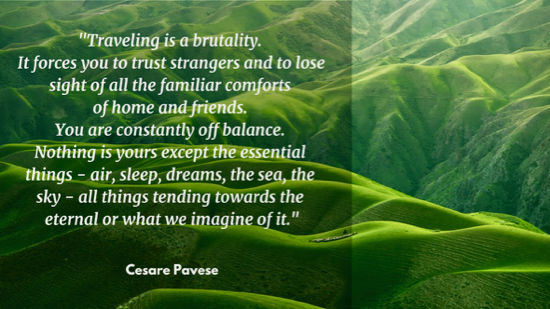 ---
Featured Bundle of the Month
NEW BOOK BUNDLE - CREATIVE PACK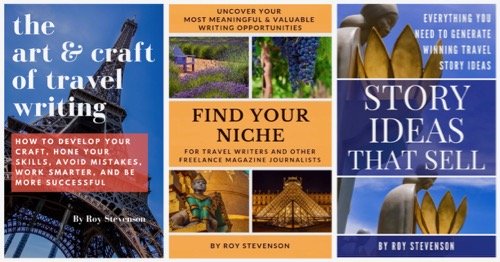 The Creative Pack includes 3 eBooks that are the starting point for every travel writer: dreaming up unique story ideas that you can sell, finding the best writing niches for you based on your interests, passions and experience, and the art & craft of travel writing.

They're the pieces of the puzzle that come before you ever write a query letter to sell your articles to magazine editors.

Story Ideas that Sell guides you along the highly creative path of inventing and discovering potential travel stories to pitch and sell to travel magazines. Conjuring up viable story ideas are the very bedrock of every successful travel writer today.

In this 76-page book I outline my winning system to generate story ideas that sell. Master this first step - and combine it with a great pitch - and you'll soon find yourself immersed in exciting experiences with fascinating people.

In Find Your Niche you'll learn why it's important to write in a variety of genres. It explores the multitude of opportunities available to travel writers and other freelance writers.

It will help you identify the niches that are most interesting and meaningful to you. And you'll learn how to hone in on the most profitable niches.

Full of tips, advice and inspiration, this 85-page book will help you find your niche!

And when it's time to write your articles, The Art & Craft of Travel Writing will guide the way, helping you develop your craft, hone your skills, work smarter and be more successful. This 170-page book is full of ideas, tips and techniques - and it's a handy resource to have by your side to make your stories sparkle.

Buy the Creative Pack and save more than 10% off the individual prices of the books!

BUY THE BUNDLE


---
Friend me on Facebook
My Facebook page is about freelance travel writing. I frequently post about:
• travel writing & blogging conferences,
• links to other well produced travel websites and blogs,
• links to my travel articles,
• travel writing themes,
• links to reputable travel writer's groups, associations, and newsletters,
• magazine covers stories and back stories,
• links to resources pages,
• links to travel writing archives,
• links to coaching and mentoring resources,
• and plenty of other useful information to get you up to speed.



Link to Roy's Personal Facebook page
---
Please share the e-zine with friends, family or anyone you know who's interested in travel writing. They can sign up for the newsletter and get free marketing tips each week at this link:

Sign up for my weekly marketing tips

That's all for this week.

Until next week, just keep pitching!

Roy

Roy Stevenson
Pitch Travel Write
www.pitchtravelwrite.com













---